| | | |
| --- | --- | --- |
| | « Reply #507 on: July 27, 2009, 11:13:46 AM » | Quote Modify Remove |
---
dear friends,
I am back in makati...life goes on..but i must say i had a great cycling weekend holiday in Bohol.
have to write my report a bit later but at this time ill just let you in on what i know.
dondie (alias alberto contador) made sure i make it to bohol...i wanted to back out last minute as i have work on sunday...but dondie he picked me up by car and then deposit me to the naia airport..even though i promise him i will show him no mercy throw everything i got at him...
4am in the morning at Park and Fly Manila...the grandia carries a VIP..that's dondie "contador" azarcon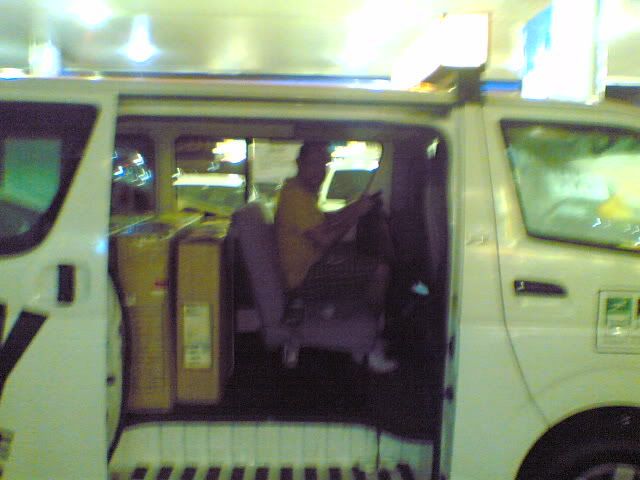 raymond see arrives in tagbilaran island of bohol...on board Philippine airlines..Manila to bohol and back about US$80 plane fare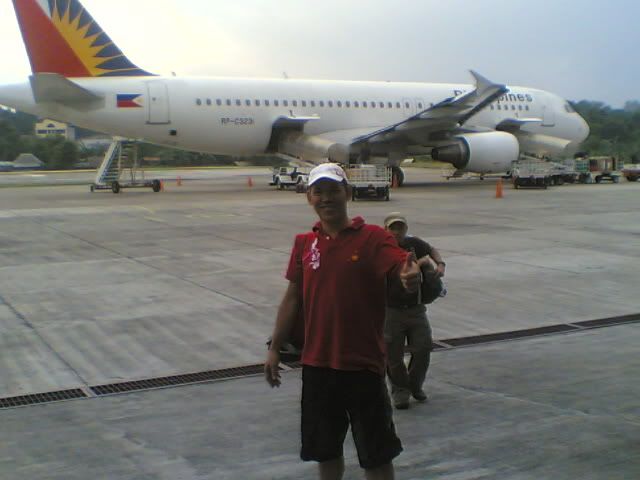 getting ready for the big day..doc butch ydia's Pinarello Prince safely tucked inside SERFAS bike case.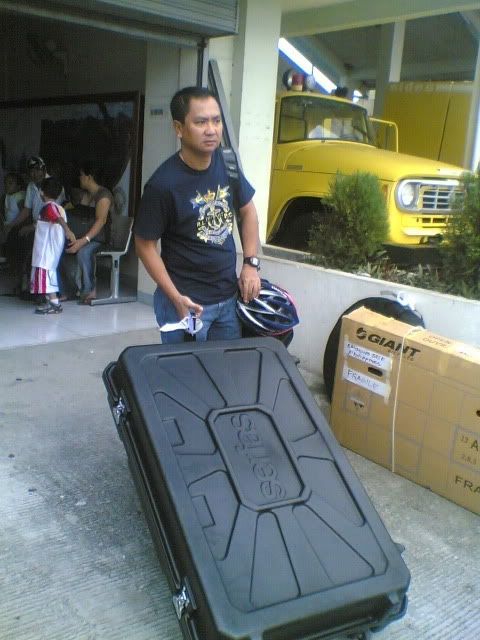 WREGENT HOTEL along Carlos Garcia Avenue is 10 minutes from airport and showcases several antiques..bohol is famous for local antiques..thats doc butch ydia and bitoy daa at the lobby...US$25-30 per night aint bad for a cyclist.
as soon as we have our bikes assembled in tagbilaran...even though it was raining...dondie organized a funride to loboc to man made forest where we started a sneak preview of attacking each other relentlessly over the forest...as we stop to take a foto...our steaming hot body literally let off steam and we both were laughing. on the way back..attacking each other again up to binaklayon church..total ride even with the rains was 80kms...recon ride only and we did more than the actual race itself already...
reporter raymond see takes a foto of the nice ocean view along the tagbilaran highway enroute to loboc last saturday's recon ride
dondie azarcon (pldt) shows no sign of fatigue as he leads this group of manila riders towards a recon ride up to man made forest...see the coral white corals seen on the side of the road? Bohol is a coral island...and the white coral extends for hundreds of kilometers around bohol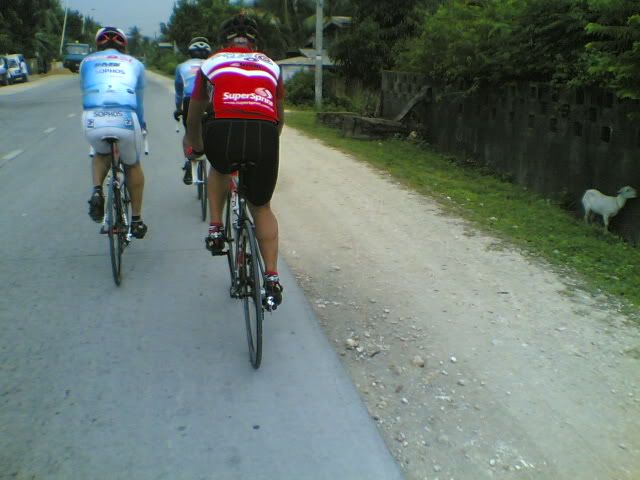 next day race starts with arnel ty raymond see and dondie azarcon trading attacks i want to drop dondie immediately ...
before the start of hostilities in front of KIA motors dealership in Tagbilaran...doc Jv plays referee between dondie and raymond see for the royal rumble...battle for bohol...kia iron legs part2
group photo of manila riders in front of Kia motors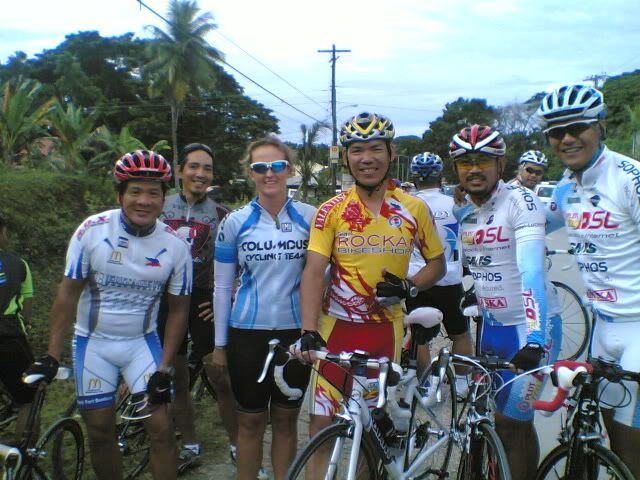 i threw everything at dondie already sans the kitchen sink..he also threw everything fired back counter attacked after i attacked...awesome we continued trading attacks at man made forest and race leadership changed 4 times already between us dondie refused to crack... at one point up man made forest al figer was with us and i was telling him "al just watch and pretend... that dondie is alberto contador and im lance arentstrong and i really will attack him"
al was laughing up man made forest...after man made forest coast was clear and dondie able to find an ally friend in the form of a strong mt biker and sped off...leaving me behind with two other road warriors. three of us maintained our speed up but really dondie was the better man today...i saw him up close at the 100meter mark to the finish up chocolate hills viewdeck but i am also dead tired already by that time and cant push no more.
view of what the cyclists have to endure thats the final 300meter climb up the finish line...at carmen town bohol chocolate hills viewdeck
view of a chocolate boob...este chocolate hill at the chocolate hills view deck...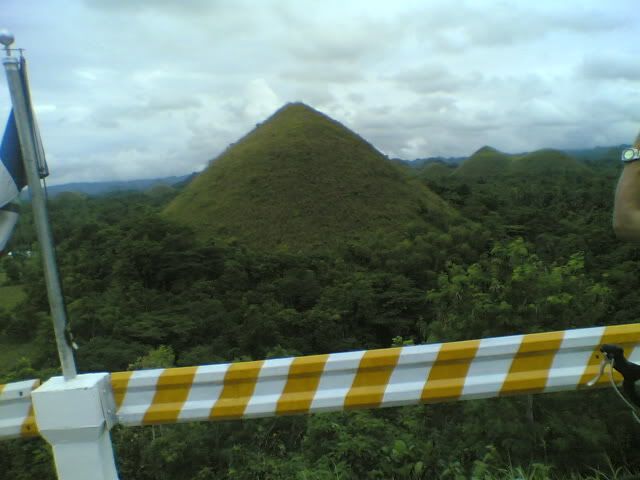 so...i will make others report about their race i hope leain reports about the cat B race...to me the real champion of the Kia Iron Legs today is non other than my best friend DONDIE (contador) AZARCON.
warmest congratulations...man i did everything already today fired all heavy artillery..the man refused to die...I take my hats off...give him my SALUTE..and congratulate him for all his hard work and training just for this race.
VERY WELL DONE and Congratulations dondie...you are the man.
raymond see with chocolate hills background taken at the terrace of the restaurant up chocolate hills viewdeck
i will see you again this august in TAGAYTAY....at the liquigas race in payapa
to the organizers of Kia Iron Legs PArt 2...Rey Cimeni and the Jaycees..to all the participants and the winners..to all the CEBU CYCLING participants..the cyclists from bohol...the manila riders and the readers of the bisekletaguy reports in cebucycling..you guys did a great job..i hope you enjoyed your race in bohol....me and my teammates really had a GOOD TIME..we intend to go back to bohol..ride the island one more weekened vacation..race or no race....i will see you again next year.
kia iron legs part 2 now organized by Jay Cees and still sponsored by Kia Motors
organizer rey cimeni in white gives a round of applause for the participants and winners of this year's Kia Iron Legs part 2
the trophies for 1st to 5th...medals for 6th to 10th and CERTIFICATES of participation for all the finishers shown here.
heartbreak kid pinpin uy from dipolog on the white Pinarello finished ahead of admiral tiples in cat c so should be 4th ...however somebody missed his number at the finish line and so he went home empty handed..but rare filipino chinese talent will not escape the eyes of team rocka boss raymond see and so i say..come to manila quickly and get your teamrocka1bikeshop jersey ride for my team pinpin..never mind that heartbreaker ...ride with me and GO ride with my team...
boy the admiral tiples of team CNC wins 5th and tommy panganiban also made it to top 10 in his category and was so happy to receive his trophy too
leain cruz and noy jopson with rex tan and bitoy daa and all the winners of their category receives their trophies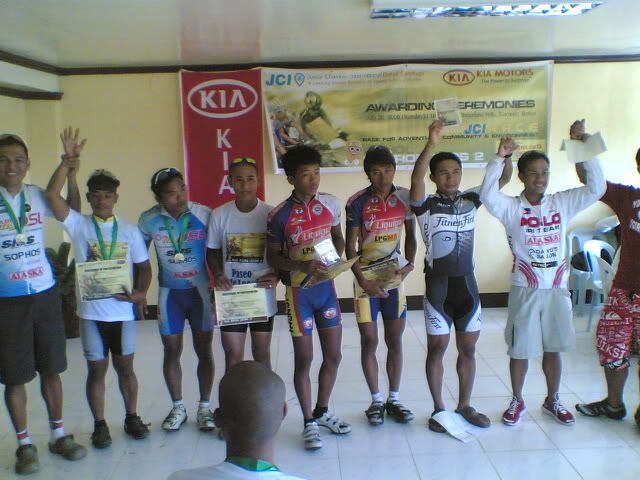 thanks so much. more power and god bless.
raymond see
now in manila
the wallet of doc butch ydia had been recovered it was thought to have been stolen earlier but to our relief..just misplaced...
| | | |
| --- | --- | --- |
| | « Reply #508 on: July 27, 2009, 12:00:46 PM » | Quote |
---
forgot to thank rey cimeni organizer. Best placed cebu cat b rider is jonas who placed 4th.
---
A light bike doesn't replace good fitness.

| | | |
| --- | --- | --- |
| | « Reply #509 on: July 27, 2009, 12:07:32 PM » | Quote |
---
nice action packed report boss ray
congrats & thanks for sharing your experience