| | | |
| --- | --- | --- |
| | « Reply #6 on: July 08, 2009, 09:08:22 AM » | Quote Modify Remove Split Topic |
---
Here are my report on the race
Boss Ray Franzia Promo Girl and Me, Boss ray told me that if I podium he will ask the promo Girl to give me a Kiss
Fred, Me and Shane with Bennis in the background
Starting Line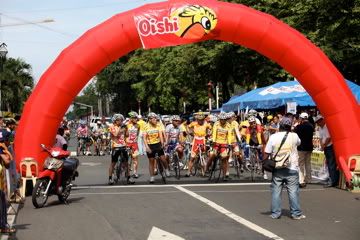 Preparing to take off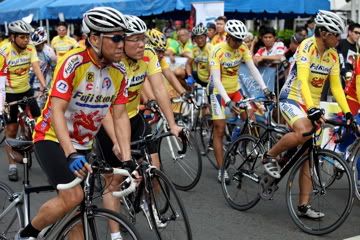 Fire off by FCAAF officials
Boos Ray leading the pack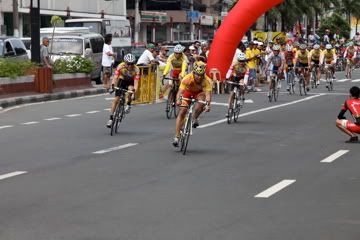 my first try to break away, I was so motivated that I wil get the kiss that I broke away on the 10th minute of the race.
Here I was told by the Marshall that I have a half a lap lead
the disappointing Glance
at the back with the Chasing Group breathing down to my back
Frustrated I sit up, That my break away was being caught by the Chasing group
I was eaten alive by the chasing group. It was so fast that I have a hard time staying with it.
At the Bell Lap I was thinking of another break away since I can't sprint still hoping for the kiss
The Speed of the breakaway
The last 50 Meter at 52kph and 182bps.
The last corner I was told they have organized a chase. I have no choice but to Hammer it all the way with 53X13 at 52KHP. My heart is pounding at 182 Beat per Second. I thought I would be caught again.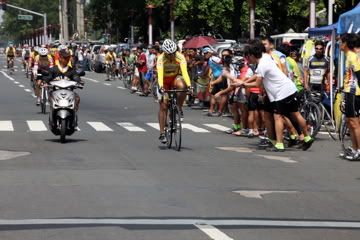 Didn't have time for a Victory Salute with peloton breathing at my back.
At last I can smile
and relax but the adrenalin still pumping heart rate still at 150bps.
My Friend Edmund Motomal
give me a Tap on the head for a good ride
I think I'm the Happiest Person that day the picture tell it all. It's really make my summer Great.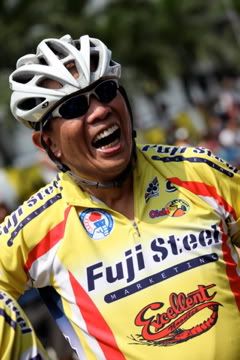 The Awarding of the Trophy Cat B 46 above me, Carlos (2nd), Julio (3rd) Boss Ray (4th) Philip (5th)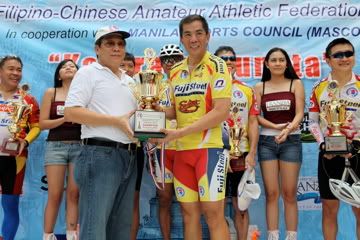 The Podium. I didn't get the kiss maybe Boss Ray forget coz he was also wait for the kiss
---
There is no such thing on earth as an uninteresting subject;
The only thing that can exist is an uninterested person.
| | | |
| --- | --- | --- |
| | « Reply #7 on: July 08, 2009, 12:19:23 PM » | Quote Modify Remove Split Topic |
---
the best report is coming from the winner! congrats albert...i rode my best still came up 4th so that means...you are the CHAMPION! congrats..the kiss...when we go to bohol...i ask a lady to kiss you...
| | | |
| --- | --- | --- |
| | « Reply #8 on: July 08, 2009, 05:34:59 PM » | Quote Modify Remove Split Topic |
---
Personally saw this thrilling finish
it was a daring move. Congrats!!!