| | | |
| --- | --- | --- |
| | Author | Topic: XRC 08 inaugural race at Macapagal Manila Feb 23-24 2008 (Read 283 times) |
| | | |
| --- | --- | --- |
| | « on: February 25, 2008, 11:39:02 AM » | Quote Modify Remove Split Topic |
---
order of released of the different teams as organized by Mr Edmund Mangaser organizer of XRC 08
Race Ceremonies will start at 7:20 am. And Race proper starts at 8am. I suggest you be there around 7am.
For TTT, we will start with ladies, then Cat C, Cat B and finally Cat A.
Except for Cat C and Ladies, the order of release is based from last year's team standing. The team with highest points last year is to run last.
TTT
TTT
Cat C
1
8:00
David's
2
8:02
Polo Tri
3
8:04
Gerry's Grill
4
8:06
Xycos
5
8:08
Excomm
6
8:10
Nescafe
7
8:12
Logic Gate
8
8:14
Rocka
9
8:16
Xterra
10
8:18
CNC
11
8:20
Paircargo
8:20
Break
TTT
Cat B
1
9:15
Seven Lakes
2
9:17
Paircargo/Aficinado
3
9:19
X Terra
4
9:21
Logi Gate
5
9:23
Rocka
6
9:25
Cycling Zone
7
9:27
Polo Tri
8
9:29
Microsoft
9
9:31
PLDT
10
9:33
Elixir
9:35
9:37
Break
TTT
Cat A
11:15
Auto Trend
11:17
Elixir
11:19
Logic Gate
11:21
Fitness First
11:23
Break
Please take note of your team's scheduled "release". Your time will start with or without your team at the starting line.
Criterium
8:00 am Ladies and Cat C
9:10 am Cat B
10:45 am Cat A
[Sprint points guidelines to be announced later]
For clarification, you may contact me at 0910-2135073.
See you all this weekend.
Edmund
Let the races begin...the start of the racing season 2008 for businessmen cyclists XRC 2008
the organizers provided this tents and we saw some of the riders like richard uy on his rollers warming up before their race.
team elixir bike shop on the rollers
team elixir bikeshop richard uy in his pink team kit emerges from the tent after his warm up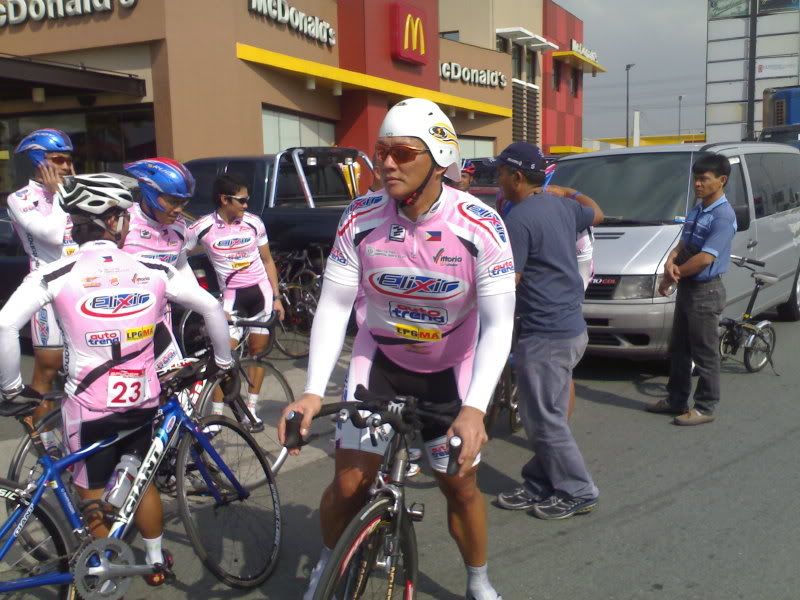 we have our own tent..but since we forgot to bring our rollers...decides to strike friendly conversation and foto shoot with the beautiful Ms Rush Sports drink who passed by our tent...
"can i have a sticker on my arm?" asked tiboy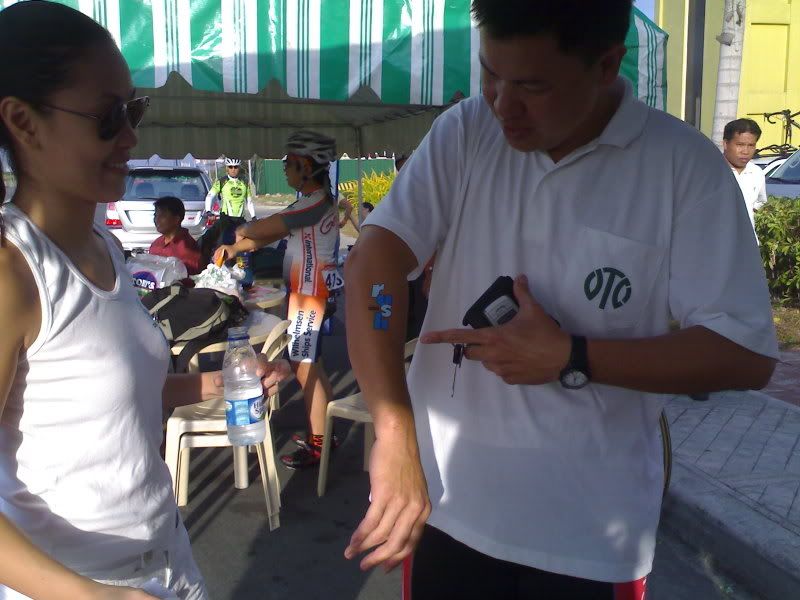 "miss i want my sticker on my leg"
" says my teammate..
"and whats your cel number again miss...err in case i need a six pack of RUSH sports water drink" i said...as miss Rush applies a body sticker ad on my arm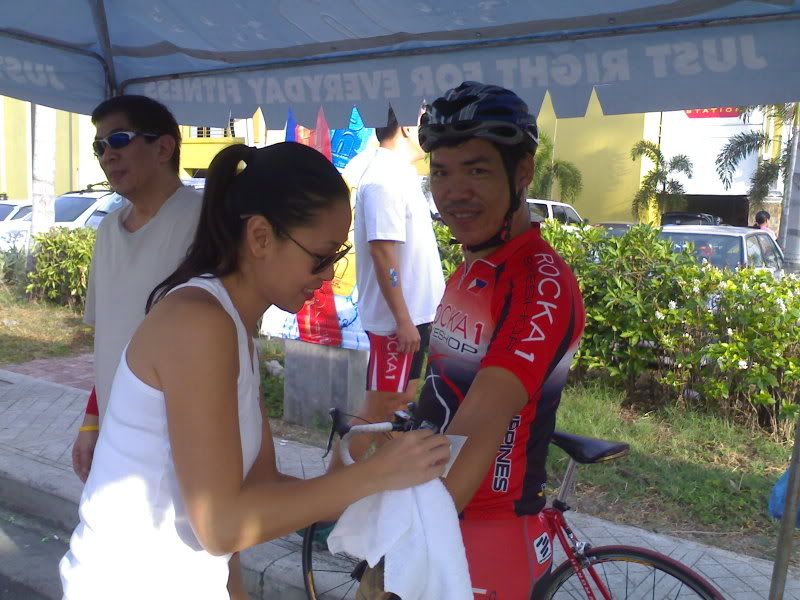 "hi sir, i have to wipe the sunblock off your arm first because the sticker wont stick"
miss rush sports water drink gamely poses with teamrocka1bikeshop...thanks for being a good sport miss rush...
team davids salon competed in cat C
foto shoot with team davids salon miss nina vera herself riding a cannondale system six with team davids salon beauties...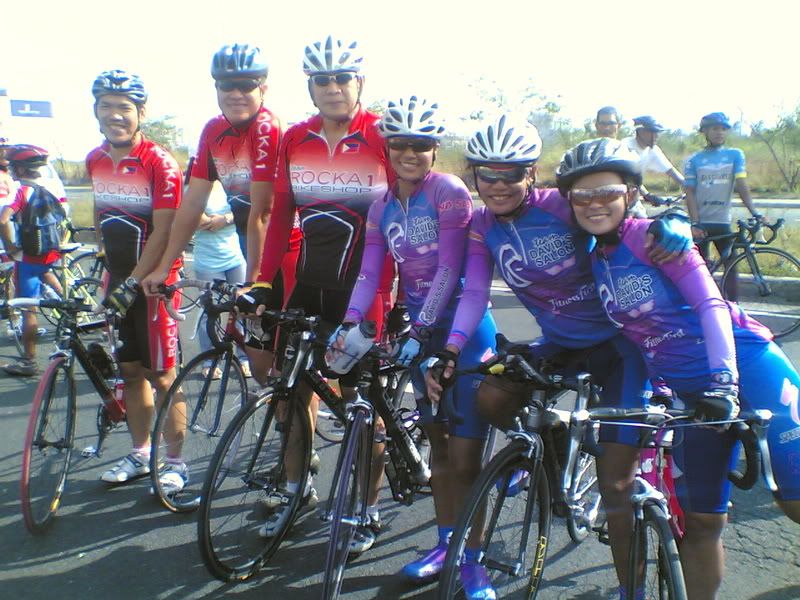 foto of mr and mrs Boy Tiples...he is still wearing a sports style shoulder sling as he has a fractured collarbone..but that didnt stop him from racing in the Team Time Trial with team Caviteno Nuevo Ciclismo (team CNC)
here's another shot of team CNC with boy tiples leading his team after negotiating the u turn portion in front of Mcdonalds
team cnc (from team cnc)
thats Mr Michael Singh of team Logic Gate posing for the camera at the starting line with his ultra aero Rudy project Time Trial Helmet
this is team logic gate at the starting line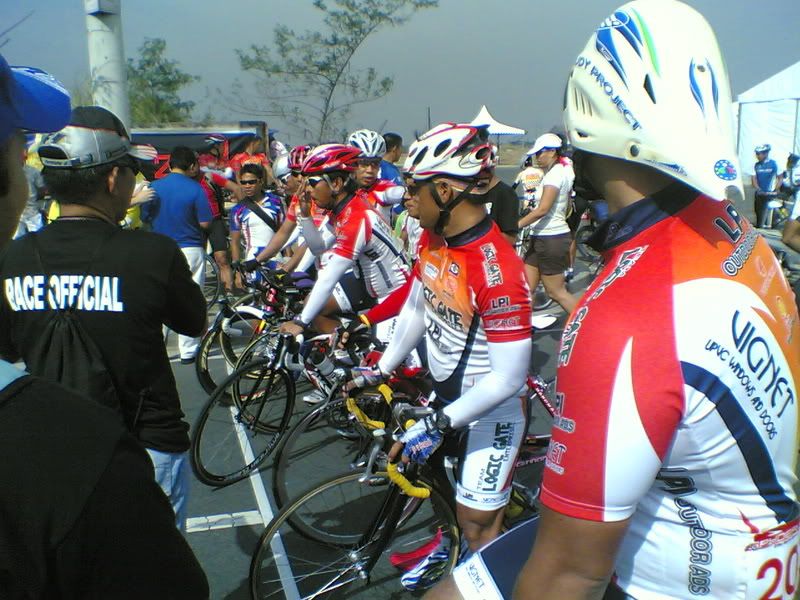 this is team Yellowcab Pizza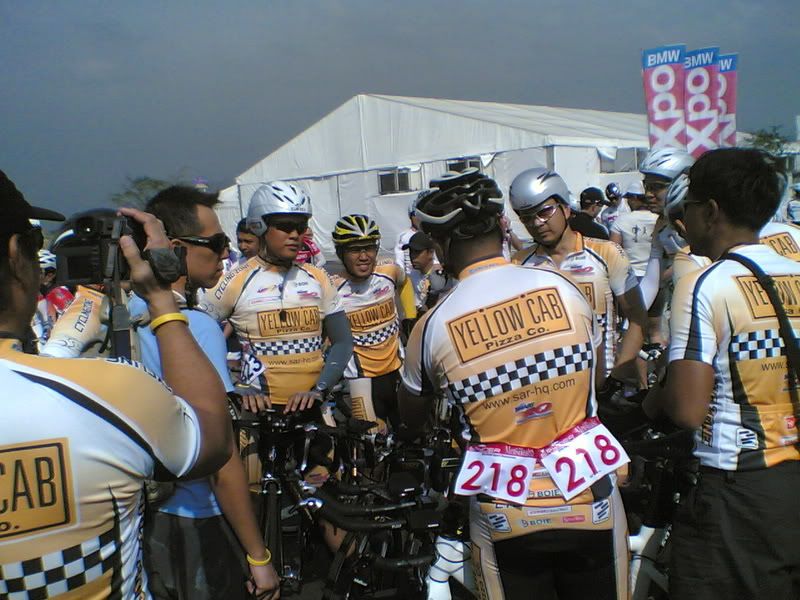 foto shoot with mr Joel Gironella of team Fitness First , the moderator of peca and coordinator for RP team participating in Tour of Egat
team Fitness First Eric Carandang and Leain Cruz
team Fitness First Rune on the rollers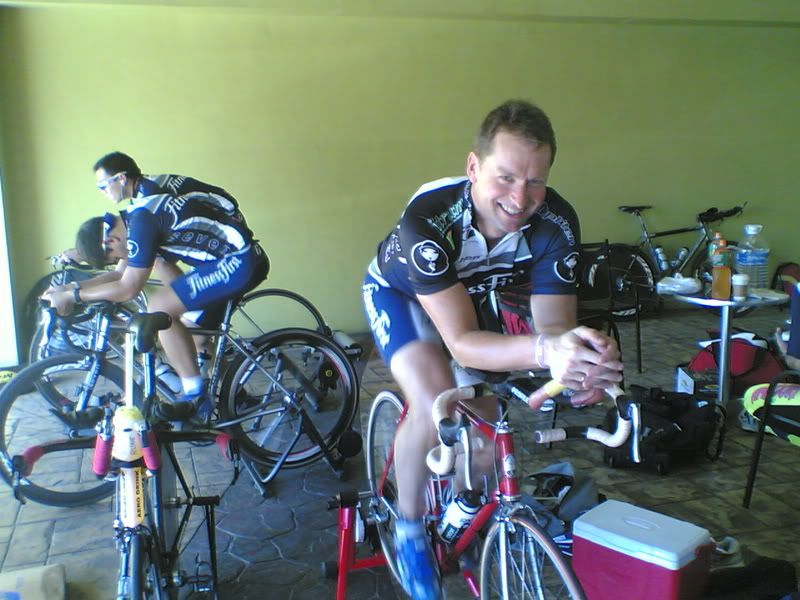 this is the new team EXCOM
foto shoot with Q baterna who will ride Tour of Egat with me in MAy...
this is team Seven LAkes at the starting line
this is the new team Pair Cargo of my friend dennis Tojos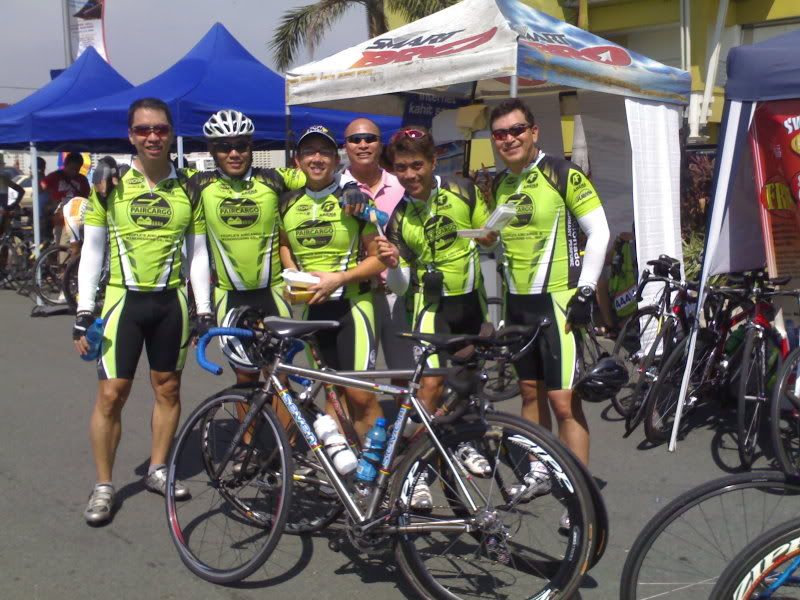 the new team kit of BIKE KING..thats the proud owner Mr RAul Cuevas the dealer of ORBEA
foto of team PLDt on the starting line with my good friend Doctor Butch Ydia 2nd guy from left
foto of team Polo Tri with white team kit by Nalini at the starting line.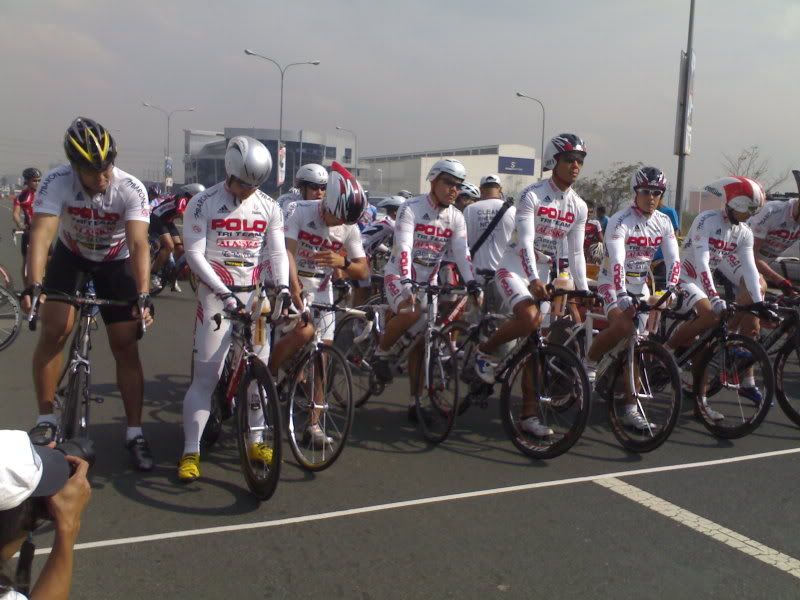 foto of team Xycos (foto from pinoy roadies)
Businessman Deon James from South Africa rides with team X terra with his beautiful Raleigh TTT bike near the starting line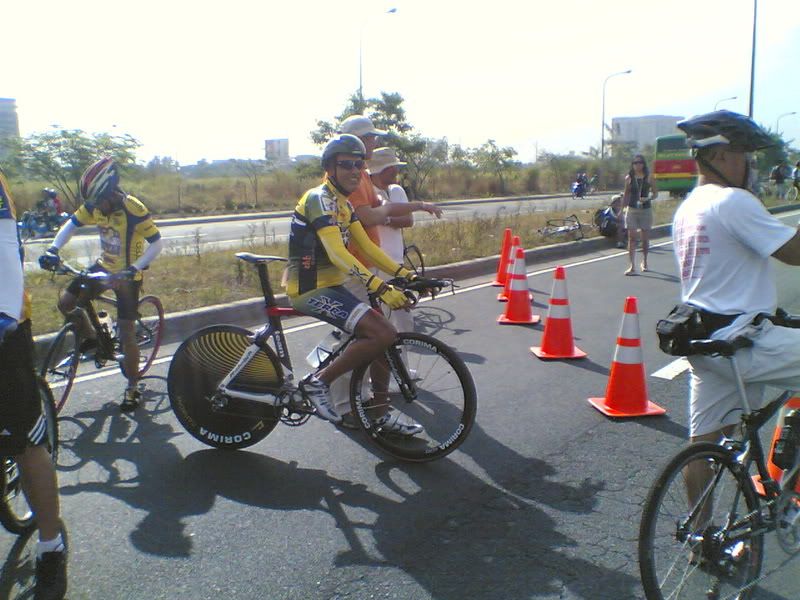 foto of team Pair Cargo at the starting line
foto shoot with Mr Winston Chua and Abby from team XTERRA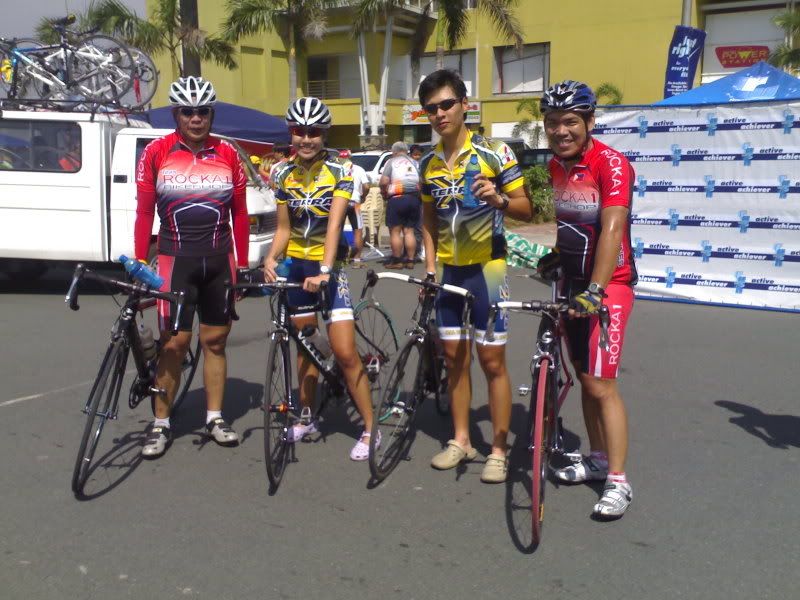 thats cathy wong of the famous "cathy wong group" under the umbrella...brella...brella
team rocka1bikeshop has a full fil chinese businessmen line up..thanks to my fil chi friends Tiboy reyes, Albert Cua, Philip Go..thanks so much for riding under teamrocka
this is the shot my wife took of team rocka being overtaken by totally aerodynamic team polotri (in the white team kit) ...the polo tri riders showed their splendid aerodynamic form in this foto...
foto shoot of the team vehicle of the new team Gerry's Grill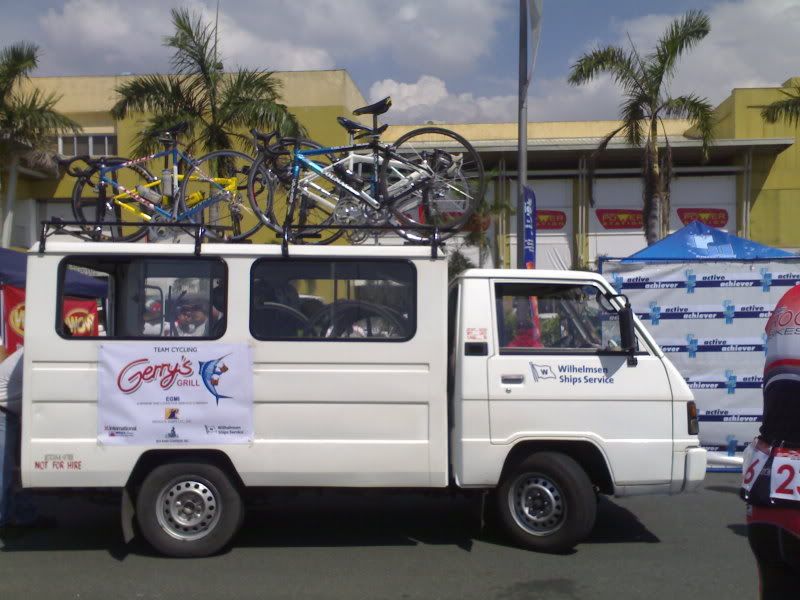 for the XRC criterium stage last sunday..my team rocka couldnt make it . dennis d menace out of shape...jun juganas had to attend a christening...oliver couldnt make it...while teamrocka filchi group decided to organize fil chi team's long ride in preparation for Egat..Pililia Pagsanjan Pililia.
(see the succedding report)
thanks so much to wonderboy leian cruz for sharing his story on the criterium stage..im posting his story here..thanks leian..CONGRATULATIONS FOR WINNING THE XRC CRITERIUM!!!! Bravo Leian!
hi Roz, Arden, Frank;
A few notes on the ToM (Tour of Macapagal) the first 2 stages of the 2008 Subaru XRC Executive tour just held over the weekend with 31 registered teams
Met Ron M. over the weekend (visiting from California for his kid's birthday) as well as Al Villamil. Ron had a fantastic race for the cat C event. he took third on the road race and i believe his team also took podium spot on the TTT cat C
As for Fitness First, we had a good weekend too. everyone was expecting the team to do well, specially with all the hype about the sponsors from Phiten (
http://www.phitenusa.com/
), SEVEN (
http://www.sevencycles.com/
) and Fitness First (
http://www.fitnessfirst.co.uk/
).
We had to run the entire full length 40km TTT on Saturday. Extreme wind gusts made it very difficult for everybody forcing an echelon type of time trialling and some extra special coordination to avoid crashes. The first teams off the block posted strong times on the first half (Logic Gate, Elixir, Auto Trend), besting Fitness first on intermediate time checks. but as the kilometers wore on, teams started struggling with the wind, and as planned and expected this was when Fitness first started to step up the speed.They started to accelerate eventually overtaking 4 teams and breaking their own course record posted last year by a whooping 2mins, 30 seconds. 4 consecutive years TTT champs
author Leian Cruz just came back from the USA ...to be with his team in the inaugural race XRC Paranaque
foto shoot at the Fitness First camp...thats Eric Carandang and Leian Cruz with their team on the rollers prior to their release. Congratulations to team Fitness First for breaking their own personal best records and winning the Category A of the XRC TTT inaugural stage in Paranaque
making it 4 wins in a row for this team
eric and leian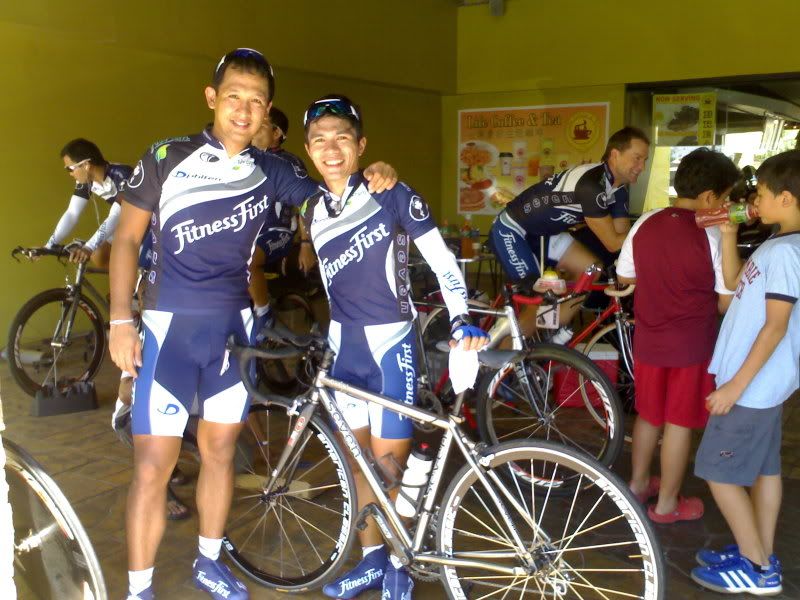 eric rune and leian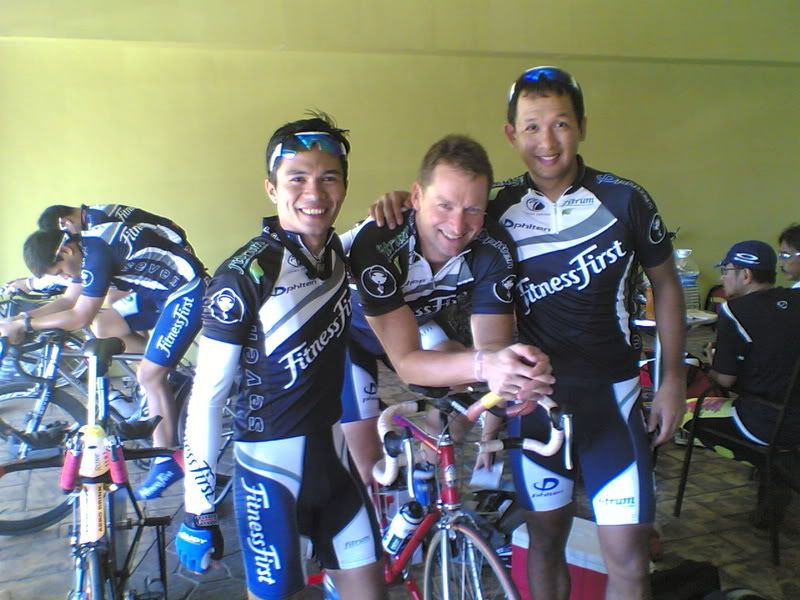 The second day saw a stronger field on the crit race - 1 hour of crit riding on a 5km course plus 2 laps. With the inclusion of elite riders as guests who have qualified for the National tour team, the speeds were outrageous - from a mere executive rider's point of view of course. despite numerous attacks from the field even seeing two or three break aways, coming in to the last 20kms, all attempts were neutralized. My job as a domestique class C (bec for this time of the year i had the least km on my legs) was to make sure no breaks would succeed and bring our team sprinter Eric Carandang to the line who was very much in shape contributing 70% of the team's TTT success the previous day. I was having a crappy week as i could only manage 20% of my normal training time due to work load and recent work assignments in LA and San Francisco. As it was, i was in front checking breaks at the start (first 15kms), rested in the middle part, then re assigned in the front again on the last 15kms
Eventually, the peleton was resigned for a mass sprint finish with 10 kms to go bec no one could break the leash with all teams active. But in a slight turn of events, with 5kms to go approaching the 2nd to the last U turn, I managed to slip thru the u turn fastest (thanks to the bike's precise steering and insight from our best support person George Carag) and with no effort saw my self in front of a long strung out peleton - a position i was not ready to take (I was supposed to be policing our sprinter) since i immediately had a 20 meter gap from everyone.
From there, i was able to check the most crucial attack from another team (Elixir), followed the wheel - greeted my teeth to stay in contact, and when i looked back, we had a 100 meter gap from the entire field. eventually, a three man break was inevitable and with 3kms to go, my two break companions were bent on making it to the line -as my job was just to tag along if eventually my team's sprinter is brought back by the peleton. in the last 1.5km, we were able to drop a rider from team PLDT leaving 2 riders for the finale.
What was left then was Philip from Elixir cycling (who was clearly fit) and I tagging along from his slip stream. He sprinted past me in the last 500 meters and i thought that was it- he gapped me 30 meters. but i found my legs and was able to catch him in the last 200 meters and just stayed put. he accelerated again standing up with a burst of speed which i clearly could not match. all this time i was sitting down - observing the speedometer reading - comparing it with my leg's power & i was happy the lactic acid was not creeping up yet! eventually I saw his speed plateau with 50 meters to go (now we were running at 55kph versus the head wind). that was my cue. i knew i only had to jump 1km/hr faster and with the strong head wind, i predicted he will not be able to re-accelerate again or will run out of road if I jumped at the right moment. Timing was crucial to beat a fitter rider. with 20 meters to go, i did just that and lunged my best sprint of my year and won by a wheel. I could not believe I won a race that was not my race - as a domestique and helper and with 80% of my training done in the gym for 2 months. But i had to be thankful. the team was very supportive and actually stopped the race as soon as they saw i had a gap with 5km to go.
team Fitness First with Mr George Carag (far right) owner of Velo City bikeshop the dealer of SEVEN cycles USA and sponsor of team Fitness First....inset shows Leian Cruz winning the XRC criterium race in paranaque Feb 24, 2008
Overall, great race for the team. next stop, the 4 day Tour of Subic
| | | |
| --- | --- | --- |
| | « Reply #1 on: February 26, 2008, 07:13:40 AM » | Quote Modify Remove Split Topic |
---
Good Photos Ninong. I din't notice you & the team on the 2nd day crit? Personally it was unexpected race result. Was Ill prepared, 80% of the prep stuck in the gym. Surprisingly - was able to salvage the day. Good to see the group getting bigger and the fitness higher. see you in Subic
| | | |
| --- | --- | --- |
| | « Reply #2 on: February 26, 2008, 09:38:06 AM » | Quote Modify Remove Split Topic |
---
domestique...hope you can ride with us in Egat...i have 20people on my list with the plane ticket reservations...for sure egat will be interesting
| | | |
| --- | --- | --- |
| | « Reply #3 on: February 27, 2008, 09:09:42 AM » | Quote Modify Remove Split Topic |
---
TTT Champs
Breaking the course record
Day 2 Road Race:
Last lap:
Sprint finish
Podium
Post race chatter with Shintaro Elixir
Podium Crit
Post race pho -op
Locals
| | | |
| --- | --- | --- |
| | « Reply #4 on: February 27, 2008, 09:53:15 AM » | Quote Modify Remove Split Topic |
---
nice pics domestique and congrats! btw, do you have 2 seven bikes? noticed one bike had campy and the other dura ace 9. anyway, what happened to your sram?
| | | |
| --- | --- | --- |
| | « Reply #5 on: February 27, 2008, 03:53:26 PM » | Quote Modify Remove Split Topic |
---
BEAUTIFUL PIX, RAY AND DOMESTIQUE!!! THANKS!!
---
AL FIGER-TEAM SPARK KLEE
| | | |
| --- | --- | --- |
| | « Reply #6 on: February 27, 2008, 05:37:30 PM » | Quote Modify Remove Split Topic |
---
BEAUTIFUL PIX, RAY AND DOMESTIQUE!!! THANKS!!

Too bad AL coz I cant see the pics coz photobucket is blocked in here.
---
*** No Matter How Good She Looks
Some Other Guy is Sick and Tired of
Putting Up with Her Shit!! ***
| | | |
| --- | --- | --- |
| | « Reply #8 on: February 27, 2008, 07:48:10 PM » | Quote Modify Remove Split Topic |
---
Nice pics Ray, and Domestique. Im really amazed how you guys race there. You guys are like pros... Thats what you call passion for the sport....