---
just arrived in Manila...will be posting the pictures me and my wife took of the Bike for Hope organized by Pia Cayetano shortly...from Naga to Legaspi Bicol Southern Luzon last saturday Feb 2, 2008
here we go again..with my wife...enroute to Legaspi...just a week after Ang Tour ni Frank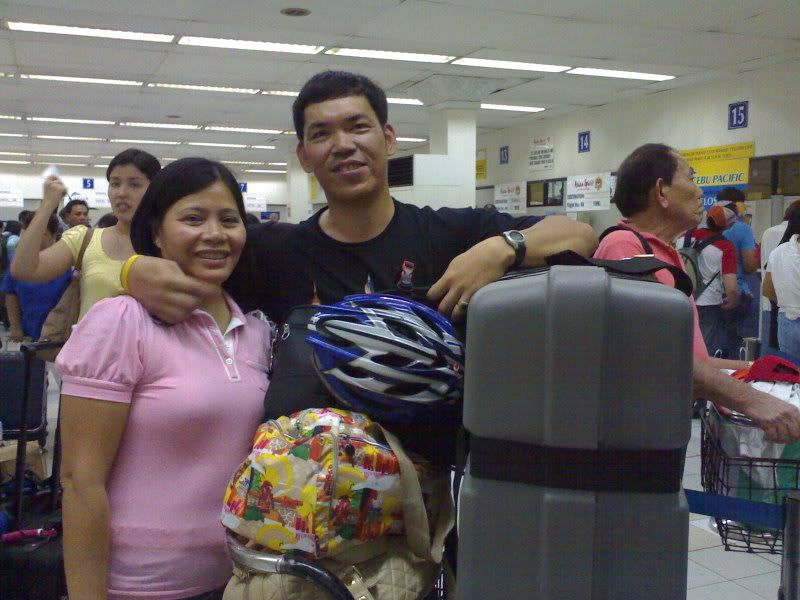 tempers flared at the Manila Domestic Airport after most of the flights were delayed..(our cebu pacific flight to Legaspi was delayed for 3 hours)....eeoow the domestic airport was so crowded foreigners need to stand and wait for their flights...such an embarassment for my poor country
the only saving grace was that the restrooms were at least clean...i wonder when the new airport will open?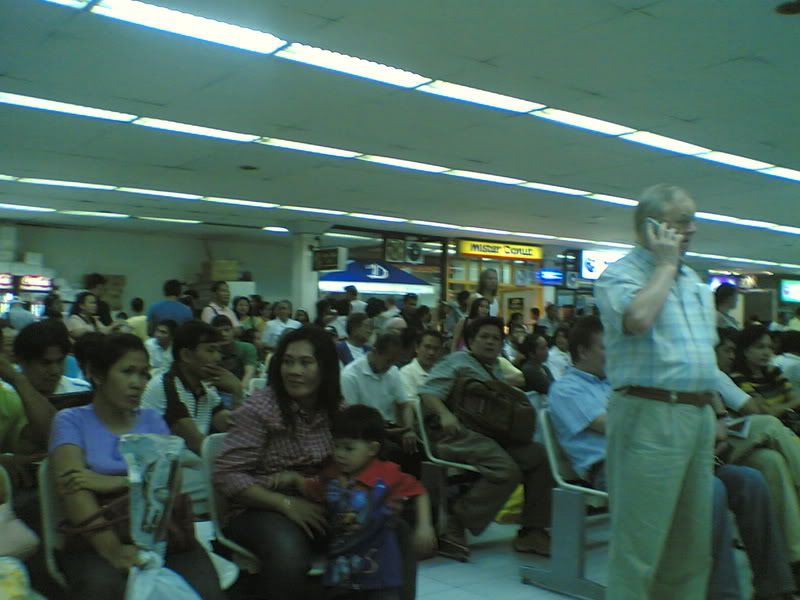 arriving at the Legaspi National airport with my swithart daughter again ..at the back is Lignon Hill and the famous Mayon Volcano as seen from the airport.
we landed at the Legaspi National airport...i was telling my daughter.."look for the baggage conveyor swithart.." when i saw the porters take out luggage from the plane...and the passengers went into a frenzy picking luggages right off the airport tarmac...
...i think we just suffered another black eye...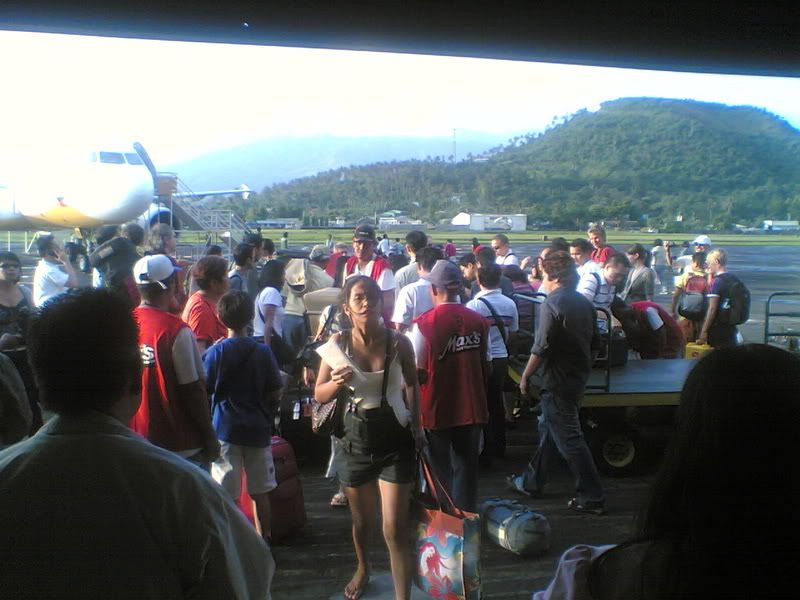 we were fetched by Casablanca shuttle van and headed towards the hotel.
i assembled my bike at the hotel..left my bike case there... then went to the bus terminal in Legaspi boarded an Isarog bus and we proceeded to hook up with Alvin Lo in Naga who invited us for dinner and sleep over as guest at their house in NAga.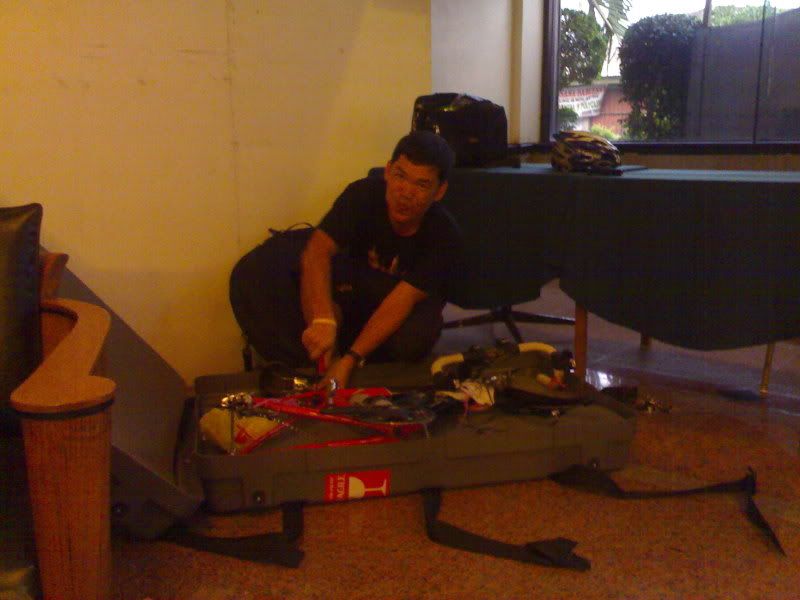 the morning after... we rode with enald and alvin to this shell station in NAga where we saw hundreds of cyclists waiting in line for the start of bike for hope 2008.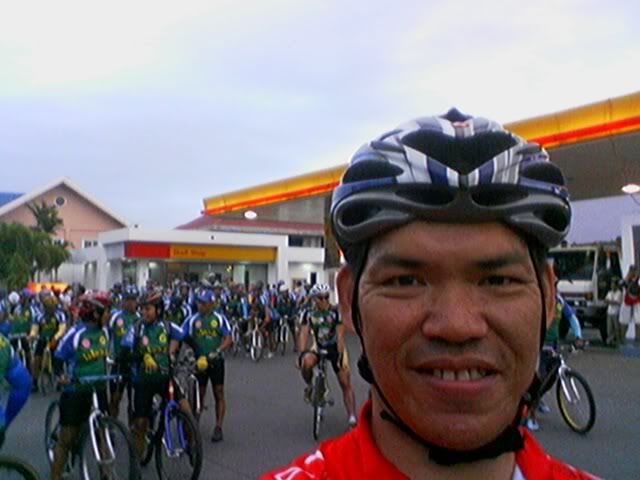 enald tan (graham baxter tour de france participant ) rode this beautiful Campagnolo equipped team Liquigas Green Machine cannondale system six which had me drooling...
"enald how did you put that campy record crank onto that SI specific cannondale bottom bracket?" i ask...."ray thats simple..the cannondale came with a special threaded adaptor with special adhesive...glue that threaded adhesive onto that threadless cannondale bottom bracket and viola...you got a campy threaded bottom bracket ready to receive campy crankset..of course you need to specify if you need a shimano threaded bottom bracket or campy threaded bottom bracket adaptor...but ive used this bike with no problem..." enald said...."thats beautiful enald..nice beautiful stiff machine...that green cannondale...its the first time i see it in the flesh..." i said...."but your barloworld red and black cannondale system six machine already matches your red white and black teamrocka jersey nicely ray!" enald said....
here was the starting line..over 300 made it to the shell station in naga where the start of the 7th edition of the BIKE FOR HOPE series flagged off at around 630am in the morning feb 2, 2008
foto shoot from left to right with our gracious host from Naga City enald, yuri ,alvin lo with dondie at the starting line of BIKE FOR HOPE 2008
foto of our gracious host Alvin Lo from Naga....Alvin is also a Tour de France Graham Baxter Tour participant...who was gracious enough to invite me and my family to have dinner then sleep over at their house in NAga...so that "we have more fun..and so you can be at the starting line in NAga the following day" Thanks so much for the fine dinner and the sleep over alvin and say thanks to your beautiful wife jacky for me too...
over 300 riders made it to the starting line from naga with the intent to finish the 100kilometer journey to Legaspi in Bicol...this bunch ride is no nonsense...i tried my best to ride up front with Pia Cayetano and ani de leon to no avail..over 100 strong riders jockeying for the same position and nobody is giving up their precious spot..with the most beautiful lady senator of the Philippines!!!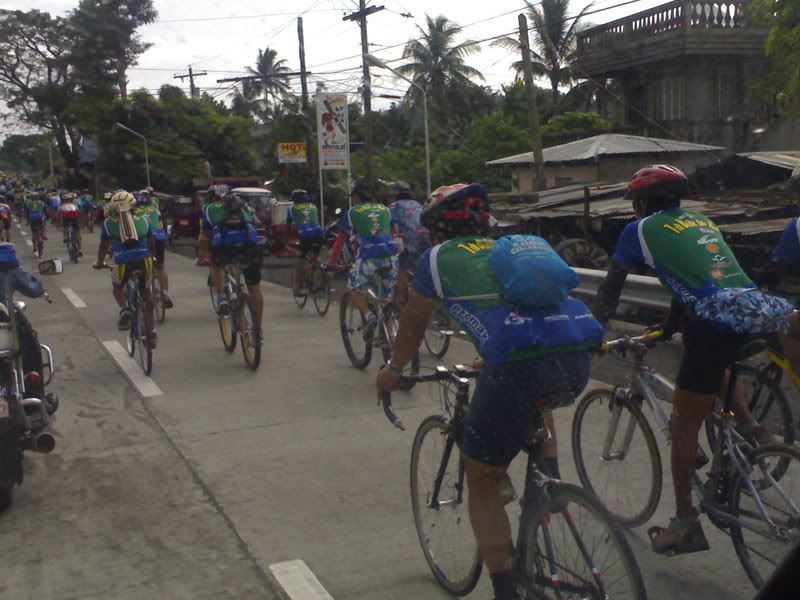 those who couldnt complete the journey may ride this truck provided by the town mayors.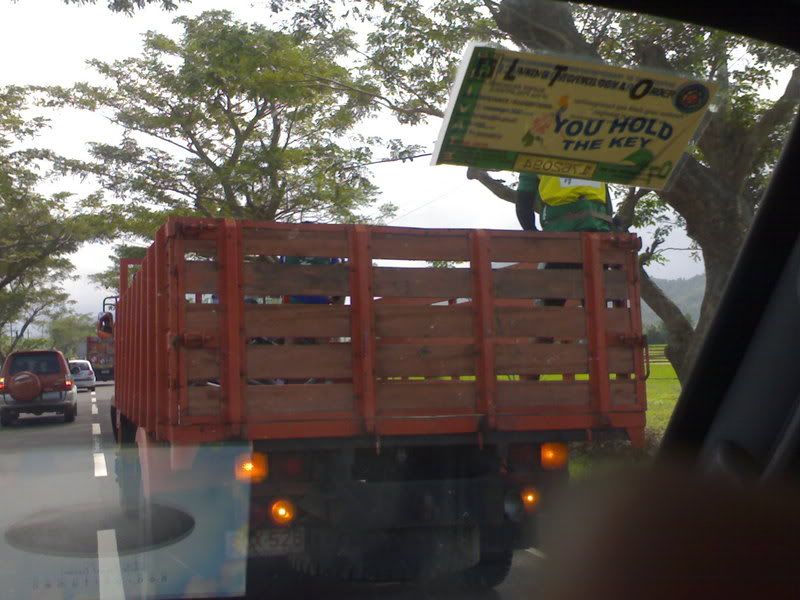 others brought their own sag wagons...just to play it safe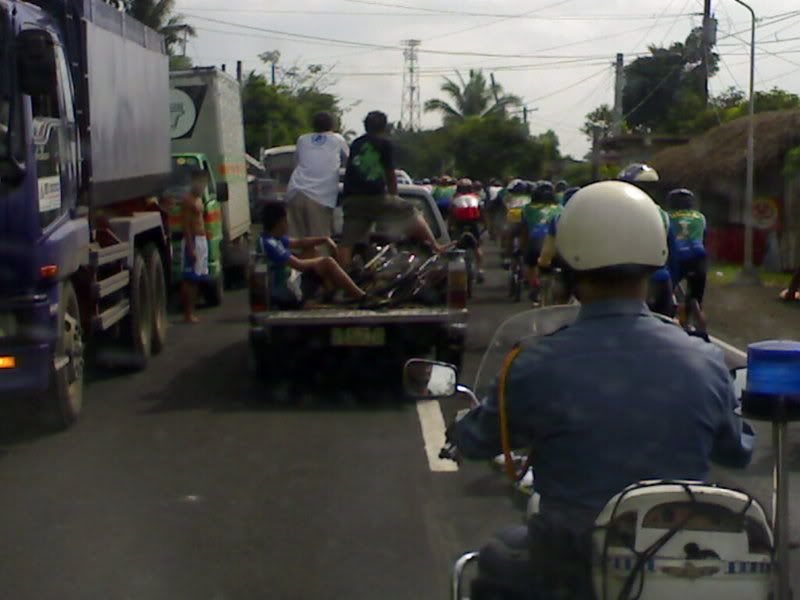 i had professional rider Christopher "tope" Rodriguez..the Wow Magic Sing teammate of Victor Espiritu...who rode as super domestique for Victor in Padyak Pinoy 2007 as my sparring partner..."ikinagagalak ko po kayo makita dito sa bicol.....lagi po kami nagbabasa ng mga report niyo..nakita at nabasa ko po ang Padyak Pinoy report niyo po sa Cebu Cycling..nakita ko po ang picture ko po sa cebu cycling...napakaganda po ng report niyo...san po kayo pupunta bukas at sasamahan ko po kayo sir" translation
" I am very happy to see you in Bicol..i always read the reports..i saw the Padyak Pinoy report in Cebu Cycling...i saw my picture you took..the report is very good. where will you ride tomorow? I will ride with you tomorrow..."
the journey from naga took 4 hours to complete and near the 80 kilometer mark...i was already sleepy...so sleepy had to pour water over my head...i thought i was alone..til my wife showed me this foto...."the ride was so long many people started to feel sleepy" she said....fortunately i didnt wind up like the guy on this bike...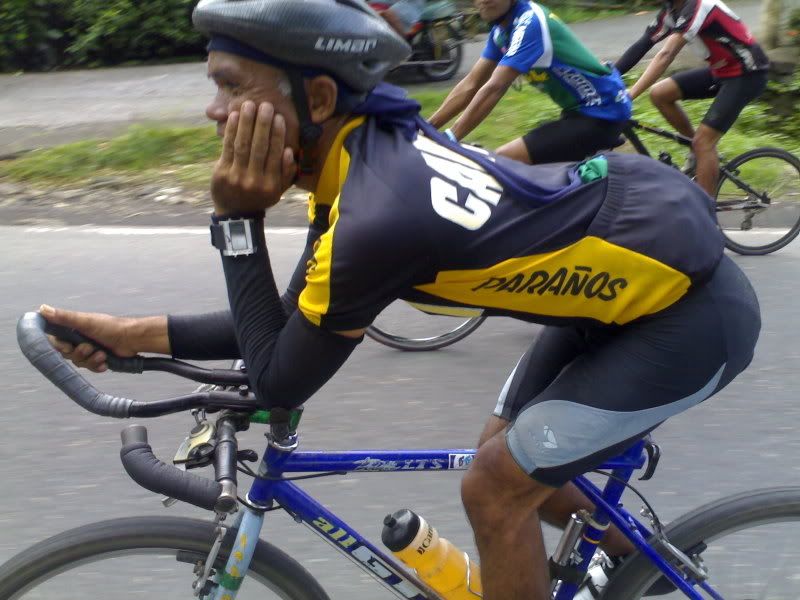 thats my teammate Philip Go..on his first long ride for the year...."i missed going to cebu..but if you go to Naga..i will make sure i will ride with you" philip says...while dondie rearranged his work schedule to make sure he makes it to his 6th bike for hope..."i have a special award from Pia cayetano already as i went to 6 out of 7 of the Bike for Hope series already...so i made sure i am present this time..this is my long ride..and i am very happy to see you and your family here ray!" millionaire dondie said
at the finish line with my new friend who works at the Geothermal Plant here in bicol ...Mr Edner Guerrerro of Albay Integrated Bicycle Assn (AIBA)....."are your from Manila? we are happy to see you here...please send me the email of your cycling activities...ill try ask my group to join your races in MAnila..." he says...
photo shoot with team AIBA
at the finish line..with my idol Senator Pia Cayetano...."Senator Pia...dondie azarcon is proposing a bohol leg...might you be kind enough to consider? when will your next Bike for Hope be? " i ask..."bohol sounds nice. ask Dondie to coordinate with my secretary cheche..ill consider that one..no problem so long as dondie agrees to bring bikers to ride Bike for Hope in Bohol" she said.
my wife doubly excited to have a foto shoot with Pia Cayetano celebrity senator is dwarfed by the tall senator and my daughter who stand 5Feet 7 inch already
we were invited to lunch by Enald Alvin Eric and Yuri at the Waway restaurant where we had wonderful bicol express and bicolano dishes...Enald says he already purchased a ticket to Egat Thailand already so i will surely be riding with him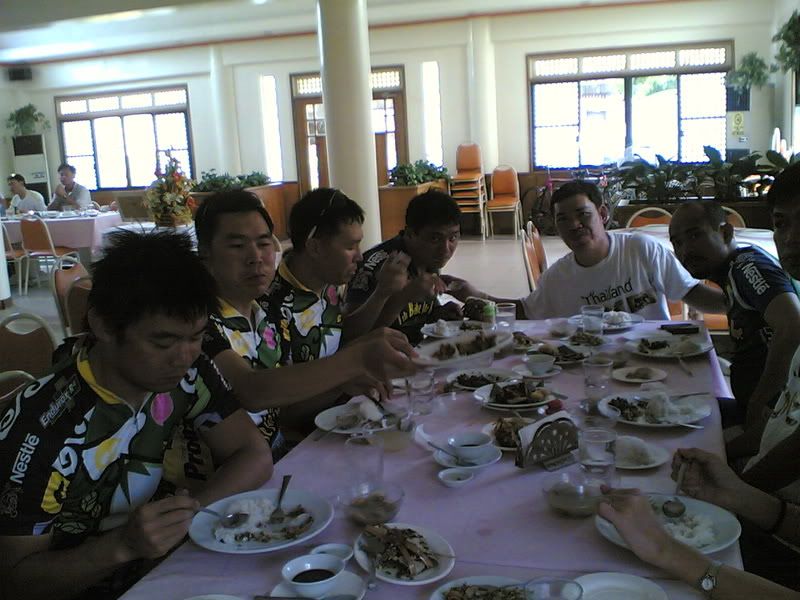 its 3pm in the afternoon same day...millionaire dondie picked up the fone and calls my wife "hello margie where is raymond...? i want to ride Lignon Hills at the back of Legaspi airport...ask him if he wants to ride with me...we leave at 4pm" he says "daddy dondie called he says he will climb lignon hills...do you want to ride with him? my wife asks...."mommy i told you im not the only bike addict here..see that dondie azarcon...he probably couldnt sleep due to laspag..thats why he want to climb up that Lignon hill mountain...ok set the ride 4pm today...i will ride with him..."
so two bike crazy guys wears the Bike for Hope green jersey at 4pm in the afternoon right after bike for hope...to ride that tough lignon hills...foto taken at the casablanca hotel.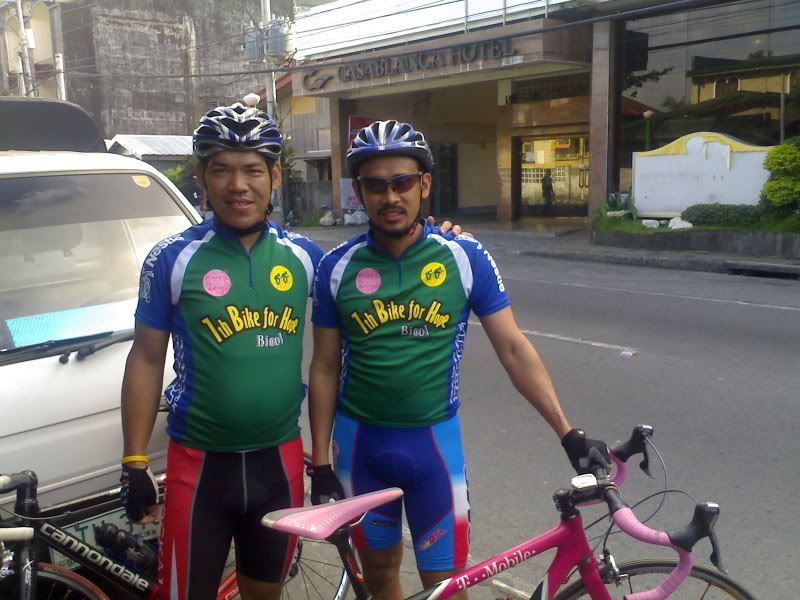 thats lignon hills...obstructing the view of Majestic Mayon..from the airport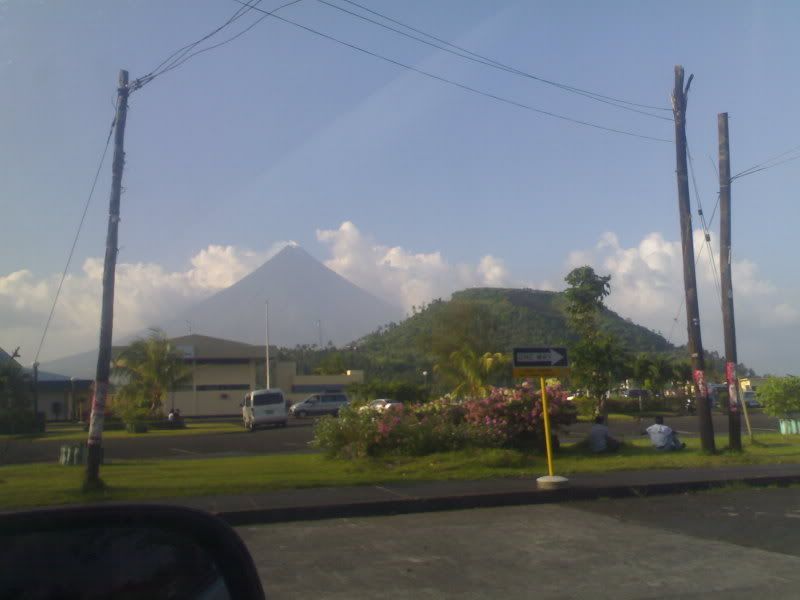 guess who that two crazy riders are....approaching the start of a 2 kilometer "short climb"
"dondie...you mean to say eric carandang rode this hill straight up and didnt put his foot down?"....i ask dondie.." eric carandang didnt put his foot down..its in his peca report he rode straight up this hill with enald tan (Graham Baxter tour de france participant)... but i read he rode it on a campy 29teeth...dont put your foot down too raymond....or if you put your foot down..you can always tell your readers you only had a 27teeth dura ace cogset" dondie suggested..
"daddy..are you in trouble?" my daughter ask..."of course not swithart.... eeerr daddy putting his foot down... just to have a nice foto taken with you..." i said...
"mommy...can you please take a photo of me and swithart daughter with the view of the Legaspi National airport?"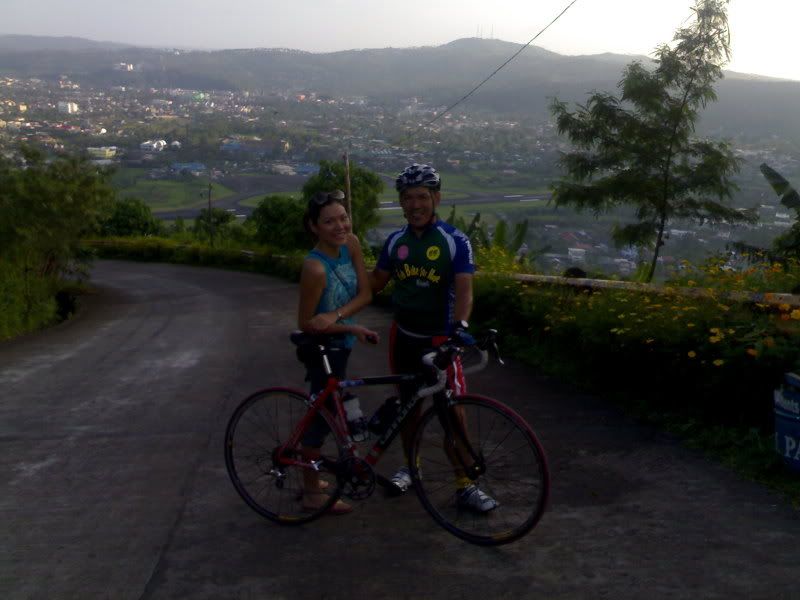 "sorry swithart daddy have to catch up to that bike crazy dondie azarcon...he is probably eating bar b q already...waiting for your daddy to arrive at the top...."
picture perfect view of Mayon Volcano is seen at the top of this Lignon Hills....on a clear and sunny afternoon....the climb was well worth it...the total distance is 5 kilometers one way from the casablanca hotel up the top so its just 10 kilometers ride going back home to Hotel Casablanca...the sight is breathtaking...
my wife and daughter enjoys a quiet saturday afternoon with this beautiful view of Mayon Volcano in Bicol...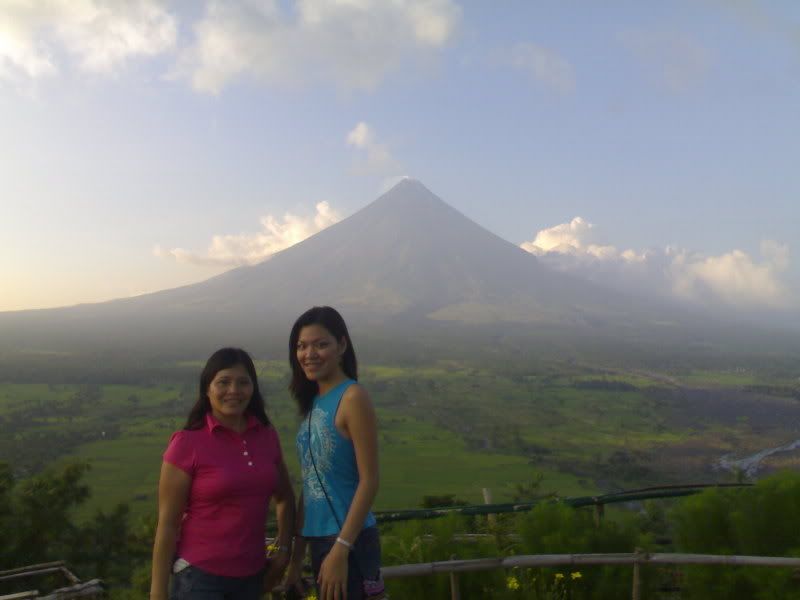 foto shoot with millionairde dondie azarcon at the top of Lignon Hills..."dondie im glad and really happy to see you ride your bike so soon after that terrible accident...im very happy to see you ride so well today...you dropped me off this climb"