the bike case trico iron case came in handy this time...purchased in the USA for $250..shipped to manila....freight..etc...cost me 22thousand pesos...total
brought the car to the Park and Fly station near the airport then left car there.parking fee about 300pesos overnite..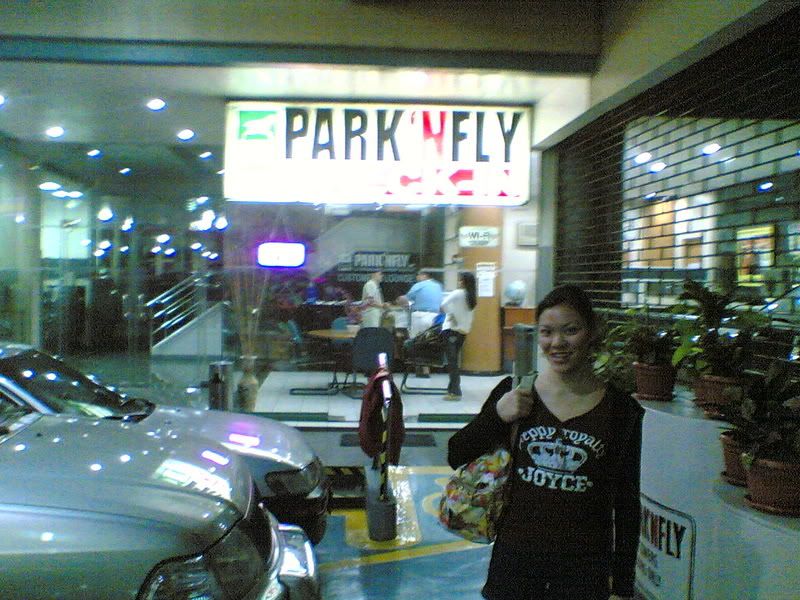 chaffeured driver came with this van to bring us to airport..service was excellent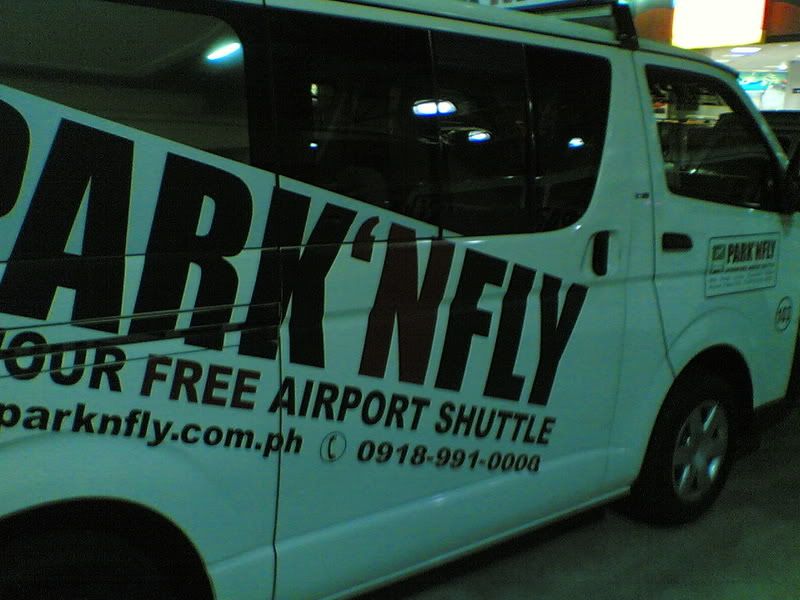 arrived in cebu mactan airport just in time for last day of festivities of SINULOG fiesta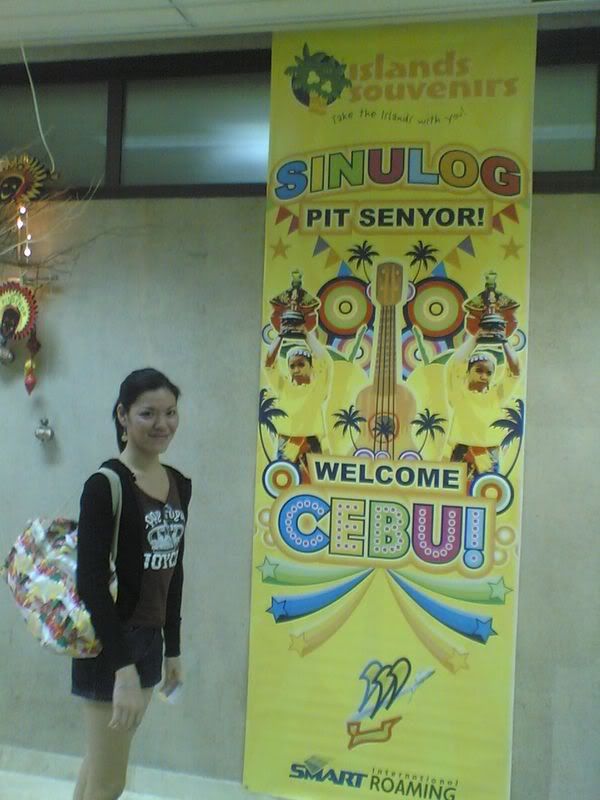 after arriving cebu mactan airport we hired another van for 900pesos this brought us to crown gardens hotel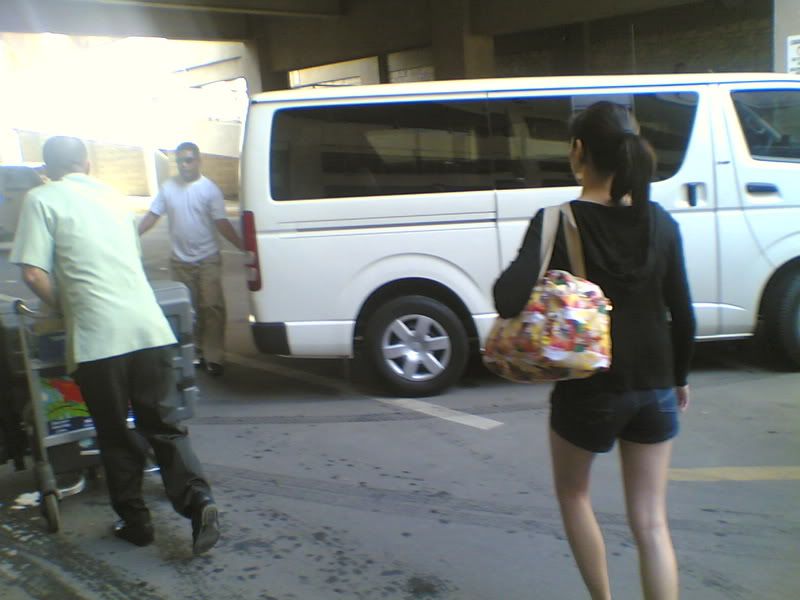 after freshening up at the hotel...went straight to Taoist Temple for sightseeing..also ask the monk for advice on me and my daughter's future...made my daughter very happy...as the future looks very good.
after the Taoist Temple we of course proceeded to the Sto Nino Basilica to hear mass..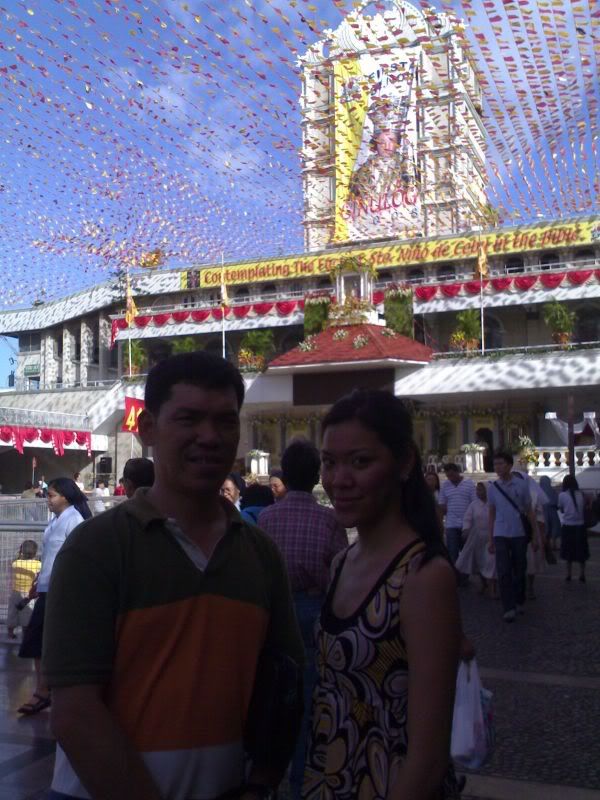 along the way we passed by street dancers
this foto taken last Saturday..at the Danao City HAll with the big boys from Manila and Cebu...on the VELLUM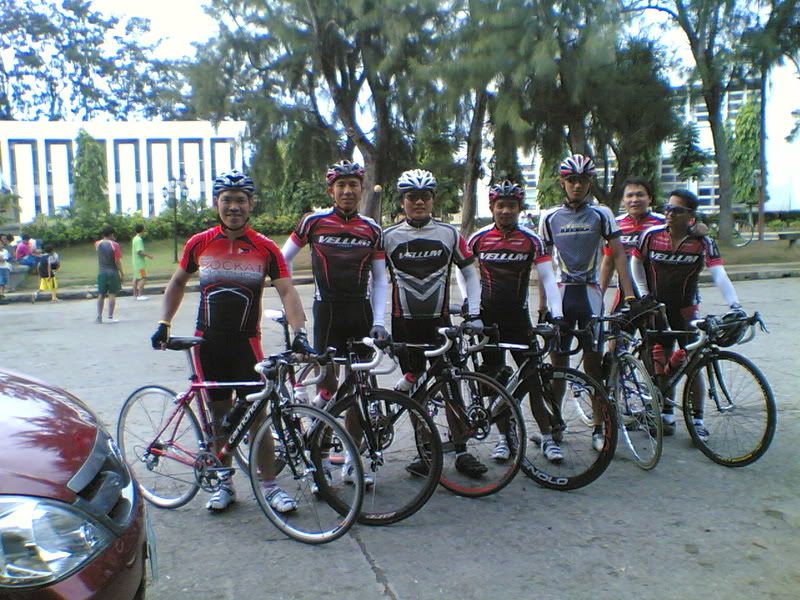 saw some boys playing with tepak sakraw (sipa) in danao ....hmmm...this one sport i have never seen played in MAnila or Bulacan...
bigmig (architect miguel flores... part owner of VELLUM) owns this Vellum VERVE with ROTOR Q cranks..beautiful machine...these VELLUMs....
"and how much are the Rotor Q chainwheels?" i asked..."about $200 ray.." says bigmig..
the new Vellum Elementi of Ernie Hortaleza will see action in ANG TOUR NI FRANK 2008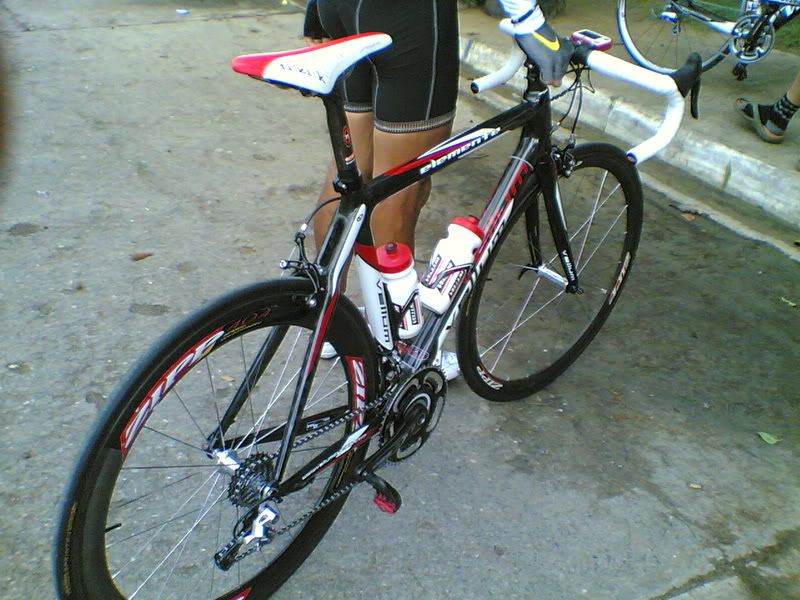 ted Pascual's Vellum EDGE with campy wheelset will also see action in Ang Tour ni Frank as ted joins his "out of town" race ...for the very first time.
warming up from Danao City Hall to the starting line with Rex TAn bikeshop owner from Ormoc Leyte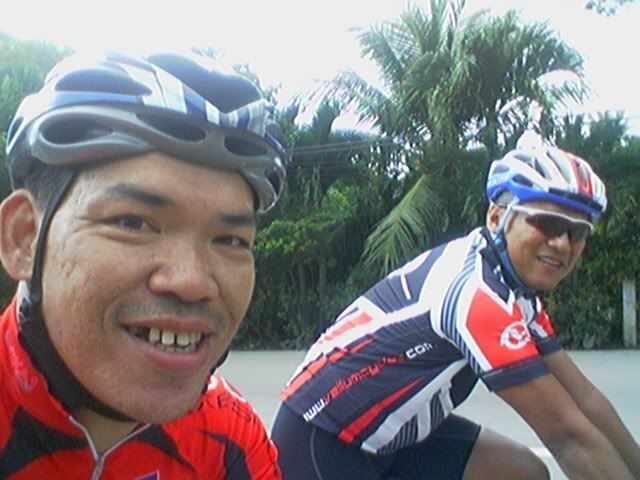 the cloudy weather brought rains to the starting line...so cyclists took cover before start anticipating the sun will shine up ...for a "dry" start
the registration center was at the colegeo de san antonio de padua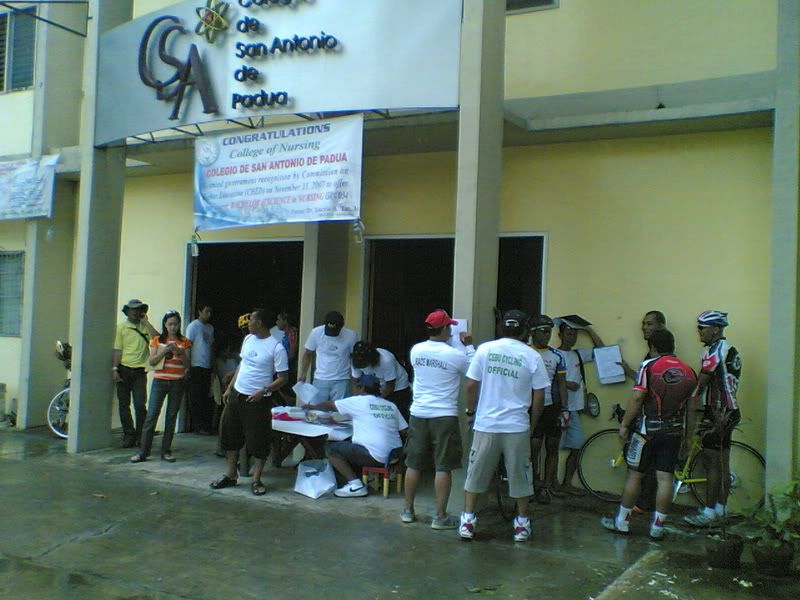 what will i do without my wife...?
daxcorp came in full ITT gear..."i didnt have time to change my aerobars to road bar...might as well train for the Triathlon where i will be racing..." he says
more fotos to follow...as my wife extended her vacation (for 8 hours extra..she arrives in manila tonite) thats why i cant upload her fotos....
RAINY start for category C
foto courtesy of frank gatdula...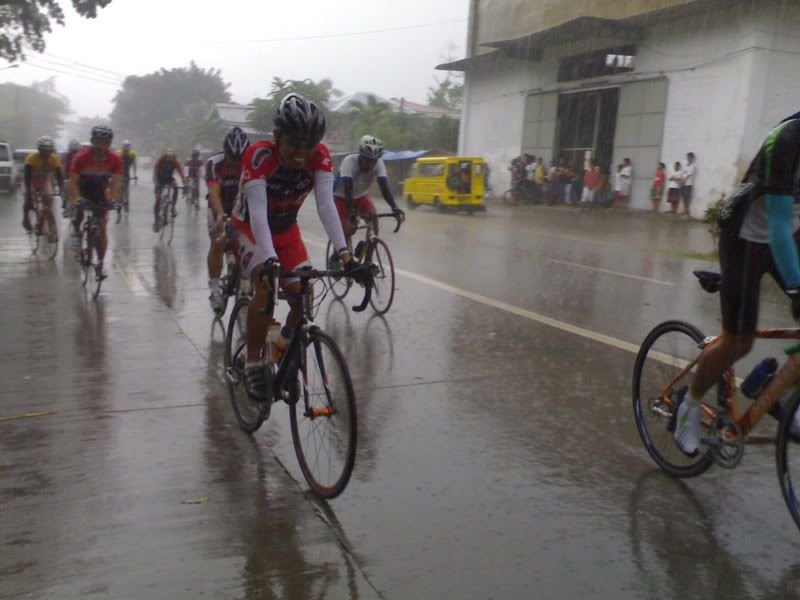 #114 raymond see went up front to avoid possible spills due to slippery roads..
early attacks by businessman Ted Pascual distributor of VELLUM and businessman Boy Tiples (team Caviteno Nuevo Ciclismo CNC) had everybody gasping for breath...ted is shown here using his campy Bora to the max....at the front end of peloton on the climbs .
feeling good. i was with a 4 man chase not too far behind the leaders for some 25kilometers from the start..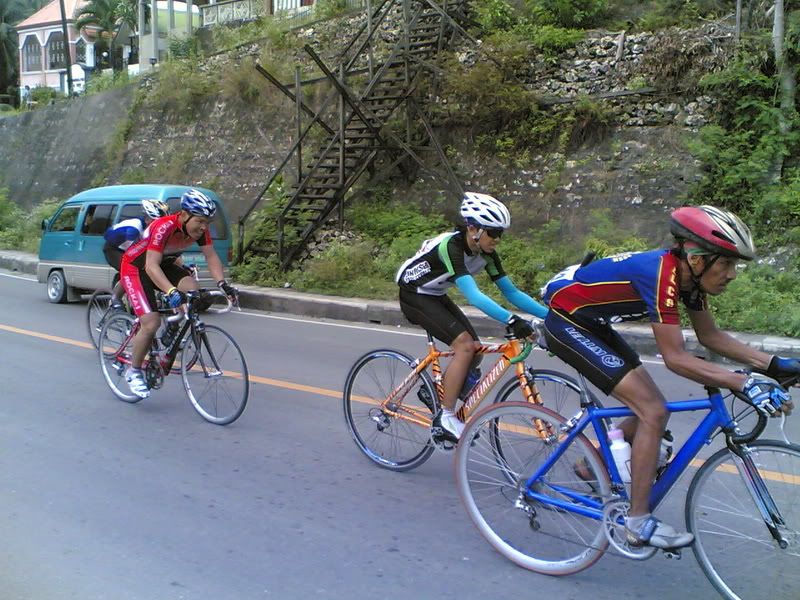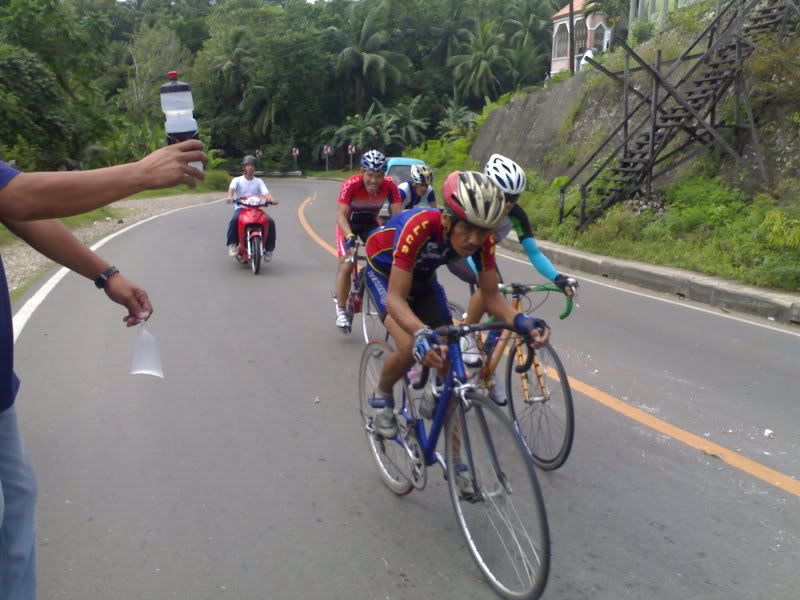 one of my best rides today isnt good enough for born climber NOEL TING...who catches me in the mountains and drops me like im standing still....A MUST SEE video... thanks so much to my lovely wife who took this classic.
trouble started when i started going into redline with 5kilometers to the summit...i started stand up..then sat back when my front wheel wobbled....i think i got front end puncture..so i told my driver "get to the marshal and ask for a spare wheel..i got a flat front wheel!" when there was no spare wheel at the u turn..i made the U then got off my bike..pump in wheel franctically....as i think frank gatdula and atty jong is still fighting...and might catch me on the downhills...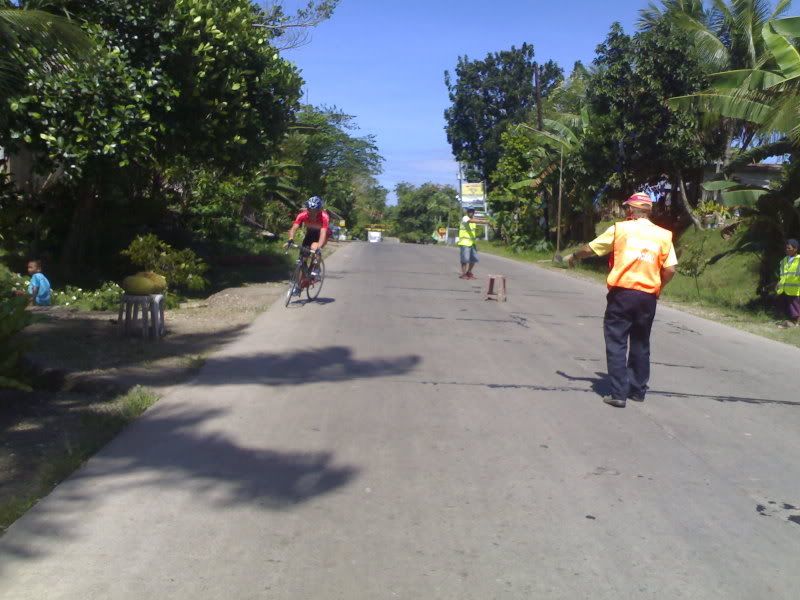 law of averages finally caught up with raymond see...after he punctures for the first time within a bike race...
i sped down towards the finish....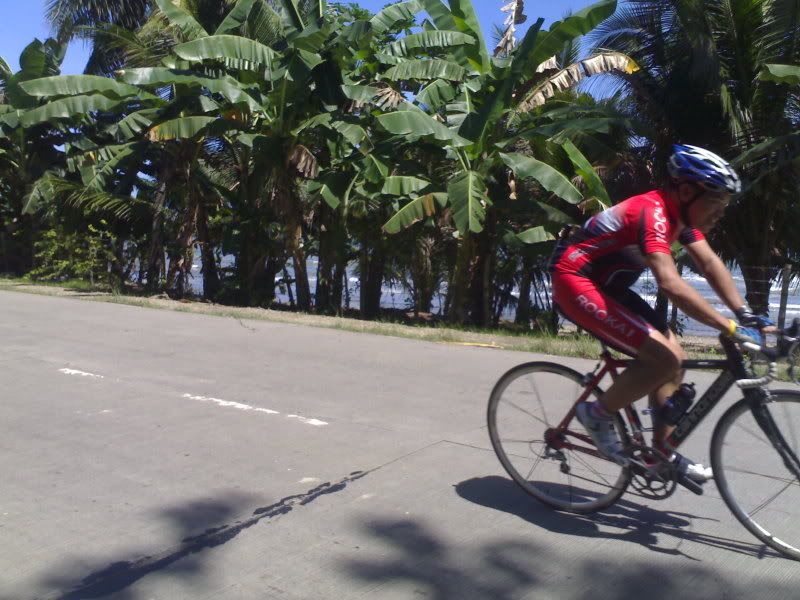 until my front wheel lose air again..and i have to pump in air again...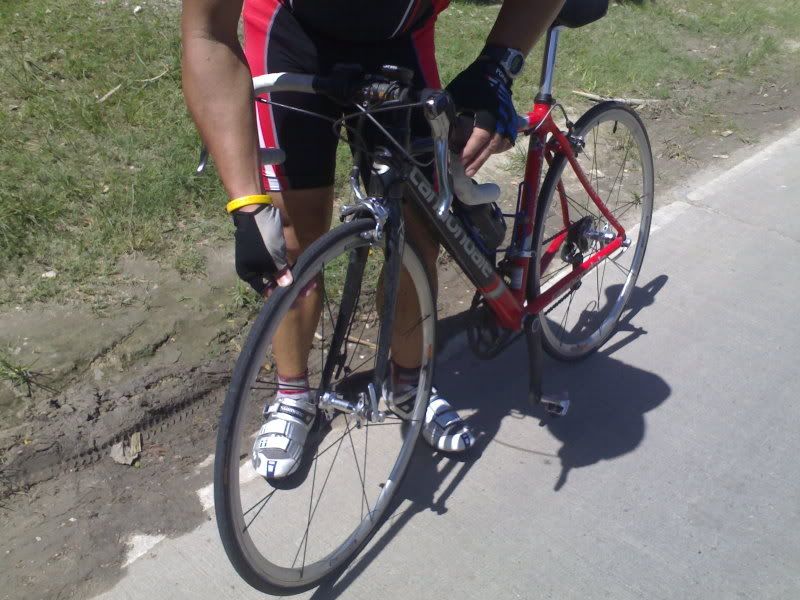 am nearing sea level.. but man..i saw somebody trying to catch me......so i have to pump faster than before...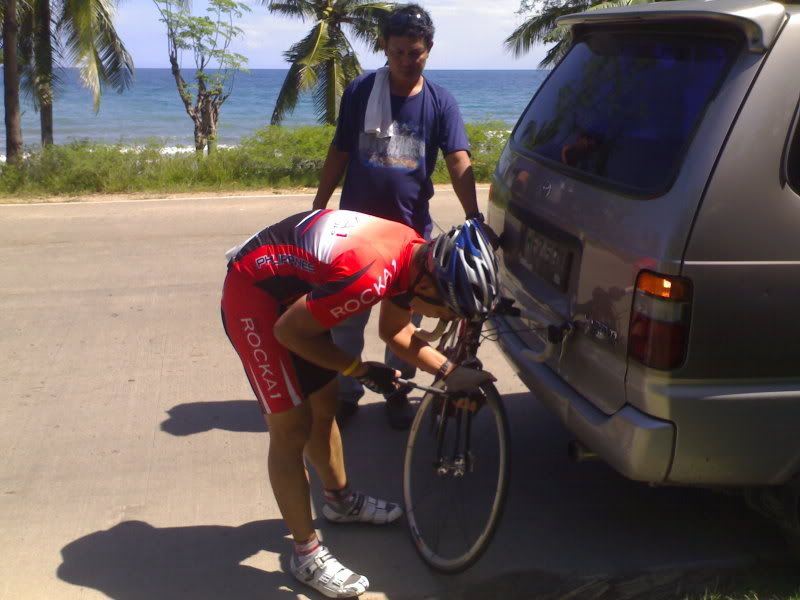 bernie of team vellum caught me...then we rode together for some time..he tells me he is from Manila and that he works at Pagcor in cebu...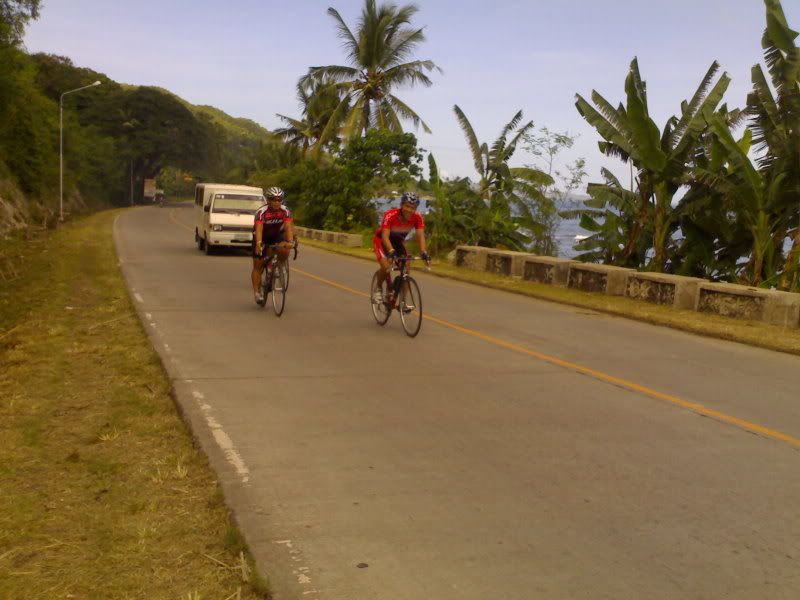 i was riding nicely on the return...doing the chase...caught 2 other riders along the way...but noel ting is nowhere in sight already...after he passed me up the mountains he was already gone...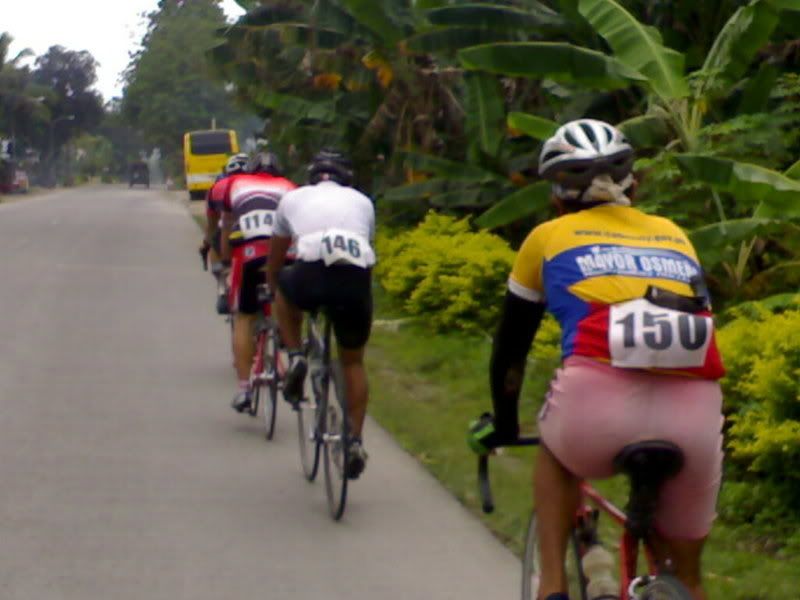 then we became 4...i cant afford to stop.. cant pump air anymore as i have 3 guys with me...so i gritted my teeth...im saying to myself...." so this is what Abraham Olano must have felt when he punctured and have to ride the last 2 kilometers on the rims....darn it where is that finish line..."
finally after 2hours and 25minutes on my stopwatch....i crossed the finish...to find my shimano ultegra front wheel staying true inspite of running flat for the last 2 kilometers...what a way to finish!!!
result of category C 70kilometer Ang Tour ni Frank danao logo danao road race as posted by doc JV Araneta
jv araneta
Global Moderator
Pro Cyclist
*****
Offline Offline
Posts: 4485
"There are no friends in the last K"
View Profile Email Personal Message (Offline)
Re: Tour ni Frank (Jan 26 - 27)
« Reply #280 on: January 26, 2008, 09:34:22 PM »
Reply with quoteQuote
by invitation cat
1. loloy berdun
2. boy tiples
3. ted pascual
4. ranel mier
5. rudy Mendoza
6. hyde esmalin
7. gary Fernandez
8. nelson jaca
9. tito canas
10.srispin solon
11.cesar salazar
12.noel ting
13.Raymond See
14.Bernie buan
15.ong percival
after the race we got invited by noy jopson to have lunch at km 45 hunahuna resort...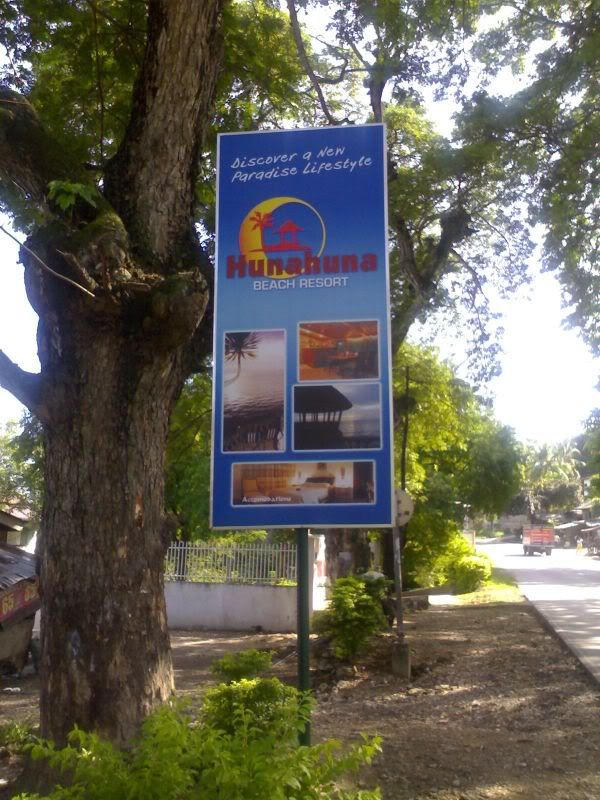 wow the place is cool! sort of secret hideaway place...
"do you like the place swithart?" i ask...."daddy this is a beautiful place!" my daughter said..
| | | |
| --- | --- | --- |
| | « Reply #1 on: January 28, 2008, 08:40:02 PM » | Quote Modify Remove Split Topic |
---
nice photos & report Ray!!
thanks
---
may your life be like a toilet paper, long & useful!
| | | |
| --- | --- | --- |
| | « Reply #2 on: January 28, 2008, 09:19:34 PM » | Quote Modify Remove Split Topic |
---
glad you enjoyed your stay sa cebu ray. what a race! so, next january is alredy on the list, ha. see you sa tlbf!
---
ASA RYD UGMA?
| | | |
| --- | --- | --- |
| | « Reply #3 on: January 28, 2008, 09:33:29 PM » | Quote Modify Remove Split Topic |
---
ray,
i really enjoy your reports! you're the best!!!
| | | |
| --- | --- | --- |
| | « Reply #4 on: January 28, 2008, 11:40:36 PM » | Quote Modify Remove Split Topic |
---
Nice to see you enjoyed Cebu again & I hope we can meet up this year if I plan to have another 10 mile ITT or 2up
| | | |
| --- | --- | --- |
| | « Reply #5 on: January 29, 2008, 03:07:32 AM » | Quote Modify Remove Split Topic |
---
Interesting report and photos Ray. Keep them coming. By the way, if you don't have one yet get a Chain Keeper
http://www.coloradocyclist.com/product/item/PEDSWZWK
. Everytime the rear wheel is out especially when transporting your bike the Chain Keeper should be IN. It neatly secures the chain. You can still rotate the crank for repositioning even with this thing on. Cheap but very useful tool.