---
The much awaited first big race for this year Hitachi NAtional Criterium Grand Prix organized by Ric Rodriguez, The Filipino Chinese Cycling Federation and the Mayor of Manila Alfredo Lim was flagged off yesterday at the beautiful Luneta Park circuit with hundreds of cyclists participating. team rocka sent 6 riders to participate. here is the report
thats the boss..ric rodriguez..with my friend architect quin baterna and noel baltazar the right hand man of ric...posing for a photo shoot before the race begins.
this is the softspoken and super friendly mr Washinton Ong...a patron of the Filipino Chinese Cycling Federation and also PHILIPPINE DISTRIBUTOR of CANNONDALE .
left to right..thats noel aka headless spider and lito benitez making true their offer for 30percent discount on rudy project eyewear at the Hitachi race..i might add that noel had written about the hitachi race and you might want to read his blog here it is.
http://noel.alanguilan.com/2008/02/18/karera-sa-luneta/
noel alanguilan » blog archive » karera sa luneta
crowds line up Maria Orosa street in Luneta MAnila.....you'll know its a BIG BIKE RACE when you see the Tanduay Kites banners and advertising lining up the streets...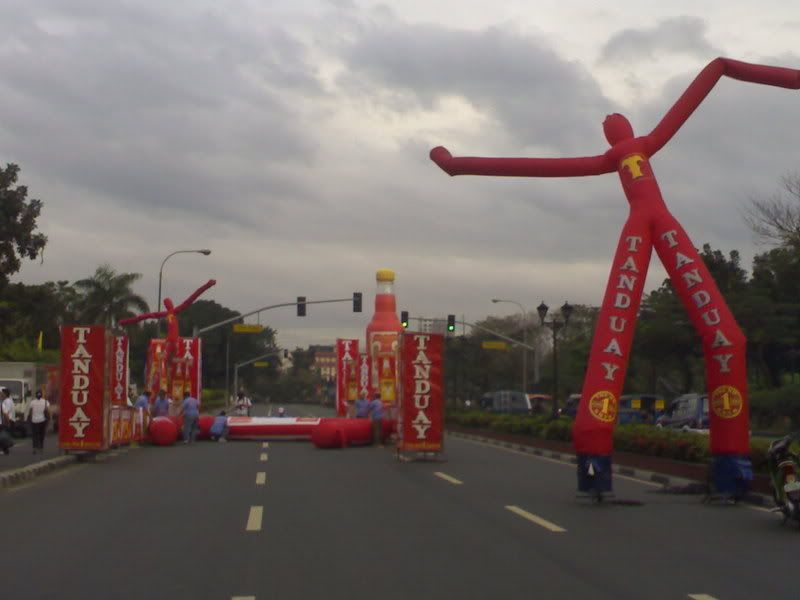 Tanduay gave away sunvisors, sexy calendars and discounts on tanduay goodies during race day..thats my daughter wearing a tanduay sunvisor.
look at this crowd..over 500 people lined up the MAria Orosa corner TM KAlaw in manila to witness Hitachi
criterium race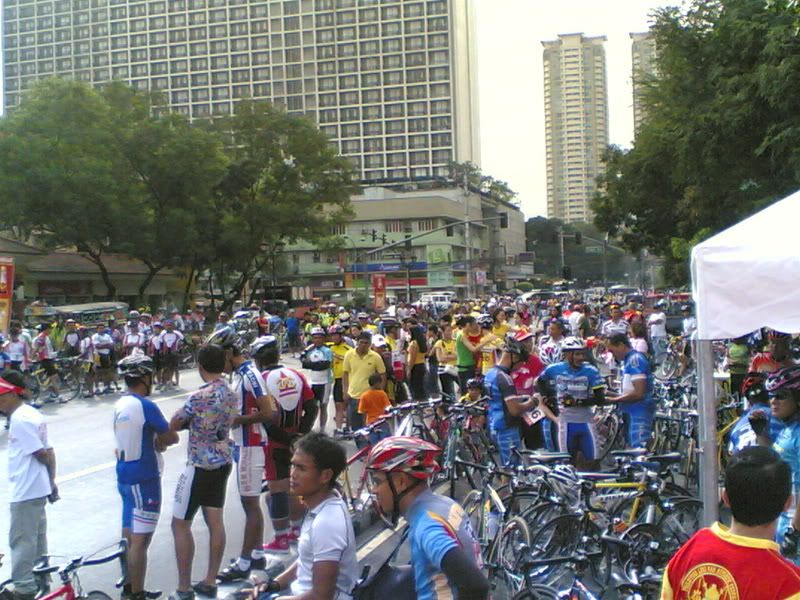 reunited with my mentors the people im training with for criterium racing...at the University of the Philippines since 1985.. at Strata 100 in the 1990s...at the University of Life/st paul circuit since 1995s...so on and so forth.....the original first couple miss cathy wong and rodolfo boy plaza...heartwarming for me to see you guys still going strong after 23 years of non stop cycling!
....i wish for more cycling ahead of us....Ride Safe!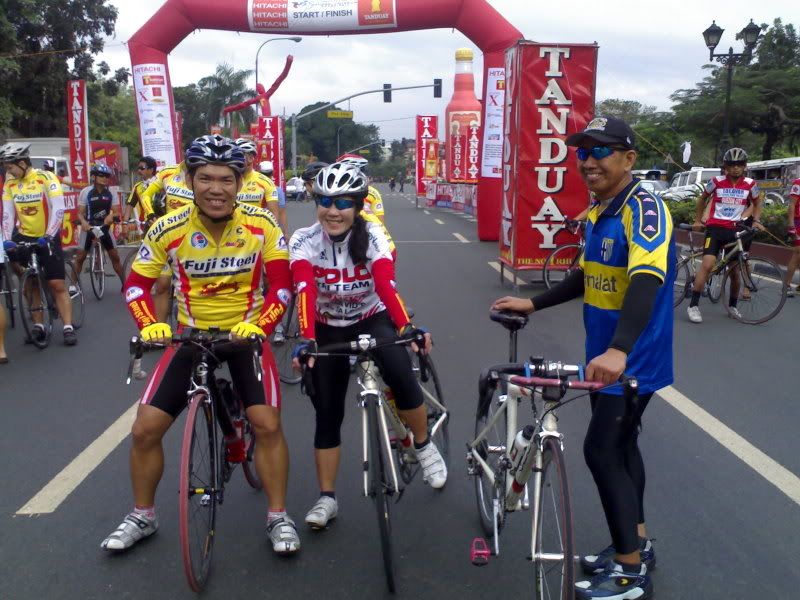 half the fun i get in joining the big races nowadays is achieved by meeting and talking to enthusiastic cyclists..like this adorable husband and wife team Mr Winston Chua and lovely wife Abby Chua from team AllTerra bikeshop who placed 2nd and 5th respectively in their filchi category B race...fantastic couple who can ride fast criteriums...WOW!!!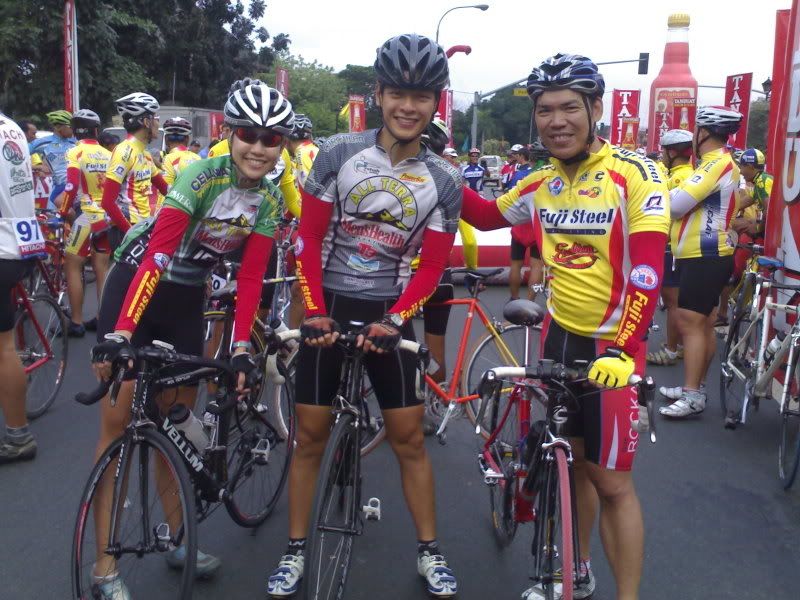 mr rodgen tan showed up on a Vintage de Rosa with beautiful orange paint job and exquisite lugs
city of manila provided these motorcycle cops for peace and order and crowd control
thats my boy superboy saul sibayan who only needs one more year to finish his studies as a sports doctor..."and how is your resting heart rate this morning saul? " i ask "kuya its 55bpm...and how about you?" he says "i have 96bpm...im out of shape sometimes its 109bpm" i say...."kuya raymond normally the range is 80-100bpm..athletes have much lower resting heart rate 50-70bpm..you have to cut down sodium (salt) intake its the salt thats one of the common cause of a high resting heart rate and hypertension." says saul ..thanks saul!
photo op with my new friend from Leyte..businessman Eduard Chu who flew in from Leyte a day before the race with this showstopping ..jaw dropping Pinarello Prince with Xentis carbon wheelset!
WOWOWEE!!! "and how much does this baby cost eduard?" i ask.... "ray its $$$$$"
the category A from Filchi was released first with the 50year olds masters cat...this was won by my favorite rider superboy Saul Sibayan who won hands down with plenty to spare after a 4 lap breakaway with help from philip angtuaco who succeeded in slowing down the peloton...to let Saul all alone.
this was the beautiful lion dance number courtesy of filchi cycling federation which was held after the first race..before our race.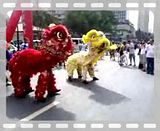 filchi category (for filipino chinese) category B (with the red arm warmers) were released with cat C (with the white arm warmers) and here is a foto of the action with me doing my turn to pull.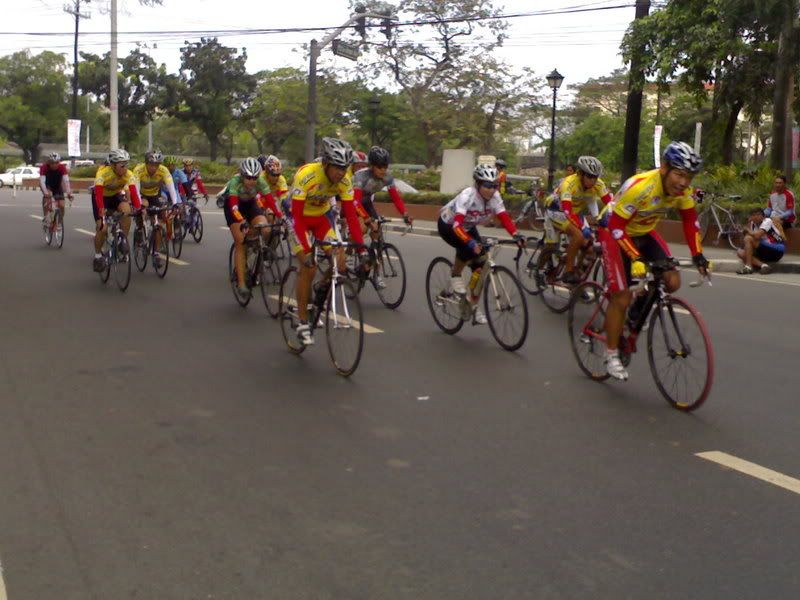 thats my teamfilchi teammate albert cua doing his turn up front
i have to ride in 2 events for today..wearing yellow fil chi jersey for the filchi event and later wearing the red jersey for teamrocka event.
well if you are wondering how the filchi was...here is the video footage which eduard chu won..it was a fun filled super fast race also..as the roads were so smooth the corners were nice. thanks so much to my wife margie for walking all around luneta park just to get this video footage...which was from different parts of the circuit. Thanks swithart.
thats my team teamrocka1bikeshop
this is team POWERADE headed by rommel zacarias and ernani loreto
presentation of teams for the media...here is barangay LogicGAte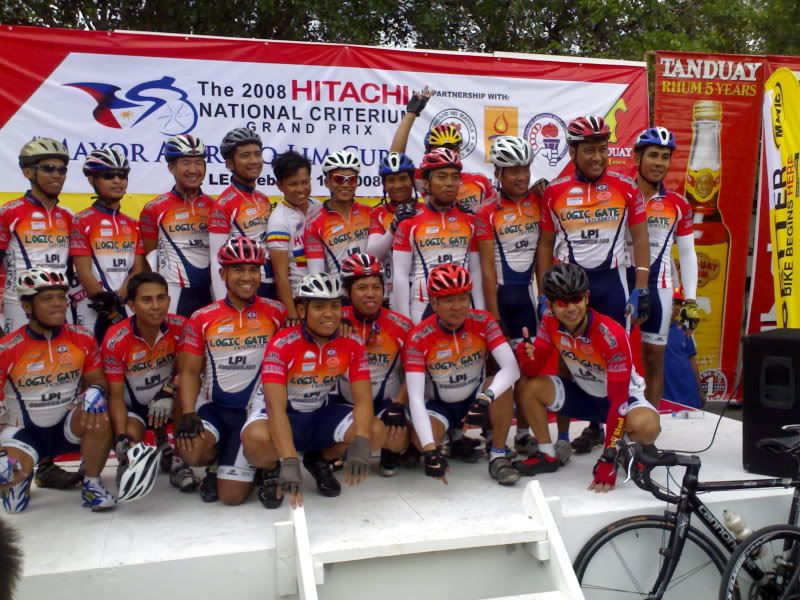 here is the red dragons team the Fuji Excellent Noodles team of Superman Alex Billan
here is team Microsoft Windows in their splendid white team kits headed by Ernie Hortaleza
after the race..the participants of the filchi special race (for filipino chinese) were invited for this luncheon party at Davids Teahouse hosted by Fil Chi Top Brass Mr Chin, Mr Angel Tan vice president of the FCAAP in charge of cycling and president of the Fil Chi cycling team Edward Lim...."this is mr raymond see..he is the writer of the race reports all over the internet nowdays" my teammate Philip Go introducing me to the top brass...to which Mr Chin the original cycling journalist for the chinese newspaper daily WORLD NEWS in Manila... the father of Shane Chin and father in law of Alex Billan said "yes yes he is easily recognized..as you probably dont know it..raymond he has been racing since the beginning 1985..so for over 23 years already... so i recognize his face all the time...."
photo shoot from left to right Albert Cua, with the leyte businessman..the champion of category B...the owner of the super duper Pinarello Prince Mr Eduard Chu and the owner of that beautiful De Rosa vintage classic Mr Rodgen Tan..."hey mr eduard chu..i didnt know you can ride that fast..not with that beautiful Pinarello bike...didnt you notice we didnt chase you after the last lap...we were so afraid we might crash with that beautiful bike of yours...thats why we let you go.. " eduard albert and rodgen laughs...
of course i was kidding....Mr CHU he was so cool collect didnt panic and we couldnt shake him... the best of tiboy reyes, AR ng, Winston Chua of All terra and myself..leading out over 30 minutes plus 3 laps...until the very last lap.....saw us wilting when Mr chu unleased a devastating dash to the finish..winning for himself the Podium finish for category B...the beautiful trophy from FilChi...CONGRATULATION EDUARD!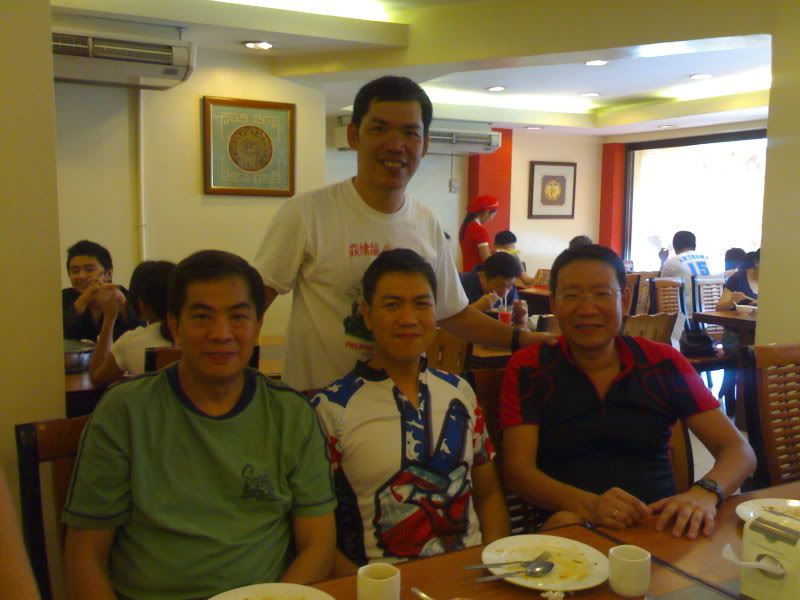 here he is again receiving that BEAUTIFUL TROPHY ..Mr Eduard chu from leyte wins filchi CAtegory B at LUNETA>>>>well done mr chu. bravo for a fantastic well deserved victory!
ooops..Far left...congratulations also to my teammate Philip Go who got 4th plavce and a medal..Congratulations Philip!