---
Feb 3 Mayon resthouse ride
any trip to bicol wont be complete if you couldnt ride up the Mayon Volcano resthouse so after the bike for hope...i talked to my fil chi friends from Naga..enald tan, eric tan, alvin lo and yuri if it was possible for them to ride with me dondie and philip up the mayon resthouse. Alvin and Enald was enthusiastic so we set the meeting at 730am in at the Ligao Jolibee Station some 30 kilometers from hotel casablanca because enald's group will be coming from Naga City
i asked dondie.."its raining..will we ride the sag wagon from casablanca to ligao?"..dondie said "better if we have the warm up...so lets just ride from casablanca legaspi to Ligao" dondie said...well if you are reading this..going to guinobatan from legaspi isnt flat....its long long uphill a bit rolling like silang cavite to tagaytay...
thats me...by this time..immune to the wet weather which frequents bicol all year long ...
we got caught by professional rider the teammate of Victor Espiritu christopher "tope" rodriguez somewhere in guinobatan..who made sure he rides with us..as promised...thanks christopher...but you were pulling 20kph on the incline...and dondie he followed you up till he cramped...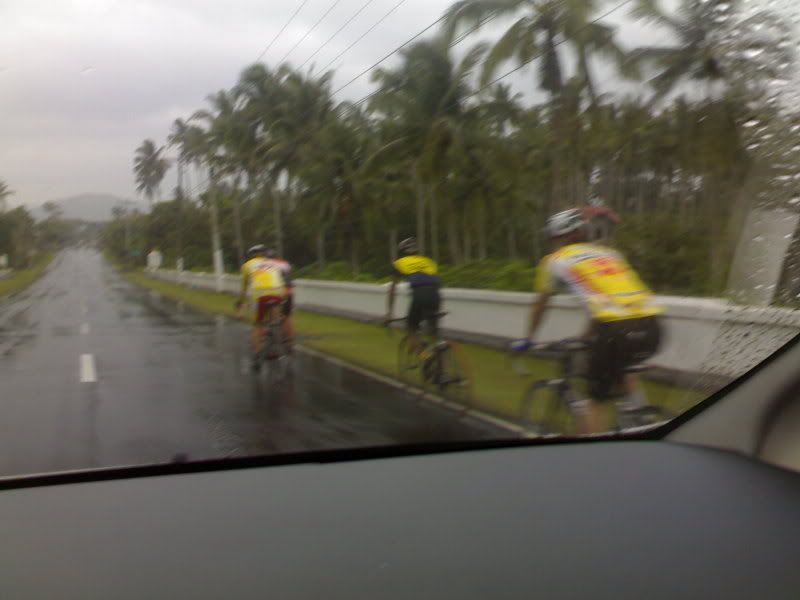 8 kilometer to the mayon resthouse there was this intersection where enald suggested..."let us all leave our helmet inside the sag wagon..because its all climbs from this point" ...im not saying anything...but i remember telling philip..."its not illegal to ride the sag wagon you know...." philip laughs...then said "i think ill have my helmet back on...i could slide down the mountain you know..."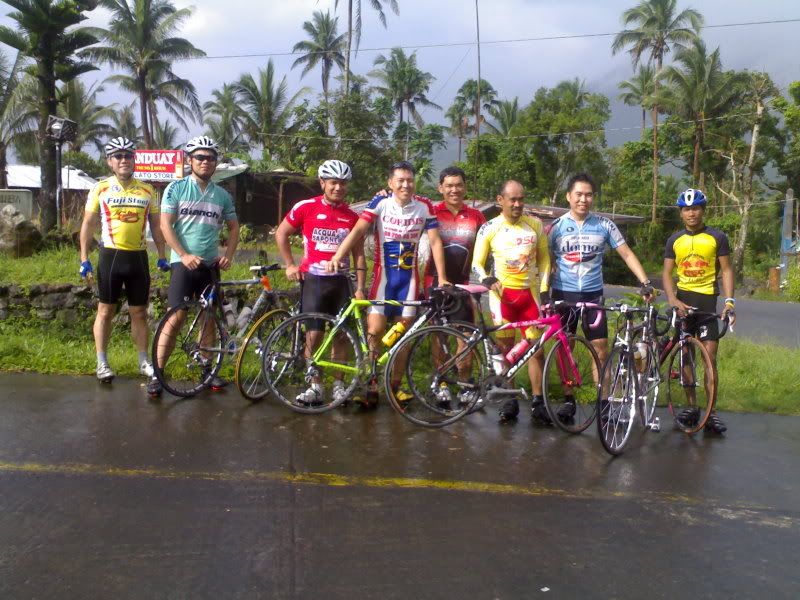 thats me riding with eric tan who rode his weapon of choice LITESPEED VORTEX with 29 teeth campagnolo sprocket this time around......"eric how many times do you climb Mayon Volcano?" i ask..." well lets see now..maybe two times a year...but if there are VIP's like eric carandang and your group....then we we will be happy to ride with you up Mayon together"
the happy group was led by alvin lo at left and eric tan at right on their approach of Mayon climb..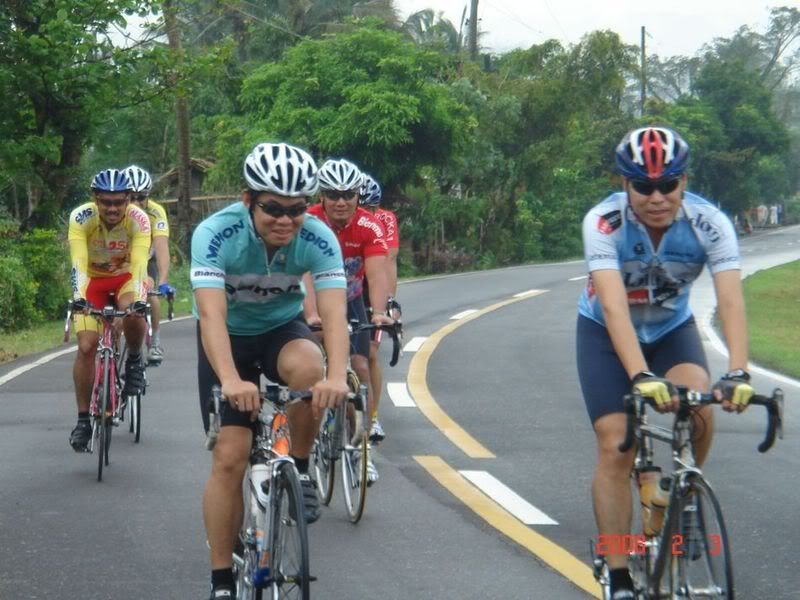 enald went on an incline...i forced an attack....only to be reeled in by that Yuri guy himself a Graham BAxter tour de france participant....who leaves me and eric tan gasping for air...
eoow the weather was terrible...but this is Mayon Volcano...this is bicol..the weather here isnt sunny so we didnt expect a "dry" climb...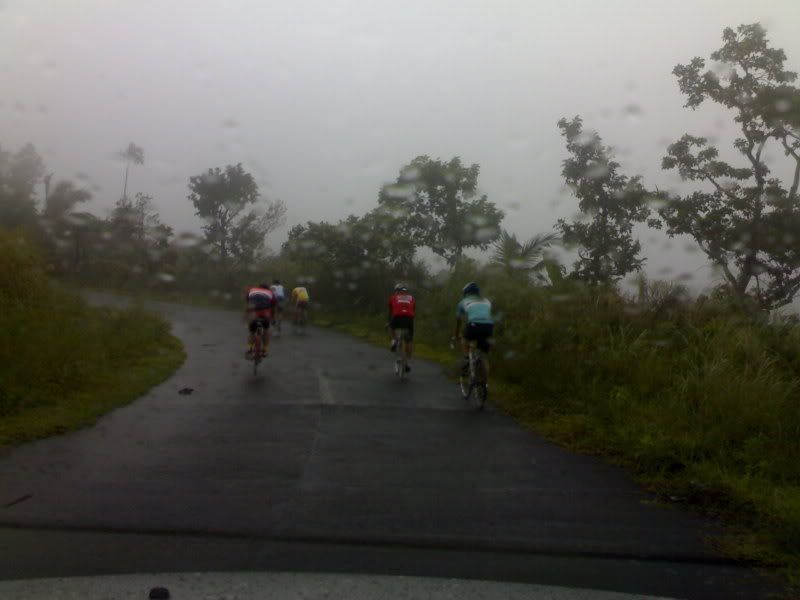 thats my friend Dondie Azarcon..alias Marco Pantani look alike..taking a pee break..."ray..dondie lacks a bandana..other than that he does look like Marco Pantani...!" alvin said
happy to reach the top..here is our group at the mayon resthouse..."boy this is the foggiest (is that fog or is that the clouds already?
) day we ever rode this mountain...its too wet and cold too" alvin said..."mommy please order 8 cups of coffee for me and my friends here..." so my wife ordered hot coffee and we enjoyed it at the top
yuri came after enald...fantastic climb yuri...Congratulations!!! me i have to put my foot down again...the last 500meters was eoww....super steep....hahaha "dont worry about that raymond..i also stopped there during my first climb" yuri said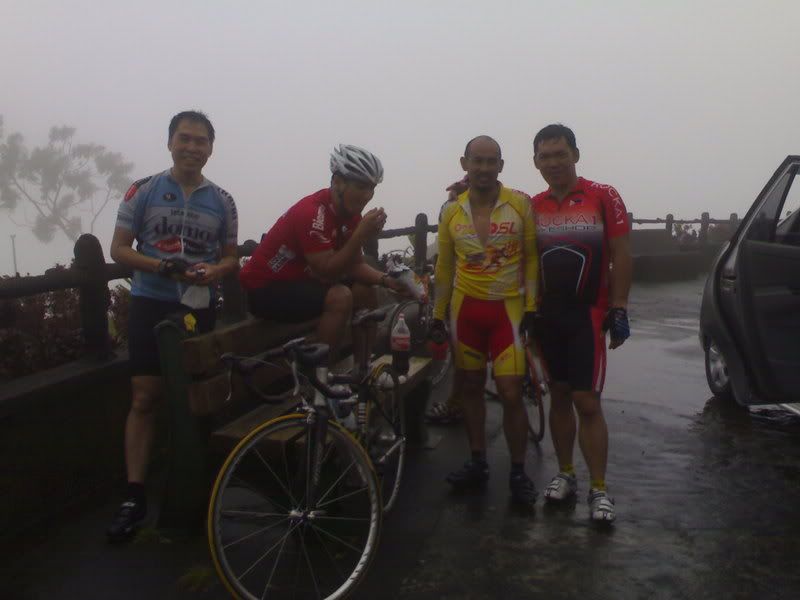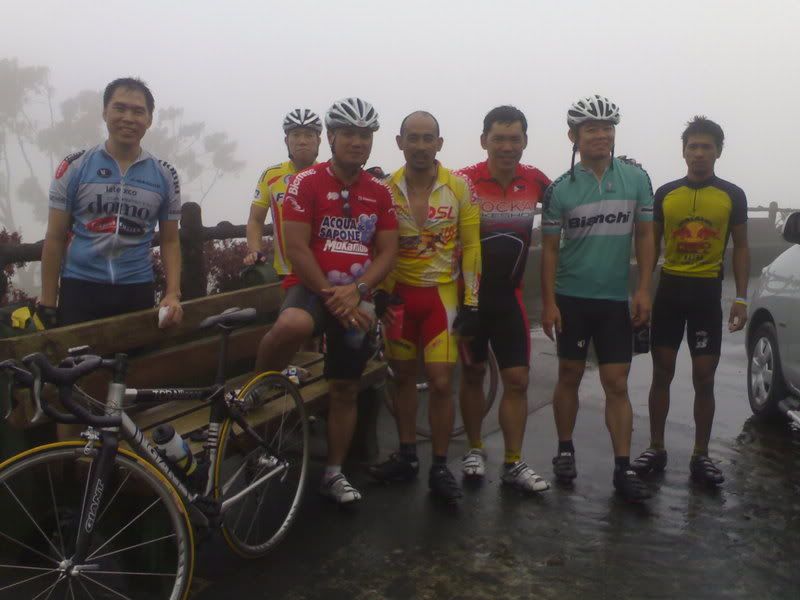 philip go wore his filchi team kit and showed how strongly he can climb mountains....passing this guy with that terrifying t shirt "FEAR NO EVIL"
there were 14 stations of the cross towards the mayon resthouse.....the first 6 stations were "manageable" for cyclists ...the 7th to 14th station was eoow...painful!
when you reach the top there is a large rosary where people pray.. this was where we took this photo
this was the 14th station...im glad i made it safely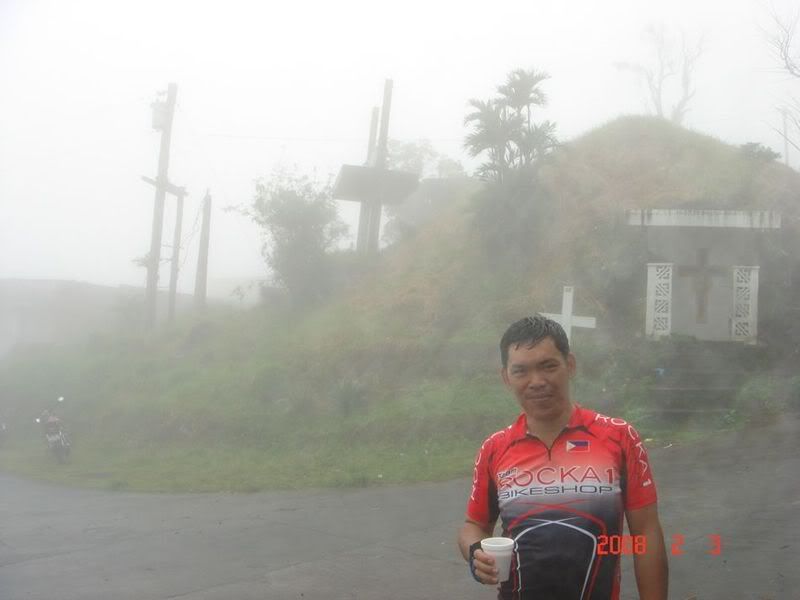 take a peek at the "visibility zero" portion near the top of the climb...thats me with Yuri...having our hot cups of coffee
we rode down back to Ligao from Mayon..the slope was steep...the road was slippery...but every one came down fine...im with some of the finest cyclists from Bicol.
the finish line was this jolibee station in Ligao..Eric Tan and company heads back to Naga ...."Raymond we had so much fun...let us know when you want to come back" alvin said...."that was an enjoyable ride Alvin we had lots of fun." I said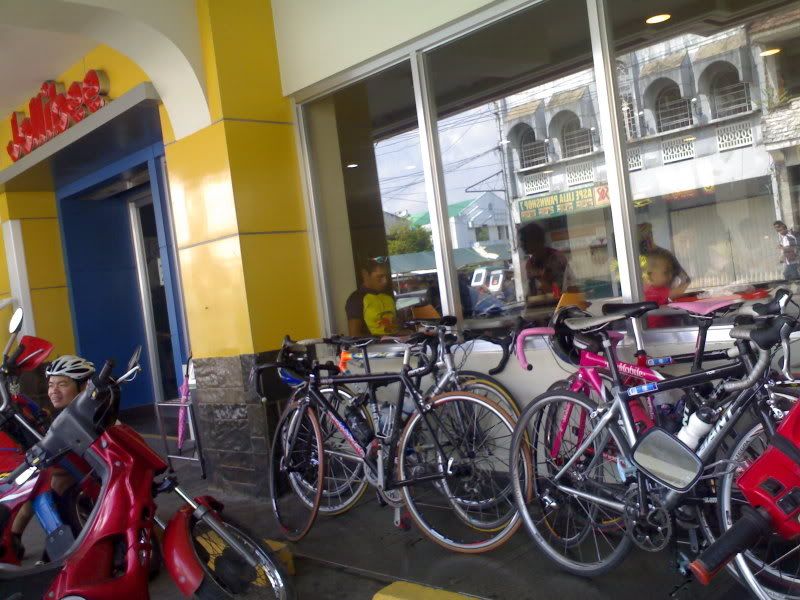 after the jolibee break..me and dondie at it again this time to continue the 30 kilometer long drive home. towards the casablanca hotel Legaspi ..philip went back to the hotel with christopher earlier.
eoow..there was a strong headwind on our way back.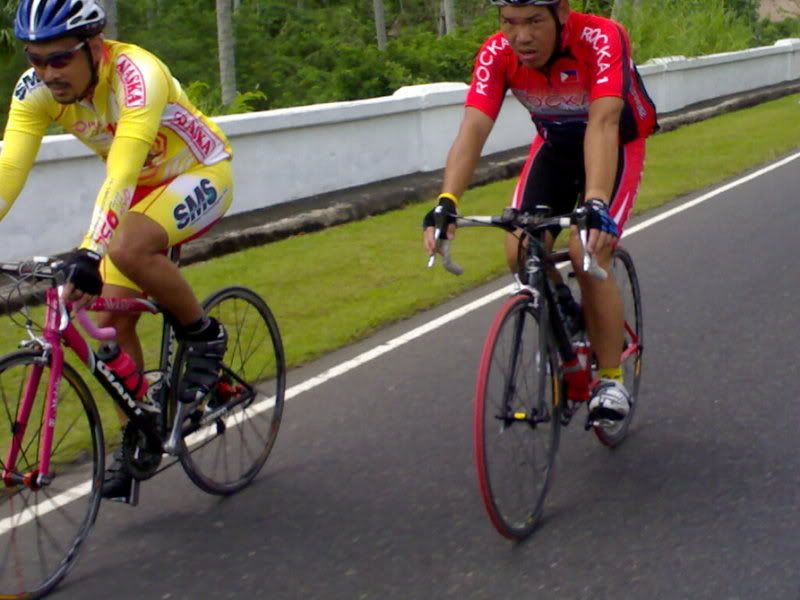 back to where it belongs..safe and sound at the storeroom of casablanca hotel on the ground floor.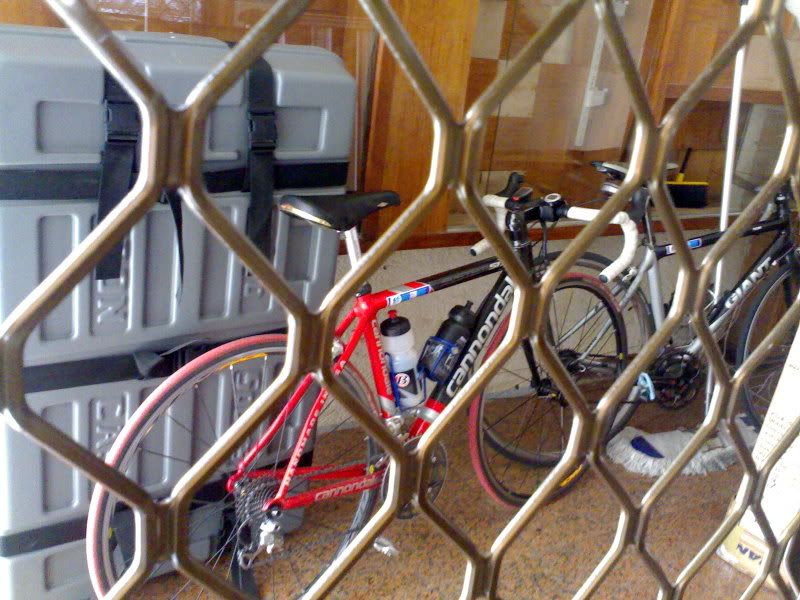 in the afternoon...me and my family went to the Cagsawa ruins...which was the scene of a national calamity just this december 2006 after a landslide from mayon volcano killed hundreds of people living near this Cagsawa ruins...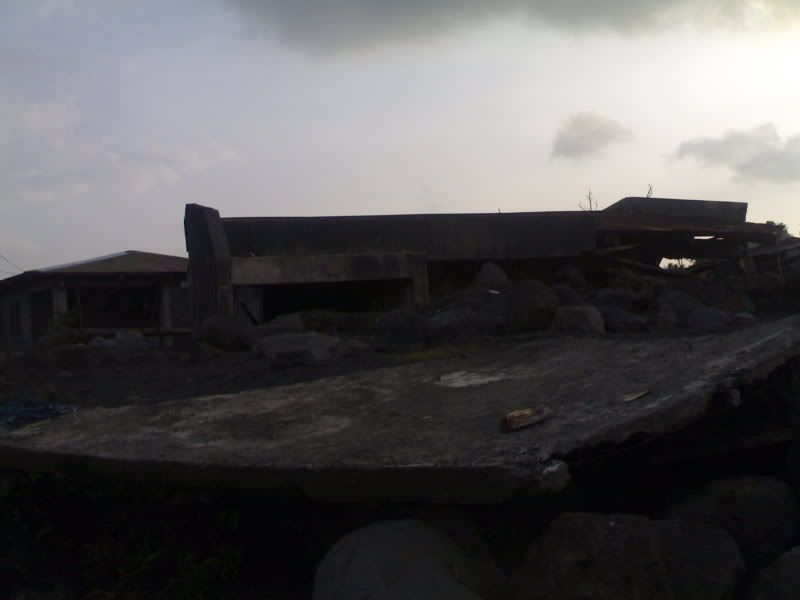 we had a foto shoot at cagsawa..people said..."its a miracle the cagsawa church was spared this time around...the devastation last dec 2006 was terrible."