---
dear friends,
tiboy reyes proposing very long rides in preparation for egat stages...and since i will be riding Egat with him..i have to follow his strict 100kilometers or more training rides over the next 10 sundays before Egat.
thats why we are cycling long distances even when we are not professionals.
myself i had gone cycling in January with winston chua invitation to Caliraya then pagsanjan..after that rode airplane to race in cebu..rode airplane ride in bicol...rode extra rides sierra madre to sampaloc and back...and yesterday thats got to be the longest most difficult ride i ever did in the past 2 years.. 123 kilometers Pililia Coffee Stop to mabitac to Caliraya to cavinte..to Pagsanjan..lunch in Pagsajan ..and Then go ride the whole way back to famy..back to mabitac..climb Bugarin..back to Pililia coffee stop...! 5 hours 34 minutes on my speedo..thats absolutely difficult.
but if i dont train..i wont have good result in Thailand and so have to train with fellow filchi.
if there's a revelation yesterday its got to be philip go..who was flawless spinning his ..34 x 19 up caliraya..he was smooth on the flats in famy..then i couldnt match his climbing skills up bugarin...absolutely a fantastic ride for Philip.
i had gotten rid of my cramps...side stiches...im on medication for my ulcer...
but my spinning is terrible and eddie B says "you are not angling..pulling your pedals on the climbs raymond...so thats why you arent smooth you got dead spots..." but thats easier then done eddie...! im poofed..but after we had nice lunch at Binalot restaurant in pagsanjan...i recovered.
for the non stop 140kms training ride in the coming weeks....i suggest to tiboy reyes and philip...to take 3 laps of the Matabungkay route the race we had last november.....id write about it for sure.
i also want a repeat of the Nasugbu then go up Payapa in Tagaytay Classic...count me in if you guys decide to ride that on sunday...as i want to be friendly with the wicked mountains...cant be afraid of the mountains anymore..so we have to pay them visits more often now.
thanks again to all my friends who decide to ride with me..enjoy our pain for the long ride yesterday.. Tiboy Reyes, Philip Go, Eddie B, Carlos Tan, superboy Saul Sibayan and Albert Cua..
you guys absolutely wonderful!
i look forward to ride with you again soon.
Egat will be fun!
raymond see
teamrocka1bikeshop
Coffee stop in Pililia Rizal East of Manila
foto shoot before the start of our 123 km long long ride
"Lets go raymond...time to catch the relentless atty tiboy reyes" eddie B leads raymond see over Bugarin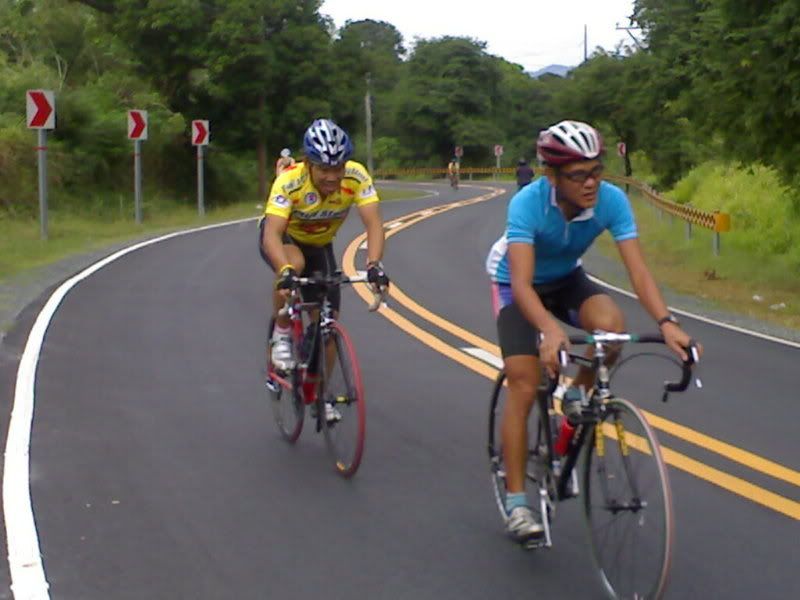 we had a short stopover to wait for our group after the 8 kilometer bugarin climb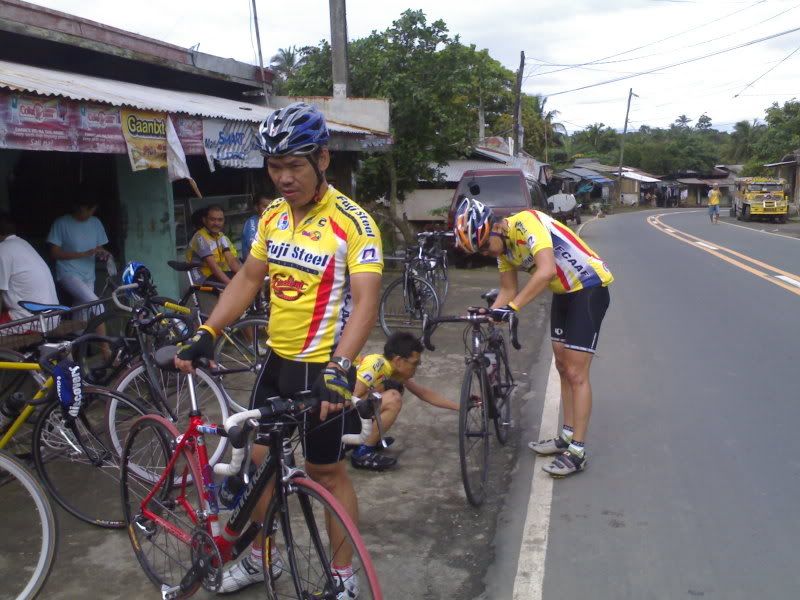 here is a better view of the Colnago e1 of Carlos Tan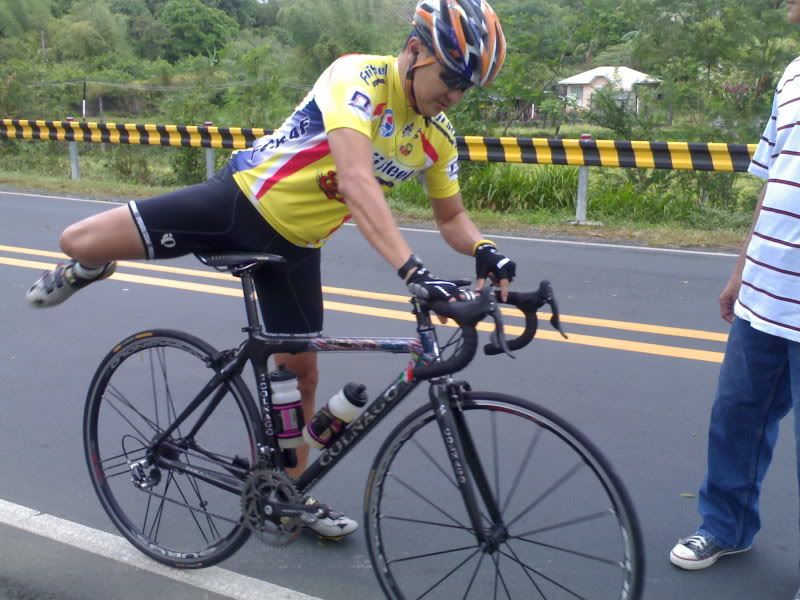 no weak link in this group..fil chi has now a 7 man cycling team who can ride over 100kilometer distances..virtually unheard of until 2007 when some fil chi decides to include the long unfamiliar roads in their agenda
caught up with Tiboy Reyes at the start of the 7 kms lake Caliraya climb which features a man made lake and a hydroelectric powered dam with resort facilities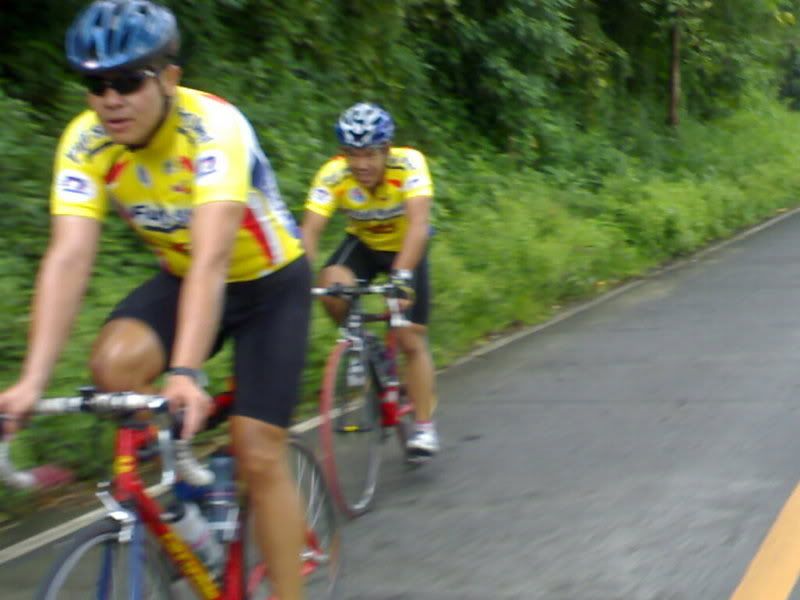 paperweight junior rider saul sibayan who at 21 years old is unstoppable as he powers his way up the climbs with little effort. ...will be riding for teamrocka1bikeshop against asian junior riders in thailand
i gave a pat in the back to philip go after he catches me ...then drops me after i couldnt match his spinning in the last 1 kilometer up caliraya..well done philip..well done team Egat participants!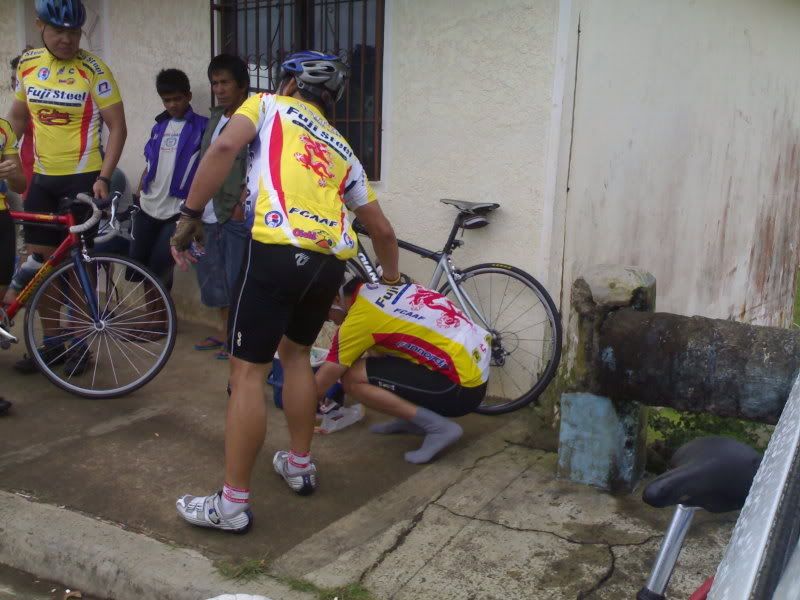 this sign says its 10kilometers to caliraya but 93 kilometers back to Manila...woah thats a long ride home...and thats what the pros do...they ride back home for the 200 kilometers training ride.
raining at the top of Caliraya lake...so we slowed down on our way to cavinte then pangasinan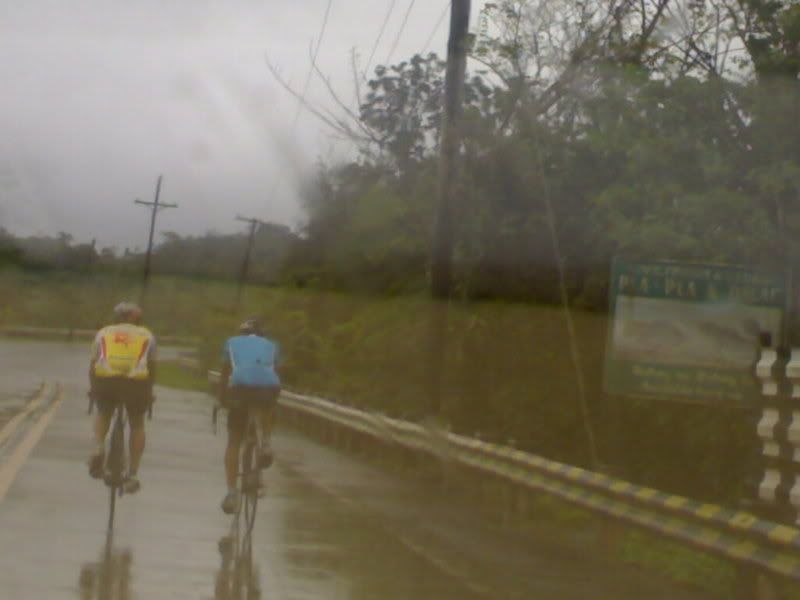 our group had a nice lunch in pagsanjan
photo shoot after that backbreaking 8 kilometer mabitac to manang's eatery...hd..see im holding on to Philip's shoulder..i think im gonna faint...
"