| | | |
| --- | --- | --- |
| | Author | Topic: TSI TOUR OF MATABUNGKAY 2008 the race report part1 (Read 111 times) |
| | | |
| --- | --- | --- |
| | « on: October 30, 2008, 03:30:29 PM » | Quote Modify Remove Split Topic |
---
dear friends,
the much anticipated race of the year TSI Tour of Matabungkay October 24 25 26 saw 150 registered riders and some 30 riders opting to ride even without the transponders provided by TIMING SOLUTIONS INC...
i have to finish my work before wednesday..delegate everything to someone.
Oct 23 2008
6am in the morning of the 23rd..me and my wife went to the spanking clean NAIA AIRPOSRT TERMINAL 3 to fetch our teamrocka guest riders REX TAN and wife VERNA and PHILIP SAINZ who travelled by plane all the way from ORMOC LEYTE.
waiting area of the newly opened manila international airport NAIA 3
the wife of PHILIP ...GWEN even if she is pregnant was there to fetch the cyclists too and after the group arrived we rode to my condo where the bikes were transferred to my car and the group then proceeded to tagaytay.
we arrived at tagatay around 12 pm so i invited the group to have lunch at leslie's with the wonderful view of taal volcano. food was great..the live singers even greater and rex tan said he had a very very good time.
lunch at leslie's restaurant in tagaytay city
scenic view of TAAL VOLCANO seen from Leslie's restaurant tagaytay city Philippines
we were among the first visitors/participants of MATABUNGKAY.
Alvin Lo and Yuri Lirag arrived they took the road from bicol which was a good 8 hours drive from Matabungkay so together our group had dinner at MATABUNGKAY. After dinner we went to check out the bikes and had picture taken of the PARLEE Z3 of Alvin,
checking out mean machine..parlee!
rex tan flew by plane all the way from ORMOC LEYTE just to race in matabungkay..after showing us his beautiful BELL helmet..he shows us the improper way to use the helmet
the Cannondale SUPER SIX of Rex and the ARGON GALIUM of Philip sainz..had some story telling then went to bed early and just waited for rest of the team to arrive.
Oct 24 2008
i woke up early and saw the parking lot slowly filled to full capacity as 150 riders arrive to race in matabungkay.
parking lot of matabungkay started to fill up
by 10am most of the riders were at the lobby having the transponders attached to their bikes.
atty tiboy reyes teamcaptain of rocka with raymond see at the lobby
TIMING SOLUTIONS provided this transponders to each of the 150 cyclists
around 12pm we had a foto shoot then proceeded to the starting line to ride the first event which was a 50 kms TTT (team time trial)
team fitness first awaits their team to be released
team heritage park led by JUN LOPEZ and TONY LOPEZ waits for their names to be called in the TTT
my good friend architect ricky ledesma otherwise known as campyled on a black CERVELO P3 belonged to team XYCOS which was among the first teams to be released
Rocka had 1A and 1B.
Rocka1B had been released first.
teamrocka1B
ROCKA 1A was later called and so my group then went to the starting line
we had a very very strong start..the speed was in excess of 40kms for over 5 kilometers i think and so nina very couldnt sustain the pace and was peeling off. teamcaptain tiboy called for the leaders to slow down and so we waited
for others. 15meters to the U TURN (orange pylon in calatagan) i run over a sharp piece of rock and punctured my front wheel..so i peeled off ask everyone forget about me and proceed to the finish line.
atty tiboy our teamcaptain made the u turn and want to be doubly sure i wasnt faking any puncture so he called out "let me see your front wheel i want to make sure you had flat! Grin" so the group had a good laugh and sprinted towards the hills of balayan. laugh
i checked out my back pocket yes the spare tube was there..the small hand pump was there but the tire levers were missing..so i did what the local pros do..took out my shimano skewers from front and rear wheel and started making use of the skewers as my tire levers. I changed the inner tube...managed to pumped in only 55psi and sped off ...im in a bike race..i dont want to lose so much time.
i saw the group of millionaire dondie azarcon on the opposite side of the road. There were 5 of them and dondie being the weakest link is being pushed from behind by strongman norberto daa.
i rode as fast as i could but somewhere from calatagan this group caught me and dondie i saw him he was sweating real hard and now 2 guys were pushing him behind (it is a legal maneuver to push teammate in the TTT)....its like watching the movie SAVING PRIVATE RYAN....dondie is private ryan everybody had to make sure dondie survives.
in the hills of BAlayan i got caught first by lone rider from team AUTOTREND richard uy on a seven time trial bike he was really flying and i saw the FITNESS FIRST group on a high speed chase trying to catch richard . richard was eventually caught at the uturn going back to the finish line.
then one by one team autotrend riders arrived.. ..."there must be something wrong" i said to myself "why these guys didnt ride as a team?" anyway i found out later that anthony dee had heart palpitations and couldnt ride hard...and so richard uy thinking that the individual time of the riders in the TTT will be the one accumulated in the GC tried his best to have a good clocking.
anyway i finished my TTT...i doubly checked with raul cuevas i made sure i dont get bumped off the GC (general classifications) as i am a participant of the P20 race within the race...i have to finish the race to gain same time as the 5th man that stopped the clock for our team...and yes raul made sure i have the same clocking after i cross the finish line.
3rd Place podium finish for TEAM LOGIC GATE in the TEAM TIME TRIAL
at Matabungkay we had nice story telling...dondie was ecstatic..his team had placed an insurmountable 9 minute lead over my team also...and as the P20 race goes on for the next two days he knows very well everyone will have a hard time catching him already. I kidded dondie..."and how did you manage to climb up the hills of balayan when you are running empty already dondie?...maybe you placed your pedals at 3 oclock and 9 o clock position and hollered COME ON GUYS PUSH FASTER!... Grin" and do dondie had a good laugh...i also told dondie..."better pay 750 for the free massage of norberto daa dondie ...his arm still hurt after pushing your butt 30kilometers..." No we are just kidding and bitoy daa laughs..."we cant do anything boss raymond there are only 5 of us here from team PLDT..if we let dondie die...even we will have a very bad clocking...so we have to save him.." said daa....so i said "so millionaire dondie he is now PRIVATE RYAN..you guys cant let him die.."
raymond and dondie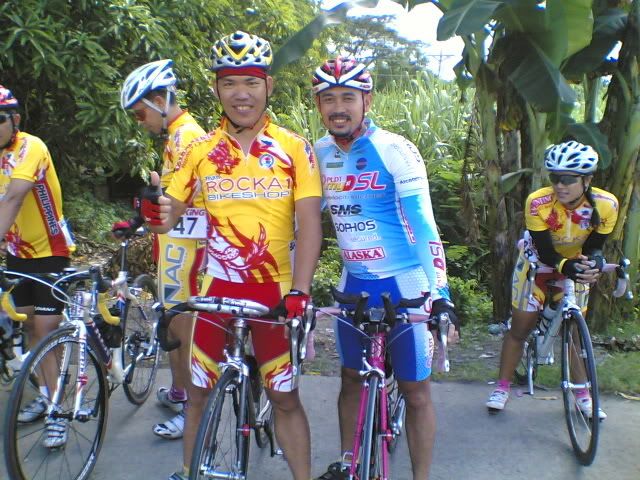 what the P20 is all about...the pesos 20 race winner take all between 10 friends of near equal strength. For the winner for this year me and dondie azarcon decided to
look for an appropriate PRIZE...dondie said "hahaha a LION or a tiger will be nice" laugh
overall GC ranking will be the basis for the winner of this year's P20 race in matabungkay PRIZE TO BEGIVEN AWAY courtesy of raymond see and dondie azarcon
3 TIGERS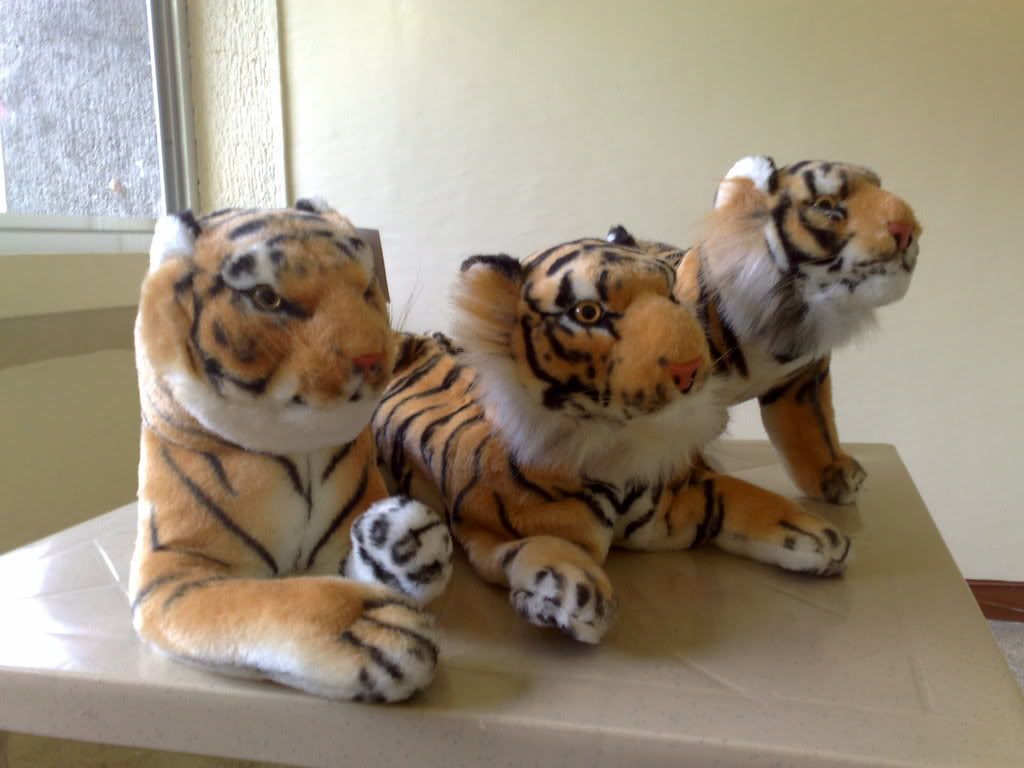 to be continued.
| | | |
| --- | --- | --- |
| | « Reply #1 on: October 30, 2008, 04:02:41 PM » | Quote Modify Remove Split Topic |
---
Ray,

excellent!!!
looking forward for the rest of it...

If the ToE is around May 3 next year, I might be able to join you as I'll be in Bikol for our town fiesta.