| | | |
| --- | --- | --- |
| | « on: October 28, 2008, 12:13:21 PM » | Quote Modify Remove Split Topic |
---
dear friends,
here is the part2 of the report...
Oct 24, 2008 90kms road race
there was a short program..an oath of sportmanship was presided over by architect Quin BAterna...after the oath taking the 150 cyclists rolled out of the Matabungkay parking lot towards the starting line.
architect Quin Baterna (unknown to many he is a leading professor of architecture at the University of Santo Tomas, a contractor of several townhouses in Manila, an interior designer too...my real life boss he calls me when he needs STAINLESS STEEL works....
) he leads the cyclist oath of sportsmanship at matabungkay before the start of the race
AND THERE THEY GO....rolling start out of matabungkay parking lot for the 90 kms road race
miss kaight forgie couldnt participate in the TEAM TIME TRIALS but joined the road race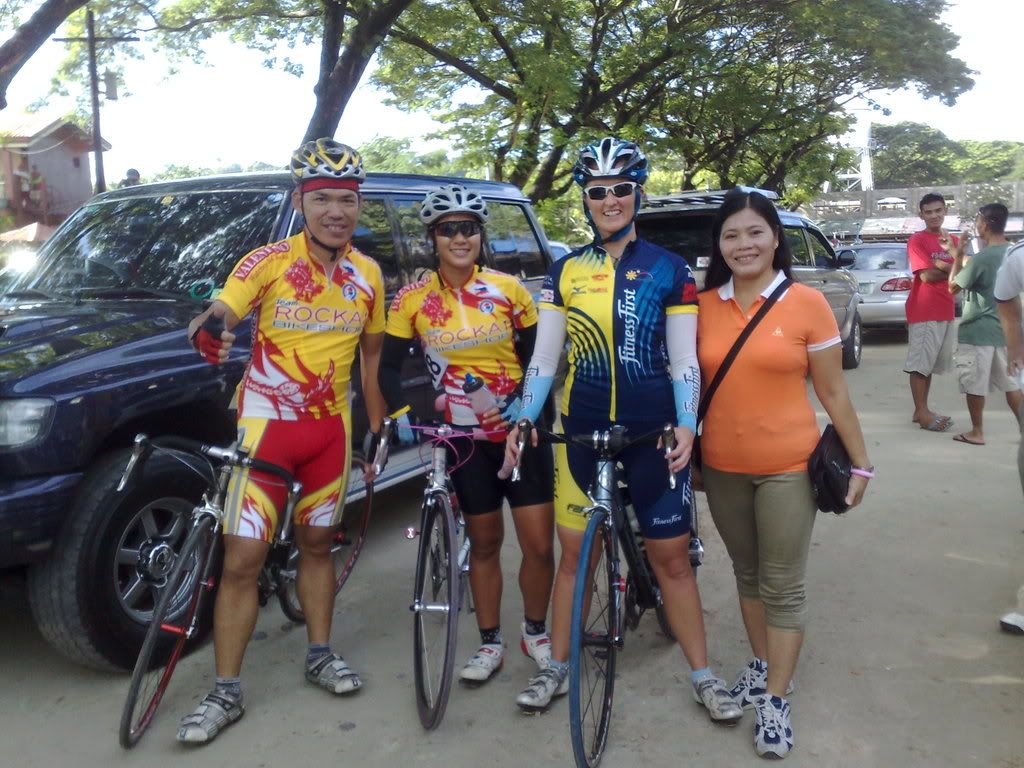 There were lots of conversations going on on the way to the start. But the overall consensus for the first time participants was "am very very happy to participate in such a large organized race. this is like joining the tour de france already..."
there was no stopping the peloton as soon as the starting line was reached the green flag from race commisaire was flagged down and people started racing. noy jopson was among the first to launch an attack... several attacks were foiled but the one that stuck was the long break of norberto daa...philip angtuaco of team autotrend chased him and further down arland macasieb of team Microsoft CISCO with jonjon urutia (second place overall at the 2008 TOUR OF EGAT THAILAND last MAy) of team Fitness first joined forces to solidify the break
philip angtuaco showing NO MERCY against bitoy daa of team PLDT in this piece of action during the 90kms road race..."i was begging for philip not to attack as i just attacked and wanted to recover...but philip whould have none of it and just went on..." says bitoy daa who still managed to finish in 5th....(foto courtesy of arch ricky ledesma of team XYCOS)
arland macasieb of team microsoft CISCO leads the break in this piece of action at the 2008 Tour of Matabungkay 90kms Road RAce (foto courtesy of arch rickly ledesma of team XYCOS)
ALL FOR ONE ....one for all....team Fitness First Jon Urutia showing that he too is a real gentlemen and a true sportsman as he shares his endless supply of mineral water to his two breakaway friends...."ray that guy arland macasieb you have to know..he was using 53 x 12 ...53 x 13 all the time he was on a heavy gear..even me i couldnt believe it..he was so strong...however he couldnt turn his gears up puting kahoy on such a heavy gear...thats why he got left behind in the final kilometers" says philip angtuaco of team AUTOTREND. (foto courtesy of arch ricky ledesma of team XYCOS)
....eventually Jon urutia won the hard fought race...(victory made sweeter by the fact that Jon suffered a front wheel puncture at the rolling start he had a quick wheel change and then rode past me screaming "EXCUSE..EXCUSE I HAVE A FLAT" ) warmest congratulations jonjon,
meanwhile we mere mortals got dropped at the tagaytay rotunda.
heartbreak hill..the tagaytay rotunda uphill climbs meant victory or defeat for most of the riders..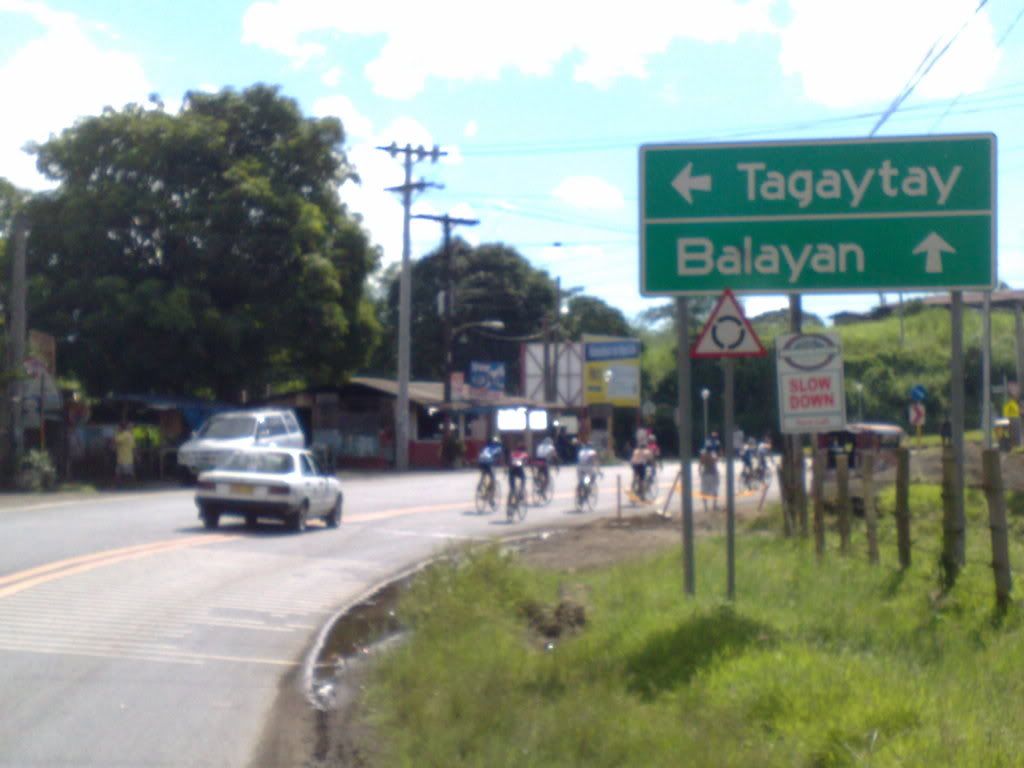 ....but i had the company of joel munoz of fitness first tri...
we struggled and couldnt bridge gap so we decide wait for reinforcement. reinforcement came in the form of a 6 man chase group which included teamrocka teammate philip go...
the fitness first tri riders took control of the peloton gobbling up all the stragglers including teamrocka omar martinez , carlos tan, dennis datu, dondie azarcon , alvin lo, yuri lirag plus many others and lastly architect quin baterna with jo cortez from team logic gate... so we had 18 man chase at one point...
thats YURI LIRAG from teamrocka bicol with a SUNKIST TRI HARD (no pun intended TRI HARD is part of team name)
thats carlos tan in ROCKA red with dennis datu " i dropped my water bottle ray..when i stopped to pick it up i cramped so badly i couldnt move..was in the middle of the road..one good samaritan number 78 stopped to help me put my bike on the shoulder of the road i have to embrace him to keep balance i walked to the grassy area sat down waited for my legs to defrost then i rode my bike again and finished my race. say thank you to number 78 for me will you..."said carlos afterwards..CONGRATULATIONS CARLOS FOR FINDING THE STRENGTH TO FINISH THE RACE WE ARE PROUD OF YOU
!!!! THANKS SO MUCH number 78 !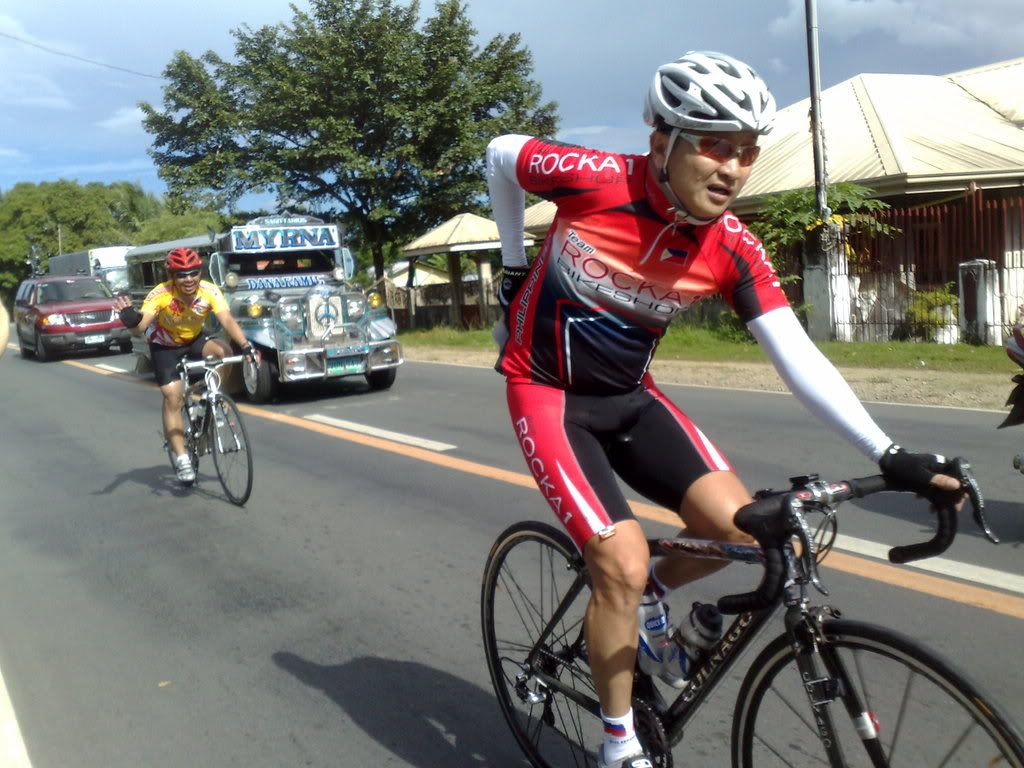 after the 35 kilometer mark..teamrocka1bikeshop became majority shareholder of the chase group
and i took control..shouting instruction to speed up or slow down depending on the status of my teamrocka riders...
dennis datu whispered "im running on empty ray" and i said "dont worryabout it..rocka now in charge ..."
so i soft pedalled up front allow my riders to breath...
everytime fitness first pulls we suffer so i have to chase him down position my rider or myself upfront control the pace.
one of my teammates know about the P20 race and competition between me and dondie azarcon and architect quin baterna.."come on now raymond...dont lose to dondie" but i just smiled "i cant do that i have business deal with dondie so he is my boss..."
so my friend laughs...
architect quin baterna was so groggy at one point he told me.."i already left behind dondie..dondie is out already" he said and i answered " sorry architect quin..we towed him back to you...dondie he is hiding behind your real wheel"
architect baterna takes a quick look behind and saw a laughing dondie azarcon right behind him...so architect quin chuckles...
at the service road leading to matabungkay resort dondie azarcon was cracking up and he told the peloton..."i cant go further i will turn left go back to the hotel..."
and i shouted back "DONT YOU EVER QUIT DONDIE!" so dondie chased us again...stuck on my wheel..rode with us the next 45kms.
with 7 kilometers left towards the finish at the corner marker balayan turning right towards the finish...i gave final instructions "ok may the best man win..." and alvin lo whispers "are you ok?" i said "i told you guys may the best man win already as im cramping already i cant hold on much longer too" so alvin laughs...
so quin baterna attacks...teamrocka philip go counters the two opens a 50 meter gap...philip told architect baterna "its you and me now architect" ... but there are no friends in the lastt 100 meters of the race..so alvin lo coming from nowhere riding his PARLEE Z3 zooms IN BETWEEN philip and architect quin baterna and past philip to snatch the line in GRAND FASHION and after the race during the story telling over several bottles of san mig lights...philip says "i checked my back i could see alvin but he was so far away already ray how he managed squeeze in between me and architect baterna..i dont know...." philip laughs..
how the race went for participants of the P20..thats alvin lo ZOOMING past philip go and quin baterna in the 90 kilometers road race.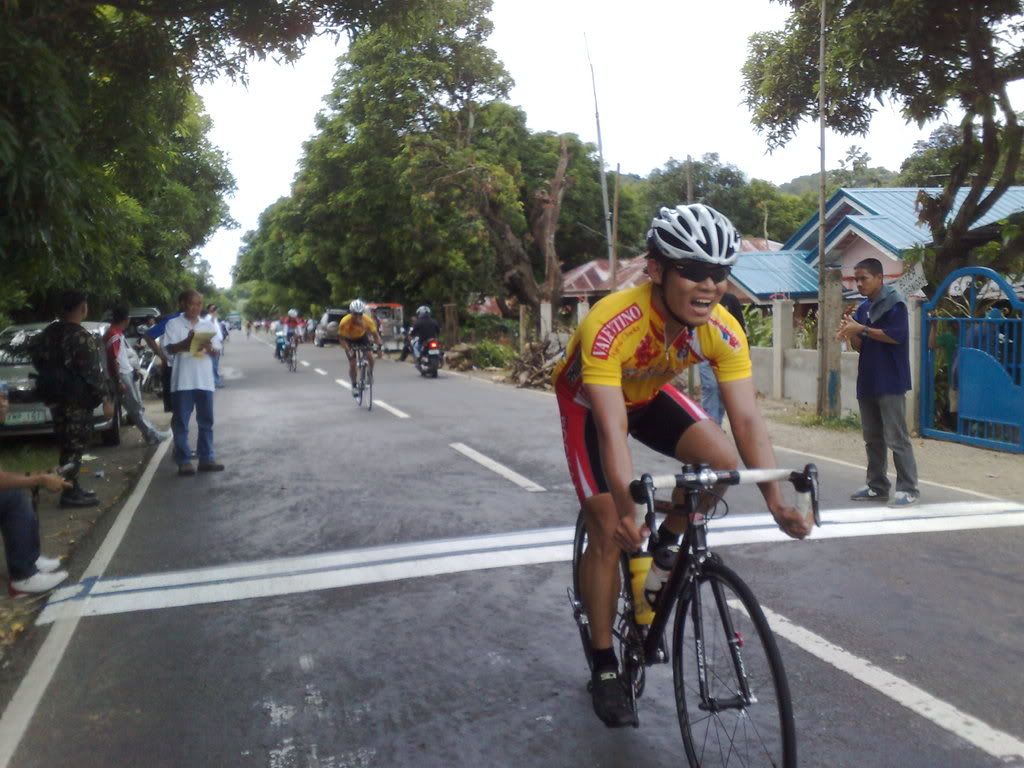 at the finish line...with my boss and good friend architect quin baterna the team manager for TEAM LOGIC GATE
miss nina vera of teamrocka1bikeshop took her fight to the line as she sprints it out with team PLDT rider Jerwin Cuason "sorry about that i was near the line anyway so i have to fight for it..." says a beaming nina vera when i interviewed her late after the 90 kms road race
several of the good bikes. seen at the finish line.. none for sale
....
speed weaponry of team BIKE KING seen at the finish line...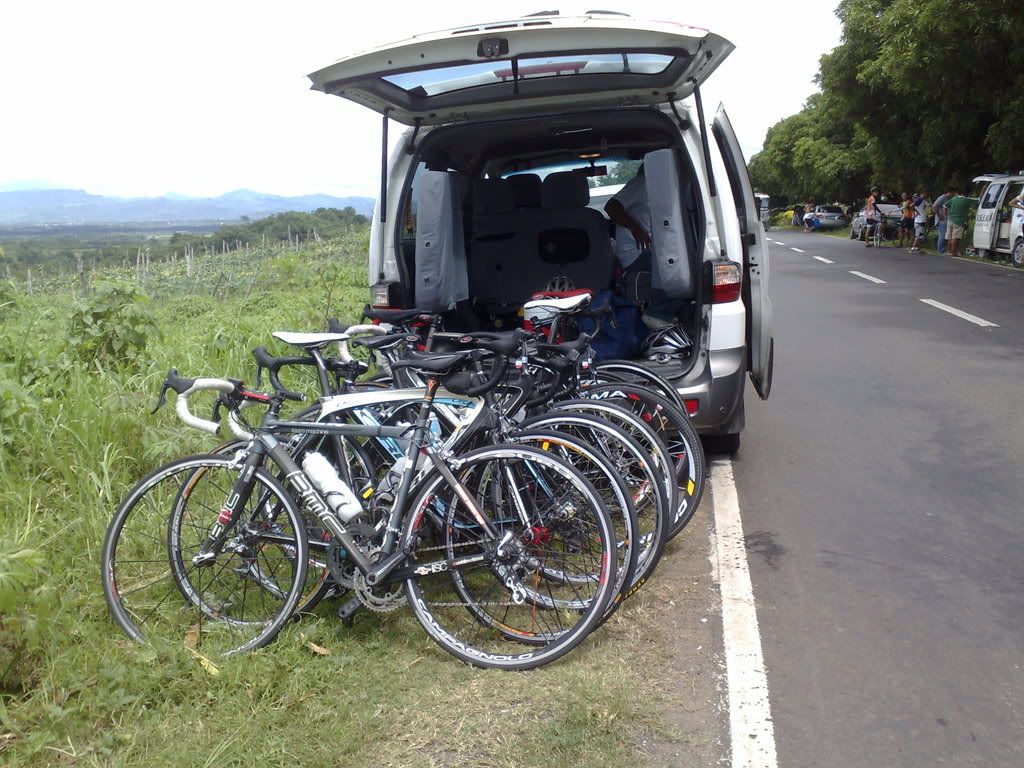 thats no PICNIC
....miss nina vera of teamrocka1bikeshop enjoys the company of teamrocka teammate Carlos TAn at the first aid station provided by tsi tour of matabungkay organizer at the end of stage 2 the 90kms road race
LUCKY GUY,,,,nina vera enjoys the stretching provided by the first aid personel
...how lucky can one get?
nina still looks fresh as a daisy even after a 90kilometer road race... congratulations nina we are very proud of you finding the strength to finish..rocka 1 never say die team...nobody quits in this team...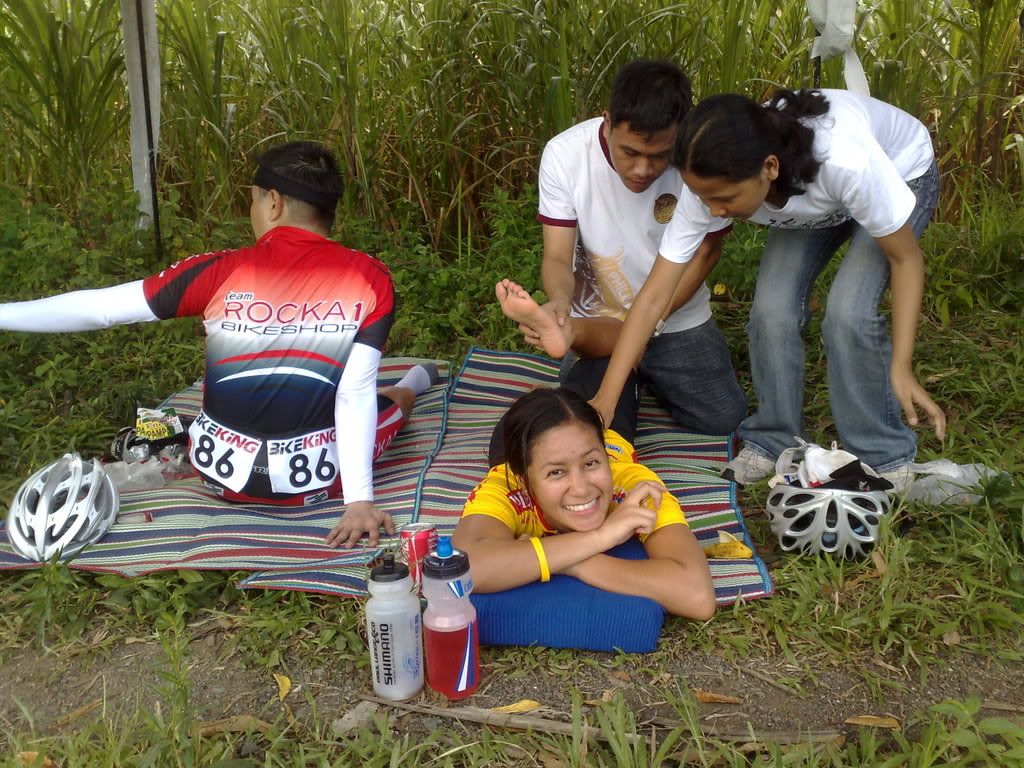 this is the first aid station at the finish line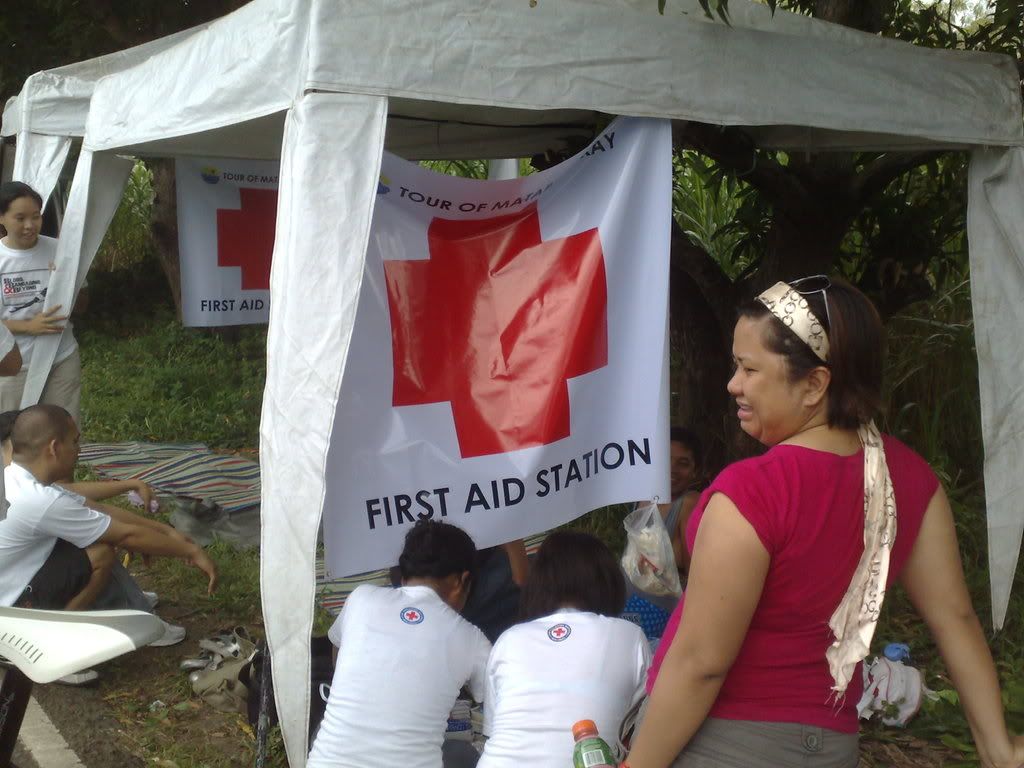 October 25, 2008 the 40kms ITT
teamrocka riders started to be released around 7 am....the race was for an ITT race covering several big hills and strong headwinds.
when my time was called i was a bit nervous but after joining so many races...i know my capacity already so i try my best not to go past my red line...
i was doing good in the first kilometers by the U turn near calatagan i was within hands reach of my teammate engr rolly cruz who was released 1 minute ahead of me...i couldnt believe how fast engr rolly was going considering he was in surigao nickel mines for the past two weeks so i know he dont have the long rides.
I tried my best to play catch up with him but my mind was also crying out loud "stay slow..relax...breath easy...even if you cant catch him its not your fault the engineer ...he is onboard an ORBEA ORCA equipped with MAVIC RSYS"
in the process of this cat and mouse chase we caught 3 riders before we reached the finish line. I didnt catch engr rolly and at the finish he was laughing..."i was so afraid of being caught i really tried hard...i couldnt believe how light my bike and my wheels were..i gambled and decided to use my mavic rsys instead of my aerodynamic REYNOLDS" said engr rolly cruz.
we waited for our guys to finish..went back to matabungkay and had our hot shower and while most of my riders couldnt stay for the awarding ceremonies..we bidded each other farewell...
i take this opportunity to say THANK YOU SO MUCH for joining teamrocja1bikeshop dear teammates in the 2008 edition of the TSI Tour of matabungkay
raymond and margie see
teamrocka1bikeshop
ORBEA STANDOFF....the blue orbea of anthony dee of TEAM AUTOTREND came face to face with the matt black naked carbon orbea of Tour of Matabungkay coordinator RAUL CUEVAS of Team BIKE KING...(Raul is the distributor of the ORBEA BRAND in the entire PHILIPPINES)
"""
cool as a cucumber is miss nina vera as she awaits her name to be called in the ITT
IM OK if you are ok
....says bisekletaguy as he prepares to ride his ITT
raymond see of teamrocka1bikeshop leaving the ramp for the ITT stage with chief commisaire PAQUITO RIVAS and joyette jopson wearing team davids salon jersey looks on...
AFTER the ITT...... raymond see of rmrmetalfab, yuri lirag of COCA COLA naga city and engr rolly cruz of NICKEL ASIA CORPORATION had a foto shoot
the trophies to be won in Matabungkay
championship trophy went to TEAM FITNESS FIRST
second place overall goes to TEAM MICROSOFT CISCO
the winners for the p20 race 3rd place dondie azarcon team PLDT, 2nd place Dennis d menace dionisio of team MJY bikezone...first place ATTY TIBOY REYES of teamrocka1bikeshop with raymond taking the podium as a proxy...
| | | |
| --- | --- | --- |
| | « Reply #1 on: October 28, 2008, 09:41:20 PM » | Quote Modify Remove Split Topic |
---
congrats ray..... glad to know you still bringin' the spare and mini pump