| | | |
| --- | --- | --- |
| | « on: November 17, 2008, 05:00:58 PM » | Quote Modify Remove Split Topic |
---
dear friends,
after the LIQUIGAZ criterium series in Macapagal, the 3rd leg of the Liquigaz series was held on a cold and windy November morning last saturday at the scenic town of TAGAYTAY . The course was the much dreaded not for the faint hearted SOUTHEAST ASIAN GAMES ,route which saw the cyclists go down careening from tagaytay to nasugbu..negotiating the town of TUY..then start climbing the notorious 30 kilometer up Payapa back to the finish line in Tagaytay....this classic climb we only race here maybe ONCE A YEAR...so I will take this opportunity to thank the LIQUIGAZ organizers to arnel ty, carlos gredona, richard uy, and the host doc stephen domingo, the marshalls led by Paquito Rivas and everyone who made this race a memorable one for 2008.
i take time to thank my teamrocka teammates who decides to race today... my teammates atty TIBOY REYES, Lizton Yao, Carlos Tan EXCELLENT RIDES Carlos Tan finishing just behind Deon JAmes 12:25pm thats INCREDIBLE! ` even carlos was so surprized he treated the team to Pizza...Thanks so much carlos.!
we look forward to race with you guys again soon.
sincerely
raymond see
teamrocka1bikeshop
www.rocka1bikeshop.blogspot.com
well ..just in case you are in doubt of the TOUR OF LUZON next year....DONT. This running van advertizes in big bold letters the upcoming TOUR OF LUZON race courtesy of that generous sponsor LIQUIGAZ
ok here is the close up TOUR OF LUZON 2009 van with my wife margie... this foto taken by team CNC.. Thanks guys
ok here he is LIQUIGAZ President and Managing director Patrick Libihoul who is a great fan of cycling..."yes we LIQUIGAZ are the one sponsoring the cycling PROFESSIONALS in Europe raymond...and yes please do send me the fotos of the race when you finish writing your blog" says monsieur Patrick as RAYMOND SEE (bisekletaguy) approached him to thank him for hosting this LIQUIGAZ race.
ok here is atty lito again and no thats not the karate kid...thats bisekletaguy with his new sponsor HALO headband (thanks so much boss edmund mangaser of alterra bikeshop and Halo headband...)
...lorenz cuchon of team CNC in the background...team cnc foto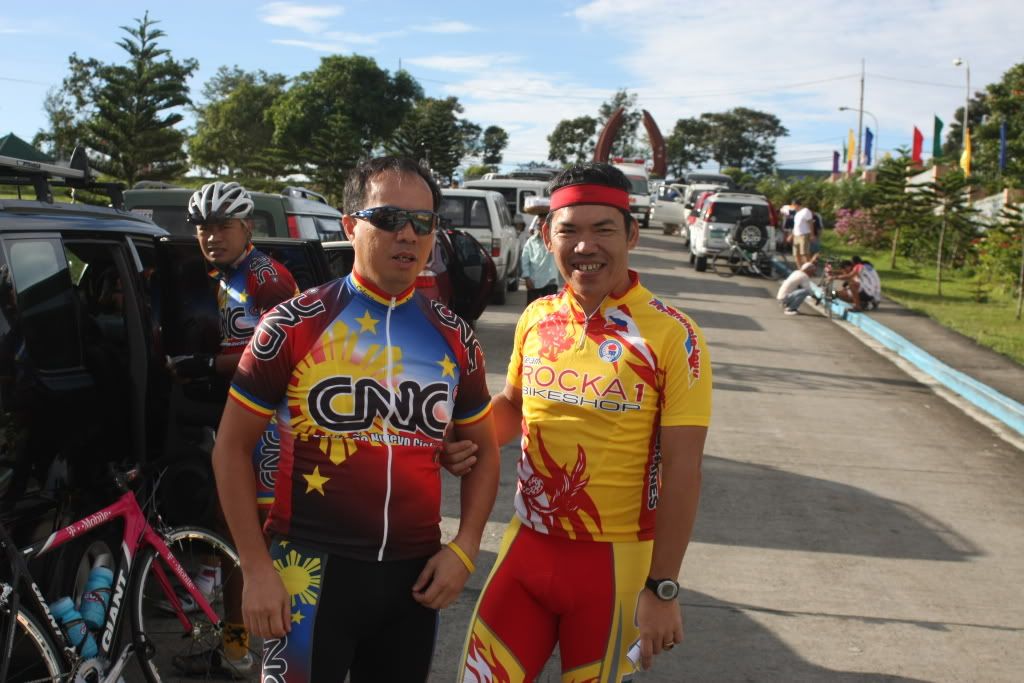 team cnc foto...thats attorney Lito team manager of team CNC displaying their awesome NATIONALISTIC TEAM CNC teamkit for 2008-2009......reportedly designed by no less than the grandson of GENERAL EMILIO AGUINALDO himself...how true, how true?
ok where to put all those Gu and gels to prevent them from spilling out together in one bunch when you put them in the back pocket? here is team cnc's answer
.....foto courtesy of team CNC
now thats my boss and special guest who drove as far away as dagupan just to race today..doctor BUTCH YDIA from Nazareth hospital
ok team NEVER SAY DIE...teamrocka1bikeshop has four riders ready for today's NOT FOR THE FAINT HEARTED race in tagaytay up PAYAPA (tagalog word means calm...calm as when one rests in peace!)
with anthony dy from team autotrend on his beautiful SEVEN ELIUM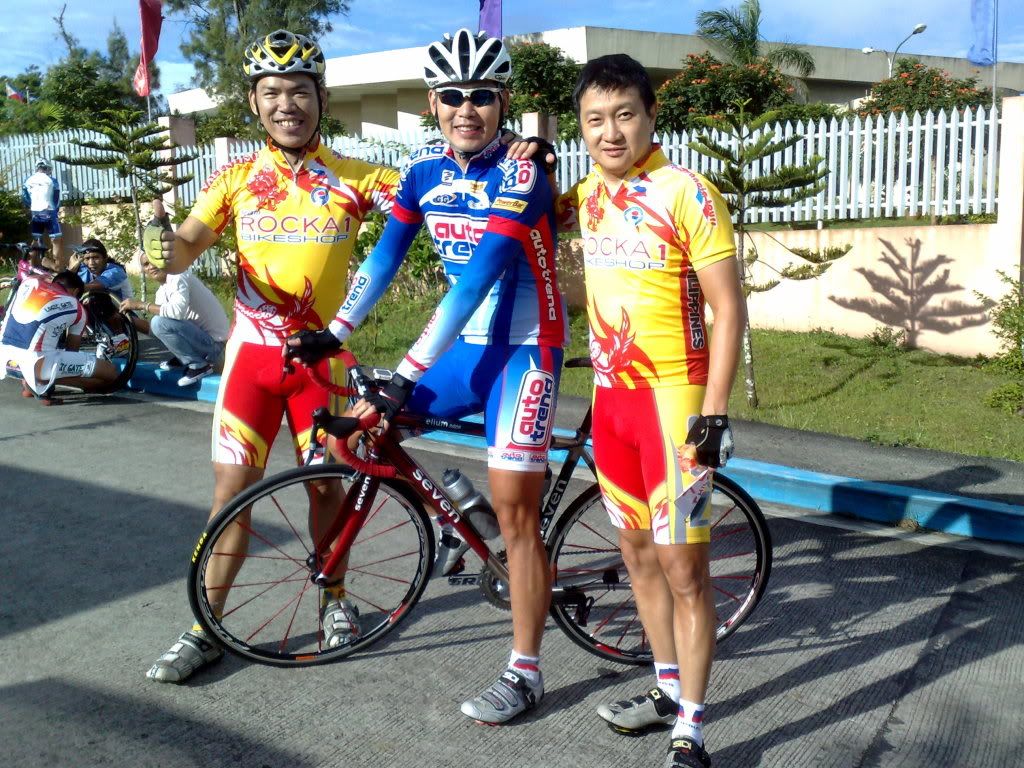 team cnc at the starting line with their new team kit PROUDLY PHILIPPINE MADE
...foto courtesy of team CNC
ok here is live action foto of cat C somewhere enroute to NAsugbu
ok here is the exclusive crash foto posted with permision from team CNC..crash involved 3 team cnc riders kuya kotz, angkie and lorenz cuchon after wheels touched at km 57 near calaca. the riders are ok. kuya kotz and angkie continued while team cnc spokesman lorenz had to abandon . Get well soon Lorenz!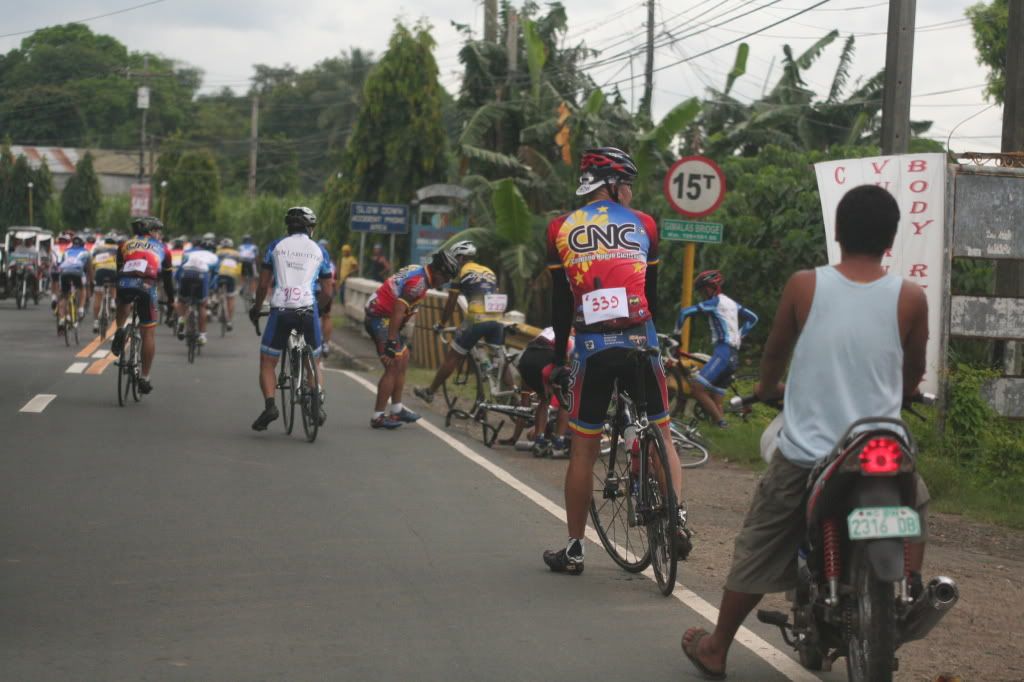 just in case you are wondering where team captain tiboy reyes of team rocka is...here he is finishing with that mountain goat Winston Chua of team Xterra...who outsprinted our team captain on the finish line. WARMEST CONGRATULATIONS WINSTON AND ATTY TIBOY!