| | | |
| --- | --- | --- |
| | « on: Today at 11:30:33 AM » | Quote Modify Remove Split Topic |
---
Dear Friends,
this is the first time Liquigaz race organisers ventured out of the criterium circuit of Mall of Asia and the race came after 3 weeks of rainy weather in the Philippines so I suspect like me most of the guys felt tired after the 3 days Tour of Matabungkay and so most of the riders didnt train in the rain and will be in poor shape.
Myself i was out of the saddle for 3 weeks too..but since Team Captain Tiboy reyes of teamrocka wants to race..and so did Lizton YAo...i took my 120min ride to force myself be able to ride last saturday.
teammate carlos tan was hesitant to join also but after a few telephone calls he decides to race too.
so we left Makati around 5am in the morning..around 7 am we were at the Mcdonalds taal vista lodge exchanging pleasantries to atty Mike Yngson of team XTERRA and Lorenz cuchon of team CNC. Lorenz said "i knew you ill race raymond..as you posted your training ride of 120minutes in bulacan so that means you will race" I of course said "we have to race..i want to complete all my major Tours..i cant be absent ...we have to ride for the organizer to feel happy"
with doctor butch, alex borras in the discovery kit, and tony lopez representing team PAir CArgo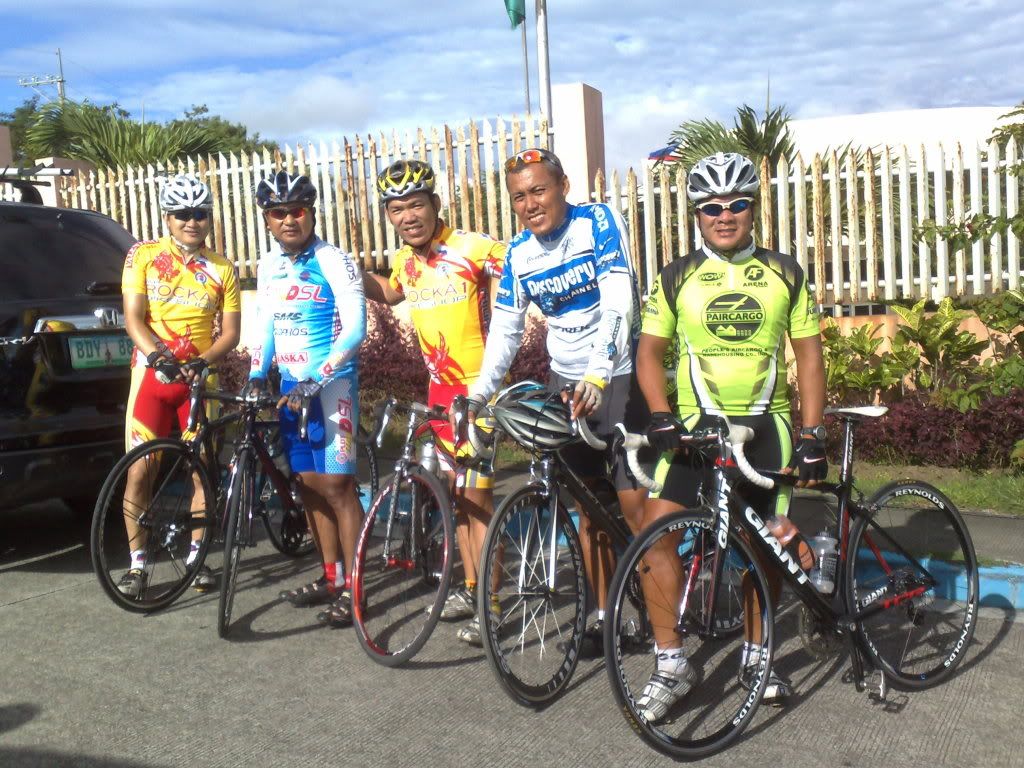 with carlos, and carlos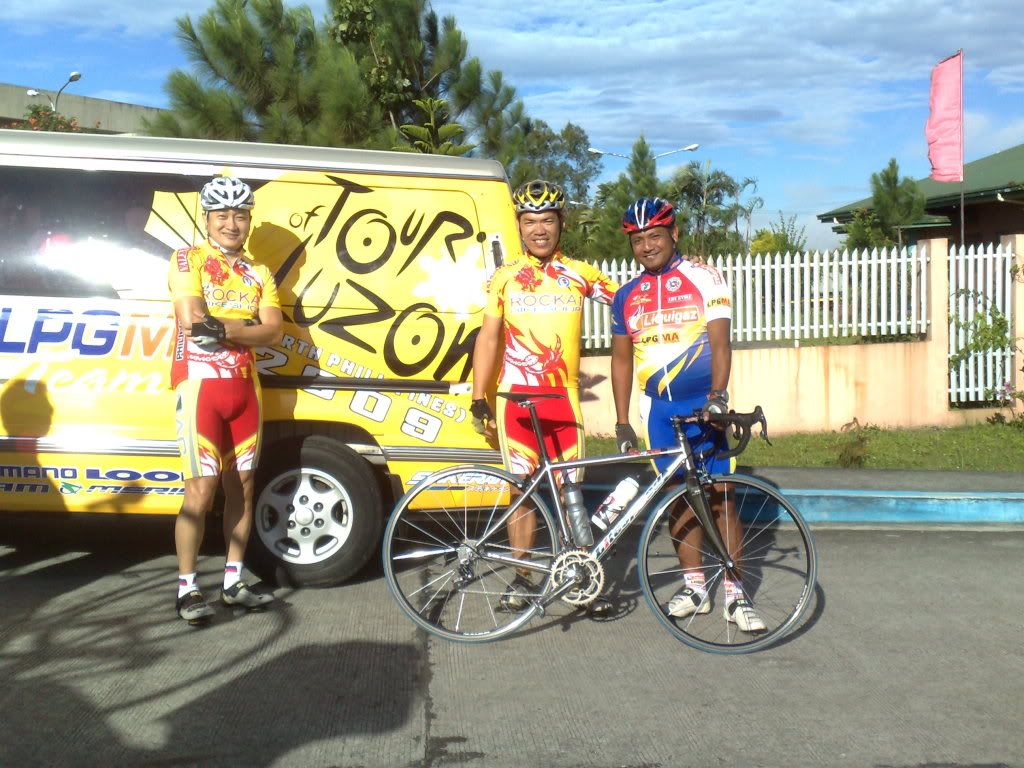 anyway on the registration booth we were informed that there is a filchi category so 4 of teamrocka riders we registered under PhilChi (cat P) which will be released with cat C.
CAT P is for Phil Chi....
Team Xterra at Tagaytay
barangay Logic gate seen at Loquigaz race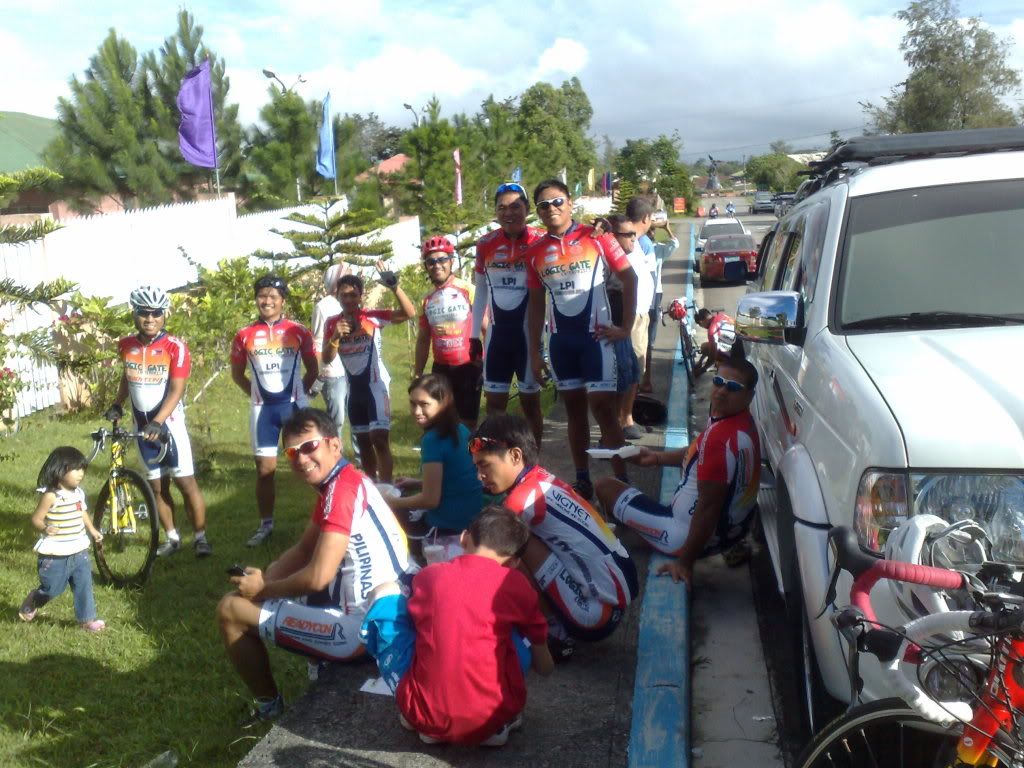 team Liquigaz at the starting line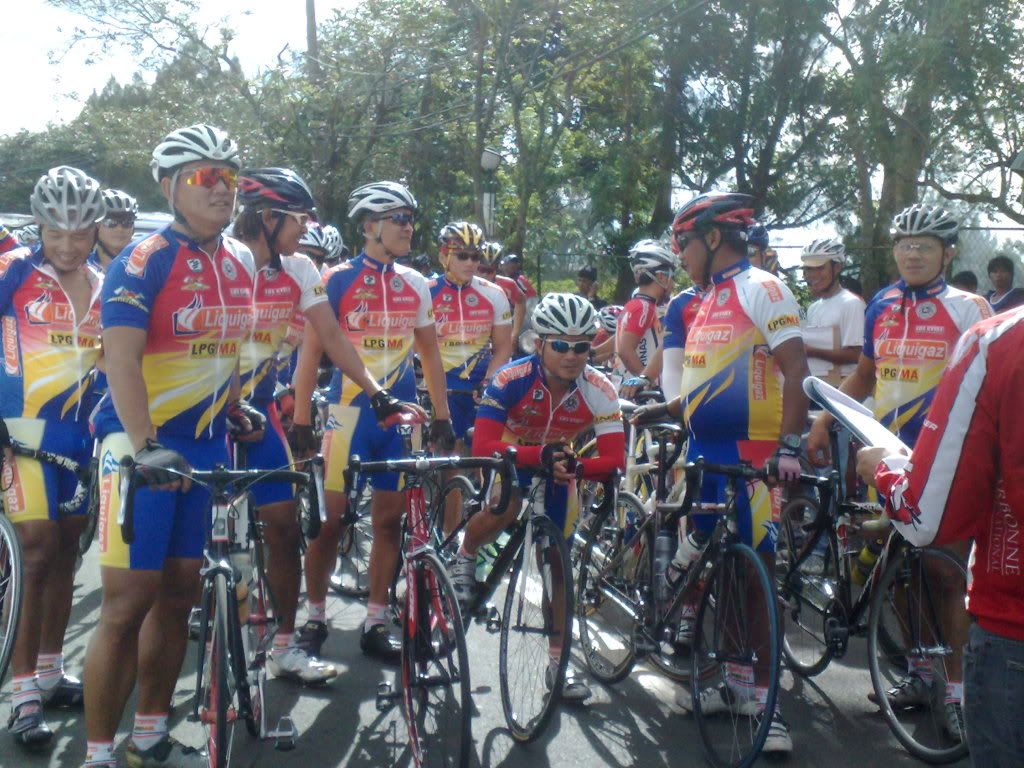 team Aboitiz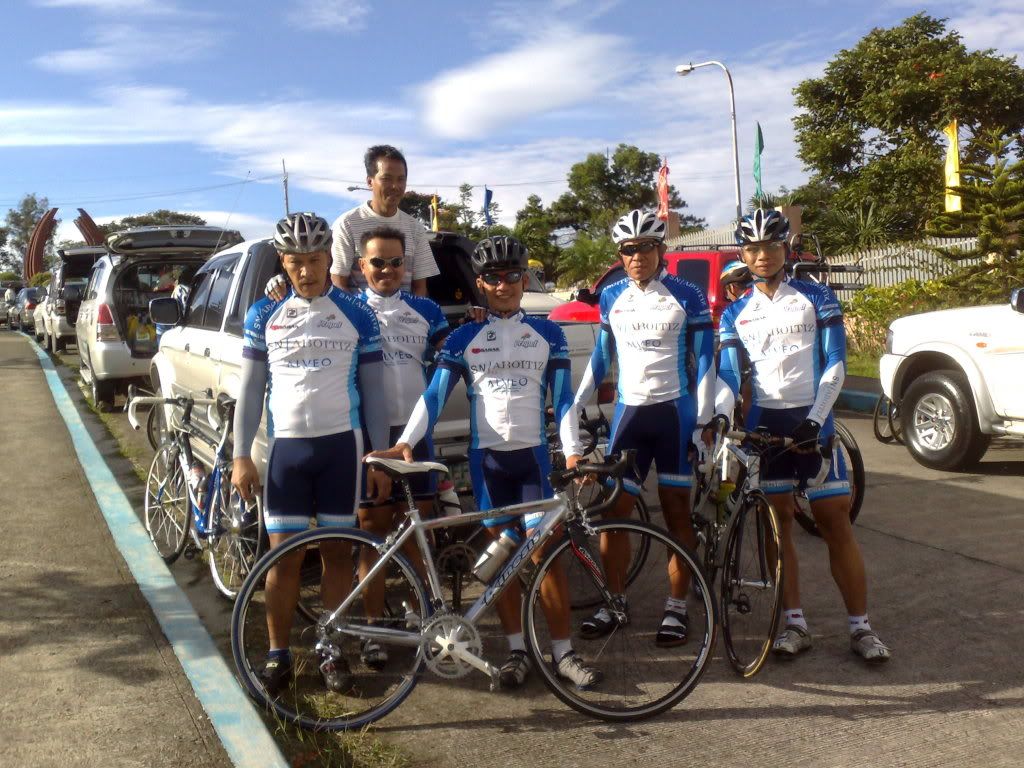 photo shoot with richard uy of team Liquigaz
PHILIPPINE NATIONAL ANTHEM being sung before the start of the race
Race starts...there is a 32 km Fast NEUTRAL rolling start and motorcycle escorts didnt allow the different categories to mix together...
release of cat C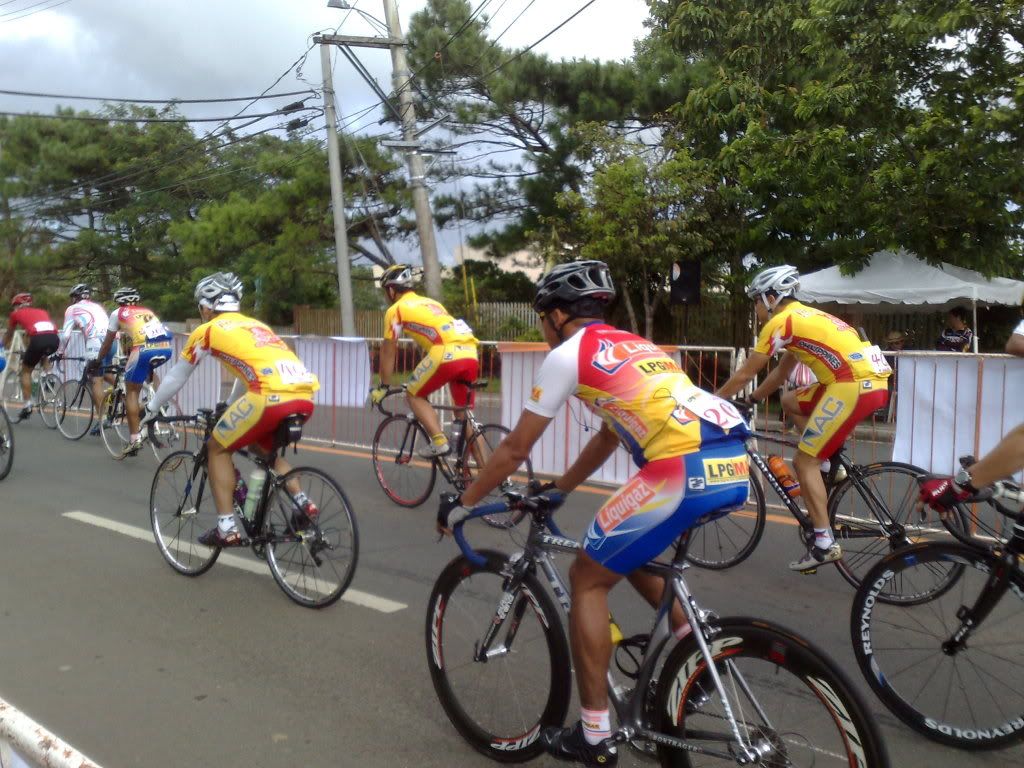 cat c negotiating the hilly 32 km neutral lap
cat a led by team microsoft's ramon acuna in this piece of action at Tagaytay
cat A riders try to avoid the paint strips (speed bumps) scattered a plenty in calaca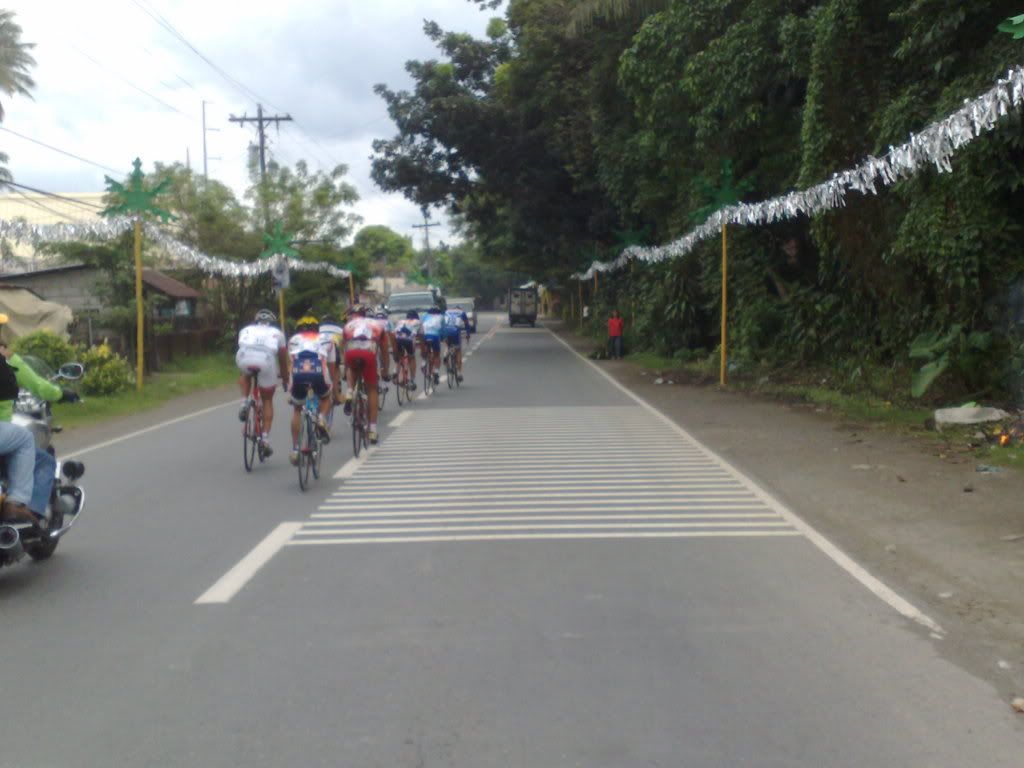 motorcycle marshalls were assigned to help cyclists negotiate the race route during the neutral lap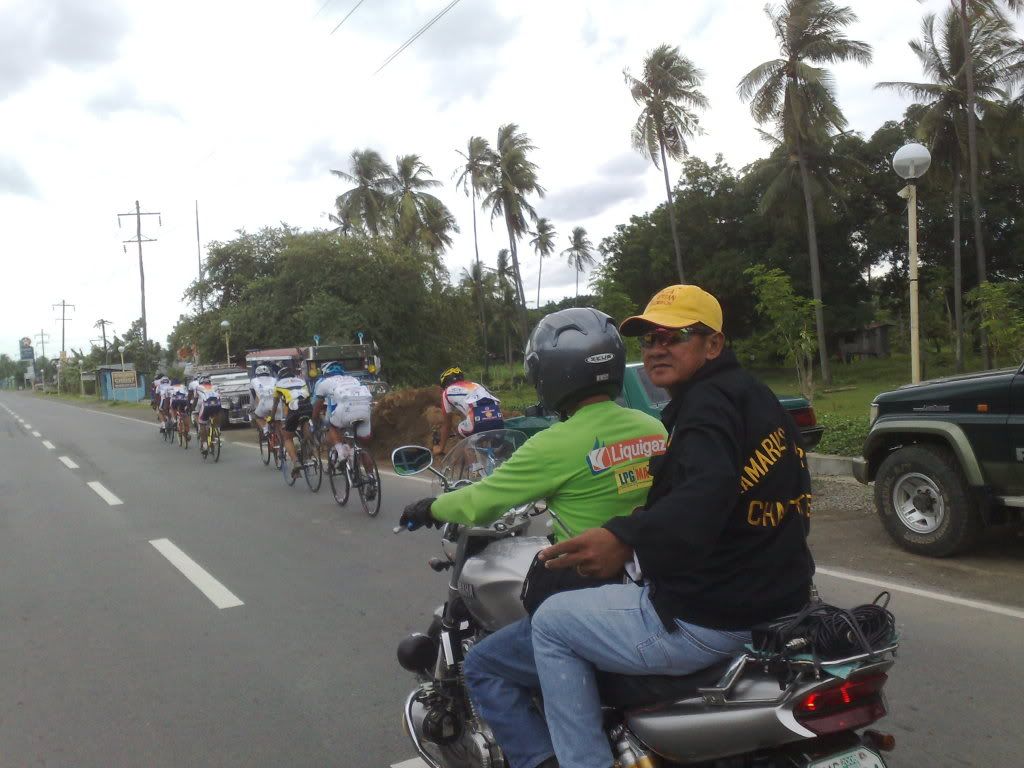 around 25km mark there was an unofficial weewee (pee stop) and some of the cat b riders decided to stop for peeing.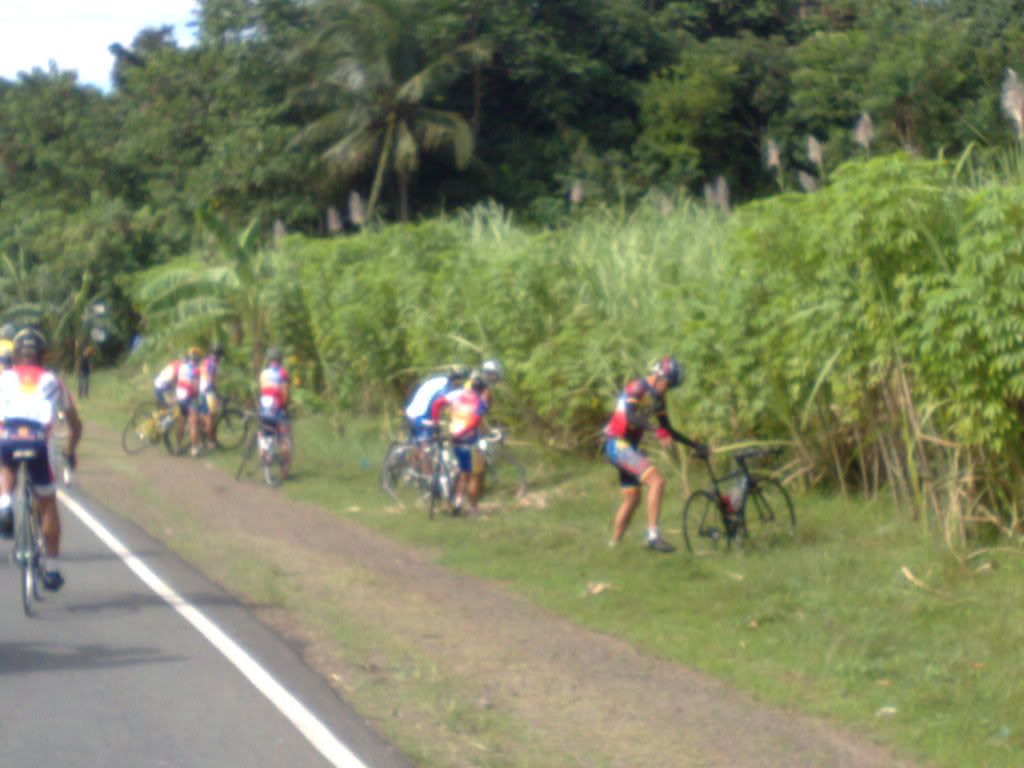 When the cat b riders returned to the road it was too late as cat C riders and cat B riders they carreened down the road and so there was a crash involving richard uy and an xterra rider.
I saw richard changed his wheelset and proceeded to race but by the time he could breath the cat b guys were already sprinting towards the climbs...i found out later that Deon JAmes and Carlos gredona was in an early break only to be reeled in by the strong cat B group at the start of the climbs.
ok here is the early move of conrad bustamante of logic gate before the start of the climbs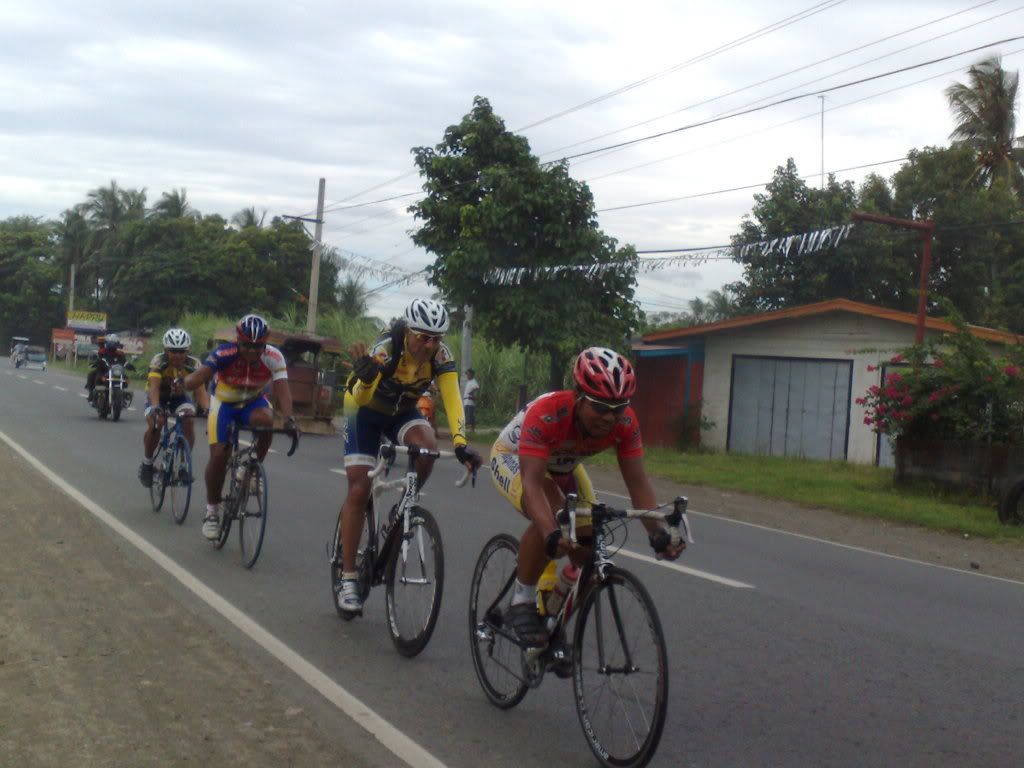 spot detail cat B rider deon james of Xterra in an early break
ok cat b rider thats CArlos Gredona of team liquigaz in an early break together with deon james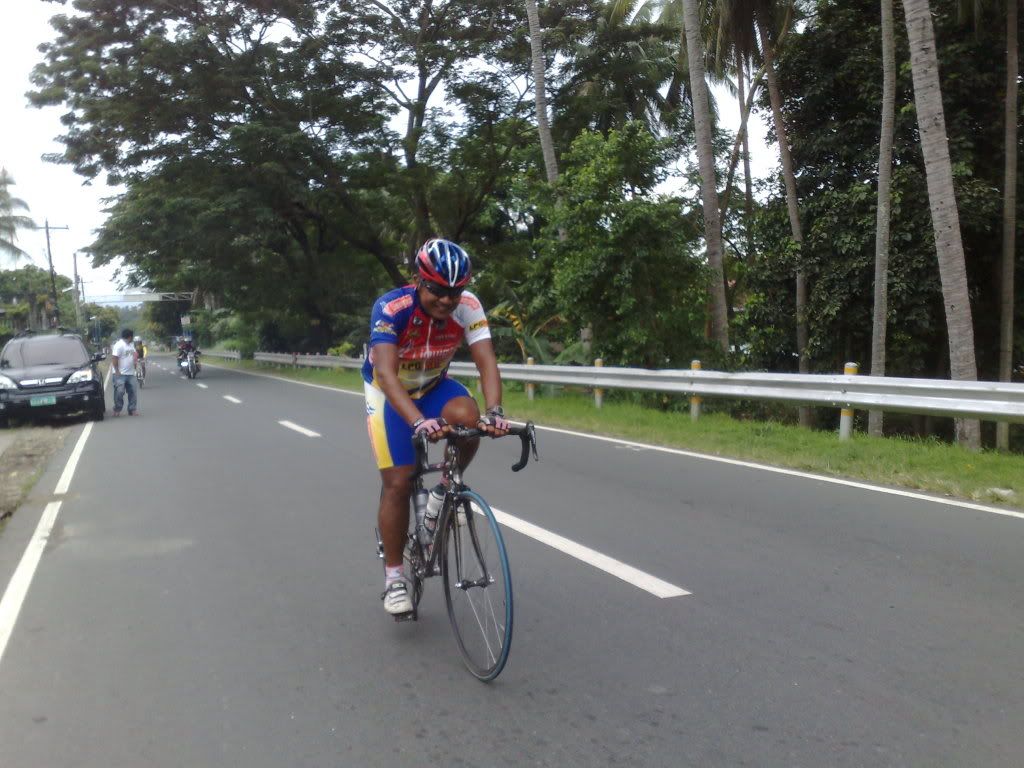 cat b peloton led by team logic gate Romel cerezo leads the chase
the races will only be half as fun without architect quin baterna the manager of team logic gate...we will continue our race series in Subic architect Quin
cat B rider in the DISCOVERY kit thats businesman Alex Boras from team PLDT came from Dagupan to enjoy this race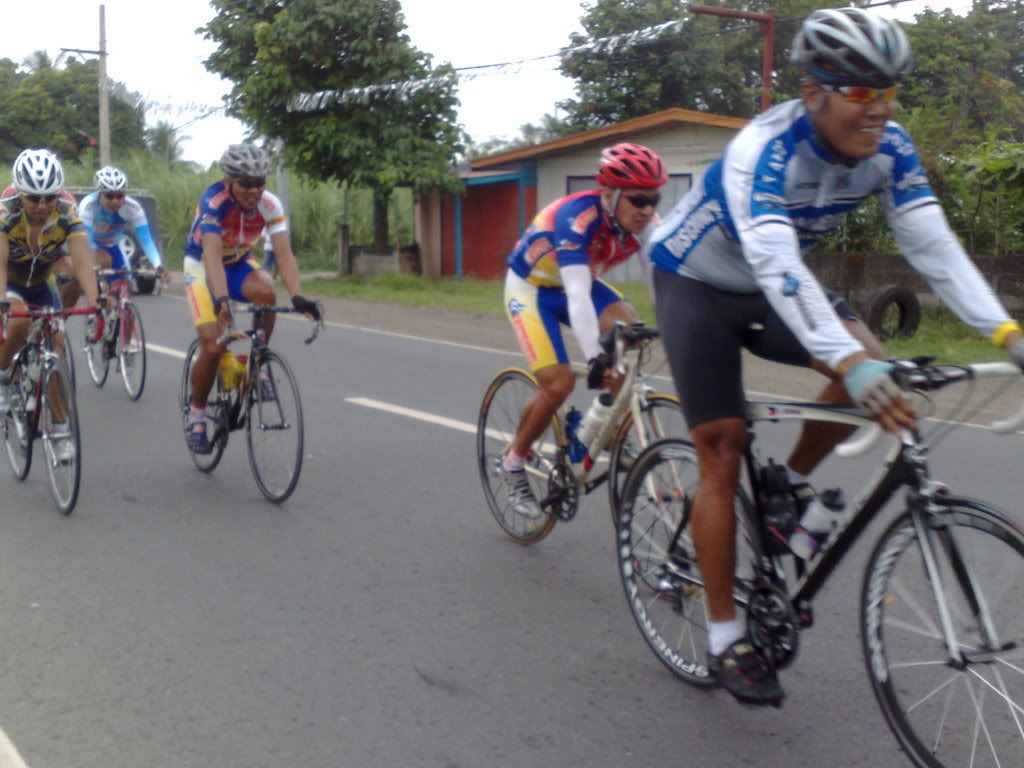 Cat C riders we rode as one big group. after we were flagged off the climbs after Tagaytay rotunda (33 kms) a rider attacked almost side sweeping teamrocka captain tiboy reyes. Ok the race was on. there were many counter attacks but it was only short burst after the breakaway rider was reeled in...everything returned to normal 38-40kph cruizing speed. around 53km mark there was a crash...and i later learned team CNC lost 3 men in that crash but the riders were ok.
before the start of the climbs near calaca..thats category C action foto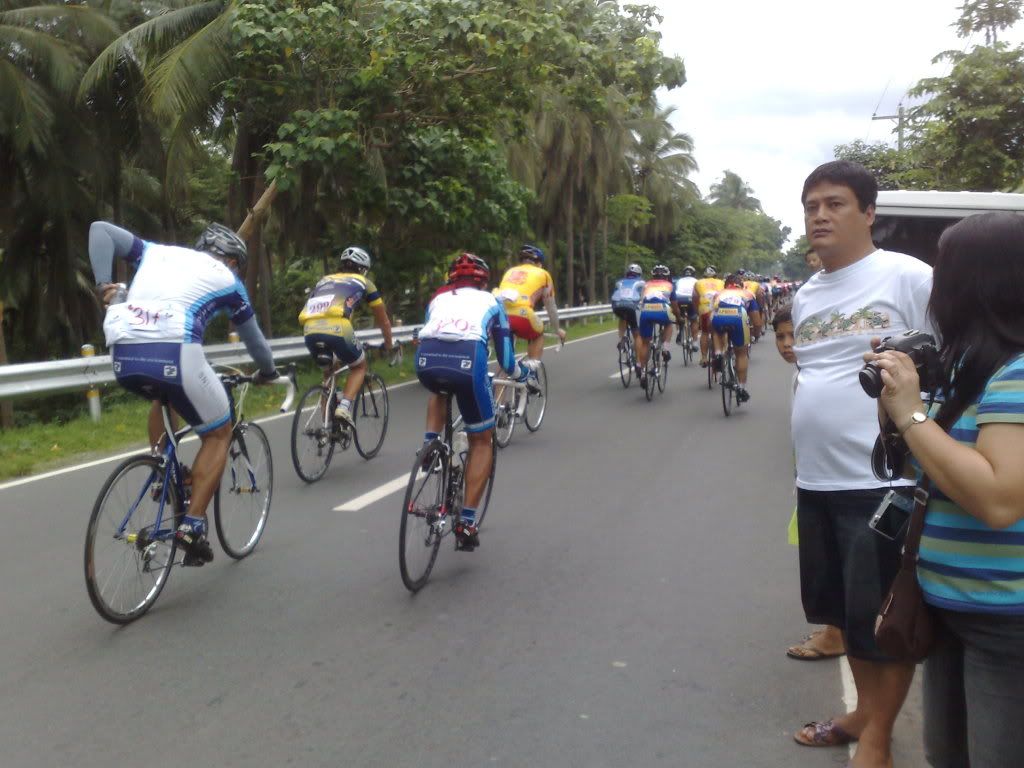 at the start of climbs. everybody were doing 24-30kph...which was too uncomfortable for me so i decide ride my own pace here..anyway i had already stayed with the group for 65kms. 30 kms of climb and the game will be over soon.
i had previously ridden my comfort zone with a couple of guys up this climb so i know my comfort zone will be 15-18kph. I thought i was doing ok at 20-24 however the other guys were really going for it. Thats a 30km climb and people were riding as if it was flat 24-30kph.
beer bellied after 3 weeks off the bike..."are you ok?" says mommy "go shoot take fotos of the riders...im ok i will see you at the finish line" i said.
around canyon woods..i saw Kuya Kotz of team CNC he was about 20 lbs bigger than me but he was climbing like rasmussen.. he left me behind he later said he suffered a terrible fall but decide to finish after a long long chase
Liston Yao did extremely well today after finishing ahead of mr arnel ty
that's mr Arnel Ty the organizer of Liquigaz with a big smile..happy to finish this race in tagaytay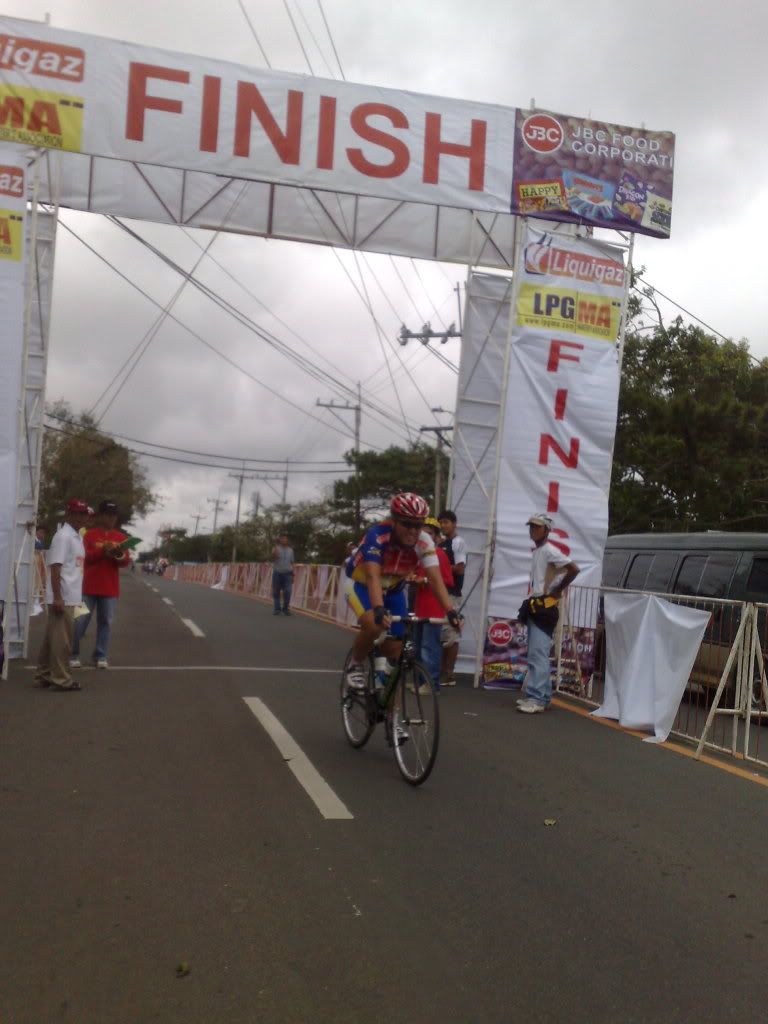 after the race i spoke to my team..they were really happy with their results...i am also happy with my result not that bad after 3 weeks off my bike.
i have but 2 races left of the major Tours in MAnila to complete my season 2008.
This early I will take this opportunity to thank all my friends and my readers
thanks so much for your kind company...and yes thanks so much to those who say they enjoy reading my reports all the time.
at the finish..pro (prolific)
rider raymond see finishes his Payapa climb one of the last few major tours before season 2008 ends....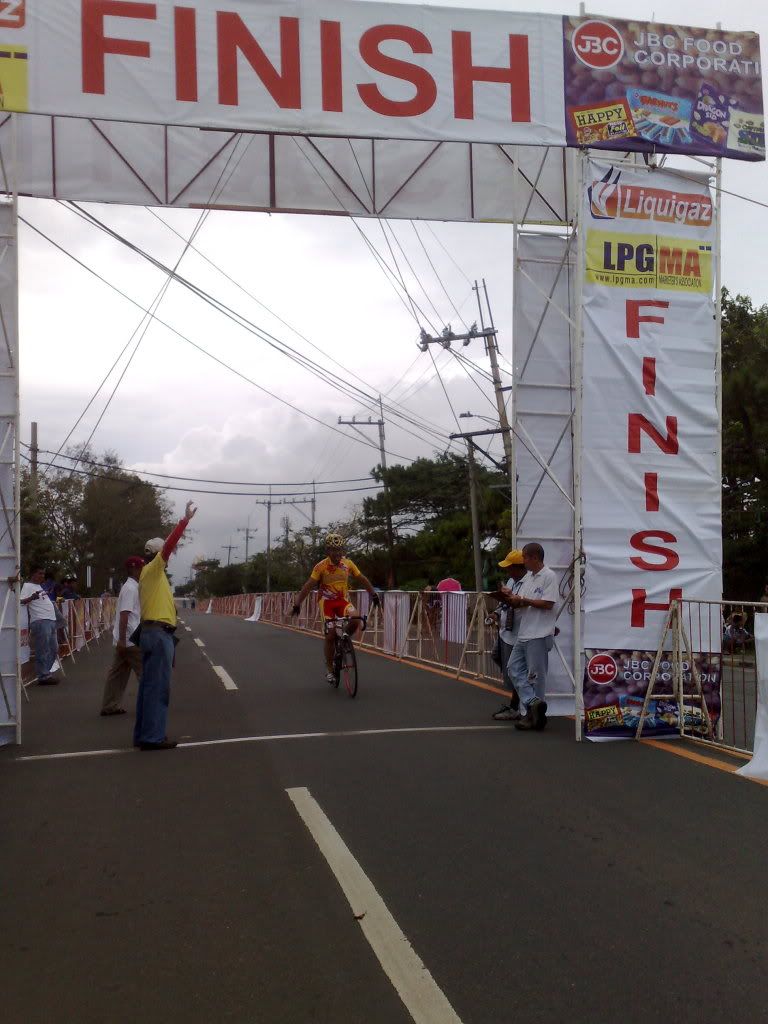 we look forward to race with you guys again soon.
raymond see
team rocka1bikeshop
www.rocka1bikeshop.blogspot.com