Hello bisekletaguy

March 19, 2008, 10:43:21 AM
| | | |
| --- | --- | --- |
| | Author | Topic: silang cavite -tagaytay-nasugbu-lian-payapa-fantasy world-tagaytay-silang 138kms (Read 175 times) |
| | | |
| --- | --- | --- |
| | « on: March 10, 2008, 01:13:21 PM » | Quote Modify Remove Split Topic |
---
dear friends,
Yesterday March 9 2008..was the Silang ...Tagaytay... Nasugbu via Matabungkay ...up Payapa..up mushroom burger down Silang 138kms painful ride.
this ride was postponed last week to give chance to more riders wanting to join our weekly "fun" ride.
the fil chi group met at Mcdonalds Macapagal 530am-545am.
my new teamrocka1bikeshop customer American rider Skipper Pineda (his father Filipino, mom is American) was there already at Mcdonalds when i arrived....
Skipper was at rocka1bikeshop last wednesday for a pair of Mavic Aksium training wheels...said he saw the rocka1bikeshop blogspot and wondering..
"Ray...ive read about your reports..im a duathlete...been on the bike for only 2 months...was stationed in Japan .....am staying in Pampanga now...
and i want to race...can i train with you guys march 9 and race under teamrocka1bikeshop later?"
to which i of course said yes. "Skipper..i hope you dont mind it...i try to bring somebody new as a wildcard in our weekly training rides...so my team can do "sparring" with the new guy...give it your best shot dont be shy..because today ..Skipper..you are the wildcard"....Skipper laughs..."no problem bro..i try to go up against your best riders.."he said
we drove our cars in convoy...and reached chan cu compound. park cars there and proceed to hook up with brothers baterna.
Brothers Baterna brought two other Team Logic Gate riders for this grueling climb and made true their promise "we will wait at the tagaytay rotunda for you guys coming from silang..then we ride together ray..." Quin Baterna said.
the american was on his big chainring fending off attackers......so going down nasugbu..eooww..this wasnt a slow warm up ride...its intense ride ...on the big chainrings...as the team logic gate wildcards went balistic. speed went up 52-56-60kph..down nasugbu.
we regrouped...then went to Matabungkay..where the speed was up again in no time as 11 bike crazy riders trained real hard today...as some of us will race in thailand in about 7 weeks. The factor that made impact today ....i dont know if you notice...was the strong headwind crosswind side wind..how come no tail wind?
anyway as before the american was with anyone who attempted to ride solo up front. this time going up Payapa.. tiboy reyes was the one up front so he was with the american rider for a very long time...until they lost steam near the finish line and got caught by that superboy saul and that teamlogic gate wildcard. the american he says he finished 4th.
im amazed at Carlos tan and philip go ..they left me behind. if there is any race route that i couldnt tame..Payapa..thats definitely one of the routes i dread.
Skipper said.."that was a lot of fun bro...i was looking forward for any downhill near the finish..but i saw hills going up and up..it was never ending...i didnt enjoy any view...all i saw were the hills in front of me...give me 6 months to train..and i will race very hard...i had fun. thanks for inviting me for this ride ...thats the longest ride ive done so far 138kms. that was a lot of fun..you guys are great..all are survivors..you didnt quit ."
we had lunch at mushroom burger then headed back to silang. we had nice time.i hope you enjoyed this ride. i know everyone who failed to finish our previous ride mcdonalds to payapa due to wet weather conditions the last time was very very very happy to have finished this ride. CONGRATULATIONS.
i was telling Skipper.."these guys are great..they dont need all these punishment ride..they can tuck in their comfortable beds wake up 10am as its a sunday..but this morning they wake up 4 am in the morning ready to roll by 530am..and still manage to ride and finish this terrible route. isnt that a tough 138kilometer course? these guys i ride with they are really bike crazy already..but these are the good guys...so its always fun to ride with them"
i look forward to ride with you guys again this sunday..Egat is near...thats gonna be fun!
raymond see
the downhill to Nasugbu was easy..if you dont pedal...youd reach the bottom still...but if you do that youd be more than 10 minutes behind the front runners who were mashing large gears in a simulated suicidal downhill race til the intersection...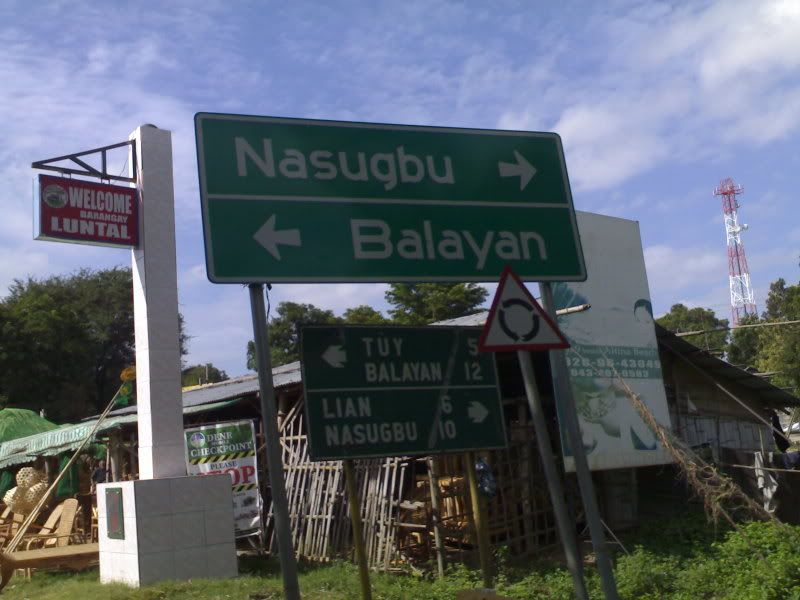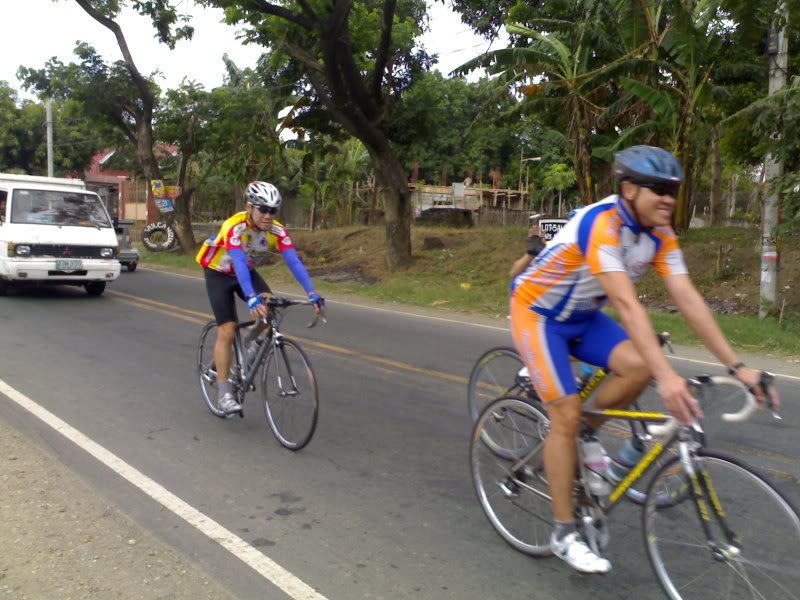 the first pitstop was after the suicidal downhill ride at the end of nasugbu junction where we regrouped
the peloton lead (temporarily
) by bisekletaguy and aldicua towards the start of the climb in Payapa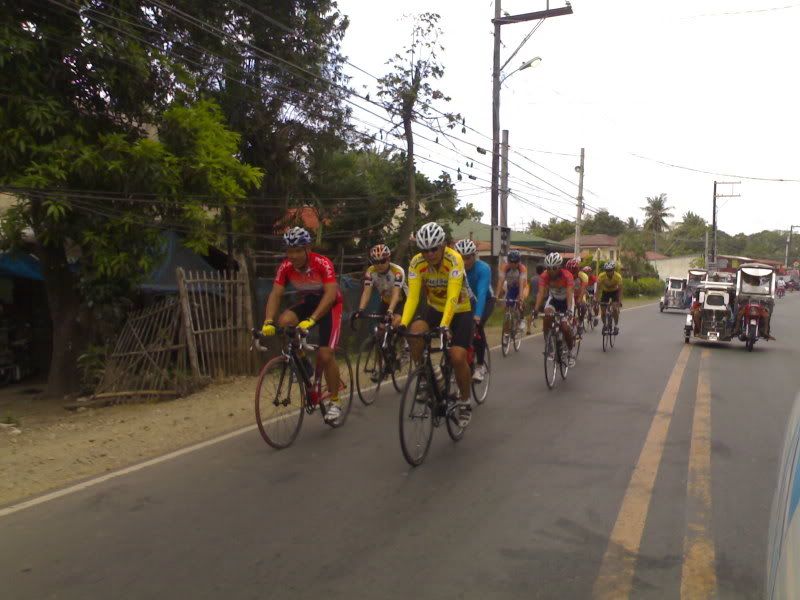 talking group thats me with jojo baterna "your american import is strong rider ray"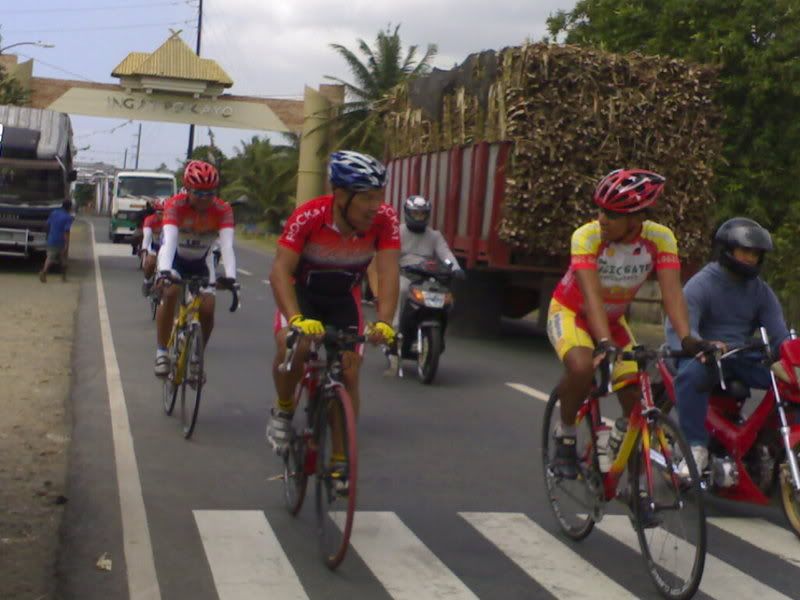 there he goes...Skipper with the full sleeved jersey full length cycling pants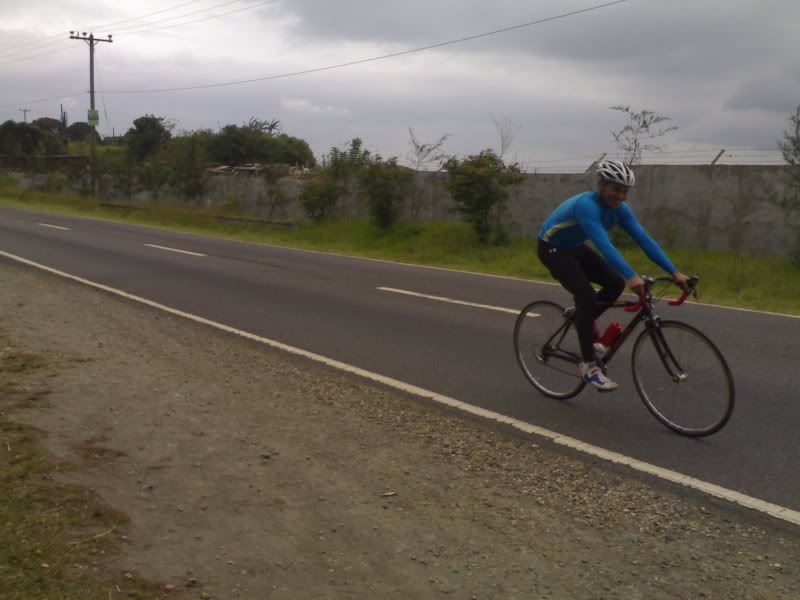 there he goes..atty tiboy reyes attacks at the climb in payapa..and skipper pineda thats my new teamrocka teammate in the blue jersey followed.....while we mere mortals get dropped.
this is my wife and daughter at fantasy world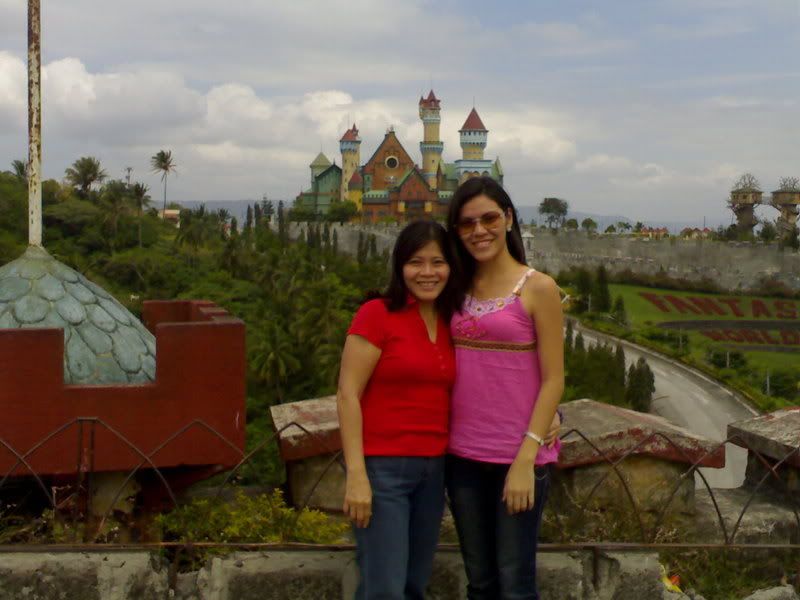 the reason why l got delayed at the finish line was ....errr my wife and daughter wants to have my photo taken at fantasy world...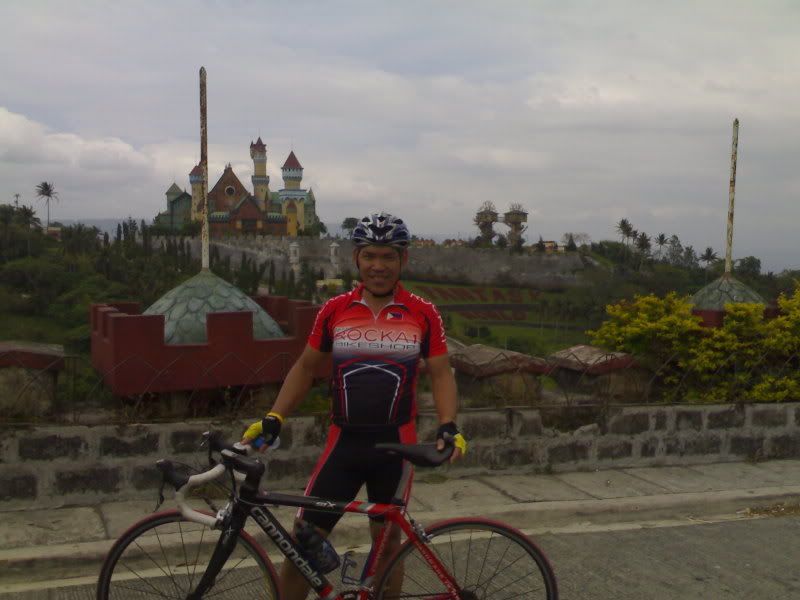 "daddy the wind was so strong here at canyon woods!" my daughter said...thats taal lake home of taal volcano..smallest volcano in the world in the background.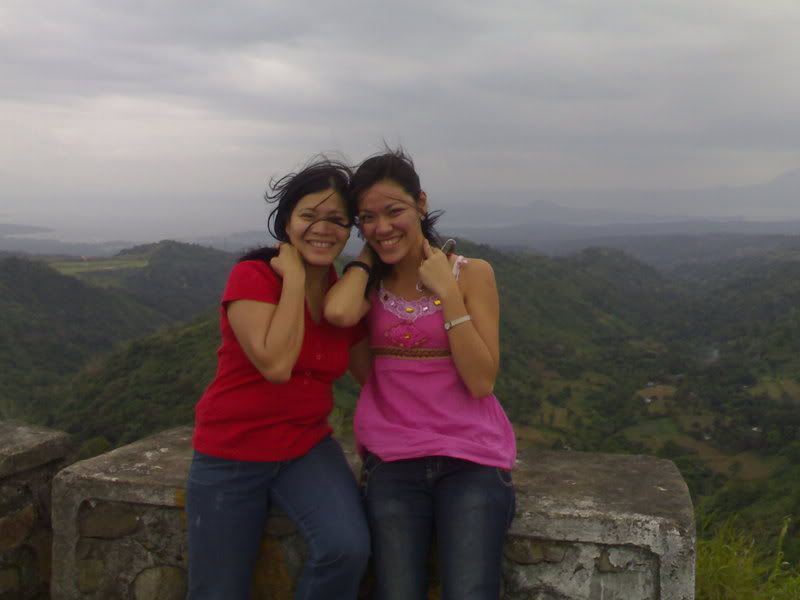 "breathe in breathe out...breathe out breathe in ...breathe in breathe out...heck i cant breathe... i cant tame this mountain...i want another climb...ill be back a 3rd time..." my thoughts near the finish line.
this is the finish line after the long climb in payapa.
this is the mushroom burger display stand (fresh edible mushrooms for sale) . "daddy i bought some fresh mushrooms here at mushroom burger ..ill try make shabu shabu dish later with these mushrooms..." my wife said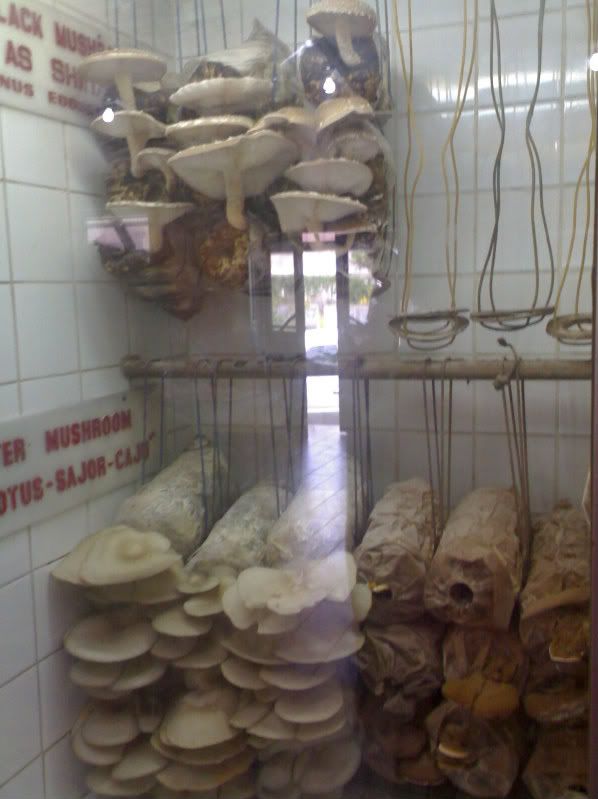 | | | |
| --- | --- | --- |
| | « Reply #1 on: March 10, 2008, 02:26:47 PM » | Quote Modify Remove Split Topic |
---
Again very nice report Ray and always with pictures.
I second you on the Logicgate guys and brothers Baterna as they are very goodfellas who will make you comfortable around them right away. I think the payapa climb is their favorite 'secret' training ground to get fit. The payapa climb is a hellish 10kms going back to the Nas-Tag junction. Just for perspective, in Payapa its very easy to hit way past 55kph just by coasting going the opposite.
---
*** No Matter How Good She Looks
Some Other Guy is Sick and Tired of
Putting Up with Her Shit!! ***
| | | |
| --- | --- | --- |
| | « Reply #2 on: March 10, 2008, 06:54:35 PM » | Quote Modify Remove Split Topic |
---
NIce report RAY-SEE!!
Nice view, nice action shots...
---
may your life be like a toilet paper, long & useful!
| | | |
| --- | --- | --- |
| | « Reply #3 on: March 11, 2008, 01:56:39 AM » | Quote Modify Remove Split Topic |
---
I love your report, Ray. Always fun to read and see the pix.
---
AL FIGER-TEAM SPARK KLEE
| | | |
| --- | --- | --- |
| | « Reply #4 on: March 11, 2008, 10:08:26 AM » | Quote Modify Remove Split Topic |
---
dear hdreynolds, al and frondriest,
thanks so much for reading the report...always easier for me to write the report than the ride itself..good thing my wife takes good fotos...the rides are harder..im concentrating more how NOT TO get dropped. easier said then done...amazing how many people read cebucycling and the reports..here is the letter of tiboy reyes yesterday...
raymond see
hi guys,
we have been doing hard long rides for the past few sundays. let's scale back and do an easy ride this sunday so we can have the energy to do consecutive long rides during the holy week .
what do you think about doing the cogeo-sierra madre-sampaloc route? the total distance is about 78km... but if you want to make it more difficult... we can make the u-turn at bugarin instead of sampaloc ha ha. we can meet at burger king marcos highway at 6:30am.
raymond,
you are becoming a celebrity. yesterday i had to take my wheelset to cartimar for some adjustment. i normally take the lrt to pasay since it is faster than driving. at the 5th avenue station, the security guard did not want to allow me to bring along my wheelset because he said that it may hurt other passengers?
i was about to argue with the guard but then, the guy at the ticket booth saw me and told the guard to allow me to enter. when i was buying the ticket he chatted with me (it was at 12noon so the station was not crowded). he said that he is also a cyclist and he is from bulacan. so i told him that i ride with a bikeshop in plaridel, rocka1, and he immediately mentioned he knows rocka1 and that he always read bisikletaguy's reports at cebucycling.
cheers,
tiboy
here is my letter sent to tiboy today....
dear atty tiboy,
the lrt incident thats funny....im sure the teller ..when he saw you he got goosebumps.."man thats tiboy reyes the one who broke away in Payapa with the american in the bisekletaguy report" ...so thats why he told the guard..." guard pasok na yan...VIP yan...sikat yan..." hahaha
but you know... my bikeshop business gets extra boost by the rocka1bikeshop blogspot...lately almost 50 percent of my new customer read the blogspot...then buy spareparts or new bike! somebody from Bacolod order ultegra sprocket and shimano wheelset even...and request send to bacolod. So this makes my wife happy...
also healthwise naman..eh we come clean..we do exercise..have spaghetti only..so am sure my heart doctor also will be happy.
the weekly long ride is big thing nowadays....people want to join us.
skipper the American says he wants to climb Payapa twice...skip the nasugbu long ride..start at the foot of payapa...climb payapa go left... down nasugbu..left turn at junction...climb up payapa again.
am sure you boys will be up for the challenge...lets schedule it later.
teamrocka will want a recon ride of el kabayo in subic....if you guys want a subic training ride..let me know.
see you on the road soon.
thanks so much to tiboy albert philip carlos saul for joining me last sunday in the very difficult payapa ride..it wouldnt be that much fun if you leave me alone to be devoured by team logic gate..hahaha
raymond see
| | | |
| --- | --- | --- |
| | « Reply #5 on: March 11, 2008, 10:47:57 AM » | Quote Modify Remove Split Topic |
---
Raymond,

Very nice report!!!! Please keep it coming.......

Brian
| | | |
| --- | --- | --- |
| | « Reply #6 on: March 11, 2008, 11:38:07 AM » | Quote Modify Remove Split Topic |
---
Boss raymond,

Wow! sarap ng ride ninyo nakakaingit! sana in the future makasama uli ako sa inyo.
| | | |
| --- | --- | --- |
| | « Reply #7 on: March 11, 2008, 01:49:27 PM » | Quote Modify Remove Split Topic |
---
what a perfect ride and a very detailed report boss ray, hope to ride again with you soon.


Victor vecvec Viray
Barangay LogicGate
Vignet UPVC windows & Doors
LPI Outdoor Ads
Readycon Concrete