| | | |
| --- | --- | --- |
| | Author | Topic: Burger King sta lucia to Sierra Madre to Tanay 70kms ride March 16 2008 (Read 57 times) |
| | | |
| --- | --- | --- |
| | « on: Today at 01:08:58 PM » | Quote Modify Remove Split Topic |
---
this Palm Sunday ride was organized by atty tiboy reyes...however since there were only 3 confirmed filchi riders who wanted to participate (the others begged off wanting to watch Pacquiao Marquez boxing match
) i told atty tiboy "we can always hang out around 6am at the Burger King Sta Lucia and join any group wanting to do sierra madre attorney" and so that was it.
6 am we hanged around Burger King. Waiting for cyclists to arrive. we saw Category A riders Eric Carandang Jon Urutia and Anthony Dy, they just did sierra Madre on a saturday and today they have to meet Leian Cruz somewhere in Antipolo as they want to do Jalajala bugarin ride...so we begged off.
we saw King Bernas of team X terra..i asked if he was waiting for any group.."yes our group from team Xterra wanted to ride Sierra Madre with our boss Edmund Mangaser owner of All Terra Bikeshop..we can ride together ray.." and so we waited for their group to arrive and decided to ride with them..
their team brought coach Cesar Lobramonte along..and they want a 95 kilometer roundabout ride sierra madre. Atty tiboy was feeling under the weather .."i just came from bicol ray..take it easy on me..im not 100percent ok..." atty said. "of course we can ride garden cottages...or sierra madre i have my car if you feel you have to stop...we can ride the car attorney." i said.
so we tagged along the group of team Xterra..i listened to their coach and we had wonderful time.
we couldnt match the high rpm spinning of team xterra...so at the garden cottages...me and atty tiboy got dropped.
garden cottages
"atty i think we need the compact crank plus the speedometer with cadence.. we can't match the high rpm spinning of team Xterra." atty. laughs..
we reached sierra madre, went down sampaloc, and after 70 kms, decided to call it a day.
Thanks so much to my good friend atty. Tiboy, Saul Sibayan, and team Xterra. We had a wonderful time.
We look forward to ride with you again soon.
Raymond See
vintage Bataglin purchased from Wings bikeshop Hongkong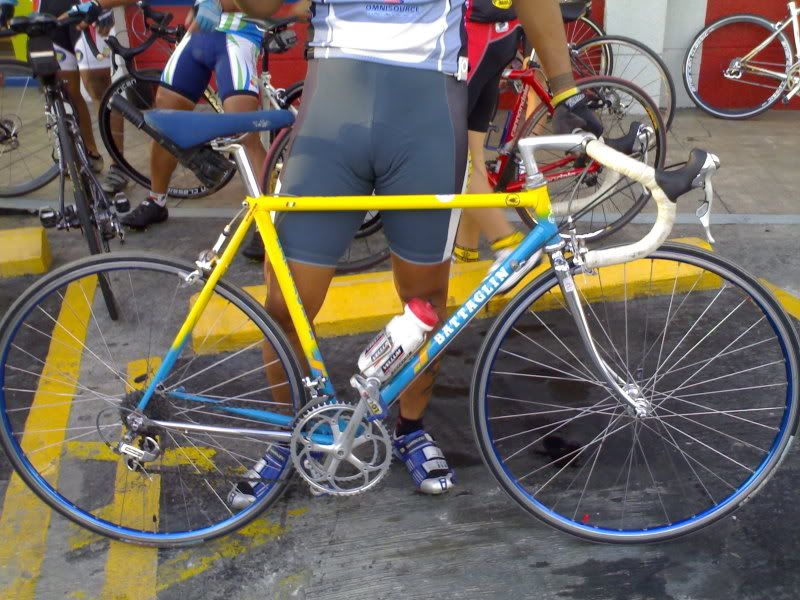 the proud owner from team X terra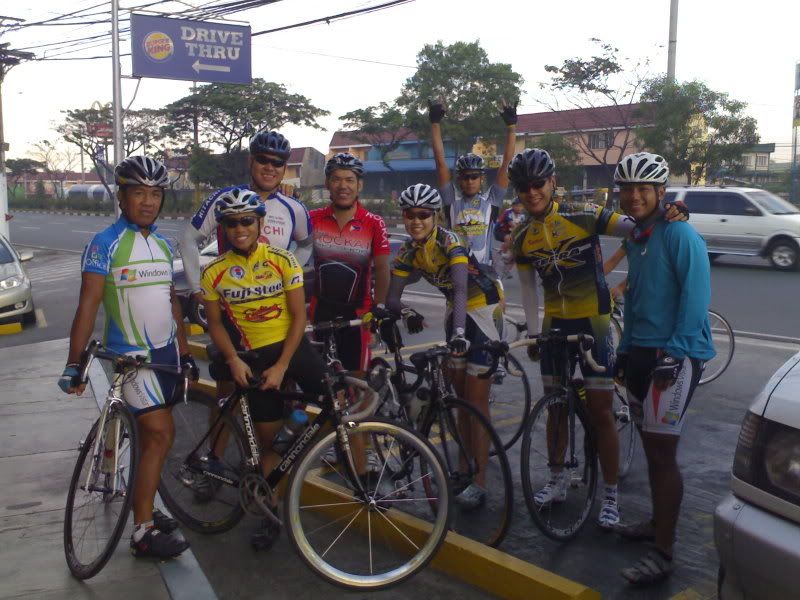 thats the boss EM Edmund Mangaser owner of All Terra Bikeshop and organizer of the famous XRC cycling series...leads the peloton enroute to Sierra Madre
this is Winston Chua showing his fine form on and off the bike
this is our group..negotiate first long climb up foremost farms...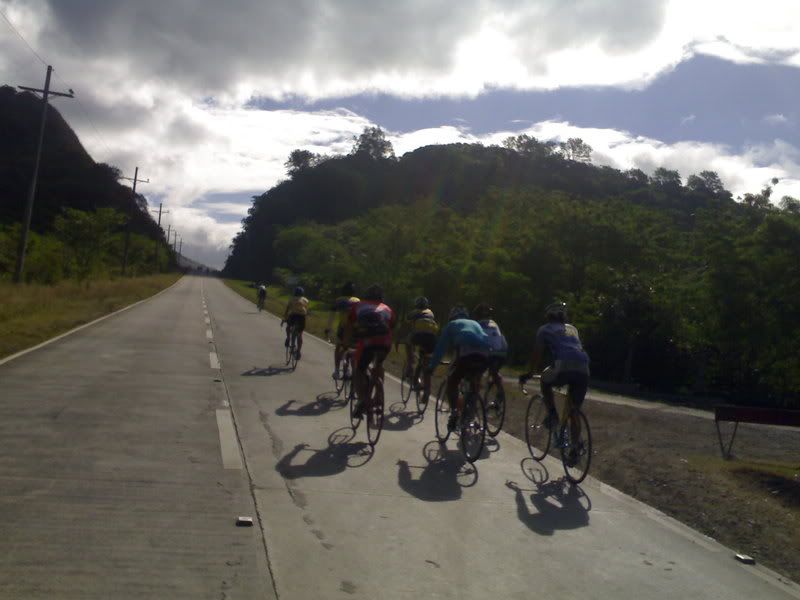 thats superboy saul...90 lbs pure climbing machine
....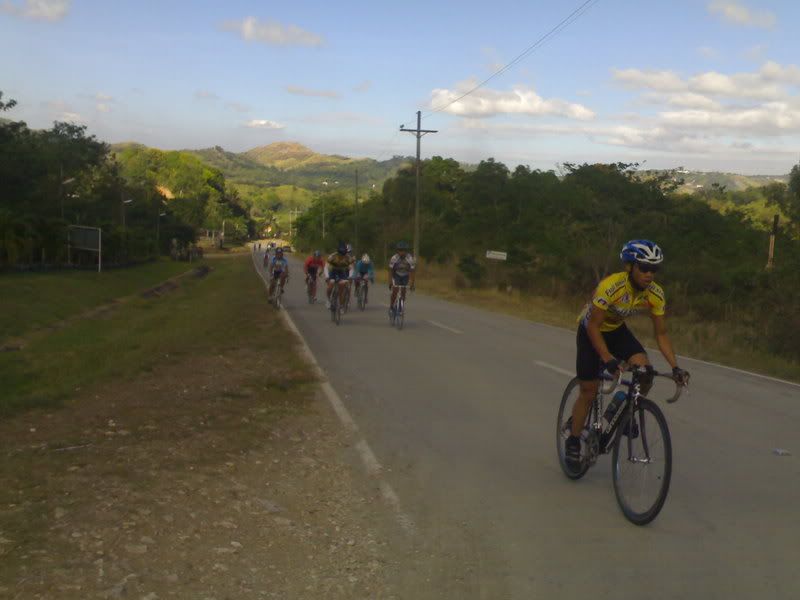 cottage industry in this part of the philippines...squid ball/dish ball sticks being dried on the side of the roads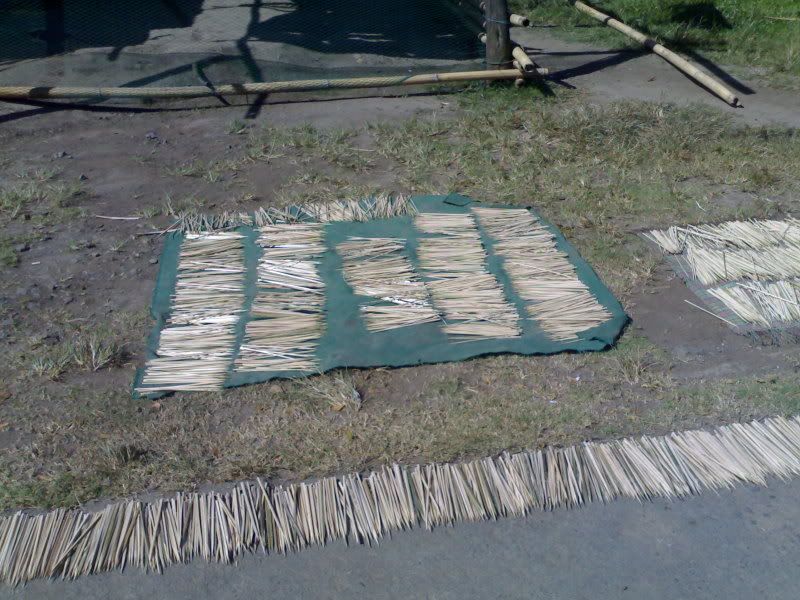 me and atty tiboy (up front) struggling up the climbs at the garden cottages
catching up with attorney tiboy near cloud 9 .....near heaven already!
"""
daghang salamat..i see a pitstop!!!
first stop ..this was in an eatery after the garden cottages climb..
this is the view out the window from this eatery
this is the downhill after the eatery...beautiful scenery...all the way...no cars too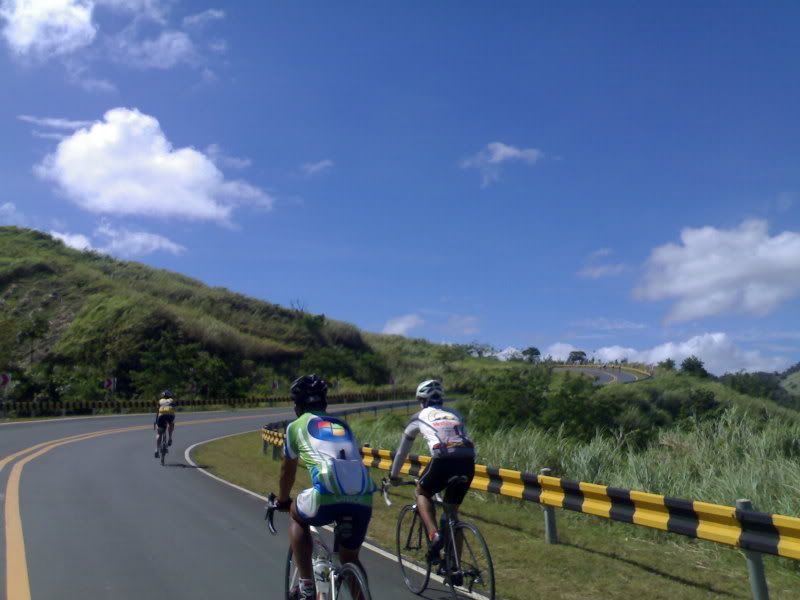 at sierra madre...i asked for a foto of our friend noel on this beautiful Jamis Xenith pro Carbon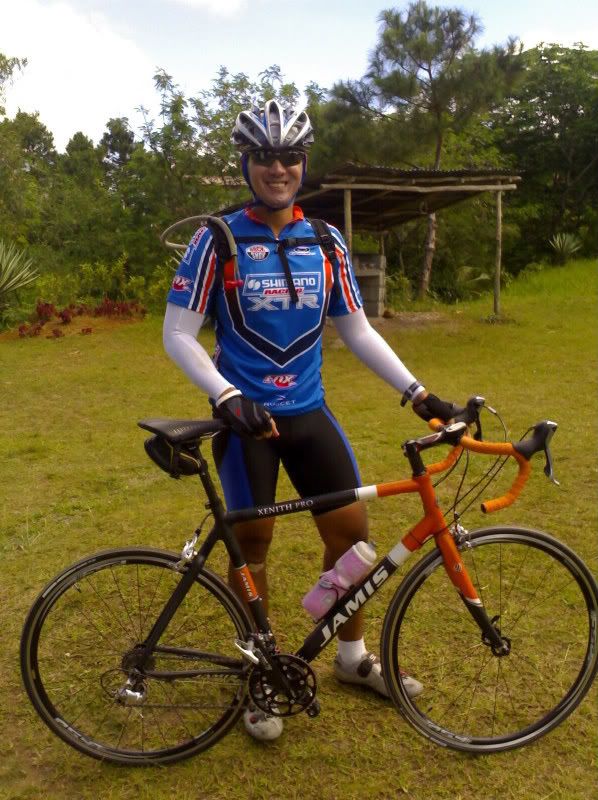 close up of the JAmis carbon
"daddy this is the photo mommy took when we were at the sierra madre hotel" thats my daughter enjoing the tourist spot....after waking up at 430am this morning wanting to go with daddy again for one of his "excursion" rides....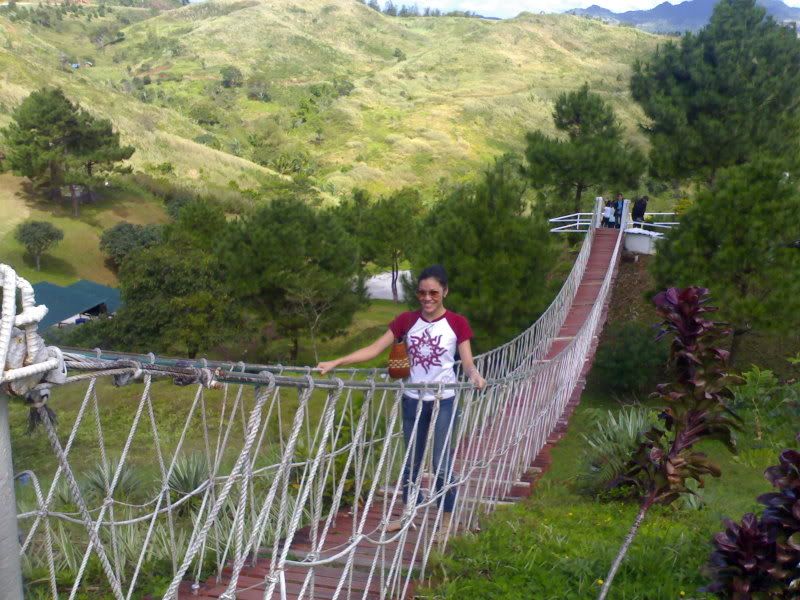 thats my beautiful wife...foto taken at the back of Sierra Madre hotel..showing the sierra madre mountain ranges...thanks swithart for tagging along and taking our fotos.
we reached sierra madre ..regrouped and then proceeded down sampaloc ... superboy saul was asking "and how are you feeling today kuya?" " dying up that garden cottages again..next time ill try that climb on my compact cranks ...saul " i replied.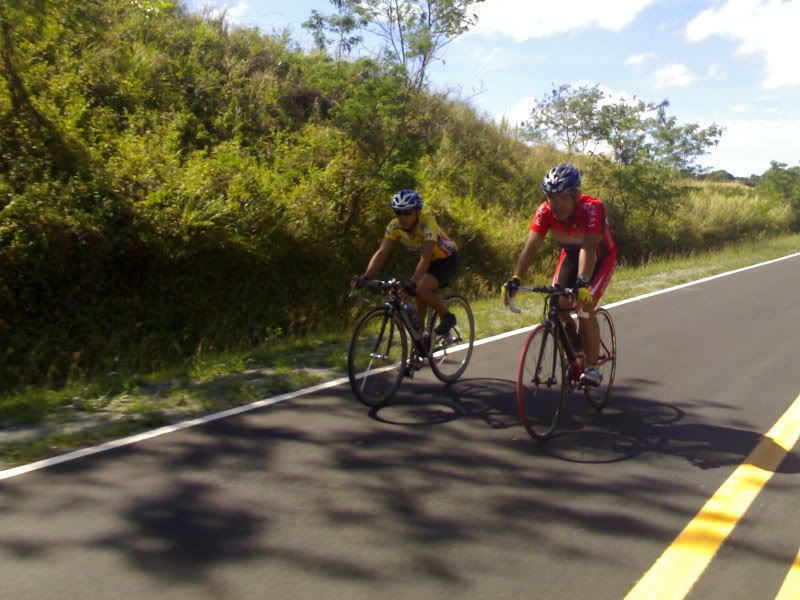 team xterra at the eatery in tanay
team rocka filchi..."this is as far as we go guys...we look forward to ride with you again soon"
| | | |
| --- | --- | --- |
| | « Reply #1 on: Today at 03:29:58 PM » | Quote Modify Remove Split Topic |
---
sir raymond,
nice report at kainggit kayo.....
i'm from taytay and near to that training route of yours but i 've rode that route only once....
before the xrc mountain race i'll do training up sierra madre...
see you guys on the road
thanks...
happy and safe riding....
| | | |
| --- | --- | --- |
| | « Reply #2 on: Today at 03:34:53 PM » | Quote Modify Remove Split Topic |
---
Ray, galing mo talaga... is this your training for TLBF?
| | | |
| --- | --- | --- |
| | « Reply #3 on: Today at 03:47:10 PM » | Quote Modify Remove Split Topic |
---
Very beautiful pix, Ray. That daunting climb looks so hard even in the pix.
I'm impressed by that lady rider who seems a very strong climber too!
---
AL FIGER-TEAM SPARK KLEE
| | | |
| --- | --- | --- |
| | « Reply #4 on: Today at 03:54:18 PM » | Quote Modify Remove Split Topic |
---
hello banesto/ryan....

tlbf is near and thats the reason we have to force our lazy bones join the other group...climb that el terrible sierra madre climb...

team all terra very strong team..so we got left behind fortunately there were some pitstops.

we try our best try different routes/join different teams check out our fitness level...the climbs we had difficulty but i think over long distances we are doing better..able to keep up on the flats after 50kilometer mark....

burger king that has become a cycling station..you dont need to wait for somebody to organize a bike ride. just drop by that place on a saturday morning before 6 am or sunday morning and you can join some group rides....we were just lucky we have plenty of friends we can ride with...

thanks for reading the posts.