| | | |
| --- | --- | --- |
| | « on: Today at 10:41:52 AM » | Quote Modify Remove Split Topic |
---
this ride was organized by mr philip go with eddie b as navigator. it is the weekly 100kms per sunday training ride being conducted by teamrocka filchi partiicpants to Egat 2008...for this ride we were very happy to have the brothers baterna...the managers of teamlogic Gate.. big boss architect Quin and his brother Q baterna who will be part of our group to see action in Bangkok Thailand May4-7 2008 . Thanks so much architect quin and jojo for joining our ride.
Island cove resort in cavite is where we parked our cars assembled our bike and get ready for the 106 kilometer cavite to tagaytay via Mendez /amadeo roundabout ride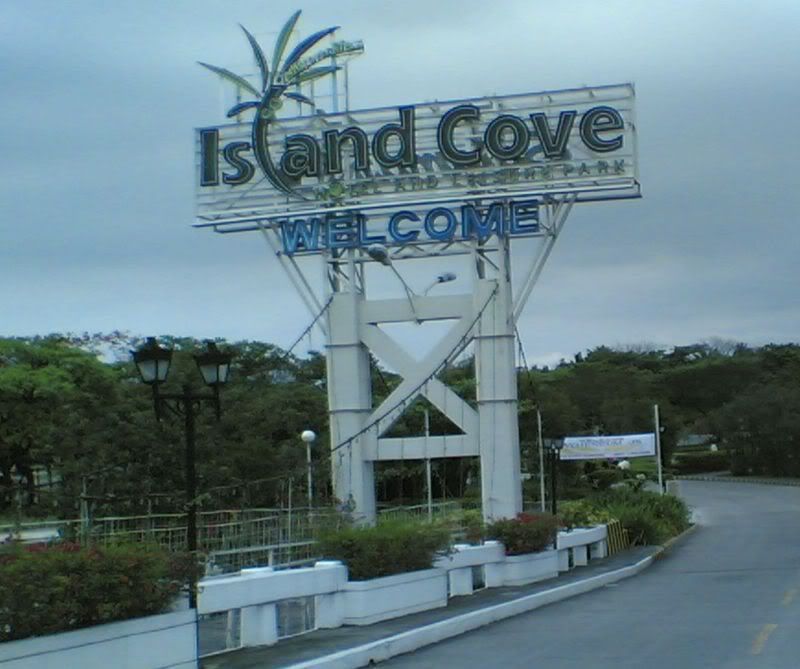 this is the pre ride usual getting to know you chit chat..."guys ..i invited the baterna brothers of teamLogic gate to join our training ride...as we will be riding with them in Egat Thailand in May..so we better train together so we know each other well..serve as each other's buddy when we are on the race in thailand..." thats me introducing the baterna brothers to the teamrocka fil chi egat participants.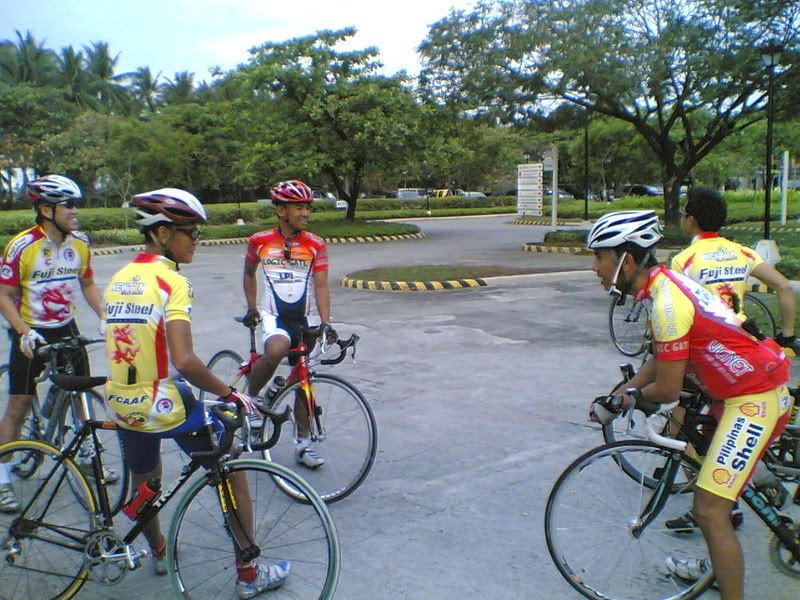 architect Quin Baterna showed up with this beautiful new baby...a flat black dura ace equipped Bianchi Reparto Corsa ...."this is what i will be riding in Egat Thailand ray....better than my previous bike...its good on the climbs..responsive on the crits...." architect quin baterna said. "WOW thats beautiful architect Quin!.....but dont forget...in case you need the glass aluminum and stainless steel requirements in your call center projects...please give me a call....as im the prefered stainless contractor of gen con RDTorres...so my company is the one supplying Accenture Cybergate with the office main entrance doors and stainless steel door handles and accessories "....i said plugging in my company RMRmetalfab and trying to coax architect quin baterna for some business... so this was a business and pleasure bike ride
close up of the Bianchi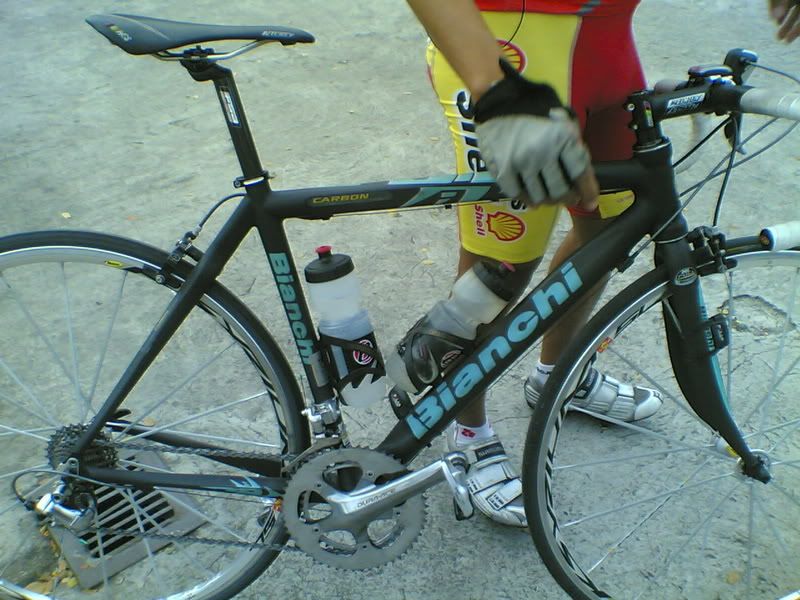 the ride up Mendez was painful..brothers baterna were very strong riders...and Q Baterna was animator supreme...attacking at each incline and making each WELCOME ARC... an imaginary finish line...only Tiboy Reyes and Saul Sibayan was able to hang on to Q baterna..while rest of the group decides to ride their own pace...wow the ride up mendez isnt steep..buts its looong and painful incline...we decide to stop by Mushroom Burger in Tagaytay and replenish lost calories...
ride down Amadeo was no problem...but this group is really flying by now as the speed soared up 40-45kph on the downhills...we managed to reach Island cove about 12pm..in time for a nice lunch...thaks so much for the nice lunch courtesy of our friend philip...the seafood carbonara was great..the ladies who served us lunch (sorry no fotos) were beautiful ....when will we have lunch here again atty tiboy?
"""
thanks so much for all those who joined us in this training ride...atty tiboy reyes,philip, saul sibayan, eddie B., ali, brothers quin and Q baterna.
we look forward to ride with you again and every sunday in preparation for Egat.
thanks so much...
raymond see