| | | |
| --- | --- | --- |
| | Author | Topic: "Le badger "visits Rocka1bikeshop 3-18-08 (Read 28 times) |
| | | |
| --- | --- | --- |
| | « on: Today at 09:18:10 AM » | Quote Modify Remove |
---
atty Lito of team CNC (caviteno nuevo ciclismo) nicknamed "le badger" isnt that a reference to Bernard Hinault? (we speak the same era atty....as i was a big fan of greg lemond..while you bernard hinault?...i wonder when i will build a Greg lemond Team Z vintage bike...thats in the back of my mind for so long now atty if you are also a member of roadbikereview.com...check out Greg Lemond Team Z by bisekletaguy..written in 2005-06 ...you know im a big fan)
atty lito was with his wife on a bulacan road trip enroute to 8 waves resort...called me up says he wants to drop by for a visit and of course i said yes...didnt know you write beautifully as well atty lito...please do include me in your team cnc reports ....
always a pleasure to read somebody else's perspective on a training ride or a fun race...thanks so much for dropping by...thanks so much for reading the bisekletaguy reports on cebu cycling....
here is his email today.
Hi Raymond,
thank you for the warm welcome you gave us [me and my wifey] [and of course, the generous discount]today.
with your indulgence, will cc. you in the regular CNC columns that I dish out once in while.
we regularly read and enjoy your "cycle-louge" write-ups posted as bskleta guy in the cebucycling.com link [and at PECA e-group
more or less you already know our CNC team. In the write ups the Admiral is with reference to Boy Tiples, of Manor Shipping Corp., who will join you in the forthcoming EGAT08 tour. Out team manager and packer[because of the nature of his exec. job], Lorenz "El Cuchon", Joey "Brokeback" Gabat, our PLDT ranking exec, faithful husband [and Inday's tormentor, at times], my younger bro, Engr. Ferdie "Pody Dopy", who wil soon be an expat in Thailand@ JPN, Inc, Engr. Robert "ChenChen" Armado of Emerson, Inc [former Astech Corp.], doubling as the tormented "Mr.Black Widow" at times, Kotz "KingKotz" Sanez, of Sañez Marketing, Inc. also called "the Manwhore", Jomel "Kabuki" Grepo, our CAAD exec and weight weenie, who at various times, had OFW'd in KSA, India, and Japan as a paru-parong bukid or mariposa, his disciple and mt. climber exec. Hansel 'The Gretel" Mugol, currently electrifying the Davao countryside. Bryan is our "The Seaman", due to arrive this June [or July]. Boy "Pascam" Samonte is our Customs exec. Robert "Obet" Briones is our Saudia airline exec.
Our understudy [still in his teens] is James "immortal love" Tiples, son of the Admiral.
Ronald 'Onat" Magcuas, who powered CNC to the podium in the XRC08 first leg team trial and criterium is our US based FED EX exec who regularly comes home every year. Chamby Solis-our original tower of power in the late 80's and 90's- is currently our Mcdo exec in the US. We also have Ricky Dones-our Chiapucci of yore , now also US based and presently with Adobo Velo.
Allan Estrellado, Asia United bank exec, is also in our distribution list, rode with us last year. He is now one of the powerhouse exec of the EXECOMM exec team from Calamba.
Not in the net are our "otobots" or "super domestiques", our senior citizen retired exec Oca "Bartoli", "Ludy Peanut" a former marketing man of Ludy's Peanut Butter, our MTB man, Richard NOT Gomez, married to Lucy "Not" Torres, and Mr. Ankie "Rasmussen".
ang resident Pro namin ay si Jan "Projan" Ricafort, currently based sa Sangley Pt. Cavite City
me nakalimutan ba ako besides moi as "le badger" ?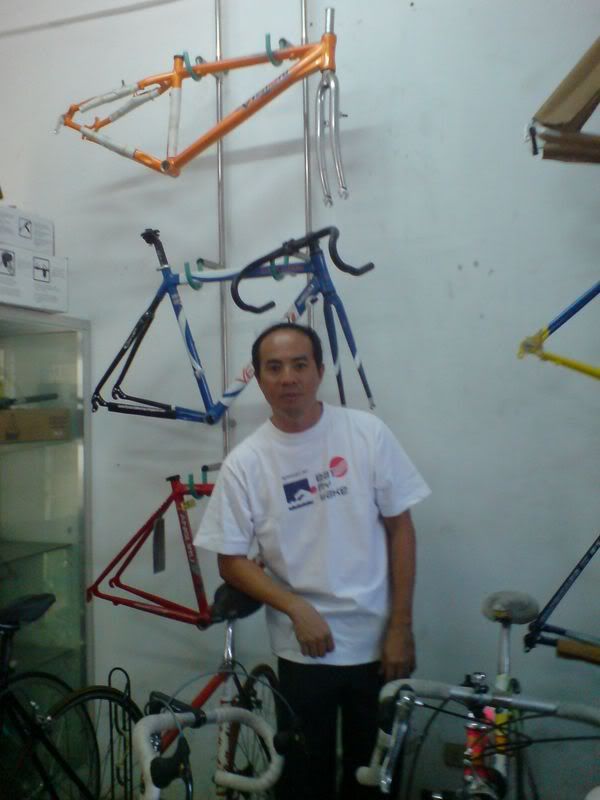 "hey raymond this is the reason why you are looking for the spacers huh? beautiful this team liquigas" says atty lito of team CNC.....atty lito you do look like hinault!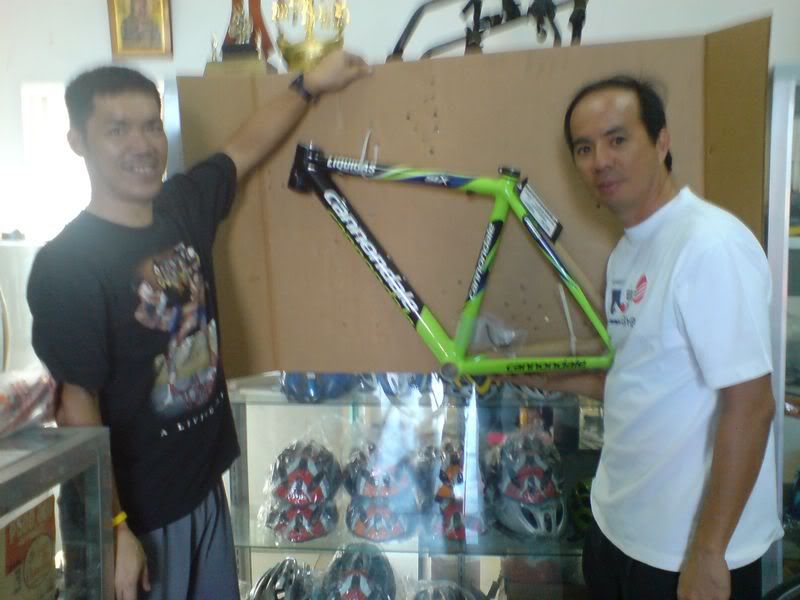 "i didnt know there is a c35....how much? asked atty lito..."thats the 35th anniversary first gen Colnago CArbon its for sale ... 180thousand atty" i said
this is the san marco regal saddle...its 3000 atty..also missing one of the brass insignia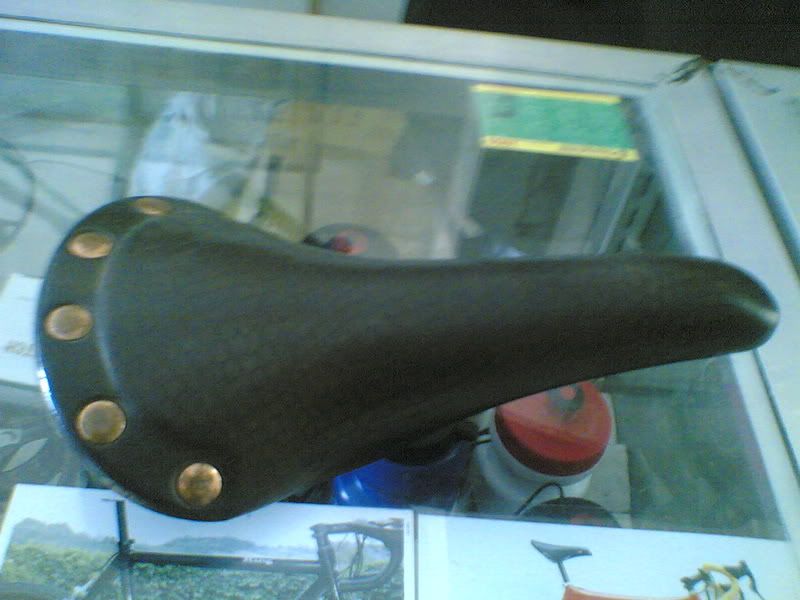 this what you missed out. Bernard Hinault saddle on the colnago funny bike...
======================================
kaya pala naghahanap ka ng kakaibang spacer ay dahil sa tsikret weapon mong Liquigas Cannondale, ha. kayang kaya ni Richard Not Gomez mag-fabricate niyan dito sa etibak [cavite], ha-ha-ha. Ok din ang F1 Colnago C-35 diyan. sa halaga niyan at tulin ay dapat lang talaga nakagapos iyan palagi.
Sayang at hindi ko pa naiuwi yang san marco regal saddle diyan. sa susunod na punta ko ay dapat 1K na lang presyo niyan, ha?
we look forward to host you and your team in Cavite anytime, bro. cheers.