| | | |
| --- | --- | --- |
| | Author | Topic: Kaight Forgie joins the reverse route burger king, antipolo sierramadre Aug 3 (Read 158 times) |
| | | |
| --- | --- | --- |
| | « on: August 04, 2008, 10:03:58 AM » | Quote Modify Remove Split Topic |
---
dear friends,
i take time out to say thank you so much to a lot of people who braved the stormy weather yesterday to participate in our training ride..the REVERSE ROUTE as suggested by vecvec viray.. burger king antipolo teresa up sampaloc and sierra madre ..yes that ride did push through.
thanks so much to team logic gate people, sir anjing, vecvec, boss jojo baterna, rommel cerezo michael singh engr manny de los reyes, and rest of the 15 men team...also present yesterday was Anthony Dy on a brand new SEVEN ELIUM, leian cruz, eric carandang wore a raincoat and was also a present. team David's Salon nina vera was also present. "ray we cant stop cycling if it rains...the philippines have rainy weather till september..we cant wait that long " she said...
yes i picked up our super fit guest rider MISS KAiGHT FORGIE who rides with the 160 men strong Team Columbus in Taiwan ...(i told teammate tiboy reyes our guest rider came from team COLUMBIA and tiboy said "ray..team Columbia thats Hincapie's team!" so we were both laughing as Kaight said "its COLUMBUS ray... not COLUMBIA" ) and I brought her to meet the guys at Burger King....she was a bit hesitant at first..."ray, no cyclists from taiwan ever rides in Rainy Weather..im afraid I could catch a cold" she said but when the cycling people arrived..she couldnt believe how many wanted to ride in the rain..and so she changed her mind "ray if you are riding today..i have no problem... i will be riding with you." so i dressed up.. wore my teamrocka jersey and yes we did have some luck...the rain stopped all the way from Burger King to Sierra Madre..and\ we didnt encounter any rain.
Kaight was a revelation. powering herself up the steep slopes with gusto." i have been off the bike for 5 weeks..i must thank you for bringing me to this ride...the roads are beautiful you guys are great...next week i will try ask my fiance who is himself a strong rider to come to Manila...we can always do this beautiful reverse route up Sierra Madre any time ...we have to go down burger king...turn back climb up again up garden cottages ... that will be more fun also Taiwan people kept asking me how it is in Manila..if you have a 2 days or 3 days race i can always invite my team Columbus to race with you guys"!
she added. "Hey ray, team Columbus Taiwan will send 60 riders to race in Tour of East Taiwan in April of 2009...if you can bring a Philippine Team to Taiwan (its an amateur race) im sure you guys will love the two days race...beautiful scenery we have there in Taiwan"
I've got the fotos. plus a video clip of Kaight ill post the video later
thanks so much again to everyone. we look forward to another training ride this sunday
raymond see
not even the stormy weather could stop this group of cyclists to go cycling...especially when there is a foreign guest cyclist around looking for a group of friendly cyclists to ride with...
thats Miss Kaight Forgie from New Zealand (in blue) who races for team Columbus in Taiwan..she will be staying for two years in Manila as a PE teacher at the International School. she will look forward to racing in Manila.
with raymond see (aka bisekleta guy)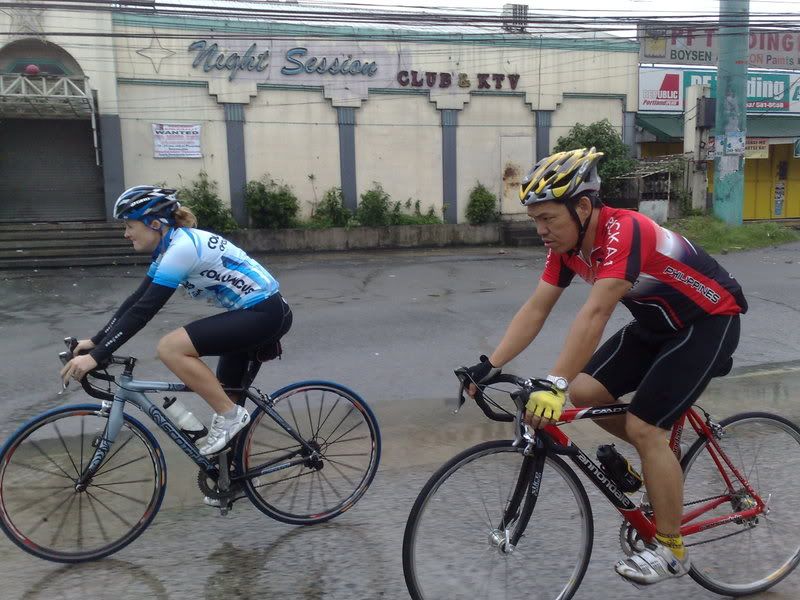 the first pitstop was at a petrol station. Kaight "the contessa" Forgie rode this beautiful light blue Scott Contessa.....
"""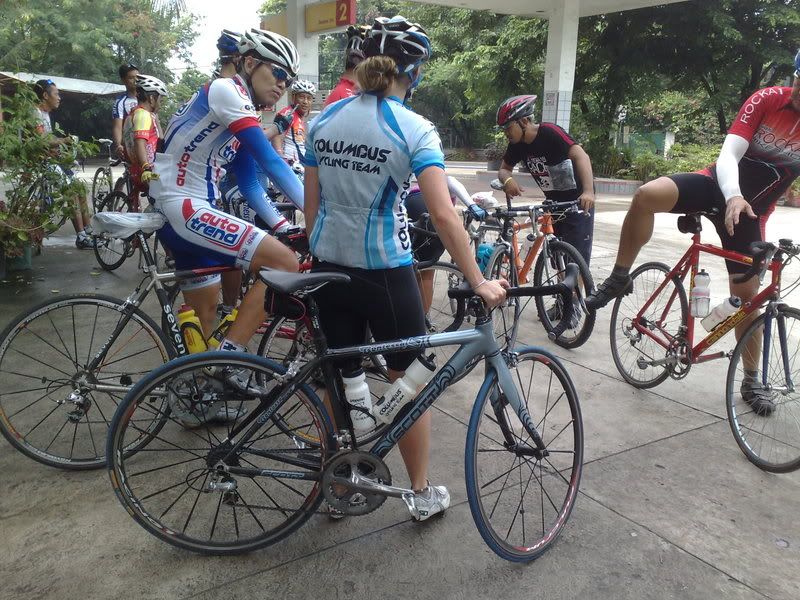 foto shoot with the nice boys from MAnila ...
see that climb? thats somewhere enroute to sampaloc...thats bisekletaguy in red.
oh oh....look at those powerful lounges...that doesnt look like miss kaight is spinning to me...more like she is putting on big gears and grinding them gears forcefully up those hills...
"""
most of the cyclists were surprized at the tough climbs going up sampaloc from teresa...we havent done the reverse route up sierra madre before. thanks to victor viray for setting up this reverse route.
here they are at Sierra Madre ..the top 4 riders to arrive at the imaginary finish line at Sierra Madre Hotel...
| | | |
| --- | --- | --- |
| | « Reply #1 on: August 04, 2008, 05:10:03 PM » | Quote Modify Remove Split Topic |
---
my nephew & some friends saw you raw yesterday in sierra madre. i wasnt able to go cause i had to go somewhere
---
BIKE! or DIE!
| | | |
| --- | --- | --- |
| | « Reply #2 on: August 04, 2008, 09:19:34 PM » | Quote Modify Remove Split Topic |
---
pics ray, pics!!!
| | | |
| --- | --- | --- |
| | « Reply #3 on: August 05, 2008, 11:03:14 AM » | Quote Modify Remove Split Topic |
---
hello alvin
its raining here 2 weeks straight na... but people here still cycling .. never mind the bad weather! I hear so many people will be joining baguio. I hope you enjoy the fotos...kaight forgie had broken away from us and was 4th to arrive at sierra madre...very very strong rider
| | | |
| --- | --- | --- |
| | « Reply #4 on: August 05, 2008, 01:28:27 PM » | Quote Modify Remove Split Topic |
---
I could imagine the scenic views from Sierra Madre enroute buso-buso back to BK. That's my favorite place to ride and cant get enuf of it everytime I ride there. Good job on the pics and report Ray and 2 thumbs up for braving the foul weather.
Miss Forgie looks very fit indeed. BTW, all scott women-specific bikes (road and off raod) have the contessa moniker.