| | | |
| --- | --- | --- |
| | Author | Topic: teamrocka1bikeshop joins pinoy mtbikers anniversary ride sierra madre 7/21/07 (Read 109 times) |
| | | |
| --- | --- | --- |
| | « on: July 23, 2007, 11:18:24 AM » | Quote Modify Remove Split Topic |
---
different strokes...bisekletaguy and tagteam partner in the red sta cruz jersey el kapitan wearing mountain biking gear joins arcireyes and fafarocky organizers of pinoy mtbikers anniversary ride up sierra madre
over 40 riders riding the latest expensive mountain biking rigs were thrilled to participate in this anniversary ride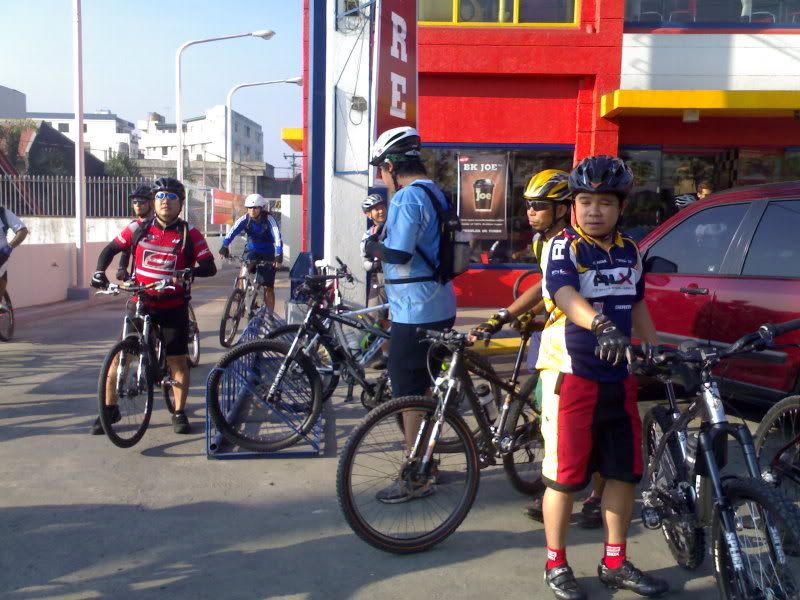 you know that Burger King sta lucia is cycling friendly right away when you see this bicycle rack for 20 bikes made available at the parking lot.
unlike road bikes..the mountain bike community is further subdivided into single speeders, xc riders all mountain riders, trail riders and downhillers...the guys is wearing a cool single speed mt bike jersey
waiting in shades at the Burger King station
"guys..lets go!"
we arrived at 720am at burger kings having to travel by car from rocka1bikeshop which was 100kilometers away...the group took off at exactly 730am..while i have to finish my ham and egg sandwich and so took off at 735am
first pit stop was at blue Mountains subdivision where the group waited for the beginners and late commers...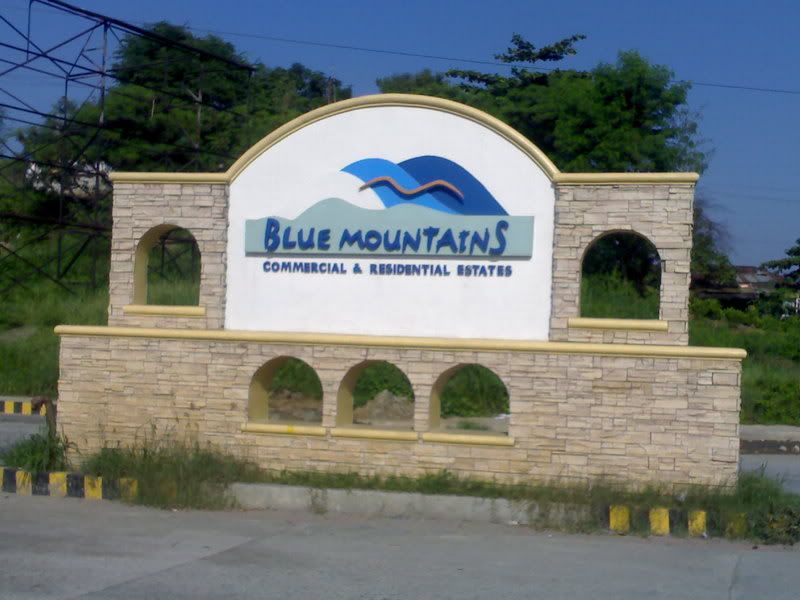 organizer arcireyes in the pink jersey gathers the beginners and newbies and waits for them at the pitstops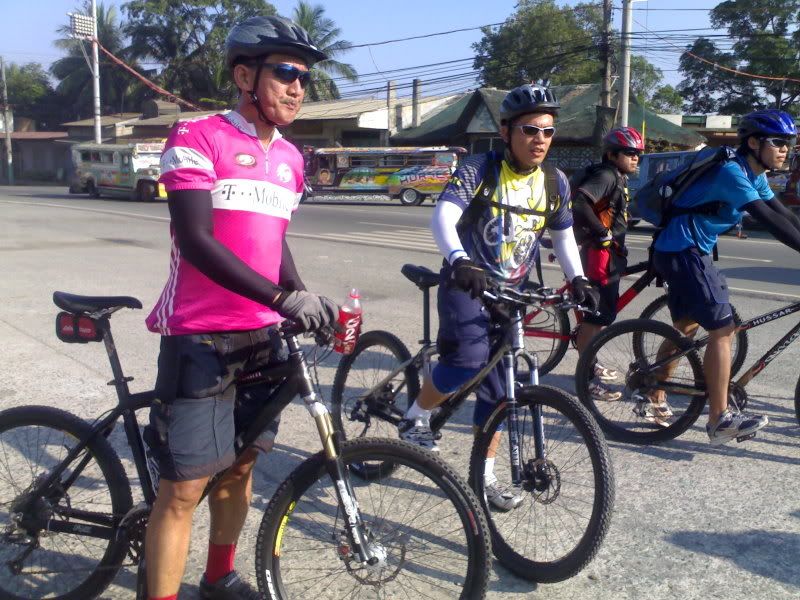 a different crowd..40 mountain bikers gather at the first pit stop
barely 3kilometers from the start and my heart rate is 190bpm..its uphill all the way...
revelation of the day...alias Wifi (mt bikers dont call each other by first names but by chat names!) this wonderwoman dropped plenty of strong riders..including me and my friend el kapitan
time to tigten the screws...front end of the group being towed by wonderwoman Wifi and black masked rider pasawayL as bisekletaguy struggles to keep up...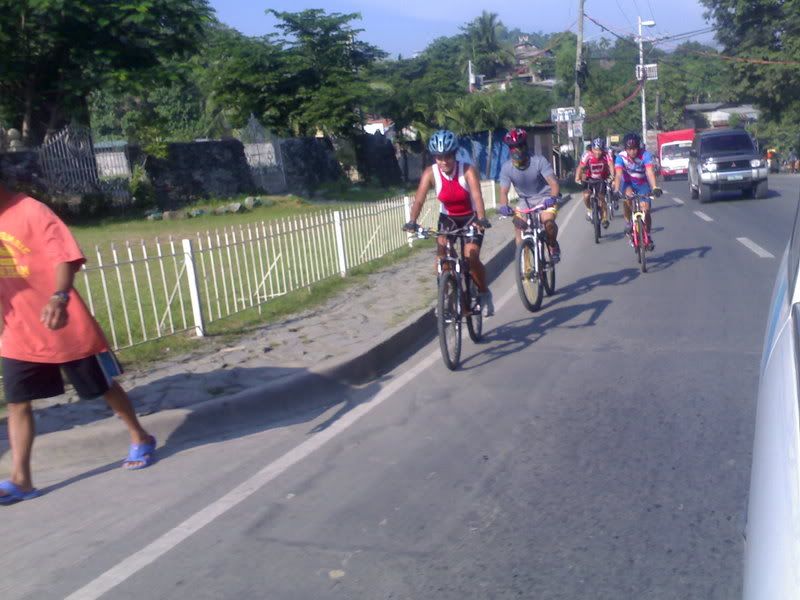 not for the faint hearted or weak hearted..this climb is the highest in eastern rizal province
happy to reach the peak of the climb...at around 10am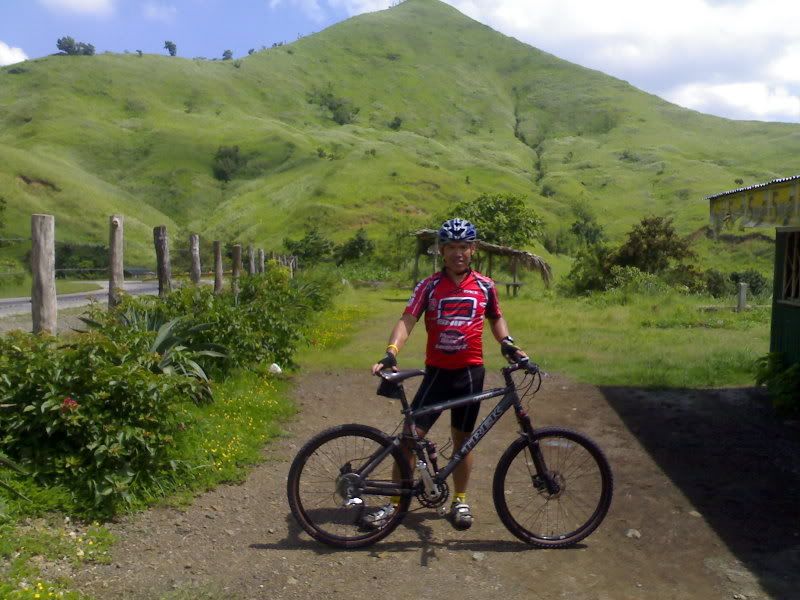 i wanted to eat beef stew bulalo soup at Mang Vics bulalo besides sierra madre hotel..however as early as 11am on saturdays..the stew sold out! so after 3 hours of riding i have to eat instant noodles ramen instead...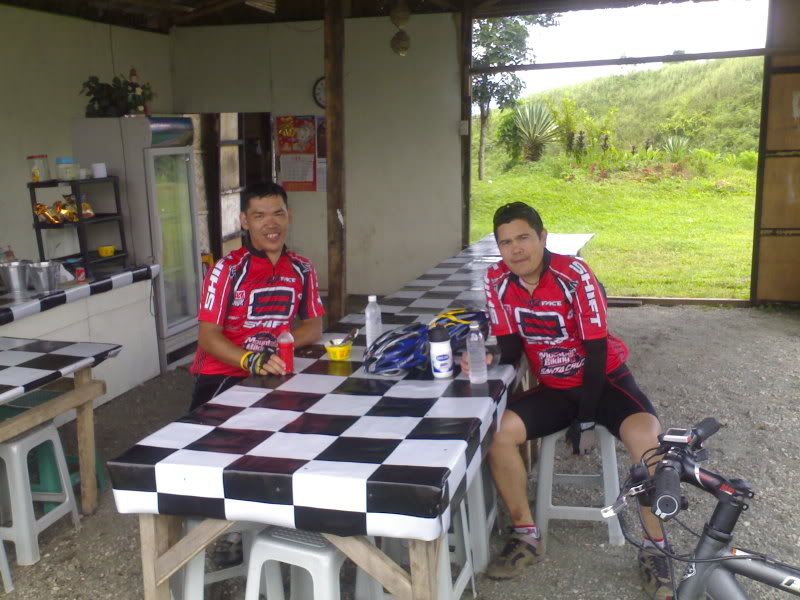 sierra madre by 11:03! 3 hours 28minutes of non stop climbing action...guaranteed to make your knees cry uncle
no fair lady in sight..we have to make do/ improvise with this american bombshell carrying the sign "hi welcome to sierra madre!"
time to pack up and go home
| | | |
| --- | --- | --- |
| | « Reply #1 on: July 23, 2007, 01:56:27 PM » | Quote Modify Remove Split Topic |
---
I've joined some rides organized by PMTB last summer. They particularly like the Montalban-San Mateo area. My only complain is that sometimes they take very long stops. But the + is you'll make lots of friends among them. Nice pics Ray. Seems you're really enjoying your mtb.
---
*** The older you get, the better you used to be. ***
| | | |
| --- | --- | --- |
| | « Reply #2 on: July 23, 2007, 02:59:26 PM » | Quote Modify Remove Split Topic |
---
hdreynolds,
they were asking whats our hurry...
so i answered..sorry as my partner el kapitan loves terra firma and wants to put his best time up sierra madre so he knows his personal best...as he just spent 8 months in an ocean going vessel and couldnt find time to cycle...
...el kapitan set the fastest time after clocking 3hours 28minutes..40kilometers distance up sierra madre from burger king...i am 2nd ...only seconds behind...
....thats why when we arrived nobody was at the finish line...
there is a broadband of fitness level in the mt biking community...so we just follow the stronger guys up front....we kept pushing forward...as we came late we thought there were plenty of guys ahead of us but there were none.
...there is another big ride this sunday.....bisekletaguy and el kapitan will surely be there..with the new mountainbikers group...