| | | |
| --- | --- | --- |
| | Author | Topic: Team Rocka1bikeshop :San Fabian Pangasinan to Baguio via Marcos 3/25/07 (Read 370 times) |
| | | |
| --- | --- | --- |
| | « on: March 27, 2007, 11:50:40 AM » | Quote Modify Remove Split Topic |
---
teamrocka1bikeshop Training ride...San Fabian Pangasinan to Baguio via Marcos hiway March 27,2007
This was to be our third sunday "secret" mountain climbing training ride....we did a good job on the sierra madre training ride two weeks ago... however last week...dennis d menace dionisio says he had to make ammends to his wife and son already as we have been on the road past 6 to 7 successive weeks already...thats why the wife (unlike mine) was already irritated as to why so much time was spent on the bike and no more time for going to church and swimming with the family so dennis says he got to pass....! the entire team understood but except for me and dennis...the secret training ride push through with team PLDT and prize fighter VICTOR ESPIRITU...of course this time it was VICTOR ESPIRITU who leads the climbs....while teamrocka was training up Bugarin...Team Sustagen entire squadra was sighted last saturday with Victor espiritu enroute to Pagsanjan Laguna from Quezon City and back!!!! a back breaking 7 hours ride...Victor reports about his ride with Team Sustagen in his blogspot and boy...i was surprized Victor could also write about his training rides...!!!
oh while dennis was swimming somewhere in la union with his wife and son jeffjeff last sunday...i was doing criterium training (my wife tagged along of course as she wants to do aerobic exercise) at the Waterwood Park Subdivision Cycling Club homebase in Baliuag town...sparring it out with the regulars for a fast 36kph run after 1 hour.
Last wednesday..our former teammate and now one of our team's sponsor...Doctor Butch Ydia of Dagupan called me up with an invite...for teamrocka to join their Dagupan Cycling Club Sunday climb up Baguio from San Fabian....i called up dennis d menace who of course said yes!
...and as my my wife wants to tag along ... my daughter rachel anne who is on vacation tagged along too...as official fotographer and professional shopper respectively...
so we left rocka1bikeshop around 4pm of saturday...stopped over at the Nazareth Hospital in Dagupan to hook up with Dr Butch Ydia...then sunday morning ..we proceeded to the SAN FABIAN AUDITORIUM to hook up with 30 DAgupan Cycling Club riders...willing to climb Baguio via Marcos hiway ...and go sparring ride with dennis and me...
san fabian pangasinan station with the members of dagupan cycling club led by doc butch ydia (wearing Team Pldt jersey)....pictures shows 15 out of 30 who joined our training ride up baguio the tall guy on my right is superstar sherwin carrera
at the rolling start 20-25kilometers per hour slow start...i moved towards the front and began conversing with alex tan who owns a hardware in dagupan...i saw a serious looking (but fitter as thinner) doctor butch ydia who says he really had been trying to lose weight but finds it difficult...Superstar professional rider Sherwin Carerra was also with us with powerhouse Wilson Rosendes of team PLDT...the rolling start spans 5 kilometers...then as if on cue...after the 5 kilometer mark...the dagupan guys went flying...one attack after the other...i was hanging on like crazy...i saw dennis get dropped then by 20 kilometer mark...dennis attacks and bridge our chase group to the 5 man breakaway lead by doctor butch....when the peloton becomes one big bunch again...the pace slow down...i checked my hrm..its 170...im ok!
so as soon as the guy with the biopace went...i went with him...doc butch laughing again...."there goes the breakaway again" he says...but this time...i am pulling away...36-38kph over rolling terrain towards the town of Rosario La Union ....i was swapping pulls with BioPaceMan...i see he is wearing rubber shoes...with toeclips and straps...but he got smooth pedalling style...he says "were far..swap pulls lets see how many will try bridge" i check the back....nobody is near...so pulled away for 5kilometers until we saw the bridging group of juvy of team fuji excellent noodles... who shouted to his group..."dont allow those two guys get away anymore...we had a hard time already!"
then juvy attacks...wow everybody flying already...we caught him at the 30kilometer mark..then Biopaceman and me attacked again...hehehe am happy now...as my hrm tells me am just 170bpm...so we went away another 5 kilometers...near the foot of the marcos hiway...dennis calls for pitstop...so we had coca cola. the other guys went ahead...we waited for doc butch and had a cola....near the foot of the climb.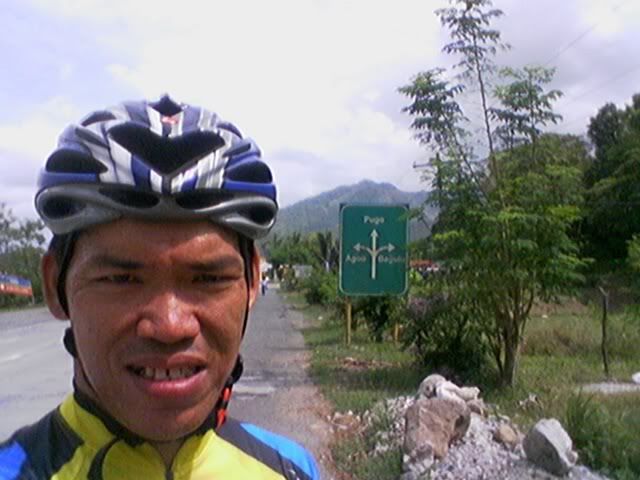 pitstop near the intersection...pugo...rosario...marcos hiway we are wearing our team waterwood/ rocka1 bikeshop yellow and blue jersey patterned after formula1 driver FERNANDO ALONZO's team renault colors
about 15 cyclists went up ahead already...i wanted to go also...but heck...i got to wait for doctor butch for instructions...
from the foot of Rosario town the Burnham Park is 48kilometers away....about 10 cyclists went back already they dont want to climb anymore as they were tired already...so i asked dennis and doctor butch how far off are we willing to climb...dennis says at the JOLLYBEE (I call it the JOLLYWOOD STATION) which is about 35kilometers straight up....so everbody agreed.
as i was laboring up the slopes of the Baguio Climb...doc butch tells me that i should go ahead as he forgot his water refill so have to stop by a store...i was pretty sure dennis d menace had given me a leadstart a headstart and my fast calculating mental math tells me a kilometer lead out here when we can only climb at 10kph means 3-4kilometer headstart over the flat lands so i really conditioned myself to go with the other guys..so i can have my 1kilometer over the mountain lead...after 5 kilometers...dennis zoomed ahead...fortunately for me...sherwin carrerra stayed with me..giving me the tips on climbing...he is climbing uphill on a Litespeed titanium with 39 x 23 gear...at 12kph...then does the out of saddle sprints...then waits for me again...then out of saddle sprint again...wow...he is a monster...
at the 13kilometer mark...i saw about 20 riders including dennis d menace in a pitstop again...i shouted at dennis..."sorry i want my advantage dennis!" ...dennis laughs...
at about 20 km to burnham park.. i got joined by eric obosa with another rider...wow he is in fine form...we got riding together the 3 of us...no sign of dennis d menace nor doc butch...im starting to get the hang of their pace...comfortable...then eric too sprints out of the saddle on the steep incline....i followed...woah boy...my heart rate shoots to 200bpm....i cant do that!
anyway...eric slows down...i catch him again...we talk about his 4thousand pesos a month cycling salary...his stint in malaysia and doha...his dreams...then it happened...it rained! rained like cats and dogs...wow man...bummer...eric says..."head for cover boss" sprints ahead and i am stuck in the middle of marcos hiway in torrential rains! I stopped look for a banana tree...waited the rain to stop...called dennis...he says he is 1.5kilometers down...i have to go down as our pick up truck couldnt pick me up as it got mechanical trouble...so even when it was raining...i went down and saw 15 guys including dennis drinking pop soda...in a small store...where there is no rain!
dennis laughs he says...the pick up truck is fine...but he is only joking as he couldnt catch me anymore so he wants us to start together again...."bummer im 1.5kilometers over 6 minutes ahead of you already dennis...now you know im no match against you when we start the same time..." dennis laughs...i drank coffee...15 man riders now undecided whether they climb up or go down in the voting process...6 of us foolhardy guys decides to climb even in wet weather conditions and so the rest of the guys went down...while i have to go up with smart buddy dennis!
anyway....i am very happy with my ride...obosa asks..."elder brother and how many times have you riden up baguio?" i said "this is our 2nd time with dennis" obosa laughs..."not bad for a second timer" so we reached the JOLLYWOOD STATION...FINALLY...I AM VERY HAPPY.
my wife and daughter had zoomed ahead of our climbers group to buy souvenirs and fresh vegetables early in the morningn... so we just called them up to pick us up at JOLLYWOOD...we are very very happy.
doc butch bidded farewell to our group...then after our photo shoot...goes down back to dagupan once more...mission accomplished for the good doctor's group as well.
at the JOLLYWOOD imaginary finish line (jollibee hollywood style advertising) 13kms from burnham park station...6 of the 30 riders finished...one rider taking the photo...thats why there is only 5 of us on the photo.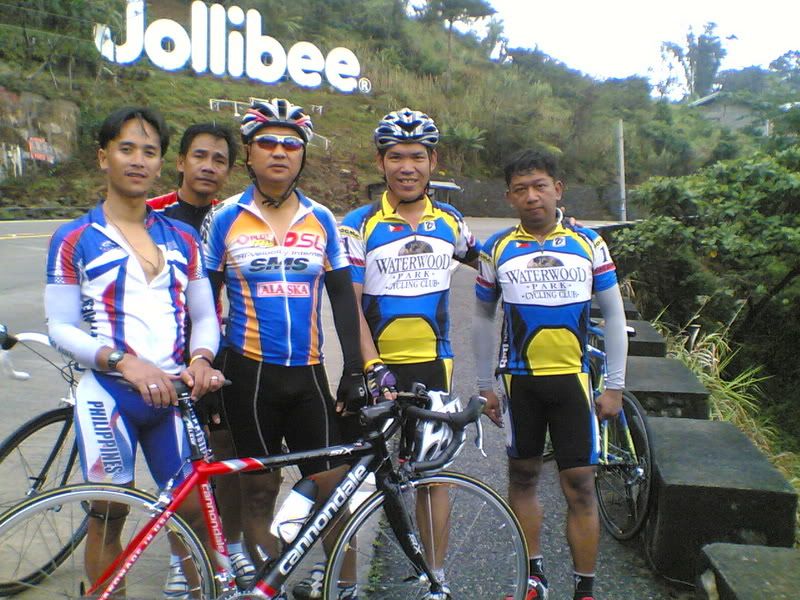 thats my daughter..."daddy i got the curls of pia cayetano..we are same height already...wont you give me a racing bike so i can race bikes too..." swithart...id rather you become a professional shopper! you are gonna give your daddy a heart attack"
with very smart buddy dennis d menace dionisio...i got beaten by scare tactics! dennis smiles!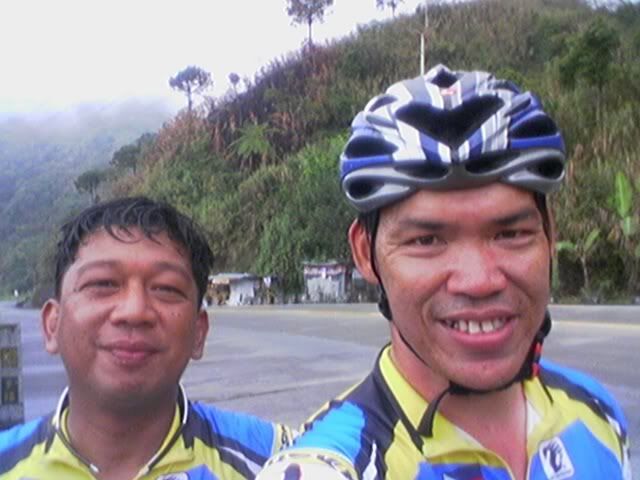 3kilometers from the JOLLYWOOD STATION is the start of the TUNNEL (area cordoned off by a tunnel due to frequency of landslides in this area)