| | | |
| --- | --- | --- |
| | Author | Topic: Teamrocka1bikeshop goes mountain biking! The Marble Caves ride 7/7/07 (Read 200 times) |
| | | |
| --- | --- | --- |
| | « on: July 07, 2007, 03:52:28 PM » | Quote Modify Remove Split Topic |
---
TeamRocka1bikeshop goes mountainbiking! The Marble Caves Ride Donacion Angat to San Rafael and back 40kilometers July 7, 2007
this ride was organized by teamrocka1bikeshop member Sunny Pantua, team Baliwag Explorers of bulacan with special participation of team Philip Morris lead by mountain biker Jonathan Dino.
It was to be our change of pace ride...after getting burnt out at the road races...Sunny called me up last tuesday asking if we could have a mountain bike ride with the Baliwag Explorers group which is an active mountain bike group familiar with the hidden wonders of Bulacan town. I have never ridden my mountain bike for past 3 years...so after several years on the road bike...i thought it was a wonderful idea so i contacted my clients from team Philip Morris mr Jonathan Dino and asked if he would like to hop in. He eventully said yes and so our group met at the rocka1bikeshop and proceeded to hook up with the Baliuag Explorers team in Donacion Angat.
its a picture perfect day to go mountain biking!
passing the old steel bridge enroute to the town of DRT (the town of Dona Remedios Trinidad the town named after the mother of IMELDA MARCOS who is a native of Bulacan)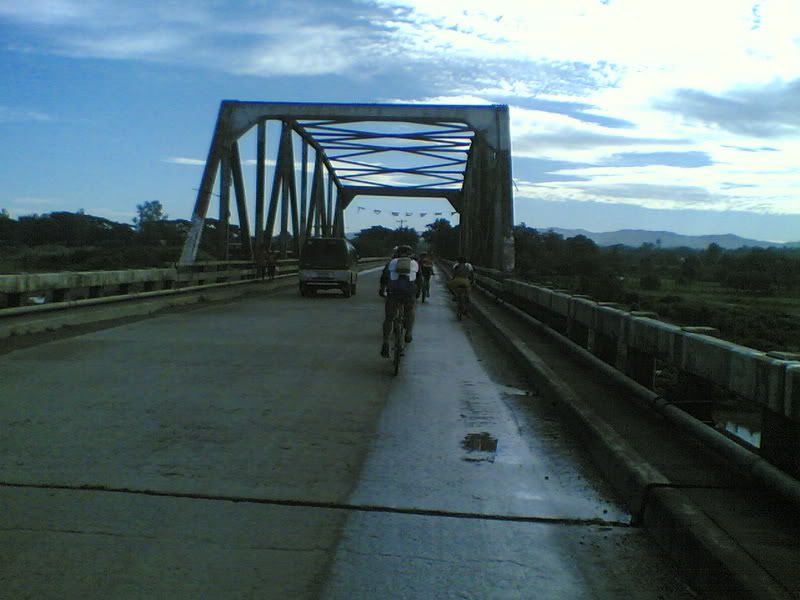 we ran across the pinoymountainbikers group of willie santos and miss roche ito whom sunny pantua tells me is a super hardcore mountain biker who works for GMA 7 TV network...sunny also told me it was miss roche who invited foreign mountain bikers from RUSSIA and USA to ride the marble caves ride a few years back...we exchanged telephone numbers and email addresses..we will surely be riding with this team in the future!
we were rolling along quietly when i noticed this crossroad sign sitio pahalang which means the town perpedicular to the road we were traversing
we had another pitstop to wait for other riders and we had a picture taken with ding serrano of team RC Cola?
the good roads stopped here...
it was muddy but there were marble rocks everywhere making us aware that we are getting near the marble caves!
this was our first stress free mountain bike ride! and the team was treated to a hidden spring near the mouth of the marble cave
i used my Trek Fuel 80 modiefied to raymond see specs...San Marco Regal equipped...bontrager stock items were found everywhere on the stock TREK...so i made it my personal steed by getting rid of the bontrager stem, the bontrager ac jones rubber as well as the bontrager select saddle...This TREK full suspension bike was ubber sweet...no pain anywhere even after 20kilometers of mountain biking!
travelling 20kilometers by mountain bike is no joke... what better way to cool off then go for the swim!
it appears that team philip morris's jonathan dino wants his bike to have a swim as well!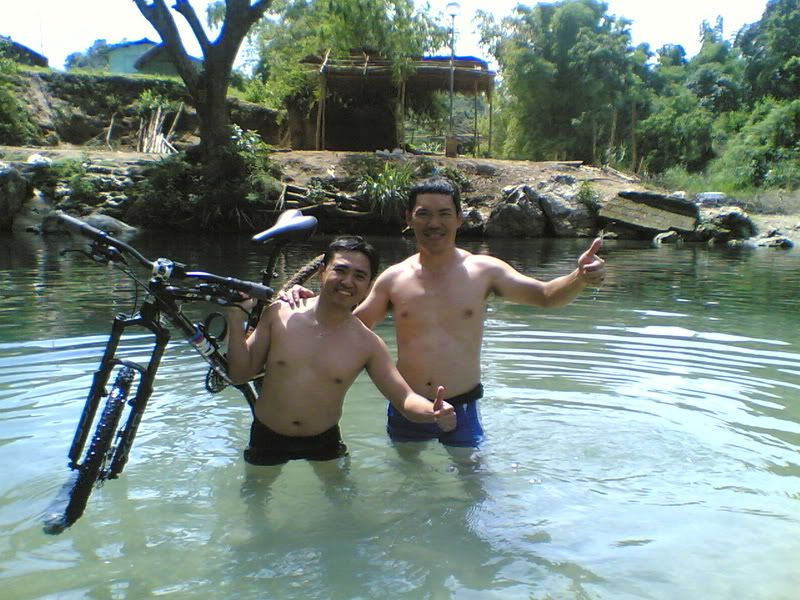 the local government of Malangaan Tulod San Rafael intends to develop this area as a Tourist Spot so there were local nipa huts available for the tourists
food is served courtesy of...rocka1bikeshop!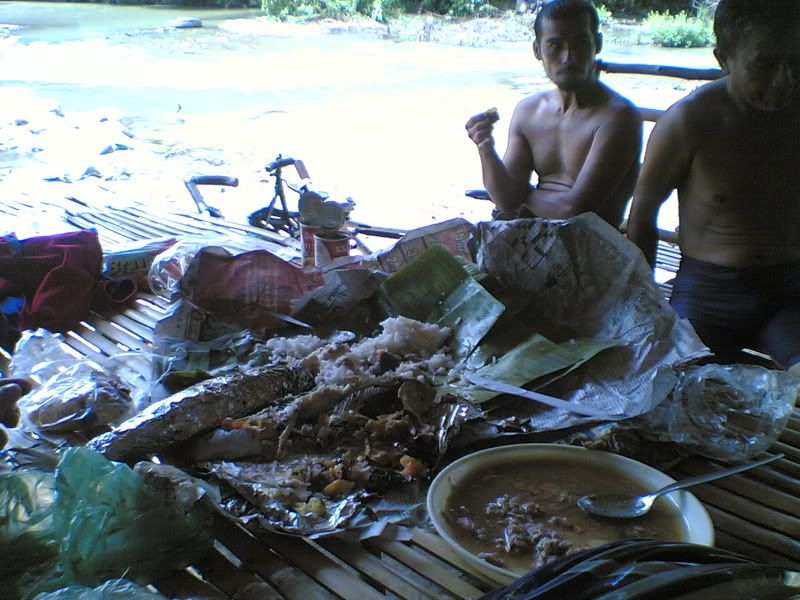 what's a mountain bike adventure ride without a river crossing? team rocka1bikeshop Ding Serrano on a classic GT Zazkar showed us how to do it!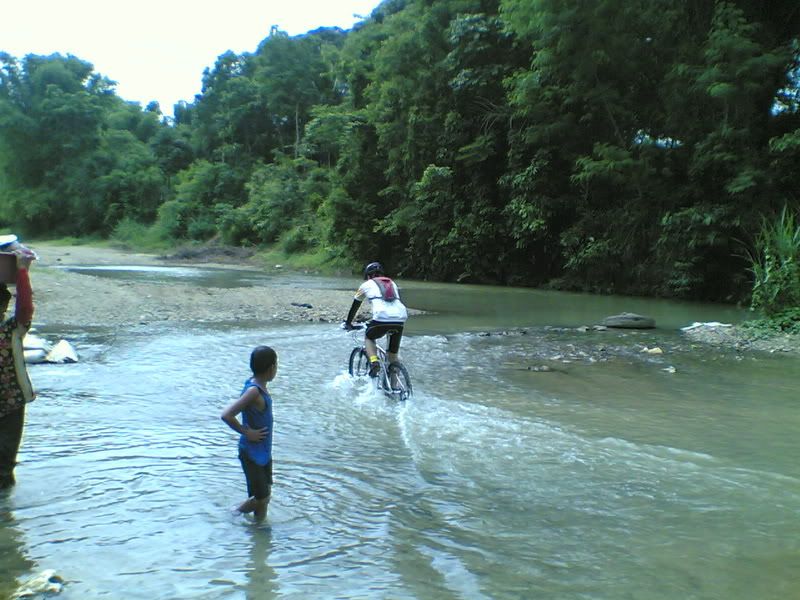 while team philip morris rider Jed showed us that he is a fast learner!
me and jonathan rode the river as well...it was so much fun!
we forgot to bring hiking sandals..but the walk was so short we went barefooted...! look at those nice Marble Boulders!
my camera fone dont do justice to the SPECTACULAR marble caves we saw here!
look at that view! looks much better than the rainforest of thailand to me!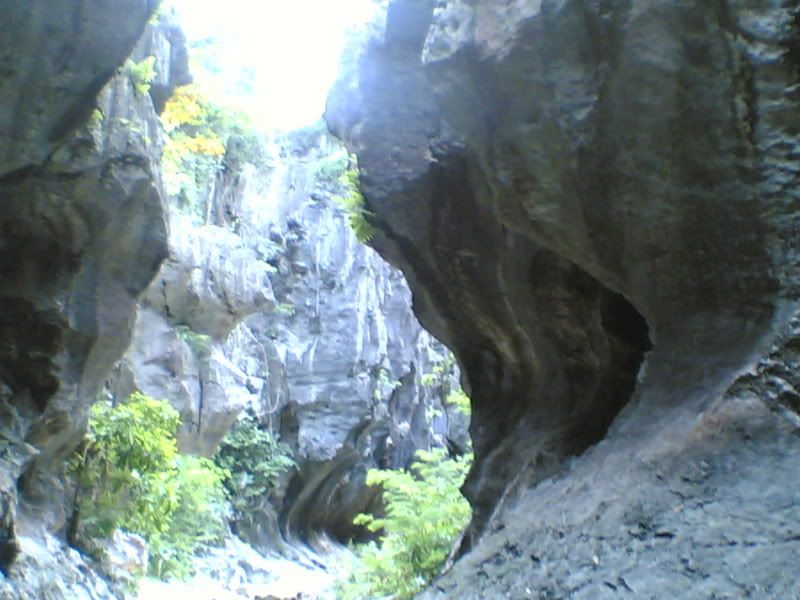 jonathan checks out one of several BAT CAVES!
stress free is raymond see...as he takes a self photo..."i will surely bring my wife next time!"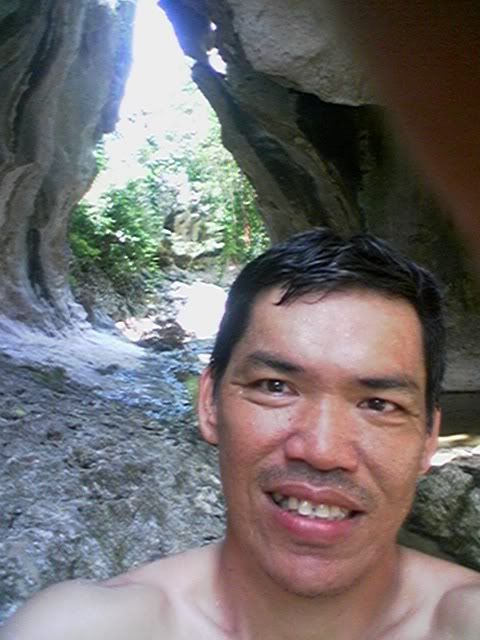 sunny pantua looks like a BENCH Underwear model in this foto taken in the marble caves by raymond see!