| | | |
| --- | --- | --- |
| | « on: February 19, 2007, 05:09:37 PM » | Quote Modify Remove Split Topic |
---
MENS HEALTH MAGAZINE SPYDER OPTICS RACE IN SUBIC Feb 17-18 2007
The much awaited start of the executive racing season commence with the opening of the SUBIC LEG first leg of the MENS HEALTH Magazine SPYDER OPTICS sponsored race conceptualized by Edmund Mangaser who is the owner of ALL TERRA bike shop and manager of ALL TERRA cycling team.
overall there were 49 riders who signed up for Cat A...82 riders for Cat B and 34 riders for Cat C
there were 15 teams who signed up making this the biggest attended EXECUTIVE RACE this season.
my teamrocka1bikeshop fielded 9 entries in category B and 1 entry for category C. Yours truly and dennis d menace dionisio had agreed to enter category B after we got teased by our friend millionaire dondie azarcon for intending to enter category C when according to dondie...he couldnt beat us and he is in category B!
Feb 17 2007
Our team met at 5 in the morning at the rocka1bikeshop... enroute to subic...which is about an hour and a half from rocka1bikeshop. We understood that a lot of team had already booked in at the expensive hotels inside subic which was formerly the American military base.
ariel carpio was nursing a cold and fever this morning he says he was sick for 2 days already but couldnt miss the race after a month of training...he was with Nobet Loya (owner of NN Ice cream factory) Engr Manny delos reyes and team rocka acting coach Pro Rider Gerald Asiado.
dennis d menace dionisio was also out of shape having to oversee his business DIOR TRADING for over a week now but he was present and ready to race with young ward Mark Sanchez.
I am in my usual element, was sooo busy at work and after months of training slackened to zero training 2 weeks before race day...opting to ride my red Colnago C35 Ferrari bike instead of my racing titanio (if i cant play ill just display!)
cant play? then display! raymond with colnago classic C35 (colnago 35th anniversary model Ferrari) with the subaru tour car!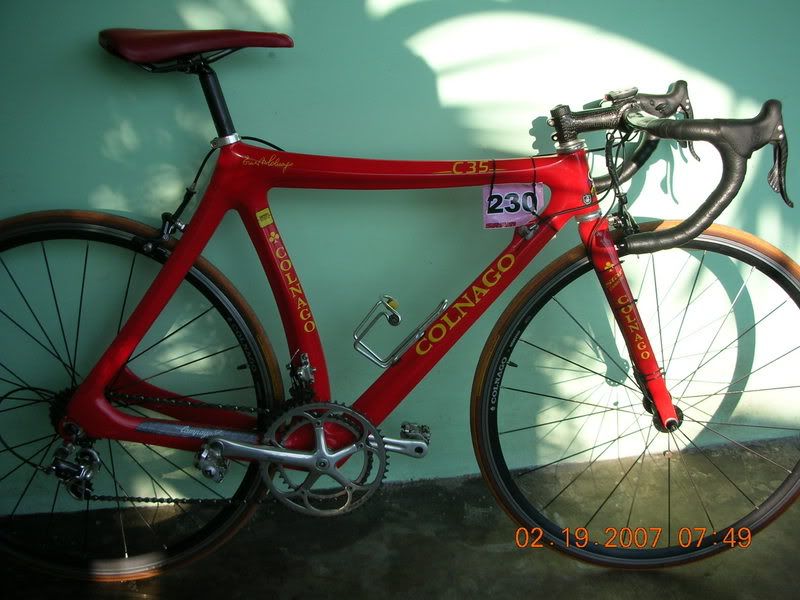 BRO CYCLING APPAREL owner Sunny Pantua was very excited as he had produced his very first sublimated jersey...our new stealth grey rocka jerseys (he bought sublimated jerseys with designs from Divisoria market) let me chose which one i wanted for our new rocka jersey and had the teamrocka1bikeshop jersey hand printed by silk screen onto the sublimated jerseys. I know the current mind set of the exec racers is to let any privateer go because it is extremely difficult to win a bike race nowadays without help from the team and so i instructed sunny to have the rocka1bikeshop logo in silver grey paint...so that the logo will camouflage itself onto the sublimated jersey. sunny wonders why i wanted to do that...i said just follow my wishes as i am very sure we wont attract any attention once our team launches our breakaways and so sunny just followed my instruction and produced our new jerseys.
teamrocka1bikeshop 3rd in command ariel carpio starts out with a blast even with a 39 degree fever!!!!
young ward Oliver estrella who owns ONYX TRADING who supplies second hand television sets to residents of Baliuag town is also excited as he had trained very hard for this event and he vows to have a medal in his favorite event the criterium.
rocka1bikeshop new recruit rommel cerazo who works as purchasing manager for SUBIC POWER CORP goes to work inside Subic by bicycle...and rocka1bikeshop was very happy to have him in our team as he is extremely familiar with the race route and had trained for several weeks for this race.
we had breakfast at our favorite Chowking dinalupihan station then proceeded to the SUBIC RACEWAY circuit in SUBIC at the back of the Airport.
teamrocka1bikeshop wearing the stealth grey jersey at the race track waiting for the start of 3kms prologue
unfortunately for us... we arrived when the race was about to start so we failed to go over the course so when my name was called...i was doing pretty good run when i missed one of the left turns and so got lost in one corner and when i attacked...i couldnt see the finish...turns out I made a wrong turn and winded up deadlast after dennis dionision outsprinted me to the line! A VERY EMBARRASING scenario to be caught in the 3 kilometer long prologue inside a car race track with old ties for obstacles......but i guess people thought i was the one who caught dennis d menace so never mind. My wife very upset...i said "mommy DARN IT... I GOT LOST"
at the start for Category C...i forewarned oliver about the incident...unfortunately Oliver Estrella got lost also.!!!!
boss joel G's LOOK 585!
peter mutuc's PARLEE!!!!
paul mutuc's PINARELLO DOGMA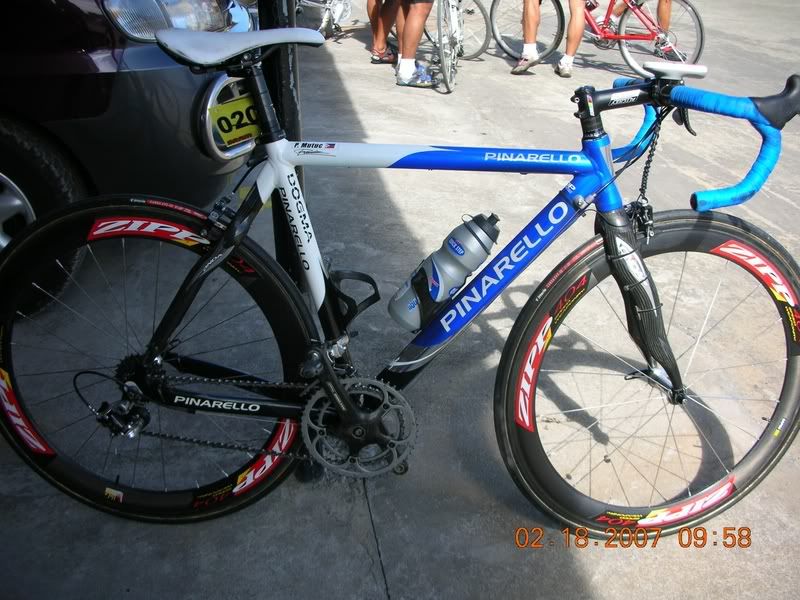 GIANT ISP integrated seatpost
colnago extreme C found in SUBIC!
cat c rider architect ricky ledesma geared up his one off cervelo P3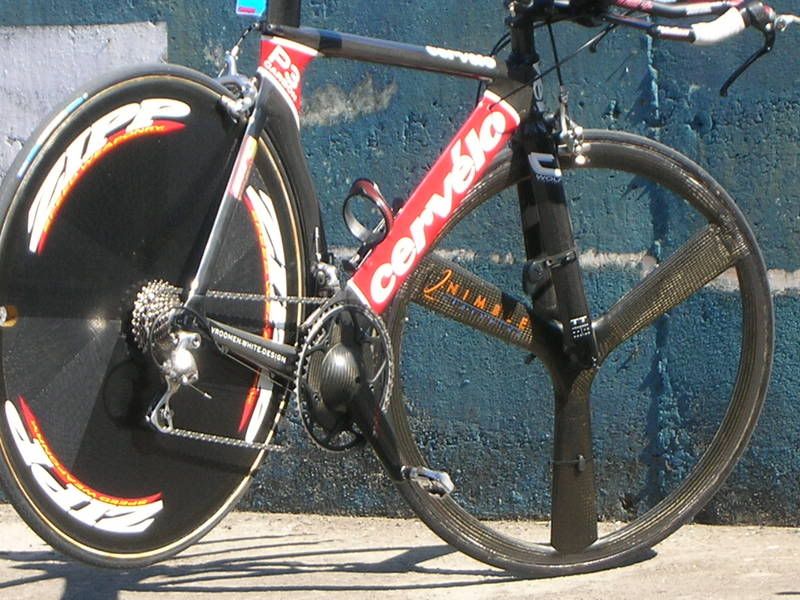 When we were about to have lunch i saw the owner of VELOCITY bike shop George Carag who is the undisputed top salesman for the american made custom frame SEVEN CYCLES and he was also laughing...as he too got lost!
at 1pm...all the riders were herded to the starting line of the road race...cat a riders were released around 2pm so my estimate in category B (80 starters) i will be finishing around 430pm to 5pm... i kept it to myself...and didnt tell my teammates...but inside me i know that this race course stands out AS THE MOST DIFFICULT mother of all races...BECAUSE OF THE 30 PLUS EXECUTIVE RACES I HAVE raced in...there is ONLY ONE RACE COURSE THAT I COULDNT CONQUER... ..ITS THIS SUBIC RACE COURSE!!!
when we were released...the entire pack rolls out to a neutral rolling start then a few kilometers later released...the race route is that same darn hard race route i have failed to finish in in 2006.. a rolling hills course that will bring riders past the monkey sanctuary going down ocean adventure then several climbs up to that painful 1 kilometer climb near Crown Peaks hotel guaranteed to make one's knees cry uncle!
the attack started immediately and by 6 kilometer mark...weak riders got left behind already...i with around 6 riders formed a group of familiar faces...there was dondie azarcon...ben caingi...tommy panganiban...doctor butch ydia...two other riders plus a lady rider from Davids salon... this group consist of survivors of the Tour of Matabungkay 135 kilometer race and so we know each other already...
we forced ourselves into this tempo...a steady pace over the hills...then rode steady 55kph on the downhills towards the ocean adventure parking lot...then made a u turn in the parking lot then begin our never ending agony climbing up that killer 6 hills towards crown peaks... i saw dondie got left behind...i tried holding to the coattails of my friend dr butch ydia....i was dying and he keeps on laughing...keeps on teasing me..."are you still alive raymond?"
i said yes ( i checked out my new cateye HRM...its 167-176 man thats my maximum heart rate already im cooked!) ...but i kept on praying..."please dont let me cramp with these guys"...however at the 17kilometer mark.. our group saw George Carag with two david salon sexy cyclists just upfront and one of the guys in our group started to chase...and i got dropped as i cramped...fully aware that dondie (whom i have a sidebet with) is only few minutes behind me.
anyway...the situation got worse...i got passed by Ambet carag...i gave chase and we rode together for sometime...until the start finish line i got left behind again...
ambeth carag reaches the start finish line first...one more lap to go...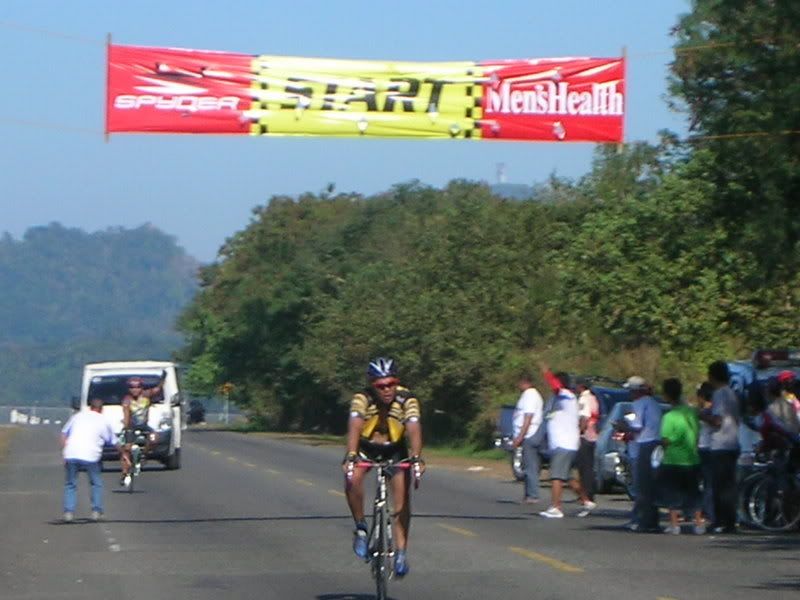 now i am on my own for one more lap...am dying...my knees are rubbery but i will not let this race course beat me again...so i continued my very painful climb again....and i still see dondie the dardevil azarcon mounting a deadly chase behind me...over this very very long uphill climb...
as i was racing towards the ocean adventure parking lot ...i saw the main peloton for category B...there was a 3 man break and one of the riders wears a stealth grey rocka jersey its mountain goat rommel...i told him dont look back anymore just go straight ahead...as the peloton didnt want to chase anymore...rommel nodded and spins ahead...(he will drop his 2 companions near crown peak and will finish solo later for the Category B 1st place finish) ...i saw dennis d menace riding a great race with young ward mark sanchez
mark sanchez leads dennis dionisio to an impressive race!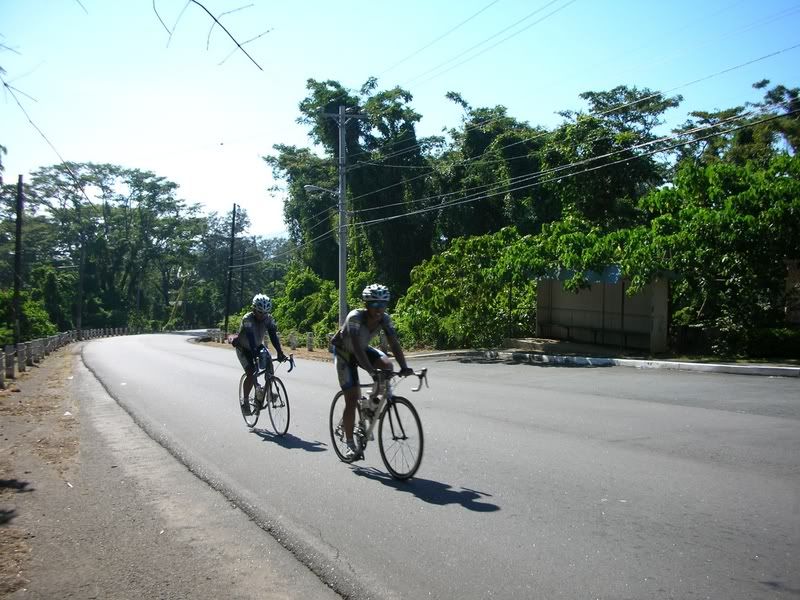 and George carag was behind him but George who owns VELOCITY bikeshop did a SUPERB RACE and later overtook dennis...doctor butch ydia was behind ime my race is far from over...i am riding THE hardest race of my life...climb up again the 6 killer hills towards crown peak...and still see dondie azarcon on his way to the parking lot!
anyway 1 kilometer to go near crown peak...my knees buckled ...like i got hit by manny pacman pacquiao...it turned rubbery then stiffened up!...double cramps! i have to dismount..chew on my hydrite tablet like mentos candy (fortunately i didnt die of hydration salt overdose) ...drink water then wait for the cramps to go away (2-3mins)...am very sure dondie is near so i mounted again and rode an agonizingly painful race towards the finish. I found out later that dondie the daredevil azarcon punctured and so did not finish the road race
Everybody was laughing already...as that was really a PAINFUL HARD RACE....ariel carpio nearly collapsing from exhaustion...rest of team rocka really cooked but we are all very happy...as there is nobody in this team who will quit a bike race... as we have vowed NEVER TO SURRENDER...so everybody survives the toughest race this season!
after the race we proceeded to the subic raceway..the medals were given out nighttinme 6pm to 7pm...we are all tired nevertheless we are happy for Rommel cerazo's VICTORY in the category B road race. Afterwards we proceeded to the house of rommel for victory celebration and over bottles of san mig light beer narrated our misfortune.
ariel says the rocka stealth grey jersey did the trick...and next time we should put the rocka logo inside the jersey so nobody will know anymore that we are teamrocka...everybody laughs.
sunny pantua and oliver estrella says that was the hardest race of their lives but they are all very
happy to survived that...i told the team of our succeeding races...invited rommel who had never raced outside his native olongapo town to race with us in Manila and rommel says he will be racing in manila for sure...after this post race meeting i headed for the hotel and we went to sleep.
starting line of the road race was near the sea
start of the category A superhuman cyborg cyclists!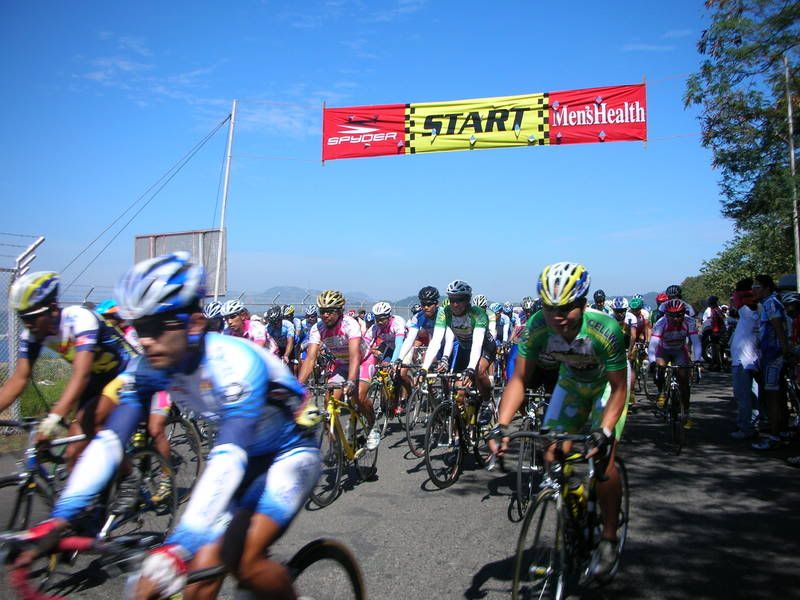 our small chase group after making the u turn at the parking lot of ocean adventure heads for the painful climbs
raymond see scoops up a bag of water and tries so hard (167 to 176 maximum heart rate for nearly
two hours...) before slowing down due to cramps..how come the cateye heart rate monitor didnt warn me of my upcoming cramps and rubbery legs?
?
Feb 18 2007

next day we linked up with dennis d menace and ariel carpio and proceeded to the subic raceway where the final event of the 2 day race will be held...on our way there we saw team david salon ladies cyclists warming up for the final event.
category c riders were released first...the race was to be 30 minutes neutral lap afterwards...the last 5 laps will determine the winner. in the homestretch we saw our oliver estrella battle it out for 2nd place ...oliver was very happy and had time to raise both hands up in the air to claim a podium finish.
cat b riders ...where we belong was next to be released...by this time my legs still hurt but as i got a sidebet with dondie...dondie too was forced to ride this race even while his legs hurt...the race was fast and furious but after the time elapsed...and the marshalls signalled for the last 5 laps...i am cramping again so i didnt force my legs anymore just rode it out till the finish even if i got dropped.
from the race course i could see several attempts by team rocka players to break free...mark sanchez attacked with rommel but rommel couldnt pull and the two got reeled back in...Manny
delos reyes also attacked and got reeled back in. In the last attempt...nobet loya attacked with last 5 laps to go but he got reeled back in after dondie daredevil azarcon spent all his remaining strength to bridge the peloton to the breakaway rider...after that dondie was seen riding solo already but as he was in front of me...i lost the race to him.
in the category A race wow there were so many strong riders from team logic gate Carlo Aquino and Noli Borjal made solo breakaways but got reeled back in...I saw frmer teammate Alex Billan also attempt a breakaway but unsuccessful...Then we saw Fitness First Maqui Dayrit break free the sprint to the line (he lost count) then was shocked to find out there remains one lap to go!!! in the end the sprint was taken by Eric Carandang Followed by former teamrocka1bikeshop player Victor Viray (he respectfully resigned from teamrocka because most of his cycling buddies formed team LOGIC GATE and so he preferred to ride for his new team in subic) who outsprinted Ernie Hortaleza to the line...a very very spectacular win for a rookie sprint king who had just raced his second executive series this year! We are all very happy for him!
Congratulations to all the winners! and the participants.
Thanks so much to the organizers and the sponsors and to all terra bikeshop big boss Edmund Mangaser who organized this event. Thanks so Much!
we look forward to racing with you again soon.
raymond see
teamrocka1bikeshop
sexy cyclist bing alto rides for team david's salon all ladies team warms up for the criterium
former teammate richard uy warms up on his rollers before start of the criterium race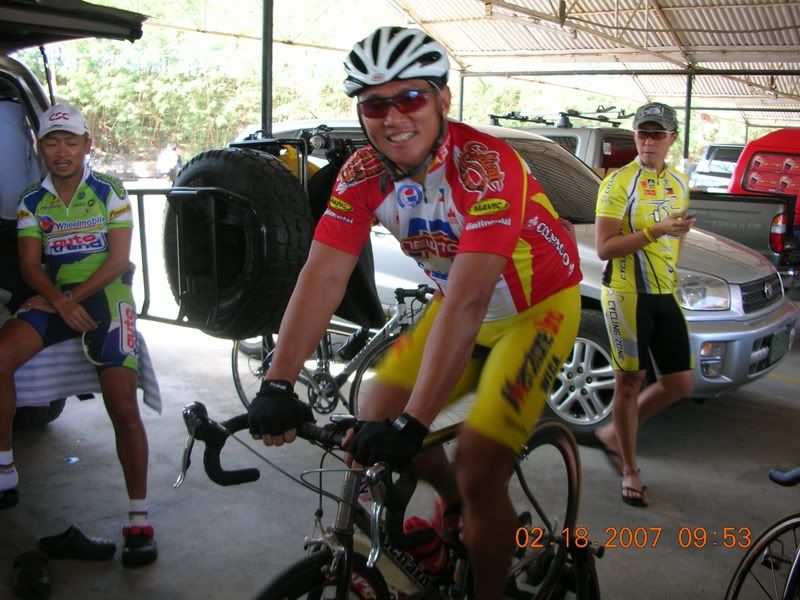 i kept on wondering how noy got up the podium...until i recall he won the medal for attending both the triathlon meet in clark then go racing again in subic!!!!
as per noy's request here is the close up shot of miss xrc podium girl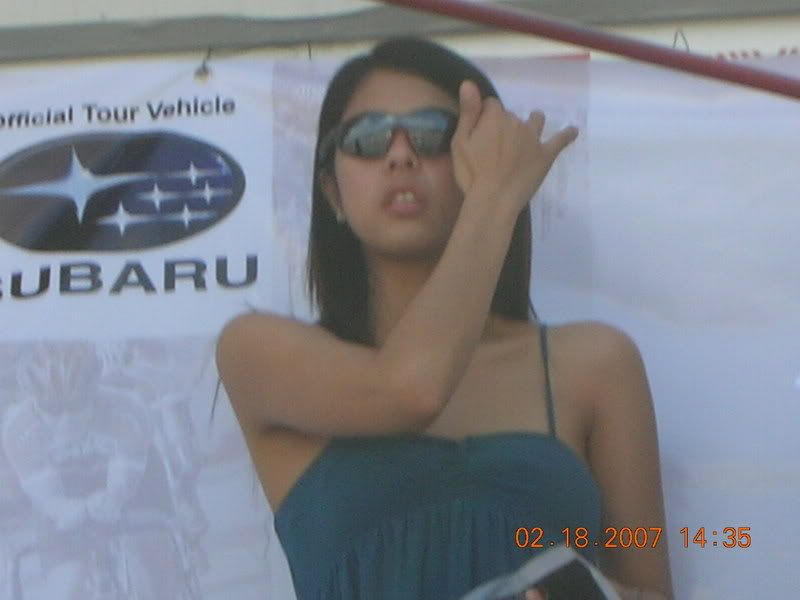 the trophies and medals to be awarded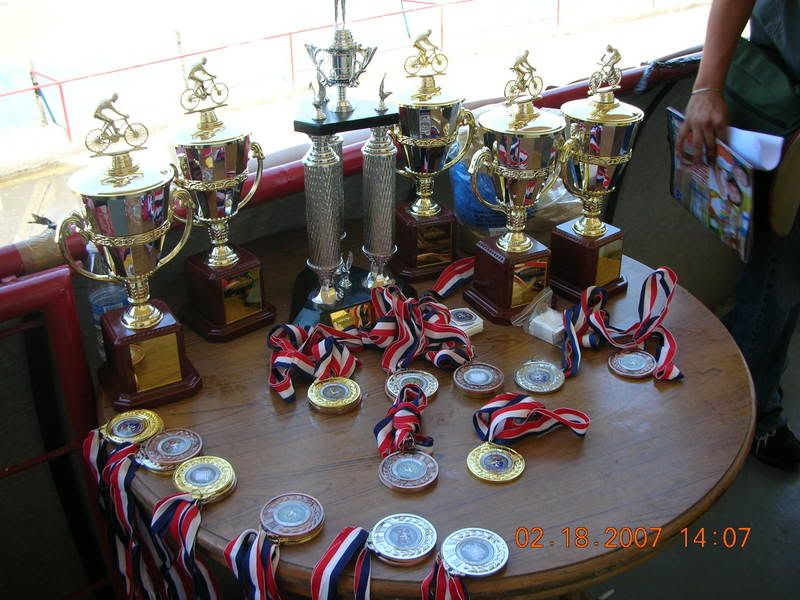 look dick look...Oliver Estrella EXTREMELY HAPPY OVER HIS 2nd place WIN in the criterium Cat C...then asking for a KISS from miss podium girl....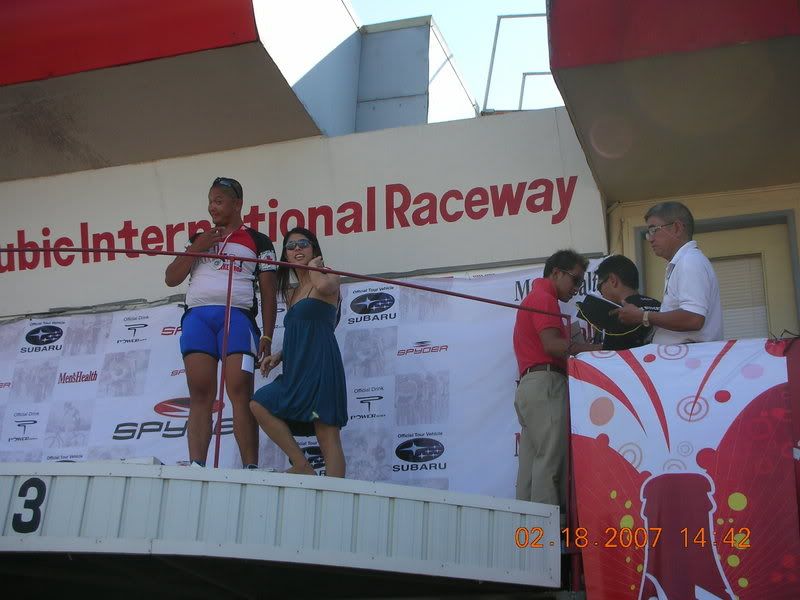 teamrocka1bikeshop's new mountain goat rommel shows off his medal for CAT B road race 1st place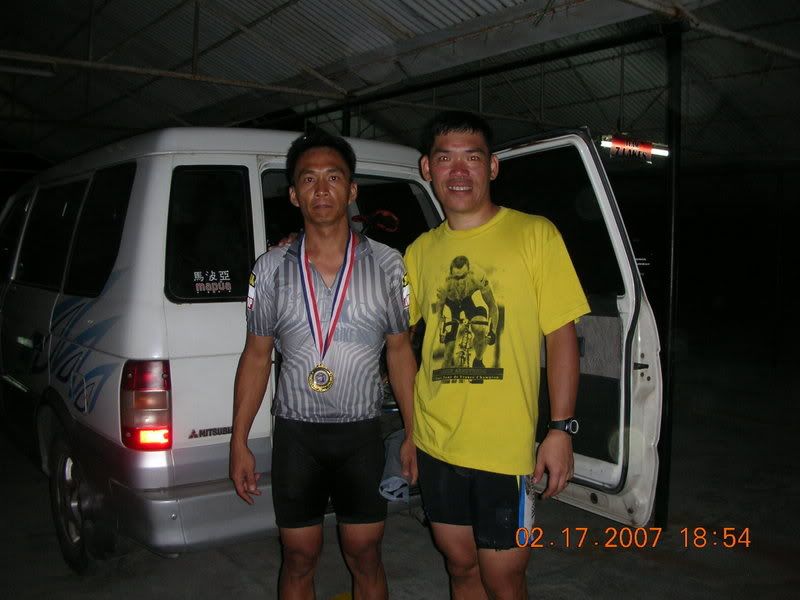 former teamrocka player victor sprint king viray shows off his lucky Adidas #1 shirt while raymond see shows off his lucky yellow lance armstrong t shirt after Victor won 2nd place Cat A Criterium
team valentino rocka with bing alto sexy cyclist, my wife and another sexy cyclist kaye lopez before the start of the 70km road race
team valentino rocka with sexy lexie the girfriend of wonderboy leian cruz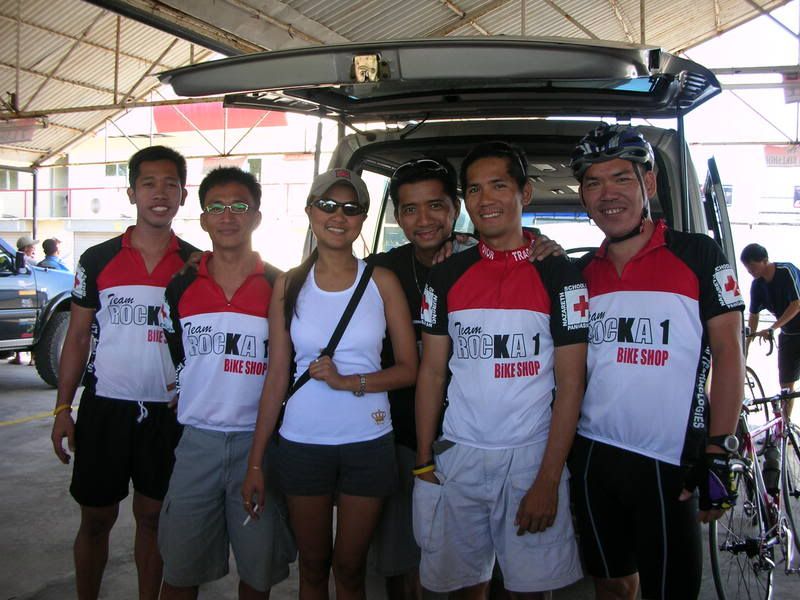 the best defense is an offense....teamrocka1bikeshop rider engr Manny delos reyes leads the peloton in the critirium category B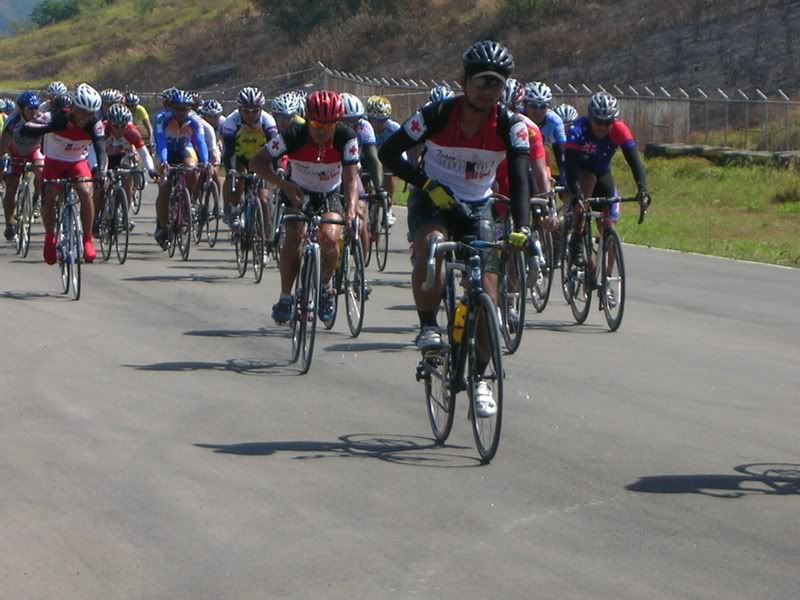 the joke of the day! Now i know how a car driver feels like after slowing down on the chekayne!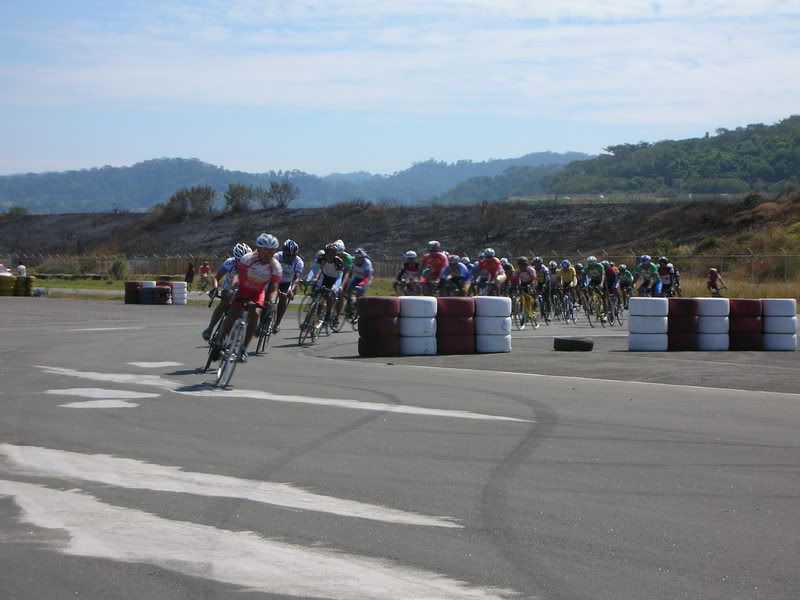 the cyclists got to sprint after clearing the corners
the arrow sign wasnt there on the prologue 3 km race and i made a right turn instead of a left on one of this tires obstacles on the car race course and got lost spending 1 minute finding my way back to the finish!!!! how embarassing
teamrocka1bikeshop rider nobet loya attempts to breakaway from the category B peloton with 5 laps to go but was reeled back in
edmund mangaser owner of team all terra bike shop and organizer of the race with raymond
alex billan shows off his BEST TROPHIES....4 cyclists to be...as i ask my wifey..."mommy when will you give me boys?"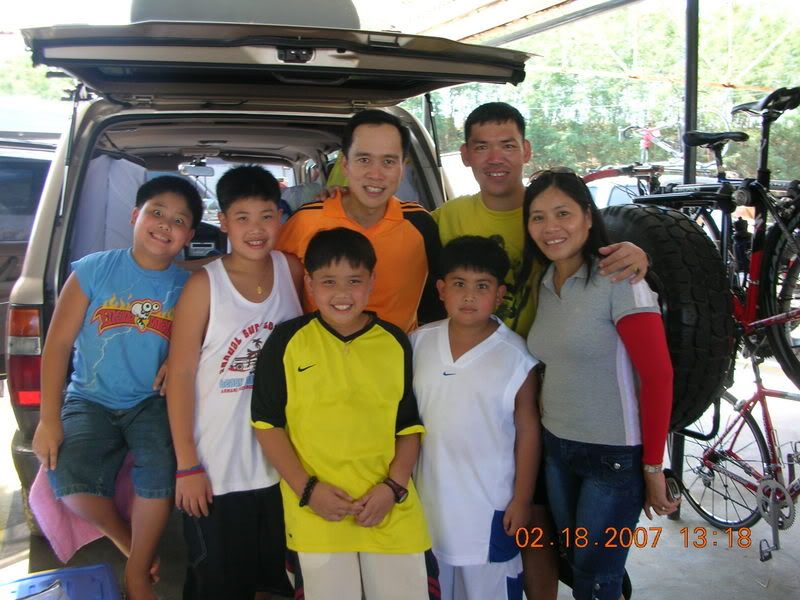 the new kings of sprint, eric carandang 1st, victor viray 2nd, ernie horataleza 3rd in the category A criterium on the subic car raceway