| | | |
| --- | --- | --- |
| | Author | Topic: VINTAGE BIKE RIDE July 13 2008 Burger king to Hinuligang Taktak (Read 20 times) |
| | | |
| --- | --- | --- |
| | « on: Today at 10:16:47 AM » | Quote Modify Remove Split Topic |
---
Vintage Bike Ride
vintage bike definition according to bisekletaguy..5,6,7,8 speed models...preferably italian steel, japanese, other models welcome..first generation steel alum or carbon also welcome.
This ride was organized by myself with the help of several vintage bike collectors, Mr Albert Alcantara aka cyclingboy who is the owner of HERITAGE, ALANS GRILL, OLD MANILA and 60 vintage bikes
..., Eric Duldulao who introduced albert to vintage bike collecting ...Joshua Alcantara the young nephew of cycling boy, Vintage bike collector and Japanese Engineer Hiroshi Takage on an immaculate steel francesco Moser with campy disc wheel kept me and the other guys huffing and puffing after launching several attacks up antipolo...
""" , Mr Manolo Torres, Father Raffy of San Beda brought along 4 friends including somebody on a beautiful MERCKX MOTOROLA colors..., thanks also to Ted Pascual for letting me borrow his camera as my wife was absent yesterday..., thanks too to Coach Ponga who went with us on a motorbike for escort services, Mr Edwin Cruz ,Gil Masiglat Buddy Madrigal dante garcia and tony g from the attack racing team of PAIR Cargo....there were so many new faces as they brought their friends along for the multiplier effect ..if i fail to mention anyone..you have to forgive me...i was so excited googling at the nice bikes....
...and so from 2 weeks ago ...after i decided to organize a Vintage bike ride from burger king to Hinulugang Taktak antipolo yesterday july 13,2008..there were over 25 riders who joined us in this very very successful initial staging of THE VINTAGE BIKE RIDE.
"thats my ADR teammate! " declares Gil Masiglat of the executive team PAIR CARGO ATTACK! as he finds bisekletaguy (also a Greg Lemond fan) wearing vintage wool ADR Bottechia jersey...same as his ...
vintage bike gallery..eddy merckx motorola colors seen yesterday at Burger King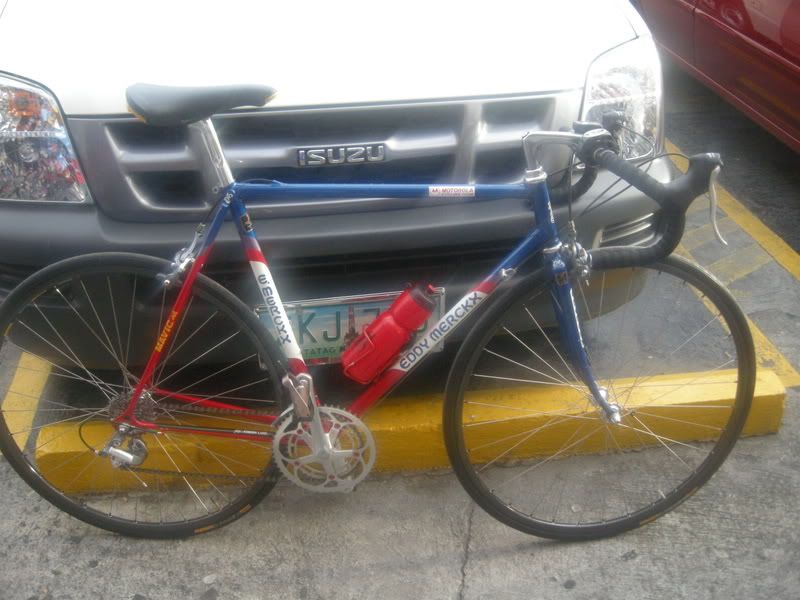 vintage Specialized
gil masiglat's vintage MOSER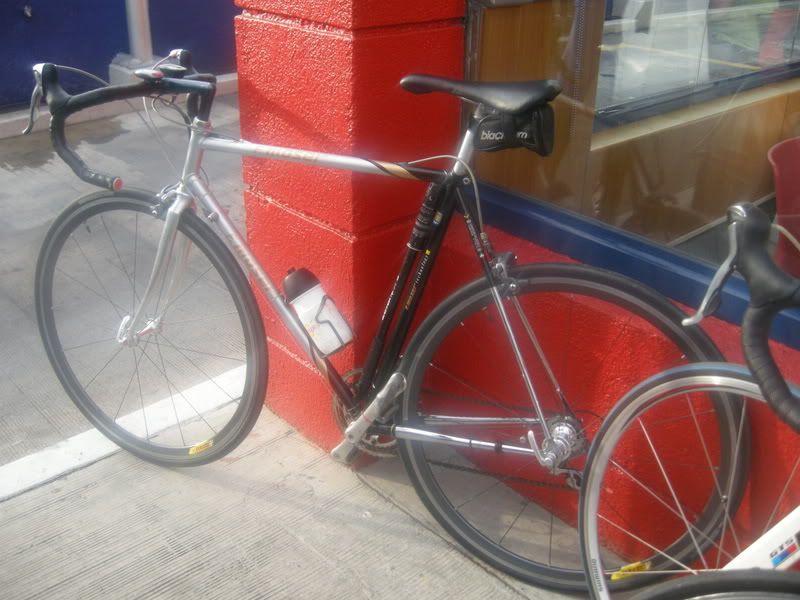 bianchi with other vintage bikes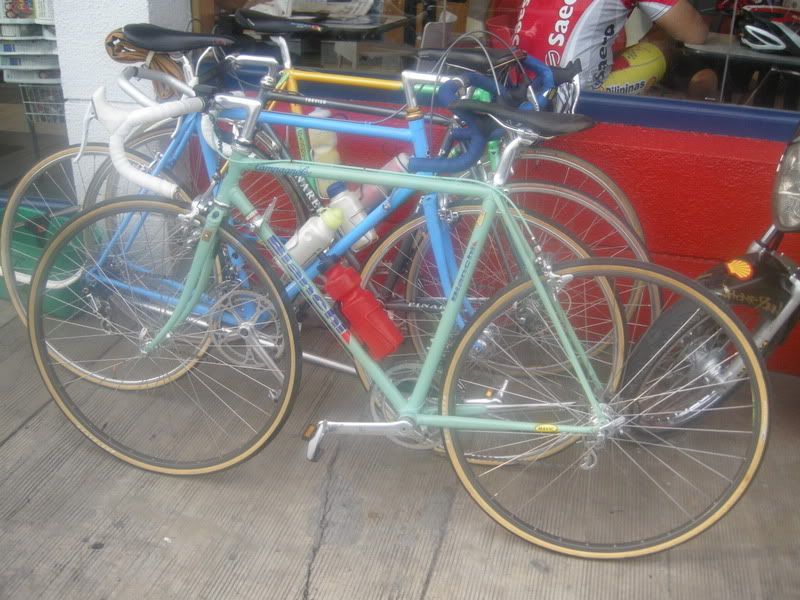 Francesco Moser of buddy madrigal
this is eric duldulao on a 70's bottechia complete with toe clips and straps.
Hiroshi Takage's immaculately clean and original Francesco Moser with campy disc wheel. Takage -san is a Track cyclist in Japan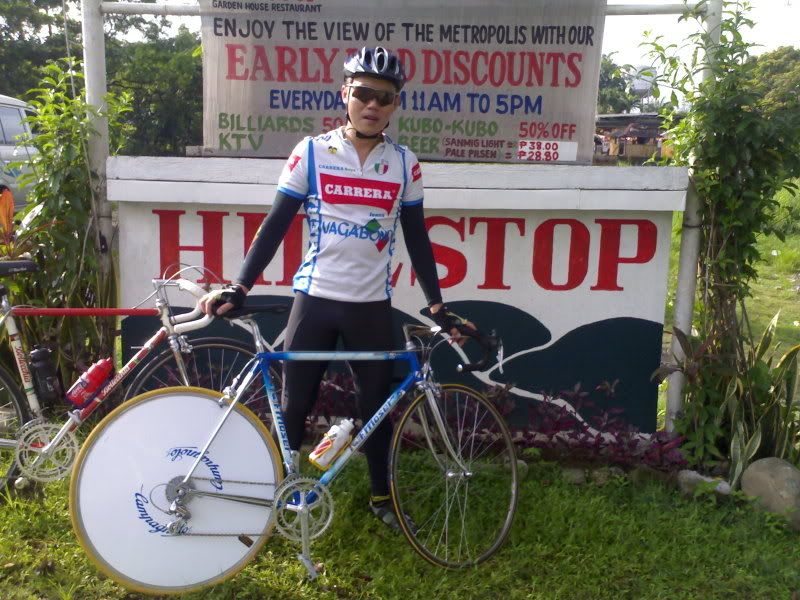 the only pitstop called was at this HILLSTOP ...after the valley
golf
climbs..thats bisekletaguy's bottechia...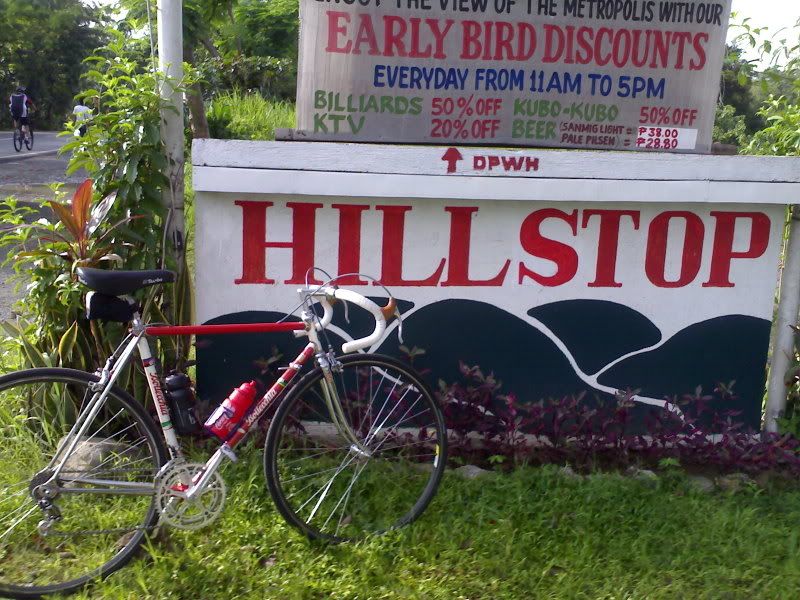 vintage bike rider participant on a first generation SPECIALIZED carbon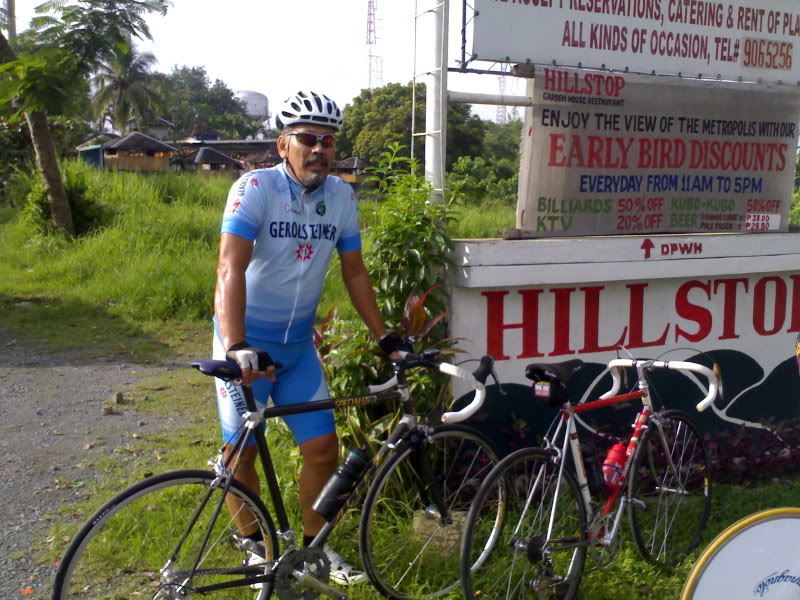 Takage-san with ted pascual on a vintage COLNAGO MASTER OLYMPIC
joey felix rode this beautiful Bianchi Celeste Green ...
and when was the last time you saw a MAVIC MEKTRONIC on a vintage bike? thats Albert Alcantara's Tomaso.
Takage-san, cyclingboy Albert Alcantara and Manolo Torres at the pitstop..."it was enjoyable for everyone...cant wait to ride vintage bike ride part2..." says Albert aka cyclingboy in the cebu cycling forums.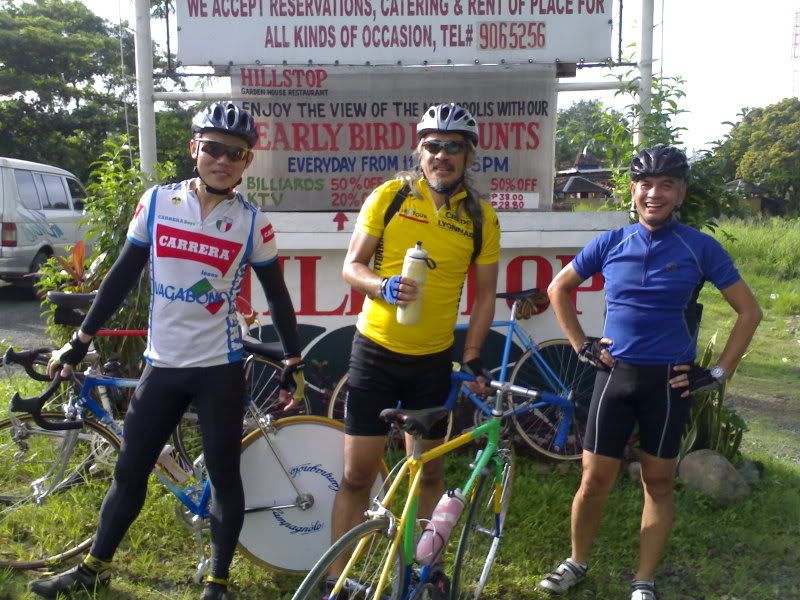 Graham Webster who works at the US Embassy in Manila rode this beautiful (and expensive English bike a Moulton all the way to Hinulugang Taktak...."i look forward to joining more of your vintage bike rides raymond!" he said
participants of the FIRST Vintage bike ride organized by raymond see happily poses for a photo shoot at Hinulugang Taktak in Antipolo. July 13, 2008
| | | |
| --- | --- | --- |
| | « Reply #1 on: Today at 12:48:31 PM » | Quote Modify Remove Split Topic |
---
very sweet vintage bikes....
| | | |
| --- | --- | --- |
| | « Reply #2 on: Today at 01:41:26 PM » | Quote Modify Remove Split Topic |
---
The Bottecchia of Eric Duldulao deserves closer examination. The freni (brakes) are Modolo Professional Nero but customized using hoods from the Modolo Superprestige. From the limited view looks like a rare Zeus crankset? It would be interesting to see the rest of the bike and parts.

2 thumbs up Ray.
---
*** The older you get, the better you used to be. ***
| | | |
| --- | --- | --- |
| | « Reply #3 on: Today at 01:47:29 PM » | Quote Modify Remove Split Topic |
---
no problem hd i will take closer inspection..a pity i have to work today
also i went to cyclingboys ALIBABA cave with enaldtan (alvin lo) and took photos...WOWOWEE i couldnt upload to day due to lack of time but for sure i will upload soon..TIME TO PICK UP A VINTAGE BIKE...i heard from goyo WORLD CHAMPION PAENG NEPOMUCENO will join us next time when i hold VINTAGE BIKE RIDE 2