| | | |
| --- | --- | --- |
| | Author | Topic: gone for the weekend 2 : baguio july 5-6 2008 (Read 14 times) |
| | | |
| --- | --- | --- |
| | « on: Today at 09:56:51 AM » | Quote Modify Remove Split Topic |
---
entrance to kennon road
be careful Landslide warning sign
one of 4 steel arched bridges along kennon road towards baguio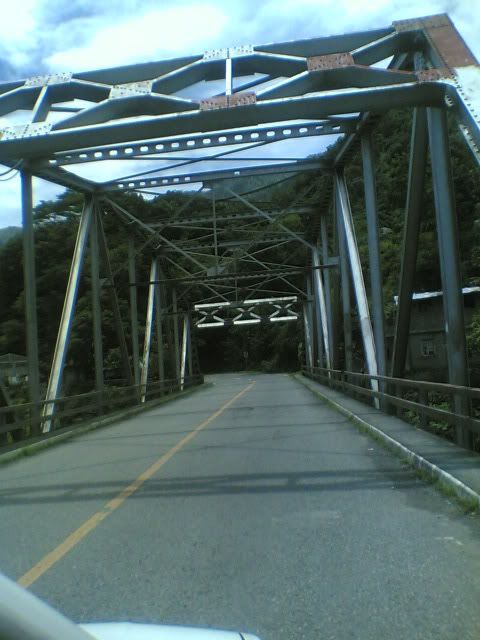 3pm july 5 korean boy with the ifugao costume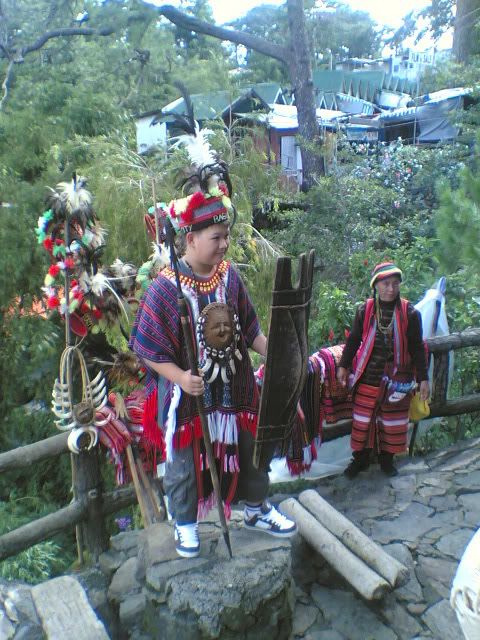 for 10pesos fee (20cents US) visitors can wear authentic ifugao tribal costumes at Minesview Park and have fotos taken thats my daughter and wife margie..
margie with the real ifugao lady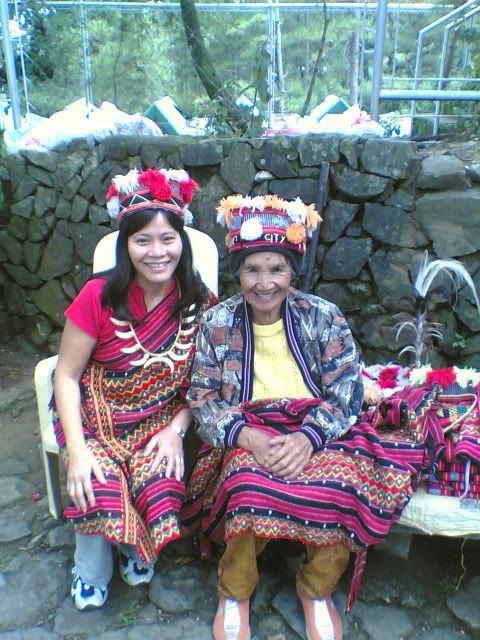 minesview photo without the ifugao costumes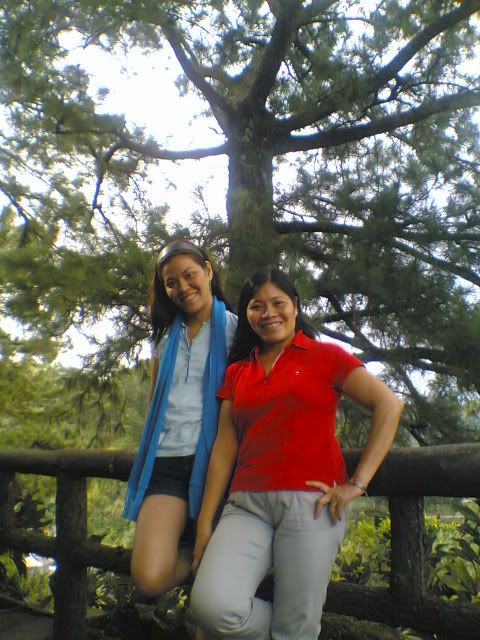 East meets west...hand knitted colorful bikini by local baguio folks for sale to tourist (never worn by ifugao maidens though
)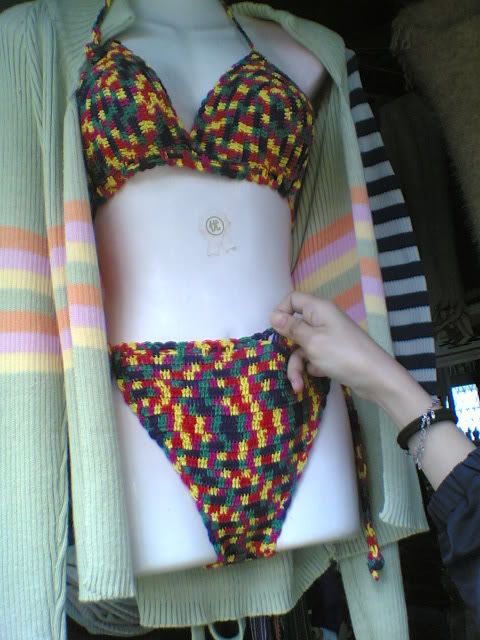 5pm july 5 at the burnham park
i woked up 530am July 6..i have 2-1/2 hours to cycle around baguio...at 8am i have to be back at the
hotel
as my daughter gonna get pissed off if i spend 5 hours on my
bike
again... so here i go..thats where we stayed WOODS INN at the military cutoff road..where beautiful koreans frequently stays...
this is where i have to turn right towards the loakan airport...
what will baguio be without the Pine Trees? 630am near loakan airport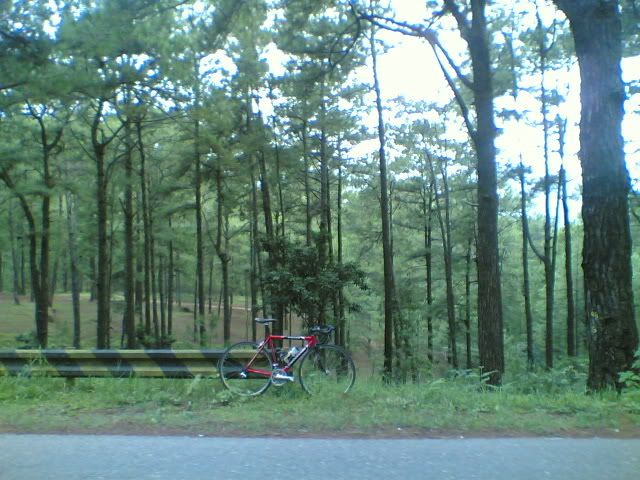 loakan airport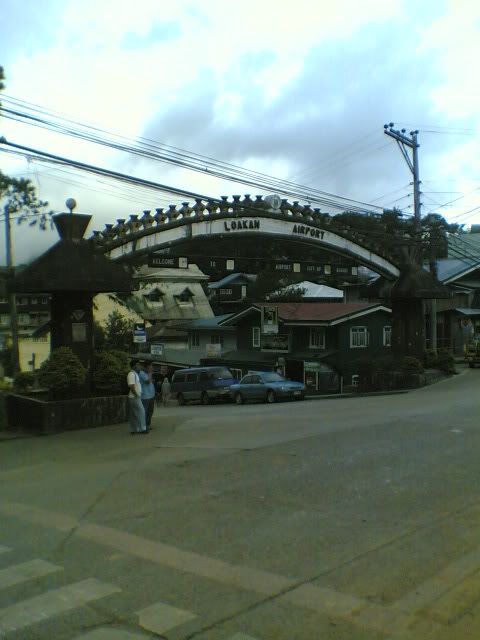 entrance to PMA the Philippine Military Academy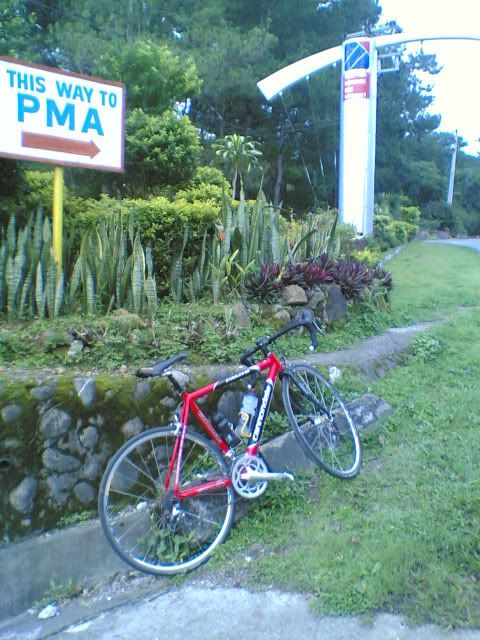 beautiful roads leading to camp john Hay
camp john hay
7am as i approach the Minesview park ..heavy fog..i always wanted to ride baguio on a foggy morning...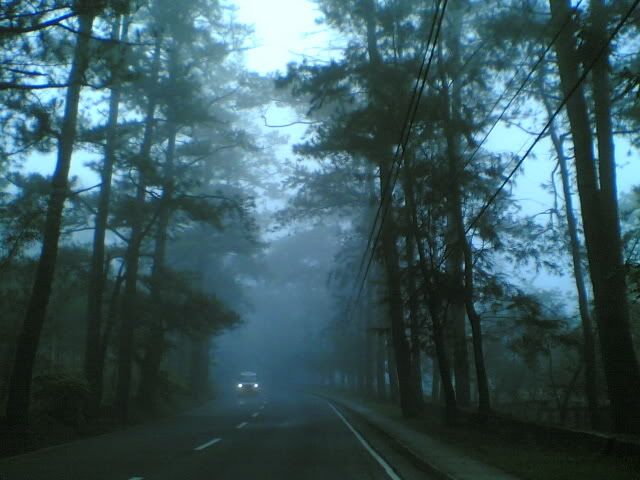 730am of july 6..stairs at Wright park leading to the Mansion
at the wright park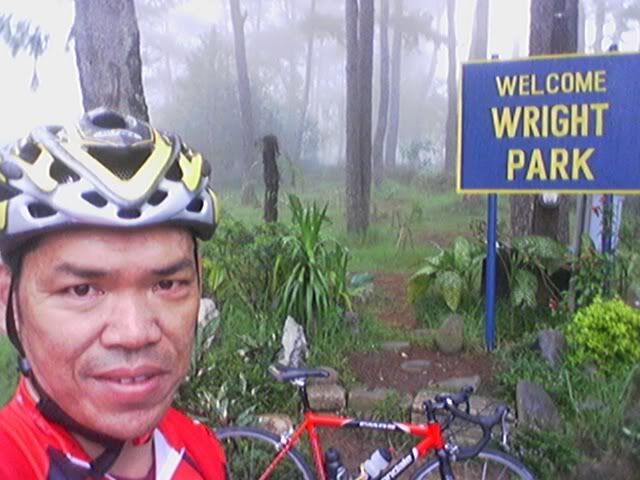 wright park also offers horse back
riding
for tourist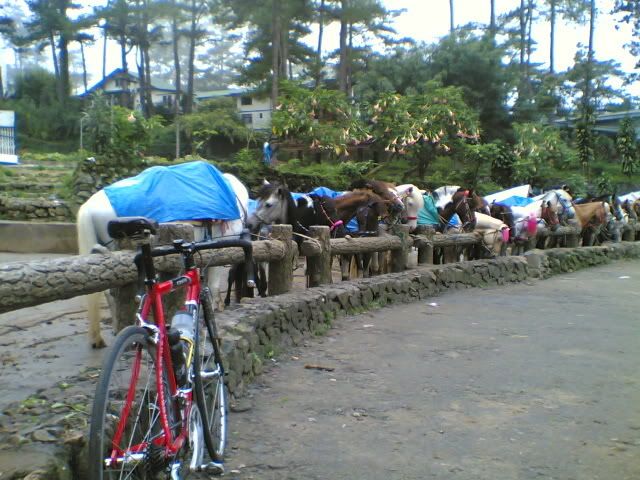 wright park view across the Mansion..the fountains are no longer operational..there used to be beautiful fountains here...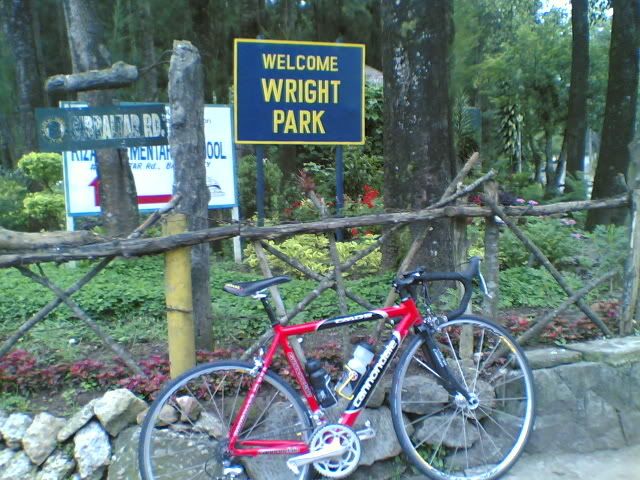 teachers camp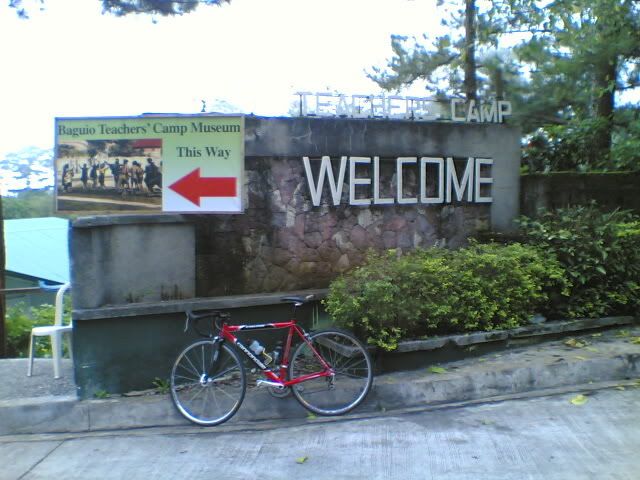 self portrait foto taken as i approach the MANSION..the fog all around me .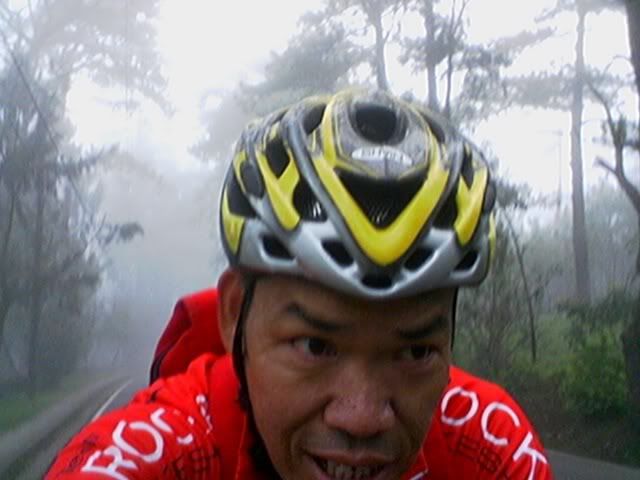 The Mansion where the President of the
Philippines
stays during summer
im nearing minesview..i love the fog..but on second thought visibility is zero...i can get run over by a car....ill have to dismount and take the sidewalks...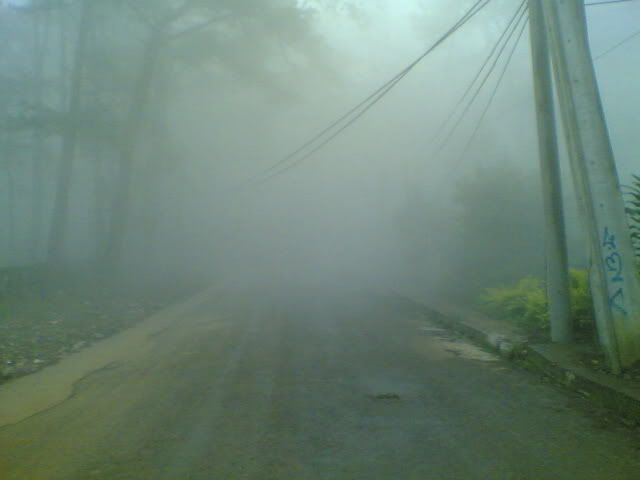 thats the BULOL ancestral guard at the entrance of mines view
this is the view the entrance to Minesview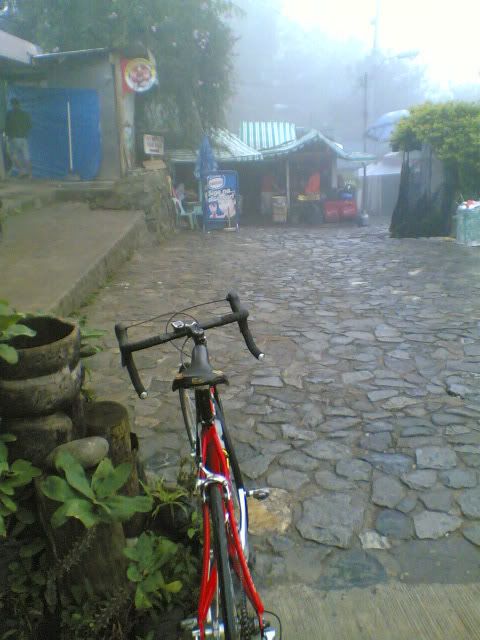 going back to the hotel i passed by the botanical gardens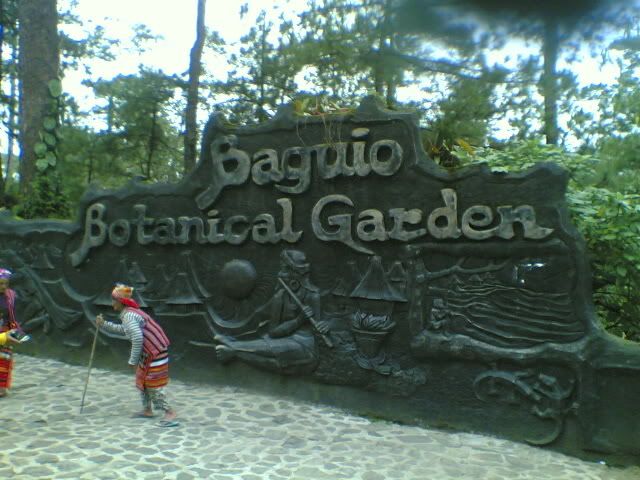 i love 1920's 30's art deco houses...this one looks too beautiful to pass for a foto shoot.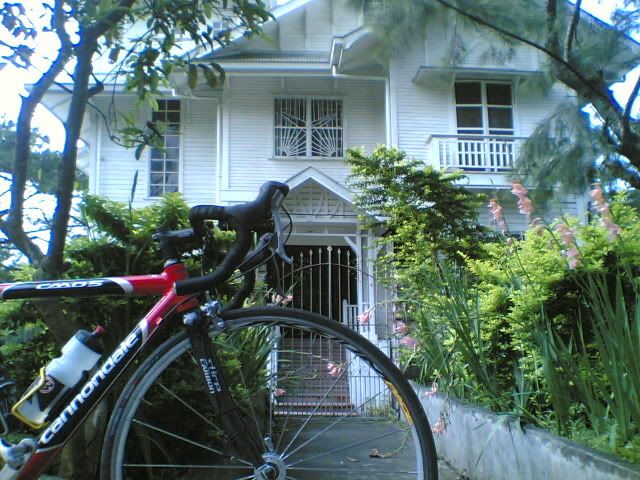 close up..foto using my nokia n70 celfone,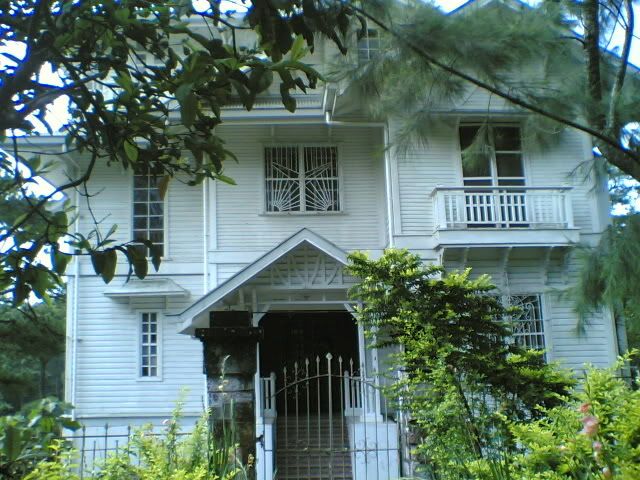 going home i just have to check out the life sized statues at the BArrio Fiesta near the Igorot Stairs.
thats Cardinal Sin blessing my bike
with Cory Aquino having a good laugh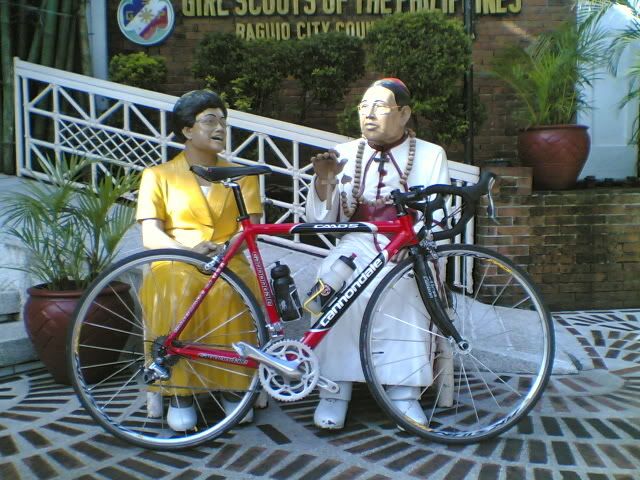 i went back to the hotel at exactly 8am..had breakfast..by 830 we were on the move again...
first stop Barrio Fiesta near IGOROT STAIRS this time with my wife and daughter
"whats the weather forecast for today brad...?"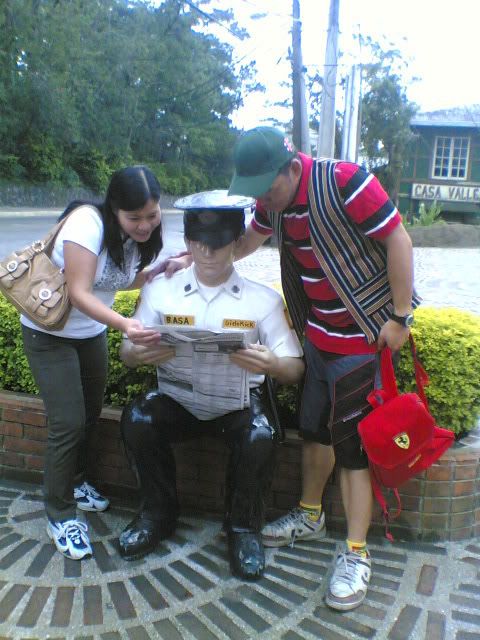 "daddy its raining ill bring the umbrella to cardinal sin.."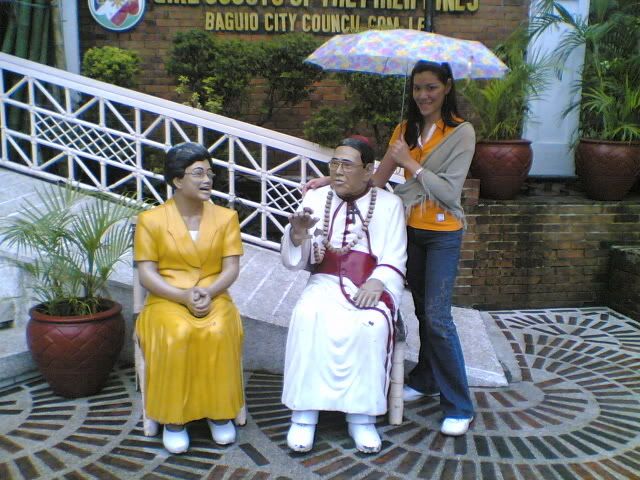 "daddy this is my new textmate"
"daddy this is my new friend"
"are you imitating me?
"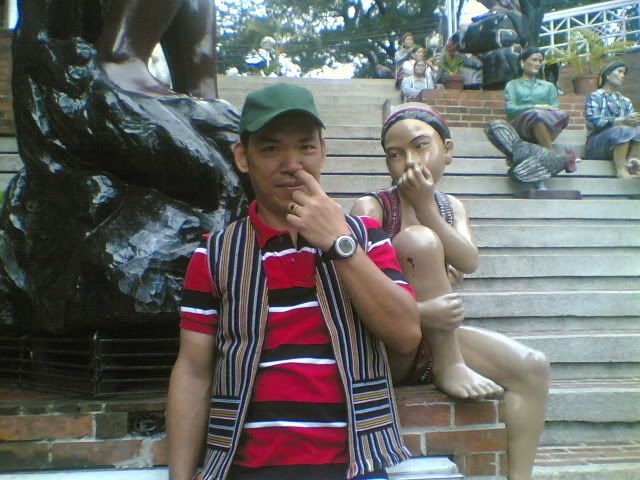 BAWAL UMIHI (do not urinate here)
"no peeping mommy"
margie got really surprized when she found out the statue has a *****
| | | |
| --- | --- | --- |
| | « Reply #1 on: Today at 10:04:05 AM » | Quote Modify Remove Split Topic |
---
Great post Ray.
One day, we CC peeps will trouble you for a ride up Baguio.
That's one must ride in my bucket list.
---
carpe diem
| | | |
| --- | --- | --- |
| | « Reply #2 on: Today at 10:13:07 AM » | Quote Modify Remove Split Topic |
---
atty jong,
you know me i never like "next year"..... i want to organize it now...
i am organizing a BAGUIO RIDE
my tentative date is as follows...cebu cyclists can come to
manila
on a thursday..ride up baguio by car or hired car on a friday. august 28..paging rhys bonpin and rextan...
your chance to ride baguio with lady cyclists hopefully...
august 29 6am morning leave manila for baguio via kennon rode..arrive 12pm in baguio
august 30 6am morning the cyclists hire a jeepney go down rosario...ride up rosario via kennon road...40kms
august 31 6am morning go down to San Fabian people waiting for us in panagsinan and accompany us in baguio via marcos hiway thats about 60kms.
august 31 2pm we head back home to manila.
hotel
accomodations
cheap hotel woods inn 1500per room with hot shower good for 3 persons 1 double bed and 1 single bed.