Hello bisekletaguy

April 07, 2008, 05:42:56 PM
| | | |
| --- | --- | --- |
| | Author | Topic: SUBIC TLBF: a quick recap of the biggest bike festival held in Subic (Read 109 times) |
| | | |
| --- | --- | --- |
| | « on: Today at 09:47:04 AM » | Quote Modify Remove Split Topic |
---
just came back from Subic...let me have my coffee i have over 200 pictures i think..rhys bonpin and rex tan...had a FANTASTIC race...last night there was the award ceremony over 600,000pesos worth of whole bikes, mountain bike s Specialized frames, Cannondale frames all given away to the winners and to raffle contestants..after the party there was a huge fireworks display...where do i begin..on day 1 report of course...l am sure rhys bonpin and rex tan will be back for more racing in manila in the coming months...
where we stayed..JEST camp in subic after all the rooms got booked...teamrocka and rex tan and company decided to go live the life of ex American soldiers here at the JEST camp...
one pampered bike..this is the two weeks old Campagnolo record equipped Cannondale SUPERSIX...sleeping soundly at one of the bunker beds with his proud papa...rex tan of Ormoc....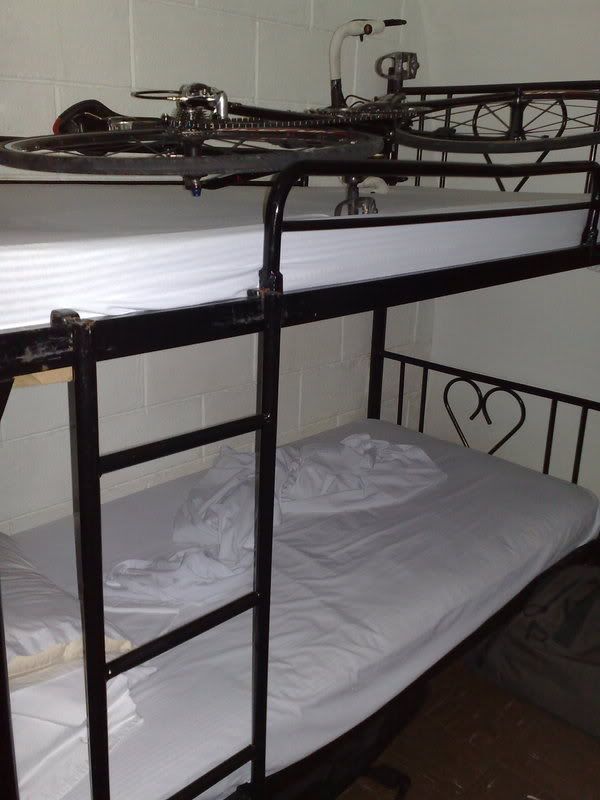 i must thank the organizer atty GREGORIO LARRAZABAL for this super huge bike festival..over 900 cyclists, roadies mountain bikers and triahletes including foreign guests and pro riders came...it was the biggest cycling event i have ever witnessed in a super duper location...so i really cant imagine how the organizer were able to attend to everbody..all the while goyo kept his cool..and his staff maintained their cool attending to everybodies problems...such was the scene i witnessed at the Subic Convention Center...
a strongman competition preceeds the TLBF awarding ceremonies...the winner of this event was able to pull this monstrous firetruck a distance of 4 inches to win this event...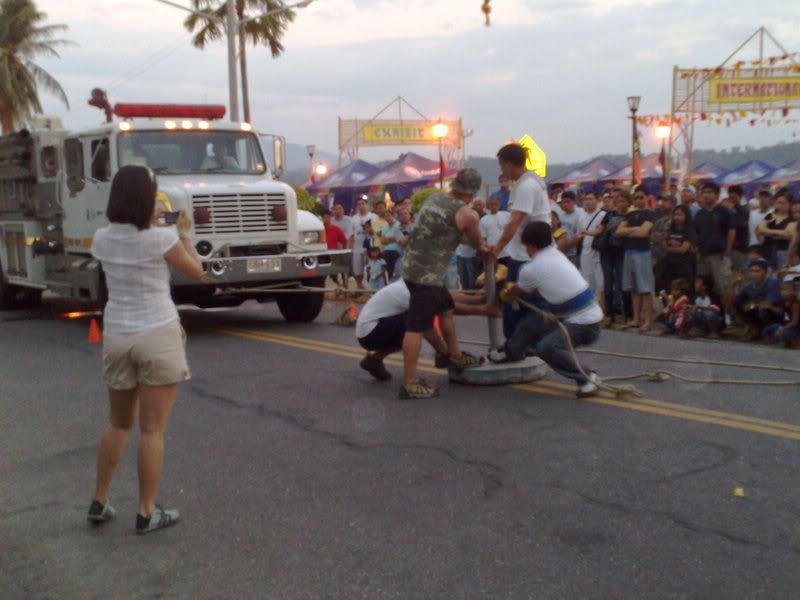 a walk in the beach...bisekletaguy and wife margie takes a stroll at the subic beach after completing the 4 days race TLBF in subic....."im totally drained mommy....it was a hard 4 events race..but i had so much fun..."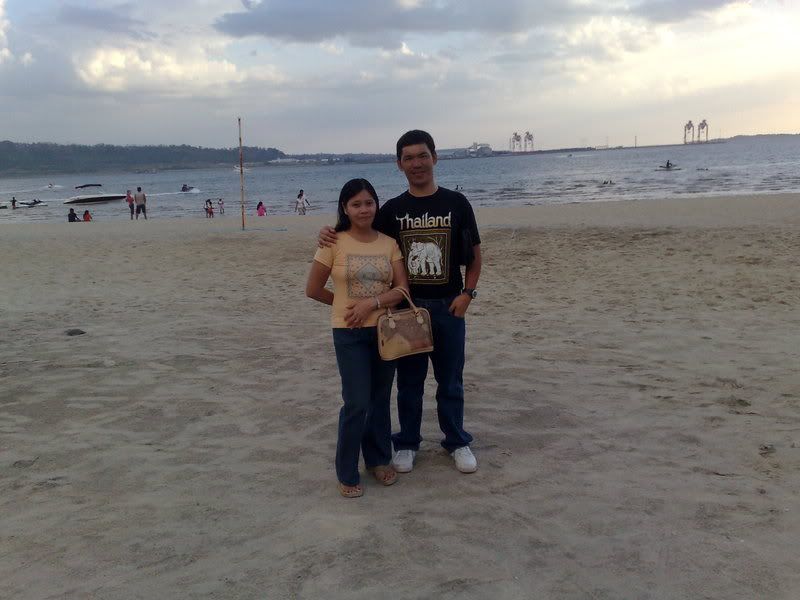 i met so many people who says they enjoy reading the rocka1bikeshop reports... thanks so much guys...i hope the report and the fotos here helps you recall the nice race we had in TLBF subic 2008...."
this is boyie javier from the USA who brought along his custom painted motobecane directly from the states.."so many filipino cyclists living in the USA always reading your reports ray..me and frank gatdula we try to organize bike rides...but its difficult to ride in the US the weather sometimes its too cold...thats why we want to read your reports see how filipino cyclists train and race...thanks so much i finally met you and your wife here ray..."
At the awards ceremony last night....i was telling my friends..."man in Egat Thailand they gave away only one cannondale frame...here they were giving away fox forks, specialized frames,50 thousand pesos Laser eye correction gift certificates and whole bikes to the tune of over 600,000 pesos..and Goyo is a private individual...in Thailand the main sponsor was the Electric Generating authority which is a Government institution...
strongman ernie hortaleza of team microsoft wins the 2.5kilometer prologue at the start of the road series under 4 minutes...
CONGRATULATIONS ERNIE!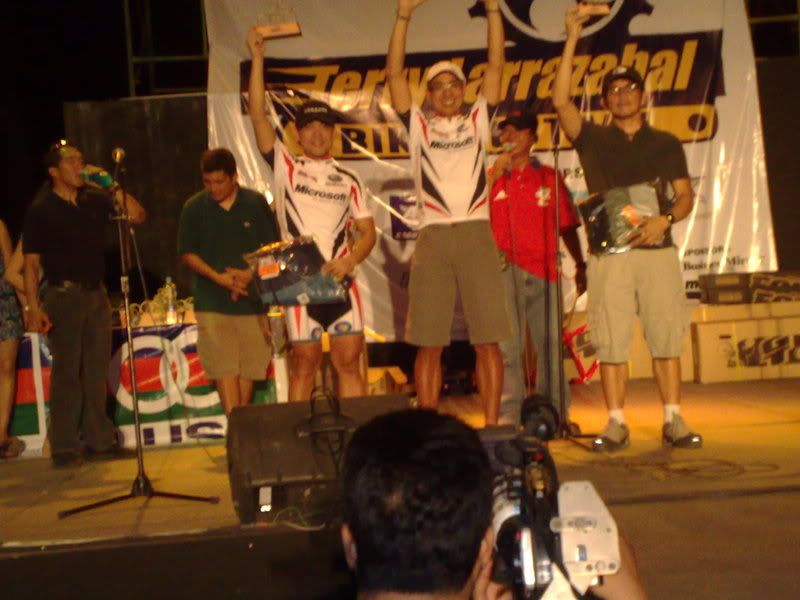 happy participants from ormoc and butuan raffle winners in the TLBF show their prizes... what they had last nite...rex tan and rhys bonpin and their friends last nite at the awarding ceremonies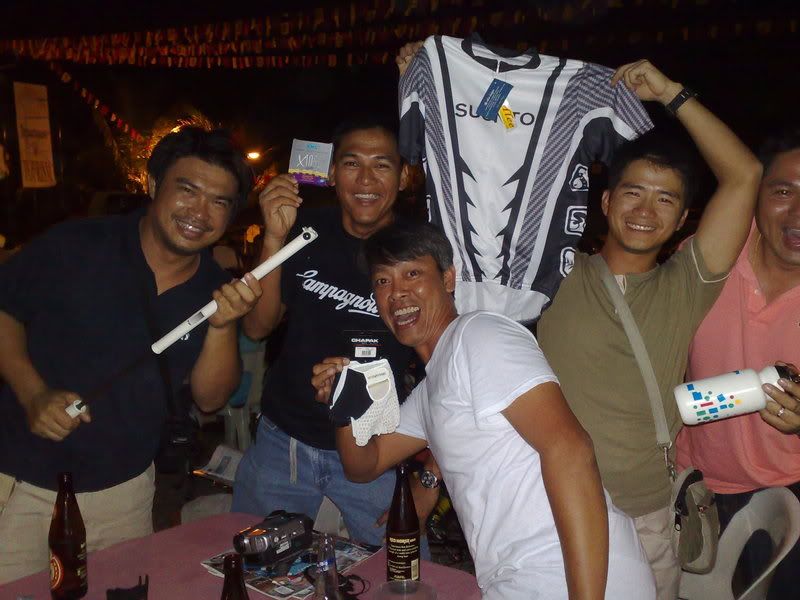 the fireworks display last nite at the Boardwalk..in subic...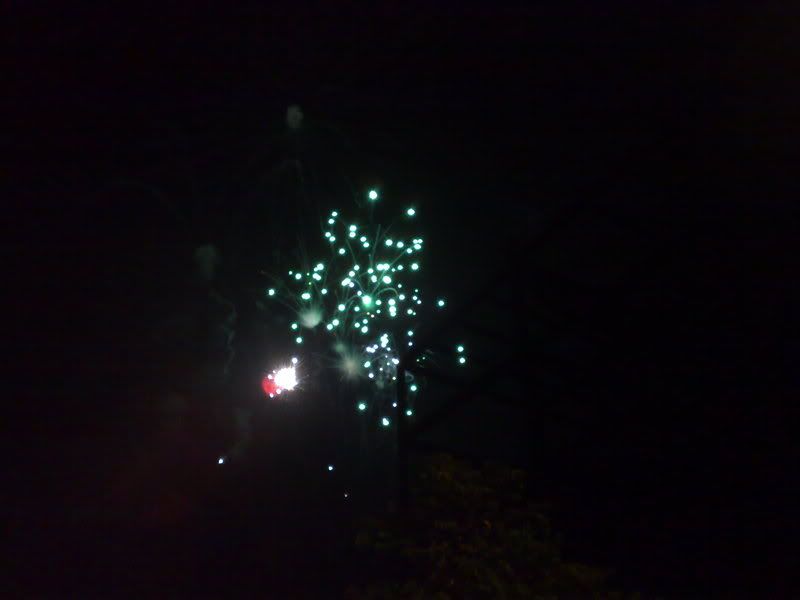 "ray the intensity of the riders here is different..but everyone played really well...and everyone has zipp wheels ...grabe the riders here..serious riders have all the zipps in the prologue..." rex tan
rex tan stands at 25th place after 3 events..while bisekletaguy 29th...on the General Classifications...
if riders fail to finish stage 1...or 2 or 3...their names dont appear on this list....which was a list of accumulative clocking for 3 events.
"i really enjoyed racing here..the downhills are suicidal over 70 to 80kph...grabe ray the intensity here..." rhys bonpin
rhys bonpin did SUPERBLY WELL at 22nd spot after 3 stages..."i may have gotten intimidated and nervous on the first stage..but i felt confident at the el kabayo climb and gave it my best shot ray..i am very very happy...i want to come back race with you guys again..." says the gifted child after i ask him how he was at the end of stage 3.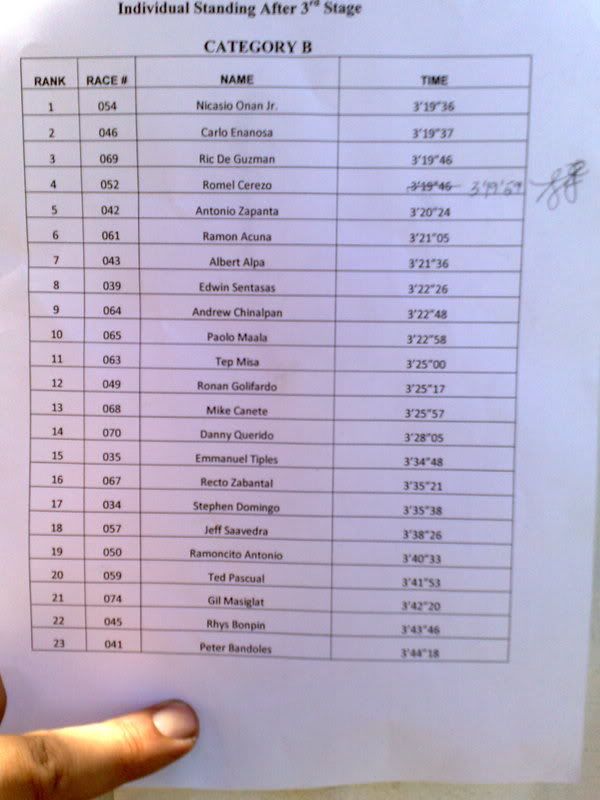 Cash Prizes were awarded to professional riders...on top of that the Mountain Bikers got Prizes ranging from Fox Forks to Specialized M5 frames...Bmx winners awarded with HARO brand new BMX bikes..
Random Photos first...ill organize later
You cant miss out the beautiful team vehicle of team davids salon...after their team had all their beautiful riders pose for a foto shoot and have their posters stuck on to their team vehicle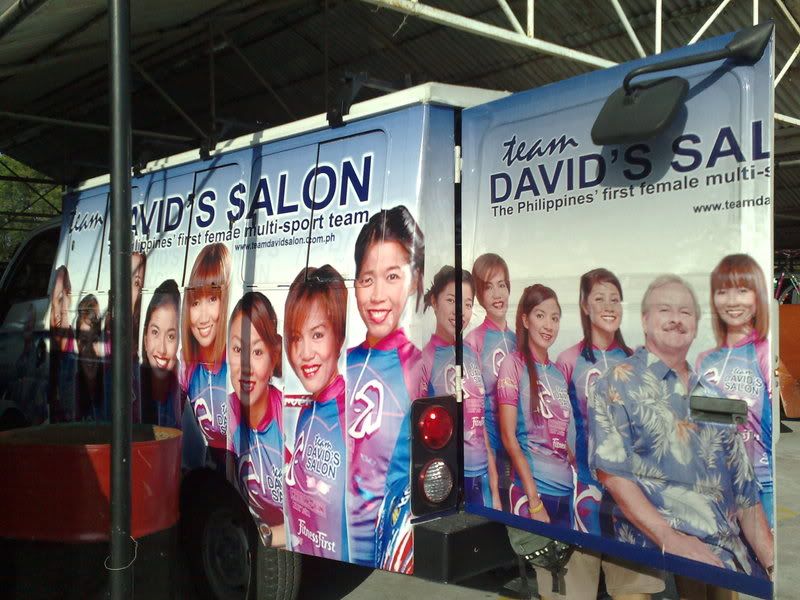 these are my friends from barangay logic gate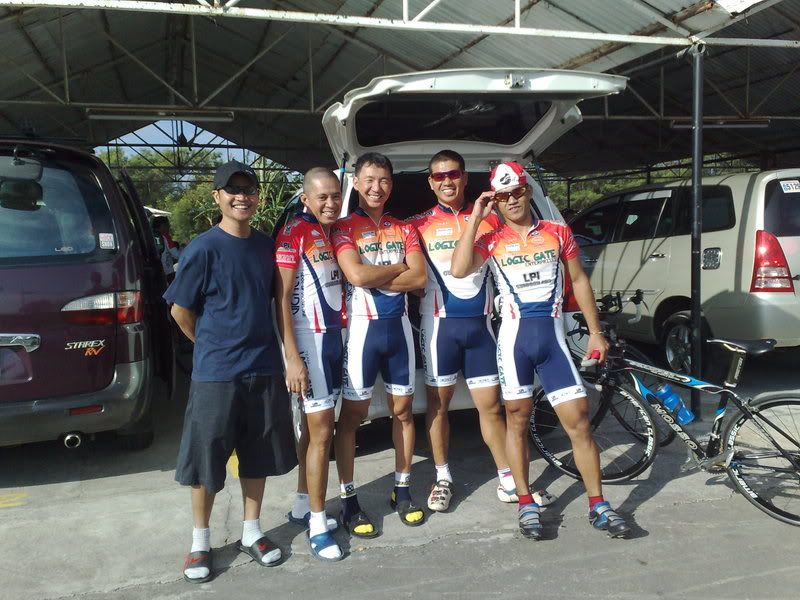 for the First time in the Philippines....TRANSPONDER were attached to the bikes of the Executive CAtegory A..this allows a computer to check the arrival and clocking of the riders as they cross the finish line in the prologue...
category A riders iggyboy of microsoft battles it out for the win against a very strong jon urutia of fitness first (right) in this piece of action at the criterium event of the road series.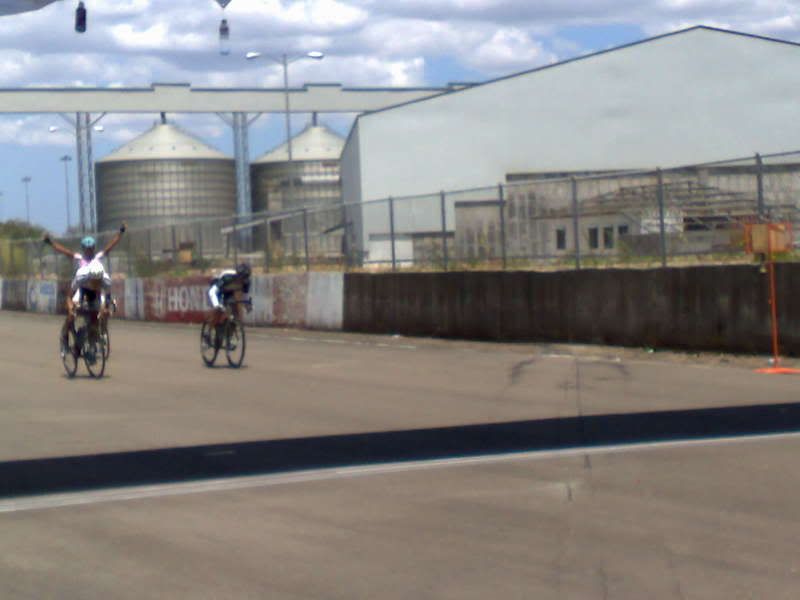 thats the boss...atty Goyo Larrazabal bike festival organizer seen here personally distributing GU energy gels to cyclists participants on day 2..the mountain stage race....which saw cyclists doing a neutral lap first going up el kabayo from the Subic BAy Administration office...where the neutral ride begins.
bike king big boss Raul Cuevas owner of Bike King and organizer of the Tour of Matabungkay series was seen mingling with race participants in subic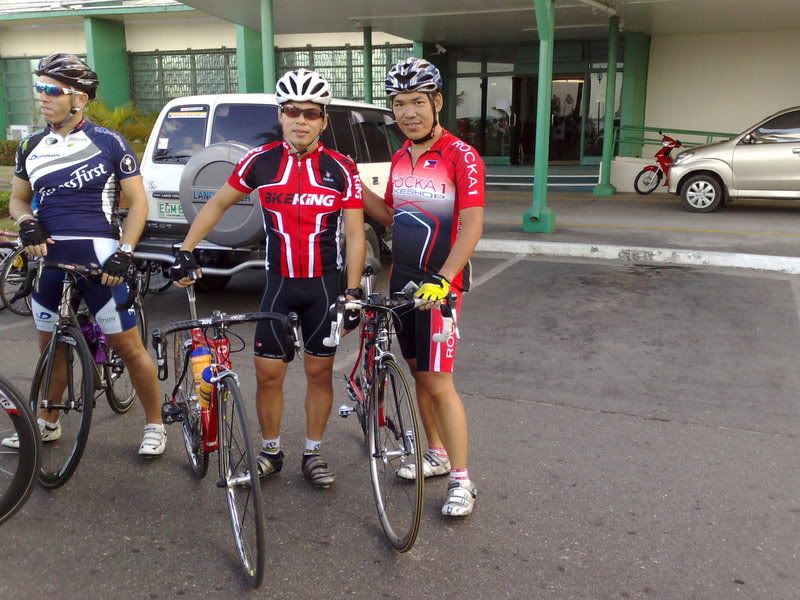 teamrocka teammates philip go and new comer skipper pineda (cat A) talking with team logic gate's jojo baterna..."man yesterday was extremely difficult..too hot man...race started at 11am..." skipper pineda tells his part of the story , his baptism of fire (his first big race) to teammate philip and friend jojo baterna of team logic gate...
ladies in waiting...team david salon beauties awaits the start of stage 2...at the Subic BAy administration office...in subic...
the group enroute to el kabayo
the neutral ride front leaders going up the starting line at el Kabayo
day2 El Kabayo riding stable Mountain stage with team Gerry's Grill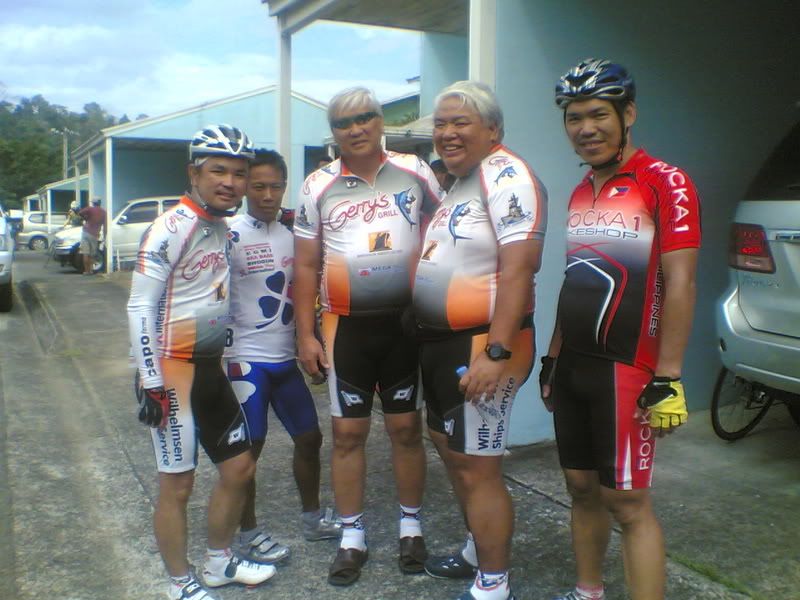 day2 this is OJ Ramos the proud owner of my Eddy Merckx he is riding a cannondale system six also...this foto taken before the start of the race..i will end up finishing with OJ in this difficult mountain stage...this was a new experience for us climbing el kabayo..OJ found extra ooompp in the final climb and beats me to the line also...Congratulations OJ! am sure you enjoyed this classic race...
uphill inclined starting line for categoryB stage 2 the el Kabayo mountain stage
intensity written on the face of my teamrocka teammate enald tan straight from Naga...he is wearing the filchi jersey...he is riding cannondale team liquigas
gifted child rhys bonpin on the Kuota Kebel (beautiful machine) calculating his moves before the start of stage 2 the el Kabayo climb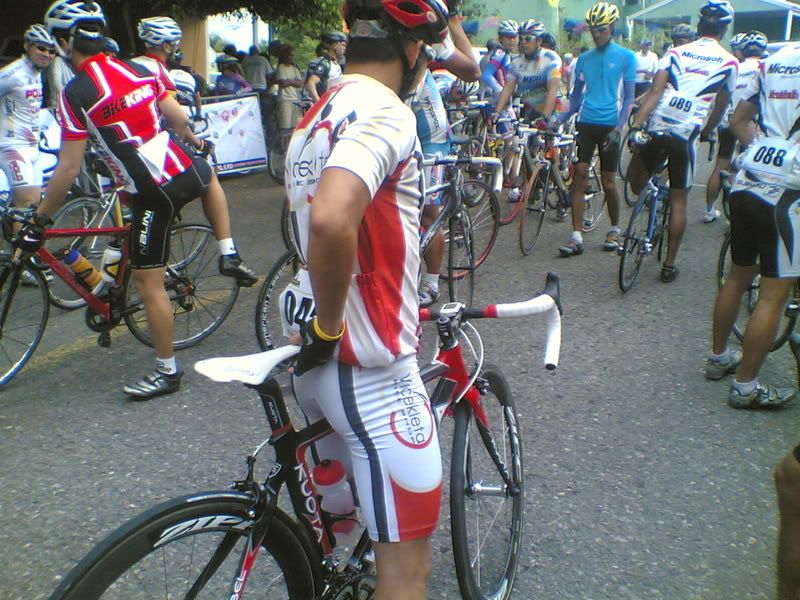 el kabayo mountain stage day 2..double checking those carbon wheels before the start of the race for category B with team Nescafe
foto shoot at the Subic convention center with mr Washington Ong, the Philippine Distributor of Cannondale...who brought in Cannondale key speaker Edward Vluters for the Cannondale seminar here at the TLBF festival in Subic
foto shoot with best buddy childhood friend Shane Chin who is now a sales representative (top salesman ) for Cannondale products.."here try this Cannondale Furio with the lefty fork ray..that fork alone its around 50,000pesos..how many do you want to order?" ask shane...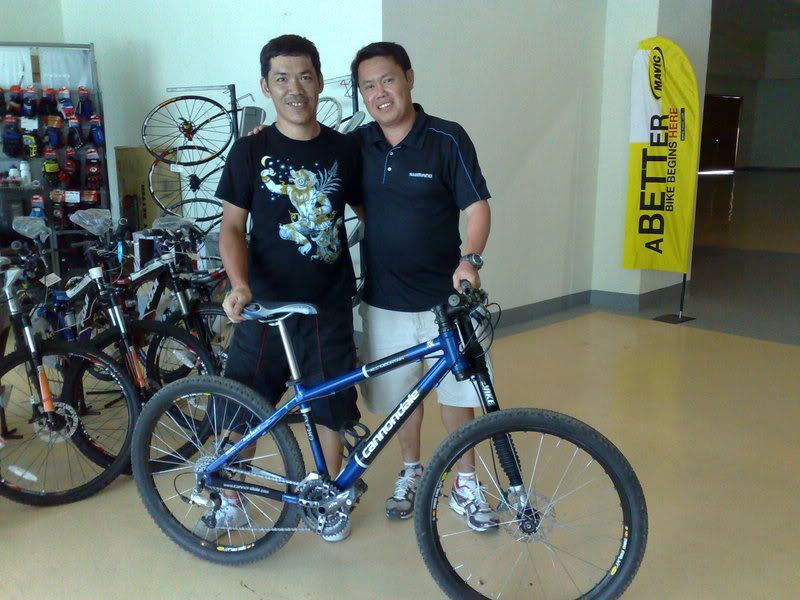 "ok let me try the bike shane..the subic convention center is huge..can i ride the bike here?" "yes yes of course" says shane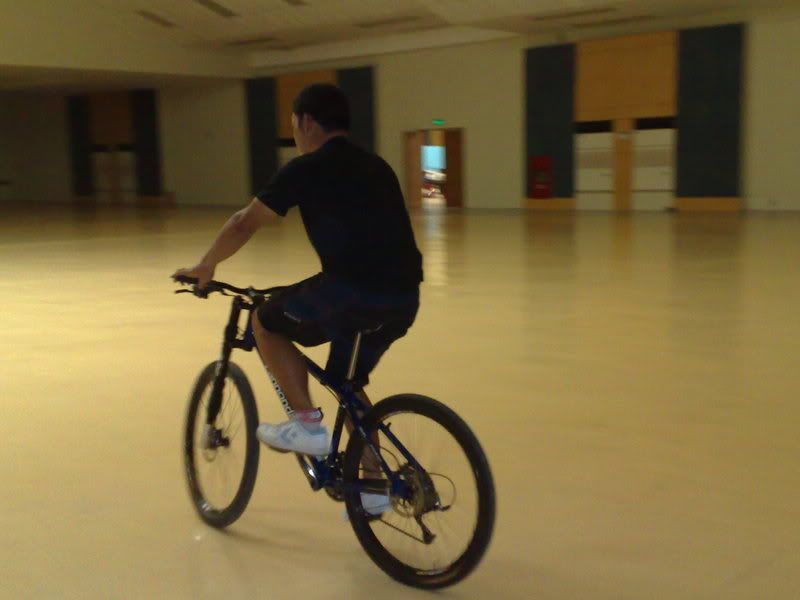 i attended the CANNONDALE Technical seminar at the subic International Convention center after the el kabayo mountain stage around 3pm in the afternoon...that's Edward Vluters explaining the best selling points of the Cannondale Super Six to the crowd...."at cannondale we try to innovate products..forget the aftermarket parts suppliers shimano or campagnolo or sram for a second...think what if we at cannondale design cranks..how can we make the thing lighter and better...thats why we came up with Systems Integration....we are best at designing our parts our way and so we dont like to rely on aftermarket parts.." says edward at the cannondale seminar...
| | | |
| --- | --- | --- |
| | « Reply #1 on: Today at 10:01:55 AM » | Quote Modify Remove Split Topic |
---
btw, did the winners receive cash prizes? just curious because its the only event that doesn't state the prizes.
| | | |
| --- | --- | --- |
| | « Reply #2 on: Today at 10:39:47 AM » | Quote Modify Remove Split Topic |
---
MORE MORE MORE!
---
ASA RYD UGMA?
| | | |
| --- | --- | --- |
| | « Reply #3 on: Today at 11:02:49 AM » | Quote Modify Remove Split Topic |
---
nino surban already had a plane ticket to subic. dad was asking re cash prizes but never got a reply from atty goyo that's why he didn't let nino go.
| | | |
| --- | --- | --- |
| | « Reply #4 on: Today at 01:55:05 PM » | Quote Modify Remove Split Topic |
---
Thanks, Ray.

A really festive event, kudos to the organizers, sponsors, and the participants.

Cycling capital na yata ng Asia ang Philippines.

It's nice to have bike shop owners who put a gathering of cyclists
in all disciplines.
| | | |
| --- | --- | --- |
| | « Reply #5 on: Today at 02:53:56 PM » | Quote Modify Remove Split Topic |
---
Agree with Malmon. Phil cycling gets tremendous boost and gain more popularity it deserves when it is promoted from the commercial side.
This is an excellent example of the business-side giving back something to the cycling community - both parties win.

I hope other cycling businesses learn from this formula.