Hello bisekletaguy

April 09, 2008, 01:59:38 PM
| | | |
| --- | --- | --- |
| | Author | Topic: SUBIC TLBF:the teamrocka report (Read 263 times) |
| | | |
| --- | --- | --- |
| | « on: April 07, 2008, 03:17:06 PM » | Quote Modify Remove Split Topic |
---
Dear friends,
The biggest bike fest in subic went underway April 3 and of course team rocka1bikeshop we have to participate and support the event anyway we could as its not often that a very very big bike fest come our way here.
teamrocka fielding in 6 cyclists. the road race consist of 4 events.Entry fee pegged at 2thousand but the organizer says a free TLBF jersey is included with the fee so i told my team thats got to be the best deal in town.
bisekletaguy's TLBF jersey 1500pesos value...FREE upon paying 2000pesos registration for 4 events in the road races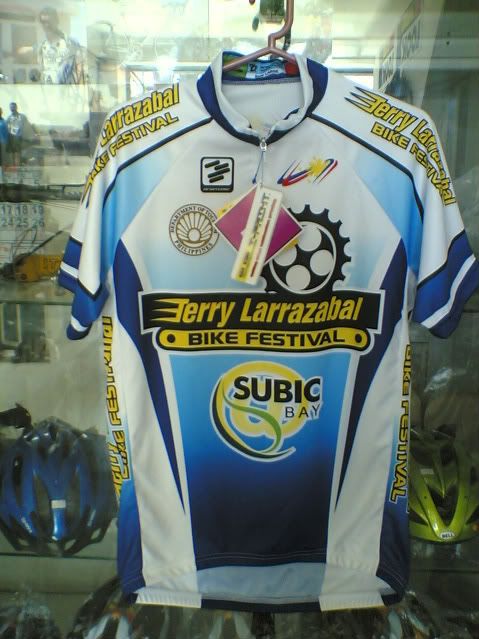 we tried to book at arlene's inn and at the city inn outside Olongapo but since it was fully booked last april 3...we called rex tan and asked his help to book us at JEST camp...where they too will be staying and where most of the mountain bikers are staying.
JEST camp is only 275pesos cheap per head so whatever cash we saved i told my wife we'll just have a nice dinner in Subic afterwards.
we arrived in Subic around 8pm had story telling with rhys and rex..they tell me they were extremely excited to be here.
on the first day ..the ITT prologue was held at the subic raceway..i wanted just to break my personal best record of over 6 minutes..thats all..of course rhys and rex wants to see how they will fare against the category B riders in Manila.
10am i herded my team up Crown Peaks where race starts at 11am..unfortunately some of my teammates didnt make it as they didnt stay in subic last thursday and thought that the road race starts at 130pm...
race starts around 11:10am..not so much pictures or video coverage available because the roads are narrow and the officers didnt allow sag wagons to ride behind riders..so i was totally drained also and have to beg for water from people watching the race.
i must thank teamlogic gate personel for the free BACHUS energy drink official sponsor of team logic gate....
"boss.. here drink bachus " one of the team logic guys said... " "im too weak cant open the can anymore
" i said...."no problem boss we opened the can already..quickly have a drink so you can recover
" they said
i must also thank team Gerry's grill for water...and the lovely wife of Boy tiples Audrey Tiples for asking her driver to give me water...thanks so much Team CNC audrey tiples who will jpin us in Thailand in MAy...
"""
"thats got to be the longest most painful 70 kms i have ever ridden raymond" says Rex Tan bike shop owner from Ormoc who came with Rhys Bonpin the owner of VICEKLETA bikeshop in Butuan...
as for my team we have our new rider atty Skipper Pineda riding in category A..."put me in cat A ray, as i want the longer races..." he said.
as soon as race started skipper attacks in team rocka fashion....and after 7 minutes the cat A gus countered and he got dropped too...
"bro those cat A guys they gave me 5 to 7 minutes of glory...as i attacked..they left me alone then afterwards countered up the hills...i got dropped man...ill be ready next time they were so strong...that ernie hortaleza guy man..i cant ride with him...too strong man..." skipper said as he race his biggest race with teamrocka for the first time.
The heat was one of the reasons why so many people quit after the first lap...im on the verge of quitting too..but i have to continue because i am training for Tour of Egat Thailand in May ..I wanted to finish this race see if i can make it..
Anyway all of us had fun after the race..and around 3pm we got the invite from out teammate philip and so we had carbo loading at the Subic Bay yacht club....thanks so much philip.
the story is gonna be a long one so i will cut it short. In summary my objective for the TLBF was just to finish it...and have fun. ...this was how it went for me
day1 in the morning there was an IT race over a 2.5km race track for cars...i did my best but strong headwinds brought me down...i went maybe a little less than 6 mins...of course thats a losing time but thats what i can only do without killing myself...so when the results came out.im 37th..as my good friends arch quin baterna had trouble with the checane and so he came in 38th place....
day1 11am...i herded my boys to the starting line and so 1125 race starts of what turns out to be the longest 70 kms i have ever ridden as the peloton grinds 53 x 17 for over 30mins...i got dropped in the climbs on the first lap so i stayed with my finishing pace (finishing pace not punishing pace
) all by myself... till i finish the race..a lot of people got dropped then decide to quit on lap 1..so im already happy....im crying in pain at the return route from ocean adventure as i saw architect quin baterna on the return ahead of me..im forcing to pedal faster try reach that architect quin baterna on the beautiful BIANCHI carbon 928 but i cant do it..so i lost to quin baterna on stage2.
day2 we have to go to the subic admin building for the start of an 8 km neutral lap up el kabayo.
race started around 9am already but it was fun and painful..Got dropped rode steady hooked up with 4 riders then finished the race with my friend OJ RAmos...i got beaten again by architect quin baterna who raced using his trusty Giant TCR on compact cranks up el kabayo
. "i died yesterday ray at the ocean adventure..i have to use my Giant TCR with compact cranks up El Kabayo today.." architect baterna said.
day3 in the criterium i got dropped (my legs hurting) but i just rode till the race ends...."i got dropped too ray..i had too much beer courtesy of team gerry's grill last nite in Subic" architect quin said...
TLBF 2008 was a super success...i hope people will be back for more in 2009.
Thanks so much for our gracious host the organizer of this race atty GREGORIO LARRAZABAL, the organizer of this race...the members of NICDAI who officiated this race, the countless people behind Goyo as well as the sponsors of this race...special mention to the SBMA Subic Bay MAnagement Authority.
to my supportive wife who took away my chores as Photographer thanks so much swithart for taking all the beautiful fotos and videos... using her new Nokia N82 camera fone..the pictures are sharper crisper this time around...
to my teammate i know you all had a lot of fun...to our champion Oliver Estrella we are all proud of you for your 3rd place victory...congratulations!
video clip showing how teamrocka1bikeshop's Oliver Estrella wins 3rd spot in the criterium race..oliver wearing trademark bib short on top of the red rocka jersey ala "baby bonjing "
"""
To all the participants and the winners..i hope you had much fun as we did and warmest CONGRATULATIONS to everyone.
raymond and margie see
teamrocka1bikeshop
at the JEST camp...bisekletaguy with rex tan (sitting) and rhys bonpin (far right)...ready to rock and roll...for stage 3 el kabayo climb
teamrocka poses at the Subic Yacht club where we had carbo loading after the extremely painful day 1 April 4 event (ocean adventure climb) courtesy of our teammate philip....thanks philip
"""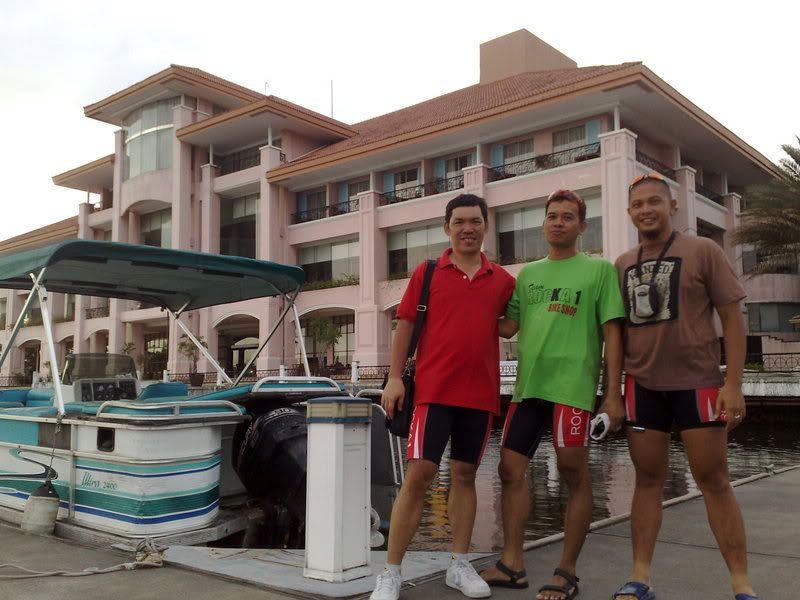 "where you want to go on this thing mommy?"
thats oliver estrella thinking of what boat he will buy when he gets older... or when he wins the lotto:O
teamrocka1bikeshop poses in front of the Subic international Convention Center
here is what you will see inside the center...media interviewing the boss...our gracious host Goyo Larrazabal on the events unforlding and the story behind the 6th TERRY LARRAZABAL BIKE FESTIVAL 2008
Fuji bikes...newest kid on the block...the price is also reasonably cheap ...presented to the public at the TLBF subic by newton's bikeshop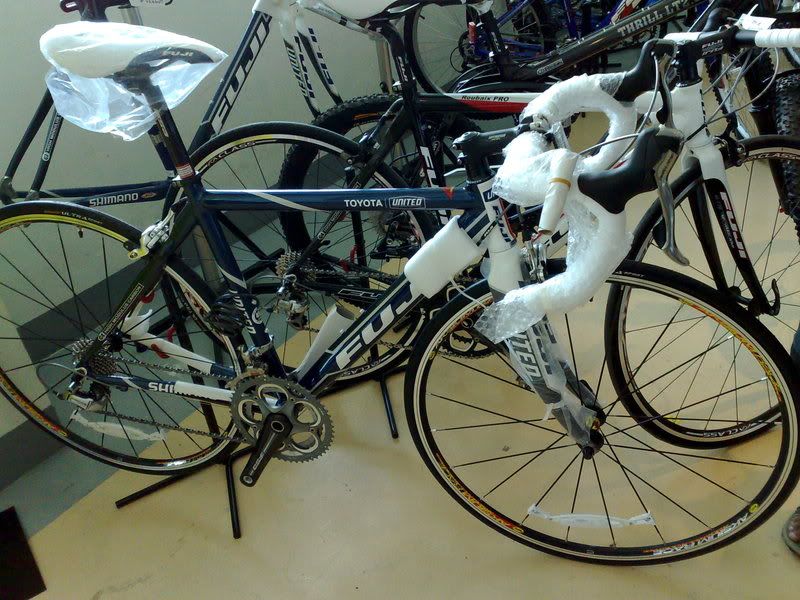 a teamrocka foto shoot April5 at the Subic Admin Building enroute to a neutral lap up El Kabayo (notice oliver estrella wearing the stealth grey invisible by radar team rocka jersey) "boss can i wear the grey invisible jersey? the red rocka jersey thats too beautiful when i attack i get chased by rest of peloton..i want to hide...escape undetected...so am using this lucky stealth grey jersey" says oliver estrella before the start of the mountain stage..Oliver ultimately finished 3rd a Podium victory for teamrocka1bikeshop
team david's salon beauties present for the mountain stage up el kabayo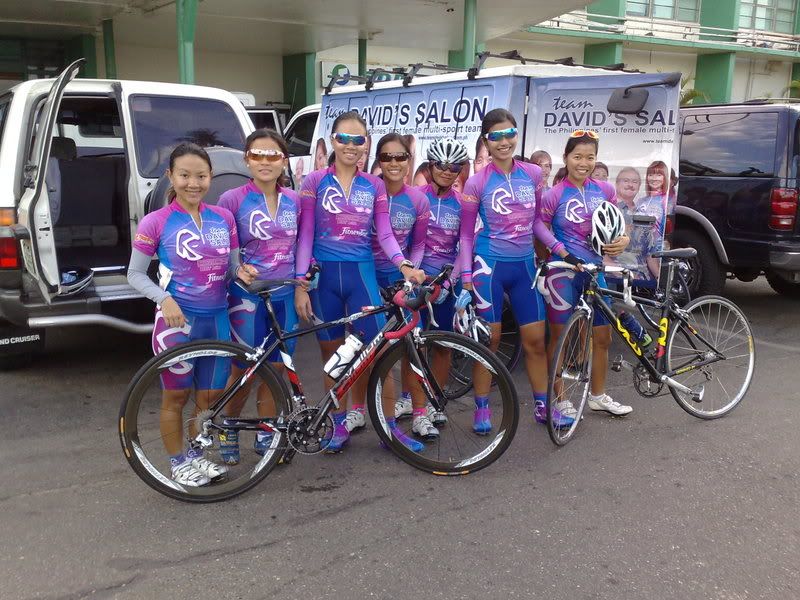 marca bungo.
...thats the custom paintjob badge appearing on the climbing bike of USA based cyclist
boyie javier...."i read your posts all the time..wanted to meet you in person ray...i have all my bikes custom painted..." says boyie....as i have to stand admire and take fotos of his beautiful bikes....
detail of marca bungo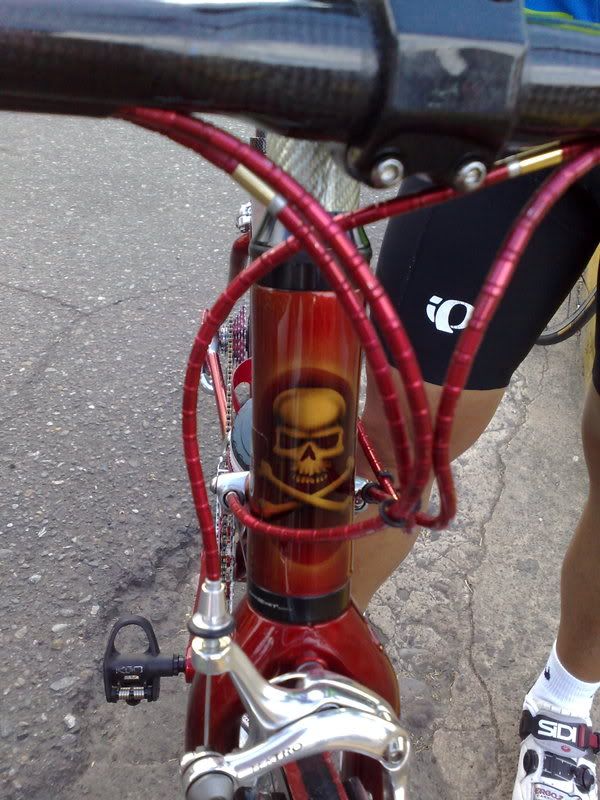 Left to right ..thats enald tan my teammate who came from naga, thats boyie from USA, and bisekletaguy..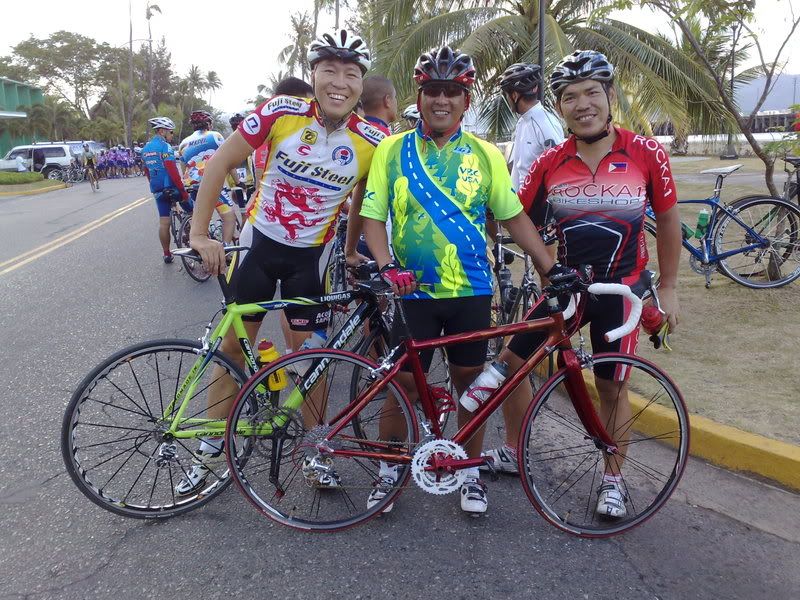 team Bike King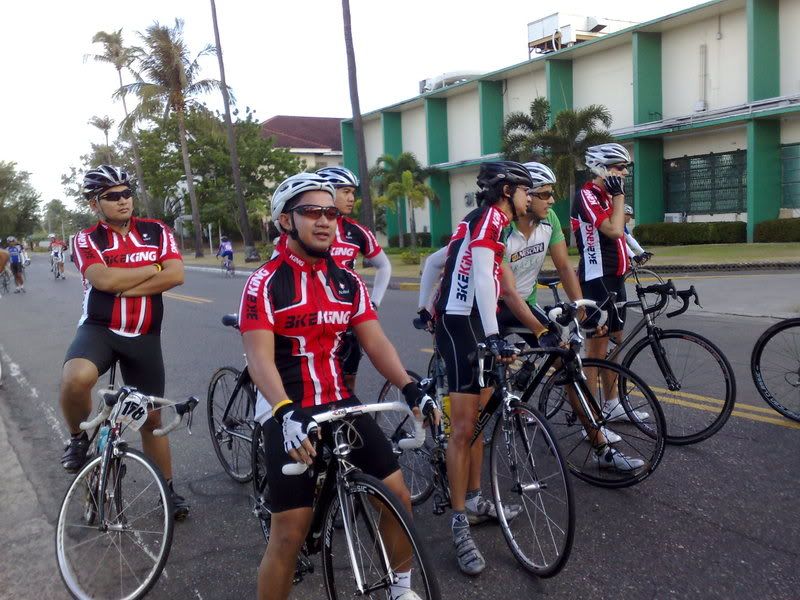 team Elixir bike shop
Anthony Dy
trek madonne 5.2 of atty mike
with more friends in Subic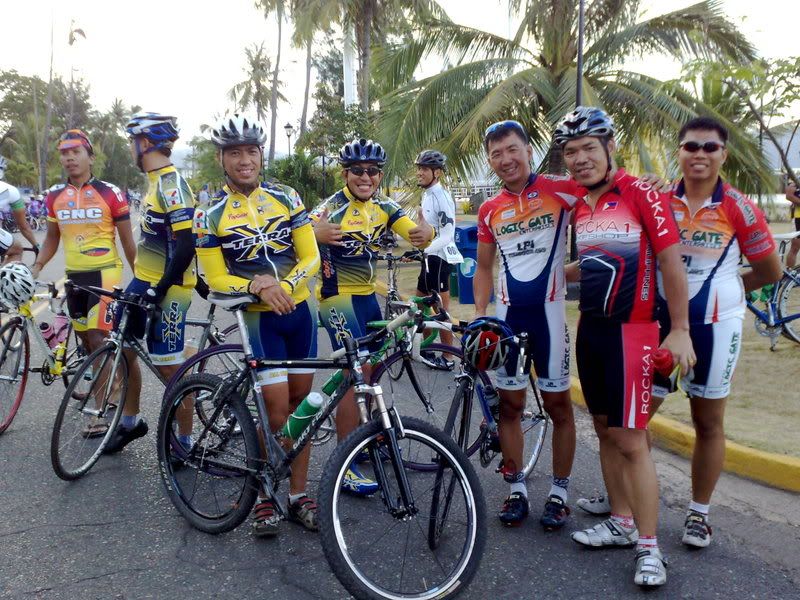 we saw big boss George Carag the owner of Velo City bikeshop and the distributor of SEVEN CYCLES USA at the start of the neutral ride up el Kabayo
team microsoft windows waiting for the start of the neutral ride to el kabayo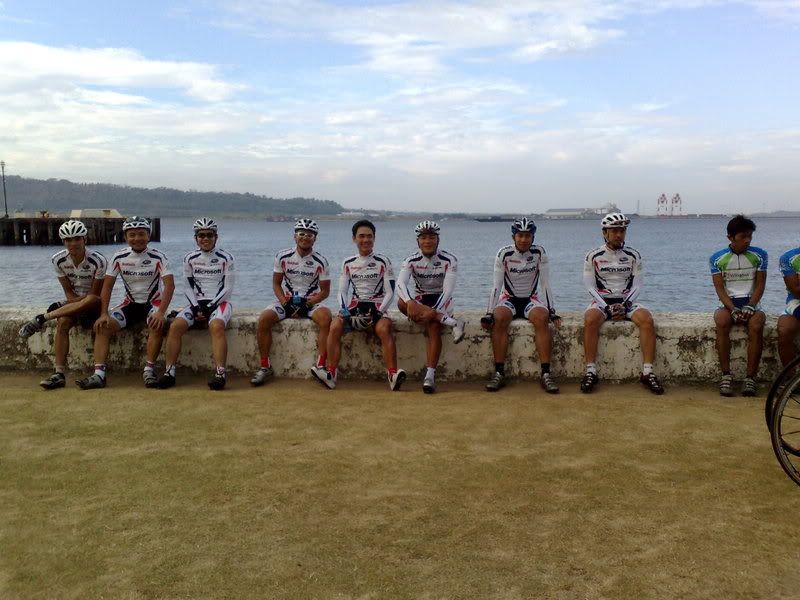 we saw Ernie Hortaleza in fine form climbing el kabayo on the neutral lap
neutral ride up el kabayo where the race will start
thats el kabayo falls... el kabayo was the site of the mountain bike races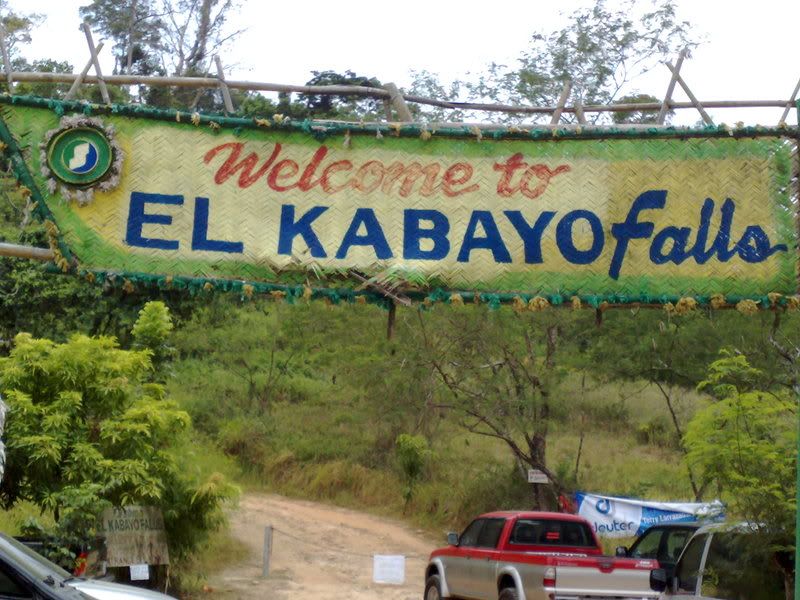 HERE ARE THE RESULTS OF THE ROAD RACES COPY AND PASTED HERE FROM PECA
TERRY LARRAZABAL BIKE FESTIVAL
April 3 - 6 2008 SBMA, Zambales
(Executive Category – A Final Results)
Rank Name Time Race #
1 Arnel Aves 6:16:02 97
2 Jaime Basilio Jr 6:25:13 83
3 Erick Carandang 6:25:45 91
4 Marcial Pangilinan 6:28:43 96
5 Alfredo L Villila 6:30:24 78
6 Manny Delos Reyes 6:30:38 81
7 Leian Cruz 6:31:23 95
8 Ernie Hortaleza 6:33:02 87
9 Noli Borjal 6:39:48 82
10 Eric Derada 7:00:38 89
11 Jimmy Cardena 7:04:36 86
(Executive Category – B Final Results)
Rank Name Time Race #
1 Nicasio Onan Jr 4:09.54 54
2 Carlo Enanosa 4:09.55 46
3 Ric De Guzman 4:10.04 69
4 Rommel Cerezo 4:10.04 52
5 Antonio Zapanta 4:10.42 42
6 Ramon Acuna 4:11.23 61
7 Albert Alpa 4:11.35 43
8 Edwin Sentasas 4:12.44 39
9 Andrew Chinalpan 4:13.06 64
10 Paolo Maala 4:13.16 65
11 Tep Misa 4:15.18 63
12 Ronan Golifardo 4:15.35 49
13 Msike Canete 4:16.15 68
14 Danny Querido 4:18.23 70
15 Emmanuel Tiples 4:25.06 35
16 Stephen Domingo 4:25.56 34
17 Jeff Saavedra 4:28.44 57
18 Ramoncito Antonio 4:30.51 50
19 Ted Pascual 4:32.11 59
20 Gil Masiglat 4:32,38 74
21 Rhys Bonpin 4:34.04 45
22 Peter Bandoles 4:34.36 41
23 Richard Uy 4:35.21 66
24 Recto Zabantal 4:35.49 67
25 Rex Tan 4:36.25 44
26 Jon-Jon Rufino 4:46.41 40
27 Tony Lopez 5:18.57 75
28 Raymond See 5:58.49 48
(Executive Category – B Women Final Results)
1 Marita Lucas 4:38.41 73
(Executive Category – C Final Results)
Rank Name Time Race #
1 Marcial Catanggui 2:34.03 71
2 Michael Briones 2:35.10 33
3 Fernando Perer 2:36.17 03
4 B.G Hernandez 2:38.35 19
5 Jawy Millanes 2:38.56 04
6 Oliver Estrella 2:40.53 14
7 John de La Cruz 2:43.19 21
8 Mike de Vera 2:43.55 15
9 John Arenas 2:46.19 12
10 John Corea 2:50.22 31
11 Francisco Bedurya 2:50.28 27
12 Jose Cortez 2:55.05 13
13 Poch Bermudez 2:56.55 72
14 Cristian Maritinez 2:58.01 22
15 Rizal Capili 2:58.41 26
16 Romualdo Bedico 2:59.35 25
17 Ricky Jay Hernandez 3:03.34 17
18 Januario Ramos 3:03.43 01
19 Willy Capunitan 3:04.02 30
20 Dan Gregorio 3:57.58 32
(Executive Category – C Women Final Results)
Rank Name Time Race #
1 Cristine Navarro 2:54.10 06
2 Nina Vera 2:55.53 09
3 Carmela Serrana 2:58.13 08
4 Joyet Hoson 3:01.38 07
5 Nina Dacanay 3:58.79 05
(Junior Category – 17 to 29 years old )
Rank Name Time Race #
1 Dexter Nonato 4:33.10 117
2 Dominador Garcia 4:35.29 122
3 Eugenio Gomez 4:39.48 123
4 Alvin Piñano 4:58.32 119
5 Alex Ortega 4:59.01 120
6 Mark Julius Bonzo 5:03.01 128
7 Alvin Zapanta 5:08.33 121
8 Dece Marven Aleonar 5:19.30 125
(Master Category – 40 years old and above )
Rank Name Time Race #
1 Ruel Gendrano 3:45.00 99
2 Rolando Pagnanawon 3:55.52 115
3 Placido Valdez 4:00.45 114
(Open - Elite Category )
Rank Name Time Race #
1 Emilito Atilano 5:41.30 135
2 Joel Calderon 5:41.31 132
3 Santy Barnachea 5:41.32 141
4 Lloyd Reynante 5:41.40 142
5 Waren Davadilia 5:42.22 136
6 Baler Rabina 5:52.20 137
7 John Recafort 5:53.49 134
8 Edward Nardo 5:55.45 133
9 Joel Dueñas 6:20.10 138
10 Joseph Salcedo 6:23.59 144
| | | |
| --- | --- | --- |
| | « Reply #1 on: April 07, 2008, 04:05:20 PM » | Quote Modify Remove Split Topic |
---
nice pics ray! fit na fit pala c mr. carag..pang triathlon talaga...
| | | |
| --- | --- | --- |
| | « Reply #2 on: April 07, 2008, 04:08:26 PM » | Quote Modify Remove Split Topic |
---
NIce photos Sir Raymond! once again! team Rocka didnt' go home without a podium finish! give my regards to my childhood friend Oliver! fantastic!!!
| | | |
| --- | --- | --- |
| | « Reply #3 on: April 07, 2008, 04:15:46 PM » | Quote Modify Remove Split Topic |
---
oliver estrella category C
day1 prologue (to follow i didnt see his placing)
day 1 road race 6th place
day 2 mt stage el kabayo 3rd place
day 3 criterium subic raceway 3rd place
Congratulations to our teammate oliver Estrella! well done oliver...
| | | |
| --- | --- | --- |
| | « Reply #4 on: April 07, 2008, 04:48:58 PM » | Quote Modify Remove Split Topic |
---
great pics, great stories, great race!!! wish i was there...
| | | |
| --- | --- | --- |
| | « Reply #5 on: April 07, 2008, 04:56:23 PM » | Quote Modify Remove Split Topic |
---
rhys bonpin and rex tan cant get hold of an internet cafe yet...i think they will have more stories to tell....ang galing ni rex at rhys..bravo guys for a good fight!
| | | |
| --- | --- | --- |
| | « Reply #6 on: April 07, 2008, 05:21:03 PM » | Quote Modify Remove Split Topic |
---
very nice pictures!!!

thanks for the post!

how about mountain bike event, hope you could post mtb race.
| | | |
| --- | --- | --- |
| | « Reply #7 on: April 07, 2008, 05:24:15 PM » | Quote Modify Remove Split Topic |
---
ill check the other forums sid then try to post a link..sorry i wanted to but laspag already so have to miss the mountain bike events.... sobra laki ng happenings dito ..triathlon i couldnt cover it also...4 seperate venues for road, triathlon, bmx, mt bike. super laki ang TLBF...
brianlopes at TLBF mountan bike link
http://pinoymtbiker.proboards7.com/index.cgi?board=tlbf&action=display&thread=1207297592
| | | |
| --- | --- | --- |
| | « Reply #8 on: April 07, 2008, 06:10:23 PM » | Quote Modify Remove Split Topic |
---
Another great report Ray!!!!
I think you can even make a regular bente bente race look nice once you do the reporting
So much more this big events... congrats to goyo for organizing a successful event...
---
If you cannot perform, form...
| | | |
| --- | --- | --- |
| | « Reply #9 on: April 07, 2008, 06:45:17 PM » | Quote Modify Remove Split Topic |
---
any results?
top 3 of the different categories.
| | | |
| --- | --- | --- |
| | « Reply #10 on: April 08, 2008, 04:04:01 PM » | Quote Modify Remove Split Topic |
---
hello ome. i copied and pasted the result in my article 5 minutes ago..so that rhys bonpin and rex tan can see it here. Congratulations rhys and rex....
""" WELL DONE!
| | | |
| --- | --- | --- |
| | « Reply #11 on: April 08, 2008, 04:19:58 PM » | Quote Modify Remove Split Topic |
---
thanks ray just saw it.
| | | |
| --- | --- | --- |
| | « Reply #12 on: April 08, 2008, 05:36:31 PM » | Quote Modify Remove Split Topic |
---
MOUNTAIN BIKE ACTION NEWS FROM BRIAN LOPES at the TLBF
i have permission to cut and paste fotos taken by my friend Randy Silva on the mt bike photos he took of Brian lopes...here are some fotos he took
this is bisekletaguy with randy silva (middle) and brian lopes inside the Bike Town Cyclery during the formal opening of BTC April 1, 2008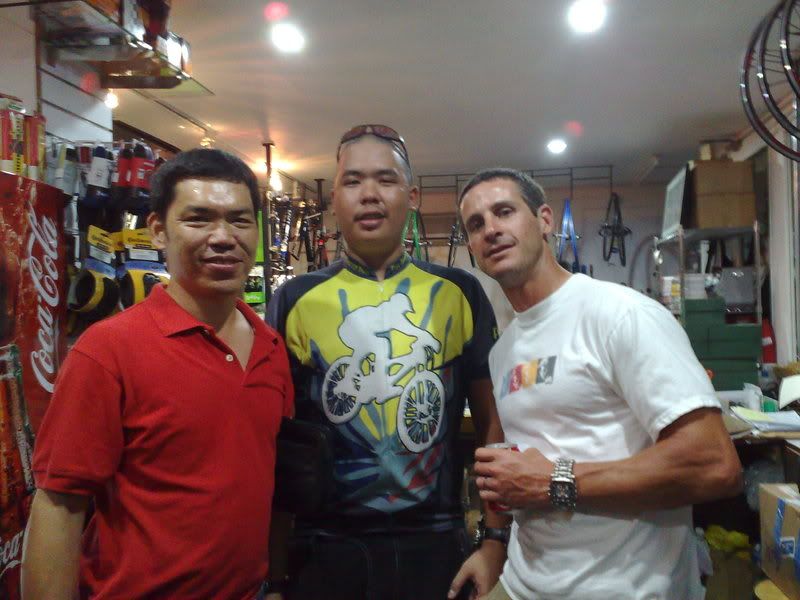 thats Randy and Brian Lopes at the Subic Convention Center
brian lopes finds that Philippine mangoes are nice......the podium girls nicer?
one bike for two events..the downhill and the 4cross champion used this one bike an ivory colored Ibis Mojo to win in the TLBF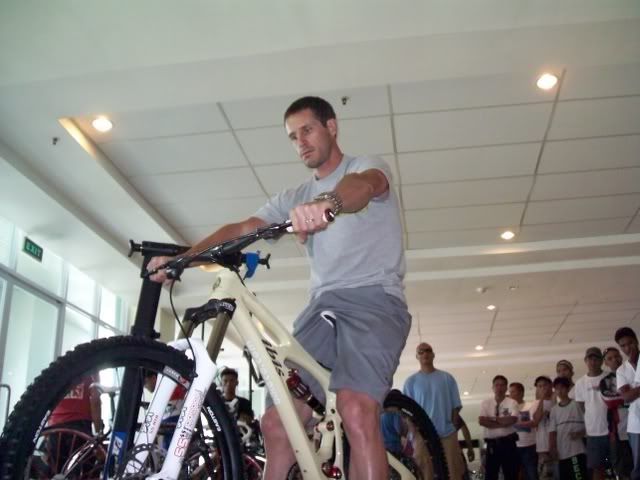 "here is how to do it guys, soften it up for the downhill"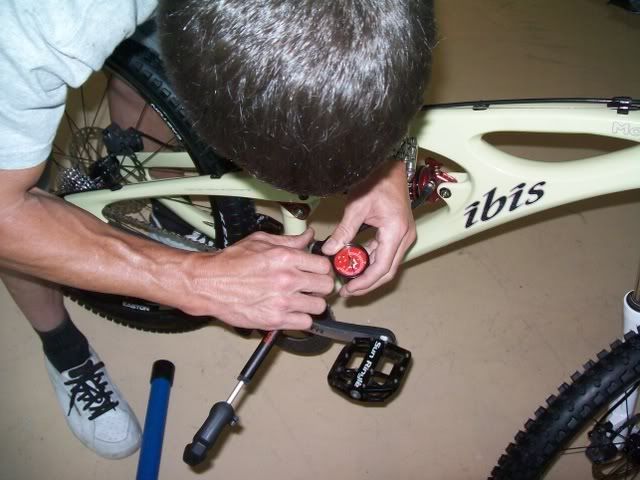 who says you need a bullet proof downhill bike to win races
? brian lopes seen here using his light carbon fiber Ibis Mojo to win the downhill race in this action foto in TLBF
Philippines
sorry it's been a little since I updated my site, just been busy and not on the computer much.
A week ago I landed in Manila Philippines for the Terry Larrazabal bike festival. Since the time I arrived it has been an incredible trip and the reception I have received has been like no other place I have ever been in my 30 plus years of racing.
Goyo Larrazabal is one of the sons of Terry who passed away some 7 years ago and in memory of their father they have started this great bike festival. Goyo had Hans Rey come two years ago to the festival and this year had both Hans and I on the list to come since Interbike last year. Unfortunately Hans had an accident a month ago, leaving him with a broken ankle, so my wife Paula took his spot and brushed up on her front wheel hops...ha, ha!
The festival consisted of just about every discipline of bicycle competition, for all ages. I took a small MOJO and a few different kinds of tires and used the same bike for the DH and the 4x. The DH was first so I put some EL MOCO DH tires on, a 2.35 in the rear and 2.1 in the rear, softened up the rear shock, and lengthened the suspension on my Marzocchi 55 and she was turned into a short travel DH machine. The course was pretty good, tight through the bamboo forest, dry and dusty, and a few technical rock sections. One of the toughest parts about the race was dealing with the extreme heat and humidity and there were NO shuttles, which meant you had to push up everytime. In the end I wound up winning, but only beating the Philippines national champ Joey Barba by 2 seconds on the 2 min 19 second course. There were a few riders that had some skills, but Joey wins pretty much all the DH races in Asia from what I hear. Super nice kid and pretty d@mn fast. Good thing I had a pretty good run or he would have got me for sure.
The 4x was the next day a few miles from the DH course. The area was completely flat, so it was more like a bmx track, which they did hold bmx races on at the same time. Pretty outdated in how they run races over here, you pretty much just have to be prepared for a long day and not your normal equipment, such as start gates, rules, etc. In the end it is all about having a good time for most of them the racing is just a way to bring the biking community together for an event.
Sunday night Goyo and his family put on a huge awards ceremony where they gave out cool trophies and some of the best prizes for all the participants. The small kids won complete bikes, while the pro's won everything from frames to forks. For the 4x I won a Marzocchi 4x fork, which I donated back for the raffle and for winning the DH I won a Fox Talas, which I gave to Joey Barba.
Now we are loving life over in Boracay which is a short 30 min flight from Manila, which has one of the most beautiful beaches in the world. Tropical paradise. Unfortunately we only have two days here before we have to head back home, but I am already looking forward to next year and extending the trip to see more of this great country which is made up of over 7000 islands.
Thanks Goyo and all the people of the Philippines for making our stay so great!!!
Posted by Brian on April 7, 2008 06:11 PM
| | | |
| --- | --- | --- |
| | « Reply #13 on: Today at 01:44:31 AM » | Quote Modify Remove Split Topic |
---

Very entertaining post Ray, thanks.
| | | |
| --- | --- | --- |
| | « Reply #14 on: Today at 11:19:00 AM » | Quote Modify Remove Split Topic |
---
thanks for making us proud!