| | | |
| --- | --- | --- |
| | Author | Topic: XRC 08 Road Race in Clark sept 20, 2008 Philippines (Read 173 times) |
| | | |
| --- | --- | --- |
| | « on: September 22, 2008, 12:06:28 PM » | Quote Modify Remove Split Topic |
---
dear friends,
I am uploading photos via photobucket but i will offer words of thanks to everyone who participated in the XRC Executive Road Cycling series in Clark Sept 20,21,2008 and i like to say thank you to everybody mentioned in this list.
1.team CNC cavite led by muy simpatico atty lito and kuya kotz and admiral tiples was present at XRC road race ...they didnt go home disappointed masarap daw yung Gardenia sandwich and King Sue ham na nasa loob ng Gardenia.
2. The former team SEVEN LAKES showed up wearing these beautiful aboitiz 2GO pink logo on ultra clean white jerseys..Mark Pua of 2GO said "it is impressive and incredible to ride with CAT B guys..very very high standard of racing here ray at XRC..our team very very happy to ride with the big boys...we know how hard we have to train..the guys are so fast."
3. one cat C from team 2GO si Oliver naka black and yellow na Giant carbon..."manong (elder brother) be careful we want to finish do not ride over the broken glass ...take it easy..." thats near the construction expo filipino ..i didnt know there were glass on that side of the road...but when i checked him out he was gone! turns out he suffered the puncture and had to walk 2 kilometers for the replacement wheel..after he took the wheel he continued to finish the race...he saw me afterwards asked me "what placed did you finish manong"
4. Team PLDT rider ping raymundo of team PLDt suffered a puncture got his puncture fix and continued racing the road race. i saw him from far distance i thought he was my side bet partner dr butch ydia (dr armstrong) ..i was so happy to bridge up to him to ride together..we rode several kilometers on the uphill climb expo pilipino i copied his gears and went pedal for pedal stroke...until i cramped near the construction site. He was laughing at the finish."is that you ray" he said. "i never went to 39 chainring i want to ride fast. Ping i now know what happens if you stick to the 53 with lack of training." i said...thanks so much for allowing me to hang out with you.
5. dondie quit after lap 2. i told him richard complained he saw dondie on the 6th spot. i called dondie 10-1030pm last nite. "did you make a mistake with the numbers..? did you unintentionally gave away your number with your name on the back to one of your strong riders? I asked...."no our numbers i know the name of the riders are at the back of the numbers" "eh dondie how come you are 6th daw i saw you stop. .did you continue riding when the race was going on? did you ride with main peloton? or the marshalls didnt see the correct race number?
anyway..i wont give you dondie's answer. dondie will be the one to tell you his story. Very nice to see you come back from Bangladesh...very nice to see you racing again dondie.
6. I talked to Triclark people Nilo and rest of the gang, Joseph..."ray the road race cat B that was the fastest we ever rode our own house our racing course inside our territory..the downhill from Fontana Resort was 59-60kph...the uphill 38kph over hills expo filipino stretch yesterday'.. we caught cat A people near Mimosa during the last lap and they were all surprized..even Leian Cruz was surprized. the level of competition was very very high!"
7. doctor butch ydia (dr armstrong) had a 20 pesos sidebet with me and so he gritted his teeth and went with the peloton for the entire 4 laps! all the while i thought he got dropped already because i saw one of the pldt riders had a flat. So at the finish line he was all smiles. "i rode one week of motorpacing in dagupan just to beat you raymond in this race!" he said."in matabungkay i want you to invite our friends from rocka manila and rocka bicol, filchi, logic gate baterna brothers and atty roland vilaluz, dennis of mjy to race with us with the 20 pesos side bet lets buy medals or trophies and then we award the winner of our race within the race the pot money 20 pesos side bet and the medals or trophies! that should be lots of fun" thanks so much doctor butch for being the cooler head...of course i will organize that side bet with the people of our own racing standards..
to the organizers Edmund and Raul .Thanks so much for a wonderful weekend.
to my sponsor HALO head band..Thanks so much
to King Sue HAm Bravo delicious treat for us together with RUSH energy drink..ah our breakfast was complete for two race days
TO TEAM MJY BIKEZONE the winner of TTT cat C WARMEST CONGRATULATIONS to the champions! ang ganda ng trophy niyo. sorry had work after the race so wasnt able to get your podium fotos. please send to me ill include in my report.
to my TEAM ROCKA who had 5 man team yesterday at the TTT...Congratulatio ns for the 7th place clocking..only 40 seconds off the time of powerhouse Logic Gate over a 6 lap course in the time trial translates to a scant 6.67second deficit per lap...so warmest congratulations we will do better next time when we have 8-9 man on our team time trials!
Thanks so much for our official cheering squad team David's salon ladies led by Carmela yesterday!
to my wife..thanks again sweethart for taking the nice fotos.
we see each other again in the next race.
raymond and margie see
teamrocka1bikeshop
now being sponsored for season 2008 and 2009 by:
Nickel Asia Corporation
Philamlife
King Sue Ham
Penafrancia Tours and travels
Valentino watches and clocks
Kanumayan Tourists Inn
Filipino Chinese cycling federation
King Sue Ham booth with the representatives. Thanks atty tiboy for bringing in King Sue HAm to the races
the beautiful trophies to be given away at the xrc race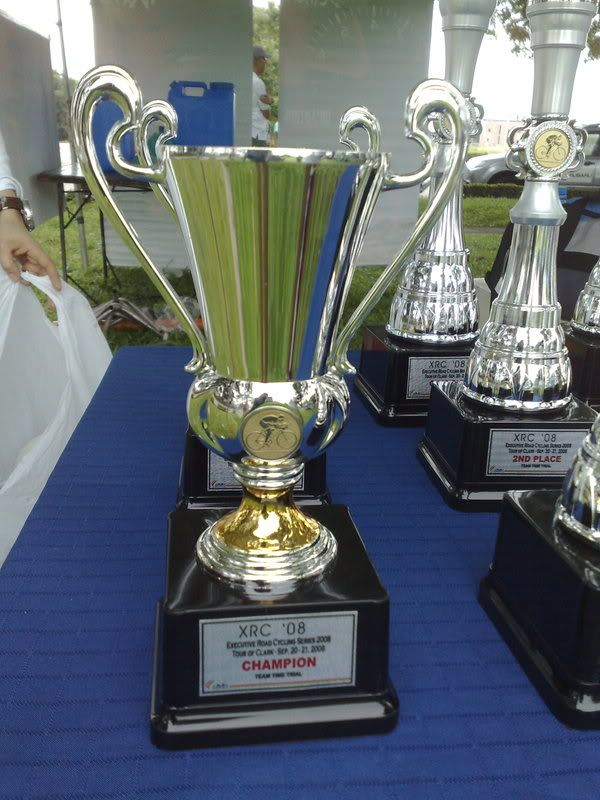 team rocka 5 man team...."it isnt about winning..its about participating and having fun with fellow cyclists and doing the fastest run in all our races". explains raymond see
crowd favorite team rocka1bikeshop showing how it is to fight as a team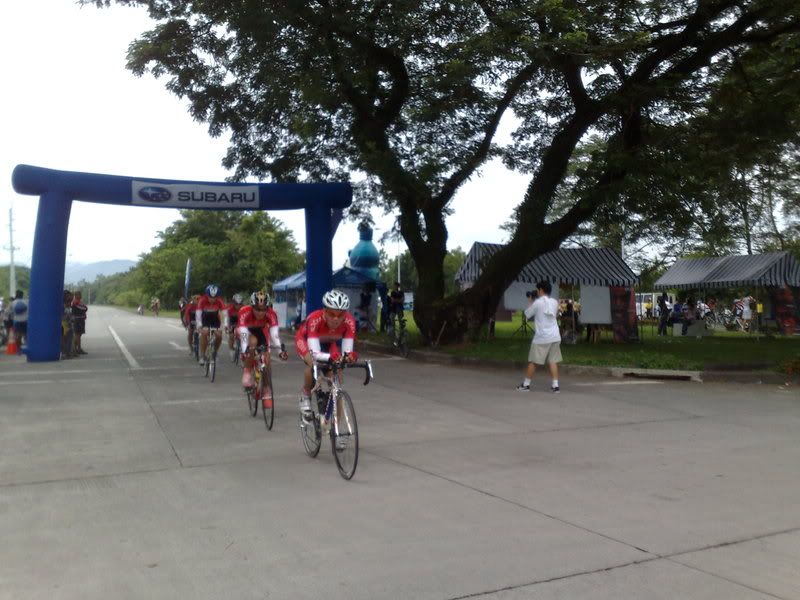 special "diamond kite formation"
as teamrocka raced to the finish in the final lap less than 40 seconds behind powerhouse team Logic Gate
team Fitness First yesterday at clark was lead by leian cruz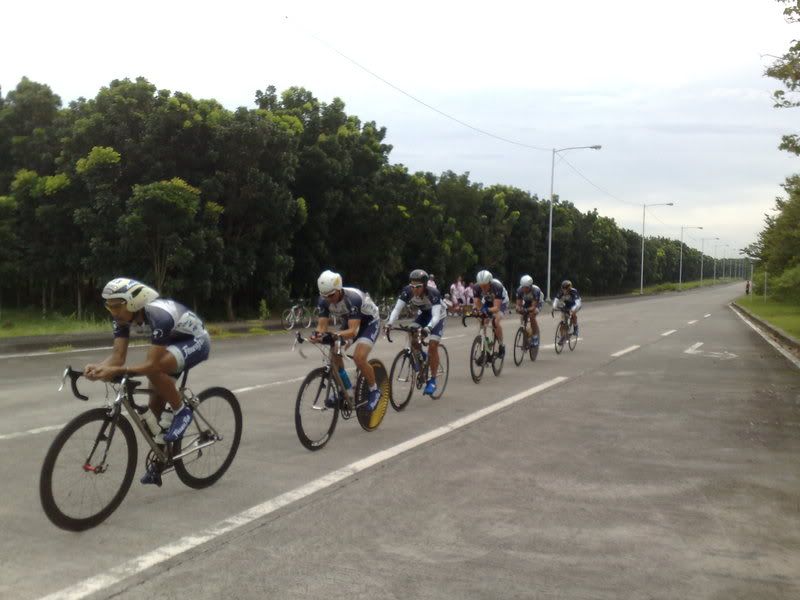 team aboitiz 2GO on the go...look at that beautiful jersey
team xterra bikeshop lead by atty mike yngson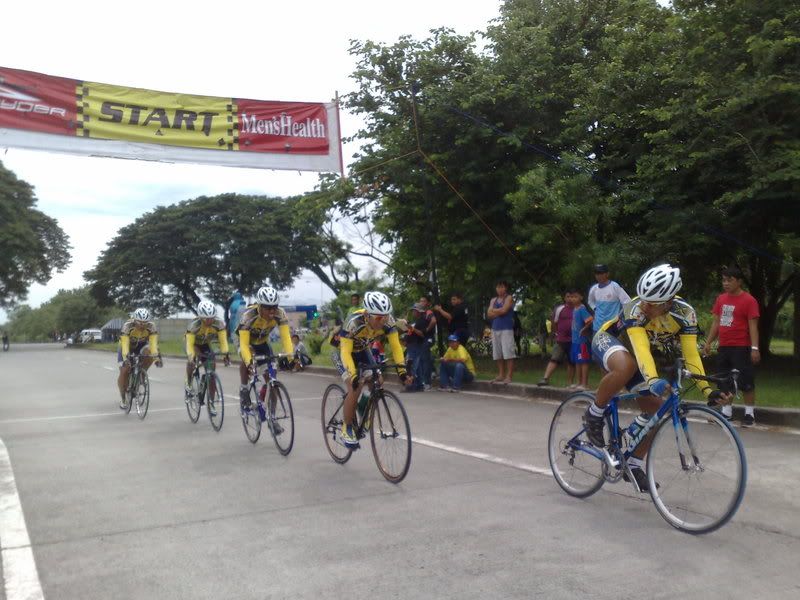 thanks so much for this Podium Girl foto courtesy of team CNC
| | | |
| --- | --- | --- |
| | « Reply #1 on: September 22, 2008, 04:27:33 PM » | Quote Modify Remove Split Topic |
---
very nice pictures & report ray!

hopefully i'll have a taste of your racing there soon!
---
am just a rudebwoy from the block
| | | |
| --- | --- | --- |
| | « Reply #2 on: September 23, 2008, 11:09:30 PM » | Quote Modify Remove Split Topic |
---
More photos please