| | | |
| --- | --- | --- |
| | « on: October 16, 2008, 07:50:00 PM » | Quote Modify Remove Split Topic |
---
dear friends,
i have to work today..bring my welders to the Nazareth Hospital in Dagupan CITY to build the special stainless railing of the Nazareth Hospital owned by doctor Butch Ydia. well the good doctor was so excited yesterday he said in his text message "weather here is good for cycling ray...come early rest during lunchtime we ride the bike 1pm"
5am this morning i was already awake..hauled 500kgs of stainless steel and welding machine on to my mitsubishi truck and squeezed my bike inside...4 hours later we arrived in Dagupan..i assembled my bike..double checked measurement of the ramp railing..gave the drawing to my foreman..and sure enough my boss doctor butch ydia in t shirt and jogging pants is waiting for me 130pm with the driver, a Ford TREKKER pick up outside the reception area of his hospital.
DAGUPAN ARCH shows the town's number one product...BANGUS!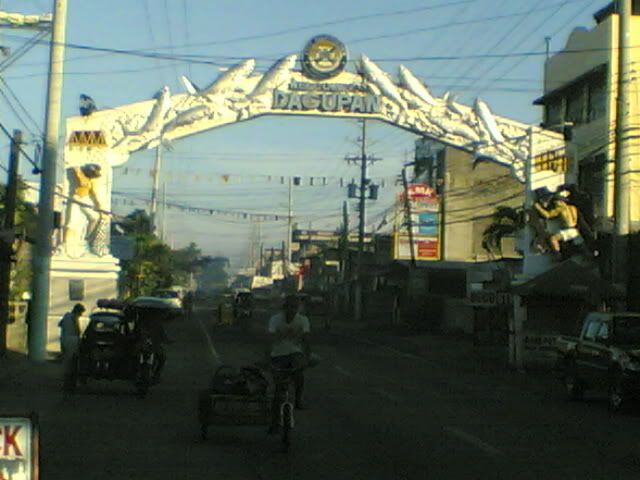 NAZARETH HOSPITAL in dagupan serving the local community since 1959
i didnt ask anymore question why he is not dressed. his driver hauled my bike on the bike roof rack and off we went about an hour's drive to the designated imaginary starting line..near the SAN FABIAN church here in san fabian pangasinan..which boast of several beach resorts along the highway. here the driver unloaded my bike, unloaded the LITESPEED of doctor butch..i saw doctor butch pull out his black sportsbag...i thought there was a stethoscope inside..instead inside was his PEARL IZUMI jersey..socks cycling shoes arm warmers and all important sun block. in 5 minutes he was ready to go..he gave me a powerbar i forgot the flavor but that was good.
doctor butch ydia all dressed up in 5 minutes...
on our early afternoon ride
start of the ride SAN FABIAN PANGASINAN CHURCH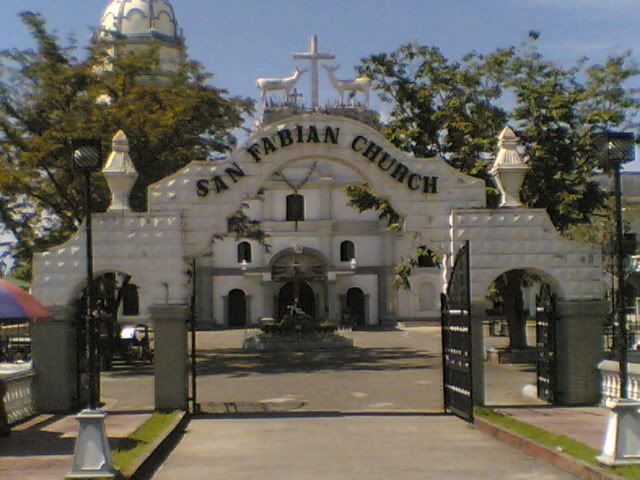 "this is my playground ray...i cycle in the afternoons when the mountains block the sun and its shady on the way up marcos hiway.....we will ride the whole stretch of San Fabian by the beach.....reach Agoo la union ..pass by the EAGLE of AGOO...then use the stretch of Jose Aspiras highway up that MARCOS HIWAY. it will be a lot of fun..glad you are here..its boring to cycle alone....i cant ask anyone here to cycle with me..they dont understand why i train..they have no goal..they didnt join Tour of Matabungkay" said doc butch
the scenery was breathtaking..i have a FORD pick up as back up behind me... so i start shooting fotos again on my celfone camera with one hand so i can have the pictorials of my training ride here.
how to SAFELY take celfone camera pictures while on the go
...raymond see takes a snapshot of the ford pick up truck of doc butch ydia..the support vehicle who stayed at the back of raymond whenever he is taking the foto shoots.
on our way back i took a foto of the sunset off SAN FABIAN BEACH which is along the hiway..
we passed by the Eagle of Agoo...pass the uphill stretch of aspiras higway..wow the doctor has trained for matabungkay and was leaving me behind up the hills.."ask more people to join our P20 race ray..i want more good people to join us..well i am thinking of joining the SOUTH AFRICA BIKE RACE which businesman Deon JAmes told me about but i think its November and I cant fit it in my schedule..cycle racing in SOUTH AFRICA that sounds good...but maybe not this year..
also next year in January let me know if you organize a Baguio ride..i want another vacation ride in January..and then maybe sometime in February 2009..i want to organize a race in ALAMINOS PANGASINAN yes thats near the HUNDRED ISLANDS..the town mayor wants to promote the place as a tourist destination so i will try organize a bike race for him." says the doctor. a few minutes later his celfone rings and we have to stop..."sorry ray..duty calls. we climb 4 kilometers of marcos hiway up then we return go back by my car as i have a patient waiting for an apendix operation..we cant go far...sorry..tomorrow afternoon we try climb up marcos hiway again" says the doctor...
i smiled ..."thank goodness we dont climb Marcos today" i said to myself.
anyway i had my dinner already..my welders did A OK..i could spend 3 days here...i dont know tomorrow we ride another route fortunately for me the JAZZY boys are absent today but the doctor told me.."tomorrow i try bring more cyclists with us" business with pleasure..but i am enjoying my free time..i am enjoying the good doctor's company...and i am enjoying my cycle training here in DAGUPAN PANGASINAN AGOO MARCOS HIWAY...so i am not complaining....
i wish i can upload the fotos today but the internet cafe says "sorry sir we dont have the card reader"
..so you guys have to wait for monday
i still have two days of work and two days of cycling ahead of me..ah..this is the GOOD life. i will see you guys soon.
raymond see
currently in Dagupan Pangasinan
pictures to follow
day2 stage 2 AGOO LA UNION up MARCOS ULO NI MARCOS
the spanish jersey of raymond see said it all...UNA MAS! (one more!)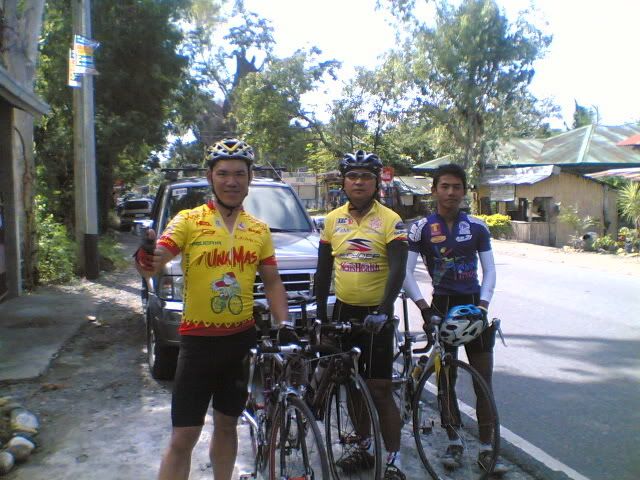 day2 stage 2 thats the eagle of AGOO
intensive training up marcos hiway for this two cyclists who has a 20 pesos bet for best rider at the TSI TOUR OF MATABUNGKAY thats raymond see on the left and doctor butch ydia on the right....both wearing the yellow jerseys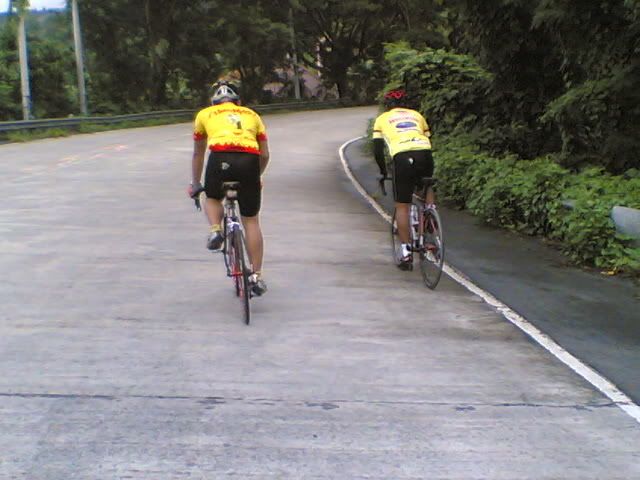 60 minutes early morning ride by myself and i chanced upon this ancient choochoo train at the town plaza.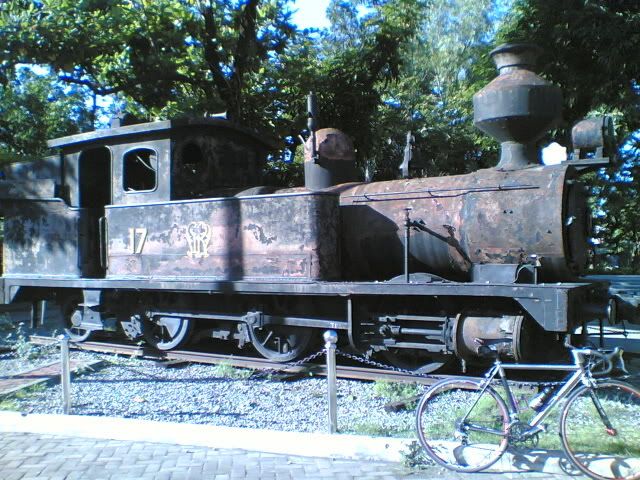 60 minutes early morning ride brings me to the BONOAN LINGAYEN diversion bridge the new bridge where doc butch ydia rides motorpacing...
end of the bridge at BONOAN we find up class subdivision over looking the river SAN MARINO PLACE whose owner is also an upcoming cyclist...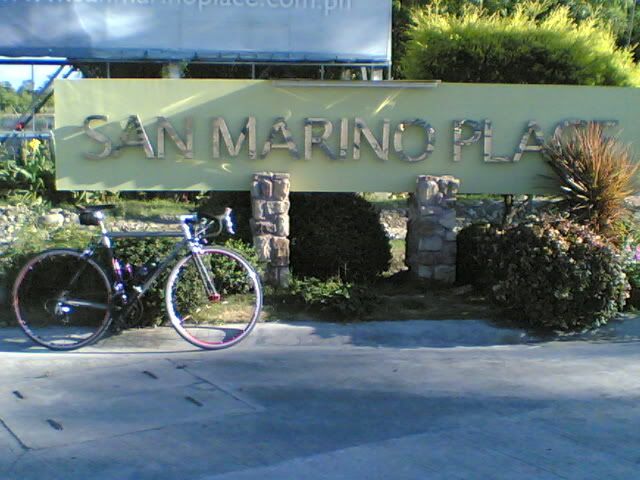 raymond and doc butch relaxing by the poolside of san marino place afternnoon of a saturday..relaxing for the big ride on sunday...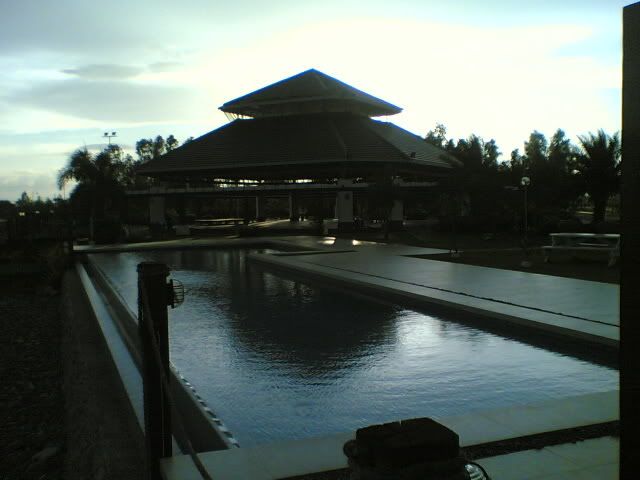 doc butch ydia called 20 of the dagupan exec riders and professional riders to do a "one roundabout ride san fabian agoo rosario san fabian last sunday morning"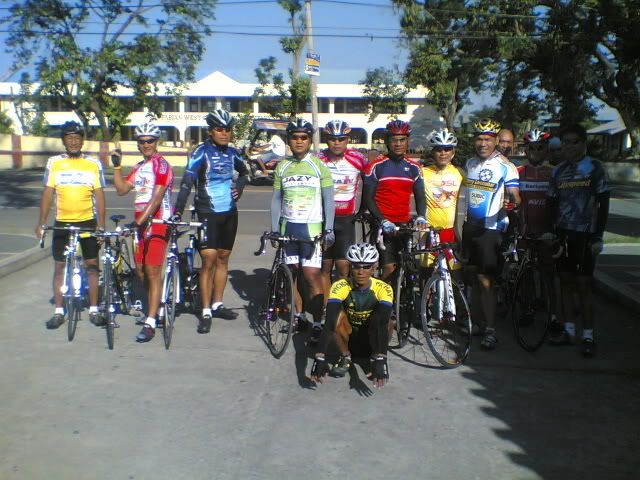 thats businesman alex tan of team PLDT on a LOOK 595
orbea orca of businessman alex borras who will ride for teamrocka 1 day only the road race in TSI MATABUNGKAY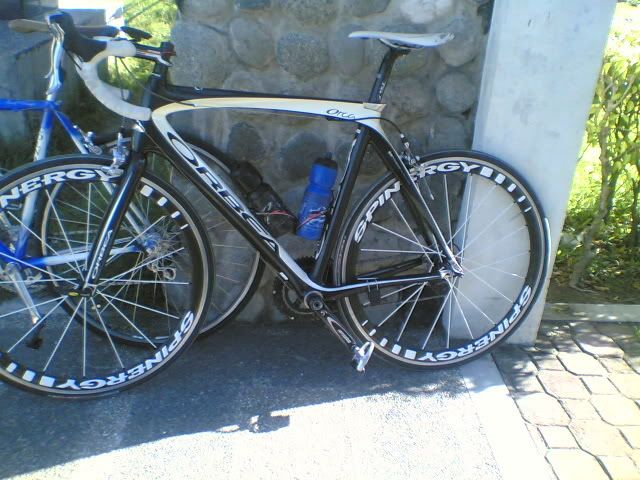 | | | |
| --- | --- | --- |
| | « Reply #1 on: October 17, 2008, 09:08:41 AM » | Quote Modify Remove Split Topic |
---
ray, nice write up. great how you can work AND play! when Jazy passed by Austin to ride, he told me to hook up with Dr Butch anytime to ride if I am in the area. I read your post while imagining that it was me ridin.

| | | |
| --- | --- | --- |
| | « Reply #2 on: October 17, 2008, 12:00:52 PM » | Quote Modify Remove Split Topic |
---
hahaha steampunk..doc butch ydia otherwise known as the cycling doctor..very very very famous guy here. he is the keyperson for anybody wanting to hold a vacation ride or a bike race in his turf here in dagupan pangasinan baguio...a very very very humble fellow as well....met him 4 years ago in a bike race we suffered like dogs up PAYAPA in tagaytay but i made a new friend along the way....
| | | |
| --- | --- | --- |
| | « Reply #3 on: October 17, 2008, 02:50:03 PM » | Quote Modify Remove Split Topic |
---
ray,
i always loved your folksy reports! regards to dr. butch!
| | | |
| --- | --- | --- |
| | « Reply #4 on: October 18, 2008, 11:48:41 AM » | Quote Modify Remove Split Topic |
---
i have intensive coverage of dagupan town..terrific foto shoots..i will upload the pictures next week.thanks to those reading my posts.
| | | |
| --- | --- | --- |
| | « Reply #5 on: Today at 01:09:48 PM » | Quote Modify Remove Split Topic |
---
one of the nice vintage vw' s being sold in Dagupan