| | | |
| --- | --- | --- |
| | « on: October 05, 2009, 02:03:31 PM » | Quote Modify Remove Split Topic |
---
sept 30, after the storm i have to pack things bring men and bike to NAGA CITY for work and play..again
thats the beautiful jobsite the home of mr Poon..
ok here we go..another job by my crew...RMRMETALFAB
oct 1..i can ride my bike up alvin lo's playground 6am to 8am ..barangay carolina at the foot of mt Isarog...
thats the sign i need to take a foto of..
the arrow on an incline beacause the entire 17kms stretch is on an incline..up Mt Isarog hills...
oct 2 no biking there is a typhoon Peping bringing rains here the whole day.
raging river in front of sunnyview after 17 hours of rains
flooded panganiban avenue in front of iglesia ni cristo street oct 2 2009 naga city
oct 3 2009
woke up 530am..stuck finger out window..no rains ! rode bike traveled back to barangay carolina..isarog hills 48 minutes yesterday up to end of concrete roads...did 38.40sec today .. am no longer rusty..the weather is windy but fine..cloudy overcast.....but dry...passed by asphalt roads plus 5 kilometers further down the road towards ISAROG mountain .King Bernas and Mike Yngson would love to go mountain biking here :-)
on way back to work passed by PenaFrancia Church 1700s.. also Naga Cathedral too... the Philippines if you come here to cycle..you have to pass by the centuries old Spanish churches...give thanks for better weather today...check out the beautiful antique courtyards too... i wish tiboy reyes was here..im gonna do 200kms Daet ride tomorrow..ill check out dip myself in the hot springs off mount isarog after work.
passed by the church of PENAFRANCIA 1700s...on way home
october 4..this is the special day as the weather permitting we will ride with my team Franzia all the way to DAET camarines Norte pass by bitukang manok..go back home via sipocot back to naga approximately 200kms...
my teammates from team FRANZIA outside sunnyview hotel for the BIG DAY AHEAD an attempt to do 200kms naga daet naga today....thanks guys for organizing this ride for me..and how many times have you done this daet ride..once every 6 months? i asked..."come on ray..last time we did this was 5 years ago...its a special day today..we want you to ride with us" says alvin lo...
look at the beautiful roads...dondie we have to ride here one day...with our circle of friends...
here is yuri lirag leading the pace on our way up Bitukang manok (chicken intestine)
passing by bitukang manok i have to take foto of this very very steep hill...they call the cow's back they call it in bicolano language..tangkong baka (cow's hump)
heres our destination bulalo beef stew at DAET camarines norte 97.5kilometers away..whew...
alvin lo took a foto of me at the Camarines Norte city hall....so that bisekletaguy can have his souvenir foto here in Daet
4pm am at grissinis naga having coffee and spaghetti. Me and alvin lo just finished our epic 195kms bike ride naga to daet to naga. Awesome ride. Alvin said the 195kms is the longest he did in a single day.he is very happy!
boned tired but fulfilled thats alvin and raymond after back breaking 195kms ride naga daet naga now at ristorante grissinis for spaghetti and bread..plus coffee too
october 5...my whole body sore..i decided climb up barangay carolina ISAROG HILLS at snail pace..go to that hot spring resort 1 kilometer down the highway pass by the beautiful tropical forest...dip myself in hot springs...530am i already wandered off on my bike.. went to the Hot springs...wow its beautiful here..i had my swim in 32C water i feel great...i have to go back to work by 9am today...
all alone for work? no problem for bisekletaguy so long as he is allowed to bring his bike. ready to xplore the forested areas even on his road bike any where he goes...
look at that beautiful resort Panicuason Hot Springs 200 pesos per entry fee ..at the foot of Mount Isarog barangay carolina 17kms from my hotel at sunnyview NAGA city
here is the pool where i had my swim
october 6 i have to leave naga in the evening in the morning ill do the tourist ride near city
naga town plaza better known as CENTRO
a monument dediccated to the 15 martyrs of bicol 1896
naga cathedral is massively huge
there is a beautiful domed gazebo with stain glass in front of the naga cathedral
one of the old houses in naga centro is this 1927 wooden house
enald tan just finished his daily ride up isarog hills and i chanced upon him at the wooden house
la consolacion school Naga
after tourist ride...went up isarog hills this time with new friend paul bautista
end of the concrete roads is the GSP center here with a sign saying you are about to enter Isarog
| | | |
| --- | --- | --- |
| | « Reply #1 on: October 05, 2009, 11:24:26 PM » | Quote Modify Remove Split Topic |
---
here's raymond, just woke up, maybe he slept late last night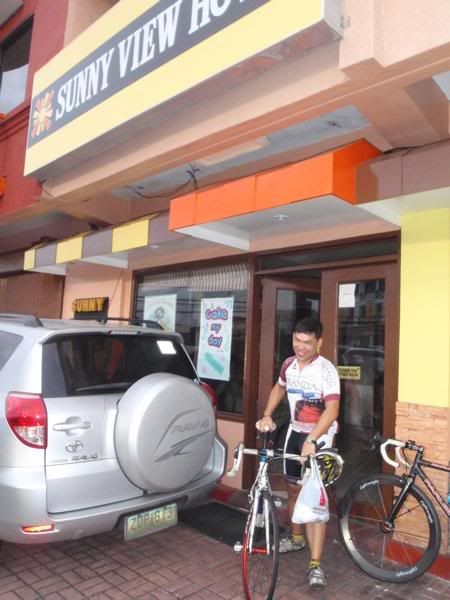 ray and yuri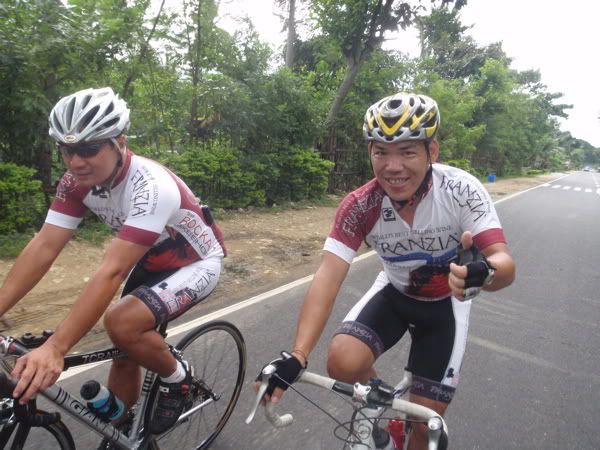 me and eric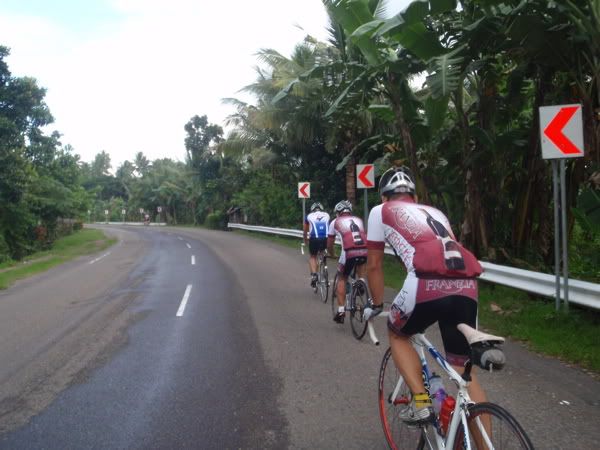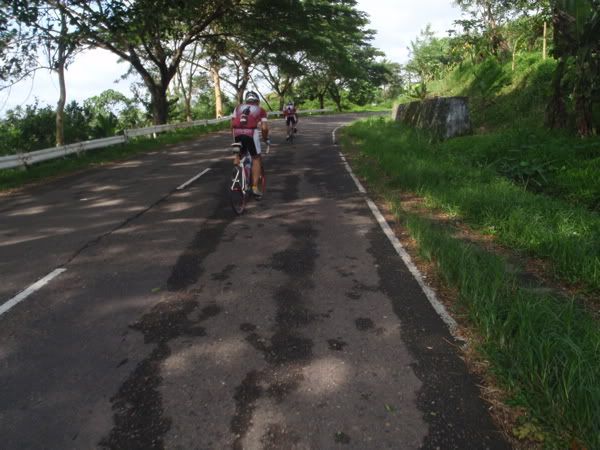 enald and eric
very nice, traffic free roads