| | | |
| --- | --- | --- |
| | « on: October 12, 2009, 08:13:13 AM » | Quote Modify Remove Split Topic |
---
have to go back to naga to complete project i have left my Giant OCR with alvin lo as assurance that ill be back to ride ligao this weekend oct 11. 2009
weather in the morning was rainy so we waited for rain to stop..left alvins house about 730am already destination the flat roads to Ligao pass by towns of concepcion Pili Nabua Poblacion Bato...all the way to Ligao Albay where we now catch a glimpse of Mayon then make U turn back to NAGA 120kms.
ALL FOTOS COURTESY OF ALVIN LO (from his facebook fotos)
caad9 newly built for this ride..owner Enald Tan
here at alvin lo residence 730 in the morning oct 11 2009 NAGA
sun shining oh so brightly today here in naga
leader of the band is Enald Tan tour of Egat 2008 veteran....very strong pulls...maybe thats why im dying also today...
swiss cyclotourist has his bike full he wants to travel all over the Philippines on his bike..destination today ..Legaspi Albay..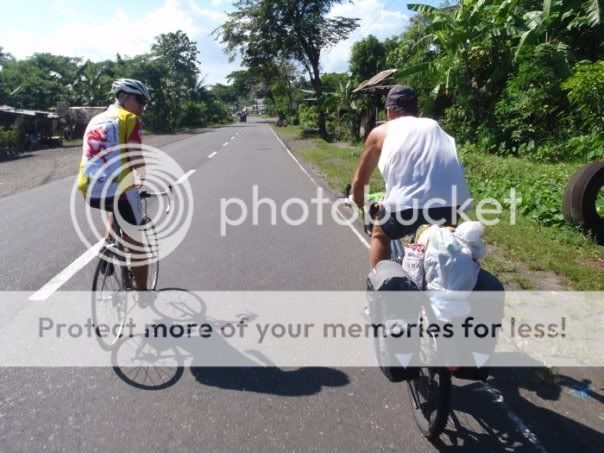 the 1030am merienda was noodles called pancit bato in bato town camarines sur
alvin lo tries out the caad 9 but you can see him perspiring under the hot conditions today also...
left arm straight means bisekletaguy suffering under the heat already...and its barely 10okms alvin...
left thumbs up , means IM OK if YOU ARE OK ALVIN!
lake buri or lake bato in the background smells of wet palay or dead fish...as the lake overflowed too due to typhoon..
yuri lirag contemplating on what to Drink here at Lucky 9 convenience store in PILI..i treat him to cold orange juice of course..
very hot ride. tar on asphalt road melting today..i suffer like a dog. But was fun to ride with the bicol boys of course.
after the ride i had the hot shower in alvin lo's place..plus wow the legal massage lady arrived
...plus pizza and coffee courtesy of alvin lo..wow im living the lifestyle of the pampered cyclists again..thanks so much alvin! you are the best host ever here in NAGA...
| | | |
| --- | --- | --- |
| | « Reply #1 on: October 12, 2009, 08:22:26 AM » | Quote Modify Remove Split Topic |
---
kaka ingit ka fafa ray wish you were here yesterday bienti2x sana kayo ni dondie he he one one one sila kahapon sa finish line ni Dr. wency rich I'm sure kasama ka sa sprint kung andito kalang
---
bahalag hinay basta kanunay
| | | |
| --- | --- | --- |
| | « Reply #2 on: October 12, 2009, 08:39:38 AM » | Quote Modify Remove Split Topic |
---
sayang talaga have to work i wasnt able to finish my work thats why i missed the race in ormoc leyte..next time na boss rex...maybe i go to bohol...so long i finish my work here...thanks again