| | | |
| --- | --- | --- |
| | « on: March 01, 2009, 06:44:36 PM » | Quote Modify Remove Split Topic |
---
dear team,
we just successfully concluded Killer Climb reverse sierra madre after doing bugarin and mabitac.
the route as follows and organised by vekvek viray and atty tiboy reyes.
: Jolibee/Shell Marikina - Antipolo - Morong - Bugarin -Mabitac - Lunchbreak at Manay's Famy - Climb Mabitac - Bugarin Turn Right to Sampalok - Sierra Madre - Bosoboso - Cogeo - FINISH Jolibee/Shell Marikina. DISTANCE: 150KM
at the jolibee station we were greeted by team david's salon with coach gado..they intend to ride up to Bugarin today. also present is doc rolly Bicaldo who arrived with a beautiful light blue sr11 equipped Dario Pegoretti
Team xterra headed by atty mike yngson ave and winston and king bernas was also present. team vegan potter had vekvek viray with aris and new rider meynard on a beautiful Parlee. engr manny de los reyes also present. Team rocka had teamcaptain tiboy reyes, bisekletaguy, philip and liston. Today we have coach Boy quirimit and jojo the motorcycle escort.
start was relax pace. the group went up valley golf in antipolo led by manny delos reyes and vekvek. suddenly team fitness first eric carandang and jonjon urutia arrived and so the pace went ballistic. manny had a puncture. vekvek stopped to help this leaves fitness first upfront. somewhere after teresa i made contact...as i try avoid being being reeled in by our team captain tiboy reyes and liston yao. try as best as i can i get caught up bugarin by fitness first eric and jon. near the viewdeck i got caught first by atty mike yngson of xterra then by tiboy reyes with winston chua...i tried as best as i can not to be caught by liston yao...however even if asian games medalist coach boy querimit pacing me...we cant do anything after being caught by a very strong Ave Chua of team xterra on a 50teeth big ring. she was pushing so hard down the cranks we watch her pedalling action for sometime and i told boy querimit it was as if her cleats were gonna seperate from her shoes
.
near manang's eatery at bugarin we had FRESH coconut juice pitstop and foto shoot as we wait for the other guys.
The group proceeds down famy and had lunch at manay's eatery. 1030 am we went up climb mabitac turned right to that dreaded PRANJETTO HILLS ( the black wall) and start our agonizing 20kilometers climb back to sierra madre hotel.
Wow that was a heart stopping climb. i lost contact with the leaders but have to stay with meynard on the PARLEE and teammate philip...was really contemplating to put foot down again...but these two guys would have no stopping at the blackwall and so i have no choice go with the flow even if im near collapse. Everybody made it up sampaloc..then proceeded to climb up sierra madre hotel where we had photoshoot again.
I told vekvek..."next time vekvek if you organize this killer lap you have to give away tshirts. man...this is way too difficult... have tshirts printed and distributed to the finishers with the words "I SURVIVED the killer climb REVERSE SIERRA after bugarin and mabitac"
vekvek laughs.
we arrived at jollibee around 345pm...i got dropped at bosoboso nevertheless when i arrived 5 minutes late team vegan potter guys was just about to have jolibbee spaghetti again so i joined them guys.
overall a fantastic backbreaking climb.
warmest congratulations to all the finishers.
teammates philip liston and teamcaptain tiboy reyes all of them finished ahead of me. warmest congratulations to all
raymond see
team vegan potter's weapon of choice for this ride ...STEALTH LOOKING PARLEE
with set of Lightweight wheels. This is the superbike of bulacan businessman meynard luciano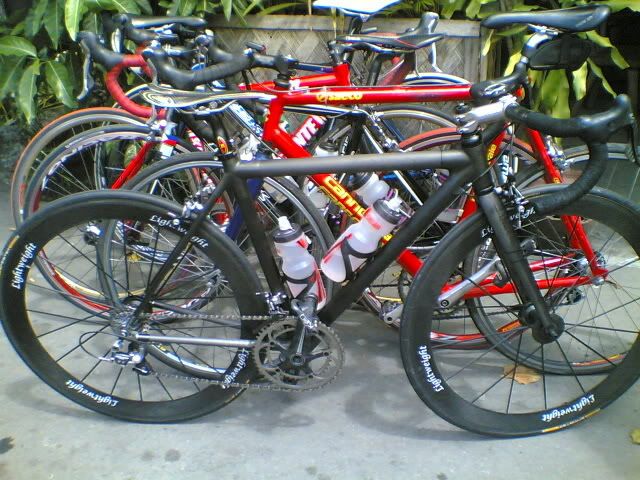 team XTERRA shows off their new team kit also by victor espiritu of THE VICTORIOUS ONE cycling apparels.
king and atty mike at Jolibee sta lucia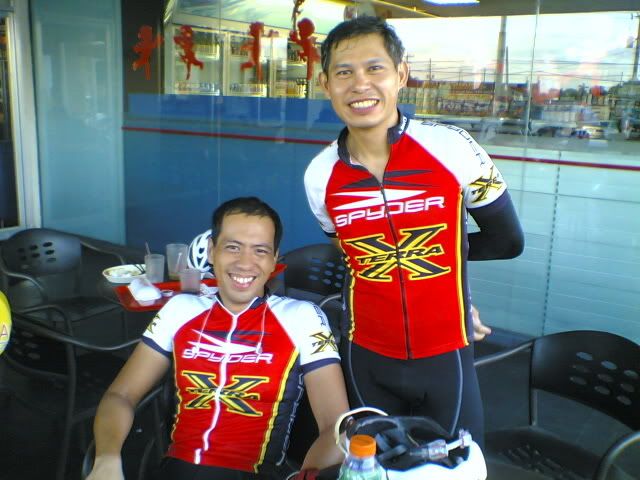 at jolibee sta lucia thats our team captain tiboy reyes cheek to cheek with the xterra and all terra beauties olive and celestina
thats doctor rolly bicaldo from HAWAII...he met us at jolibee sta lucia and wanted to do straight sierra madre as he has an appointment by noon.
and what did doc rolly bicaldo bring to this ride? ITALIAN FLAIR DARIO PEGORETTI SR11 equipped with CLAVICULA CRANKS>>>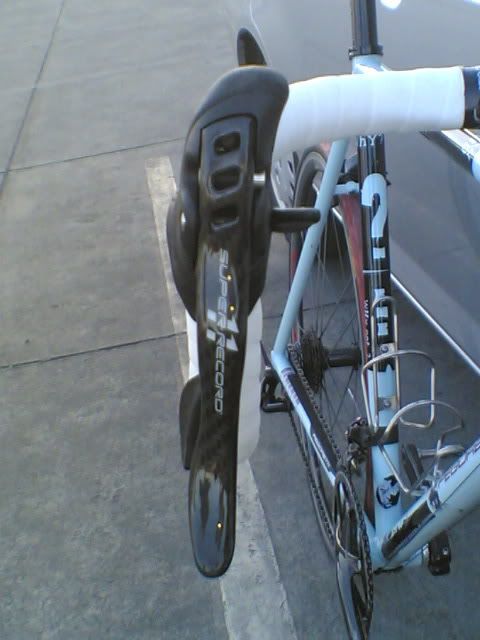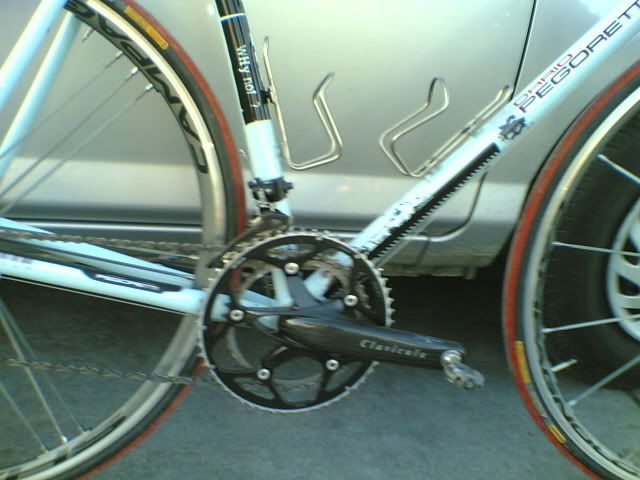 team vegan potter representatives, funnyman vekvek with aries and meynard. the purple jersey was supplied by tour of the Philippines champion VICTOR ESPIRITU who now carries THE VICTORIOUS ONE cycling apparels...BEAUTIFUL JERSEY DESIGNED BY VICTOR HIMSELF as per vekvek.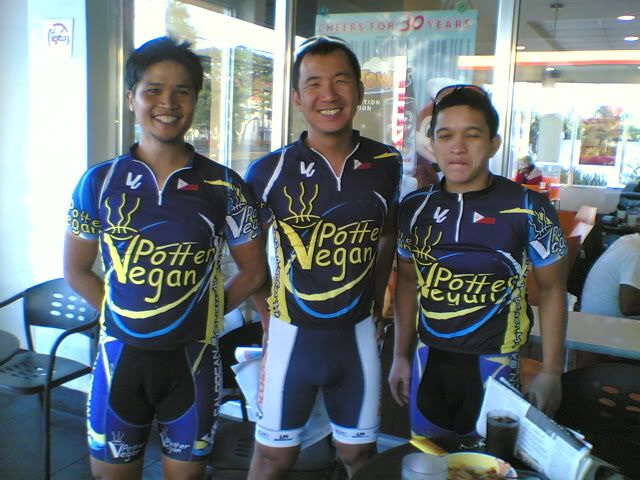 photoshoot with the first guys to make it up bugarin for the fresh buko juice.
Tour of Egat 2008 champions eric carandang and jon jon urutia...."we were surprized all of you guys are so fit..must be because of very good training rides.." said eric.
miting de avanse at Manay's eatery at FAMI...where the waitresses are all too beautiful..the owner a bit masungit though...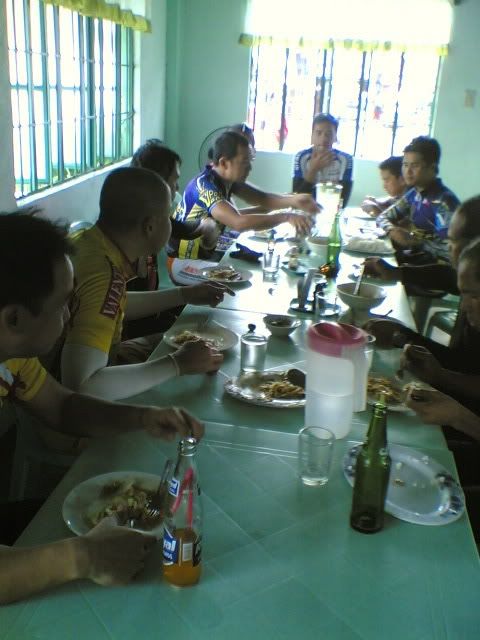 i have to thank teammate philip who brought along jojo our motorcycle escort and waterboy for this ride. thanks also jojo for being patient with me...up those long climbs!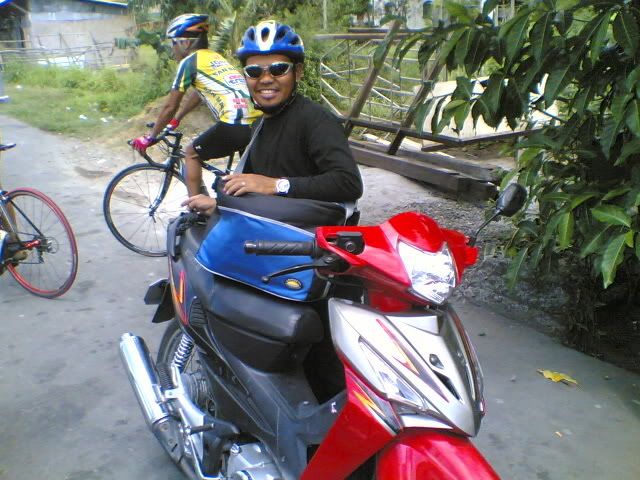 sierra madre foto shoot. all of these guys deserve to be congratulated for that back breaking KILLER CLIMB..reverse sierra via bugarin and mabitac...nobody tried this before as it is very very painful...