| | | |
| --- | --- | --- |
| | « on: March 23, 2009, 11:58:36 AM » | Quote Modify Remove Split Topic |
---
Dear friends,
We left the Kanumayan hotel at Leon Guinto in Manila around 9pm with about 17 riders and 5 guest on board the nice coaster provided for the participants courtesy of winston chua.
kanumayan tourist inn location map (carlos tan foto)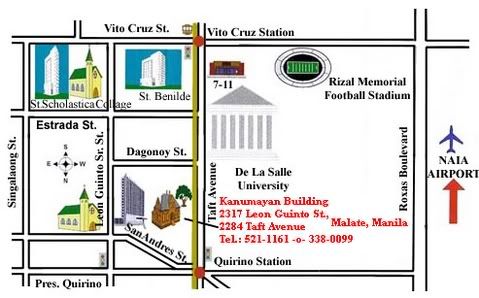 winston our sponsor and the guys on board the hyundai coaster (carlos tan foto)
The bikes were on board an L300 FB van who was on convoy with us all the way to NAGA city some 400kms south of Manila.
We arrived around 630 am in the morning..freshened up at our hotel Sunnyview hotel on panganiban street in downtown NAGA then had breakfast
Fred Chua, Ave and Winston Chua and Cathy Wong arrived in naga after taking the cebu pacific plane which left Manila early morning of 21 March.
Rodgen, Jojo and Edward were on their cars which drove all the way from Tacloban in the island of Leyte using RORO (roll on roll off car ferry) and was enjoying camsur water sports complex friday and saturday.
9am saturday Mar 21 around 14 guest riders from MANILA rode the hilly climbs from NAGA to Sipocot and back .total distance of 80kms. afterwards we had nice lunch at Blue Marlin.
6pm saturday march 21 before we go to dinner we loaded our bikes on board the L300FB courtesy of Mr washington of Newton Multi Sales the distributor of CANNONDALE and FUJI bicycles in the Philippines. Bikes need to be loaded tonite so that 7am following day we can bring bikes to sagnay town..our starting point enroute to MAyon Resthouse
7pm the guest cyclists including coach Rodolfo Boy Plaza, Cathy Wong, Thomas Wiegand and Bridgette Klein from Germany and the filchi cycling delegation from Tacloban Leyte, Filchi Bicol, Filchi Manila led by Edward and Albert and teamrocka1bikeshop had a nice dinner together at CROWN HOTEL to welcome the guests.
thomas brigitte raymond and margie see at the welcoming dinner hosted by Filipino Chinese Cycling Federation NAGA CITY philippines march 21 2009 7pm
during the welcoming dinner sponsored by FILCHI CYCLING thomas wiegand gave away a nice Thai Jersey to ALBERT CUA for his assistance to Thomas and Brigitte during their stay in Kanumayan Tourists Inn (carlos tan foto)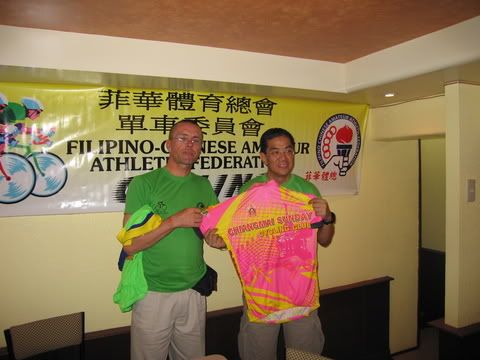 bisekletaguy presents on behalf of the filchi cycling federation... some goody bags to our gracious hosts ERIC TAN and ALVIN LO of team filchi bicol (carlos tan foto)
March 22, Sunday the cycling group left Naga on board cars and vans and proceeded to Sagnay town where the cyclists disembarked then board their BIKES enroute to the beautiful view of Pacific ocean via Tiwi Albay to Ligao Albay and later the 9kilometer uphill climb towards MAYON RESTHOUSE.
here is the foto shoot somewhere in sagnay town of the 25 cyclists present today for the MAYON FUN RIDE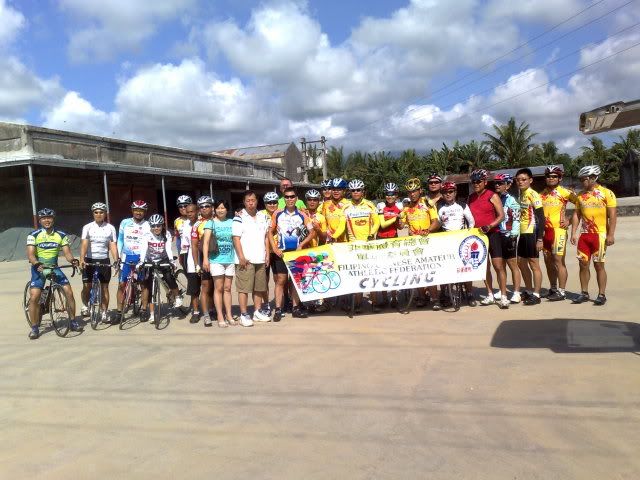 ok here we go....the pacific ocean is just a diversion...truth of the matter is there are no flat roads here at the cliffside mountain enroute to the PARTIDO VIEWDECK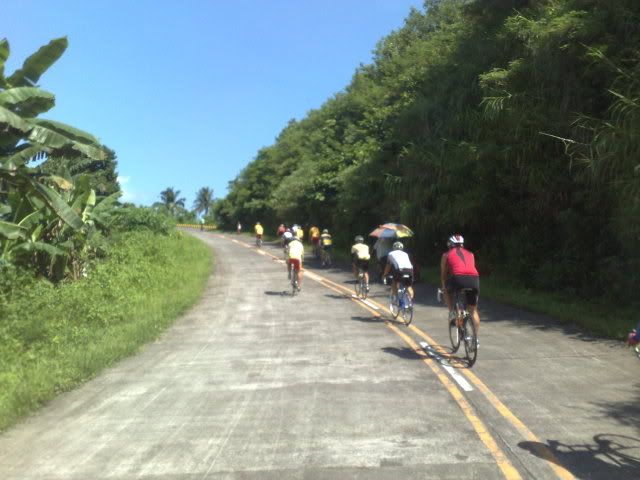 Thomas Weigand from Germany on holidays had to stop several time to have his foto taken of the wonderful view of the Pacific Blue. He was overheard later "raymond it is not enough to go to this town over the weekend..one week of cycling holidays will be much better to enjoy the beautiful and fantastic view you have here. this is BEAUTIFUL" he said.
thomas wiegand "THIS IS... BEAUTIFUL! "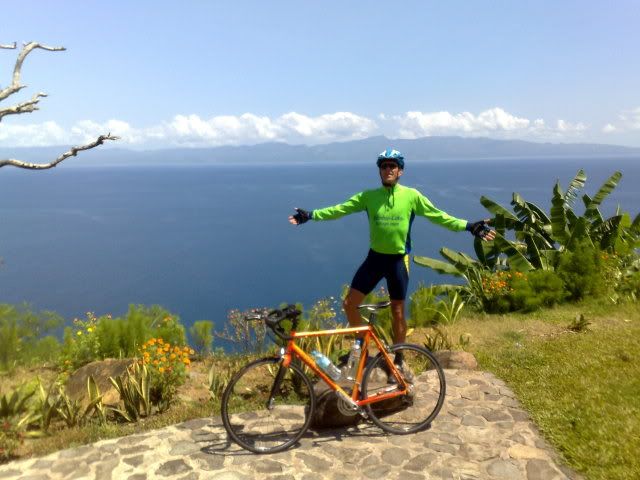 with bisekletaguy...
THERE HE GOES AGAIN...bisekletaguy virtually unstoppable
as he organizes another fun ride for the FILCHI CYCLING FEDERATION just a week after the Gerrys Grill fun ride in TAgaytay this time up MAYON VOLCANO via the beautiful roads overlooking the PACIFIC OCEAN here at the PARTIDO VIEWDECK near JOROAN ALBAY (margie see foto)
with the guys from Filchi cycling federation (margie see foto)
The German granny on bike 62 years old Bridgette Klein who has travelled to 11 countries on a Bicycle World Tour couldnt speak lengthy english but was heard to say "BEAUTIFUL!" after stopping by at the PARTIDO VIEWDECK and see the beautiful view of the ocean. She will be going to Mt Pinatubo, Sagada and see the Rice terraces and have fun in BAGUIO soon.
at the PARTIDO RIVIERA viewdeck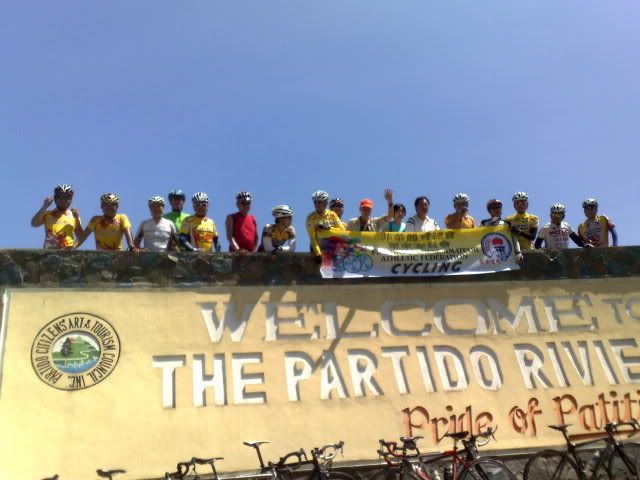 the Hyundai Coaster we rode was equipped with a GPS tracking devise projected onto a super wide PLASMA screen and so our support crew knew exactly where we cyclists are heading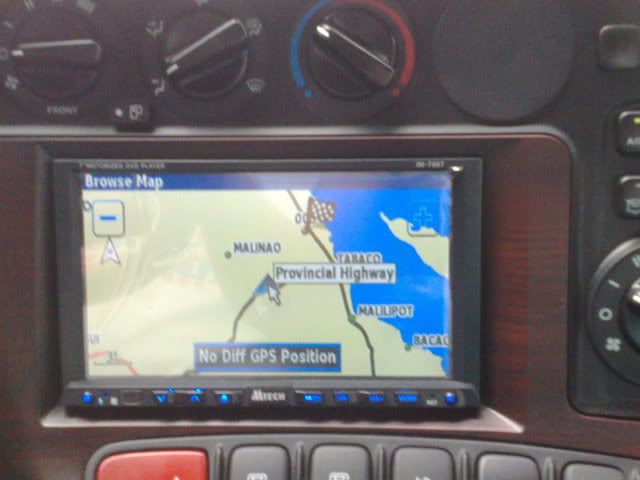 The cyclists continued their fun ride towards LIGAO TOWN...where after cycling 65 kilometers of mountains... at the intersection in ligao... there with 9 kilometers to go...a race organized by raymond see and tiboy reyes followed.
there she goes thats team XTERRA iron lady ave chua attacking and leaving the guys behind at the start of the winner take all race 9 kilometers up MAYON RESTHOUSE where she eventually finished 3rd overall...just behind THOMAS WIEGAND and businessman EDWARD of LEYTE... Warmest congratulations AVE.
(FANTASTIC FOTO BY MARGIE SEE)
alvin lo second placer of the cat B category showed everyone what he can do with his PARLEE and ZIPP WHEELS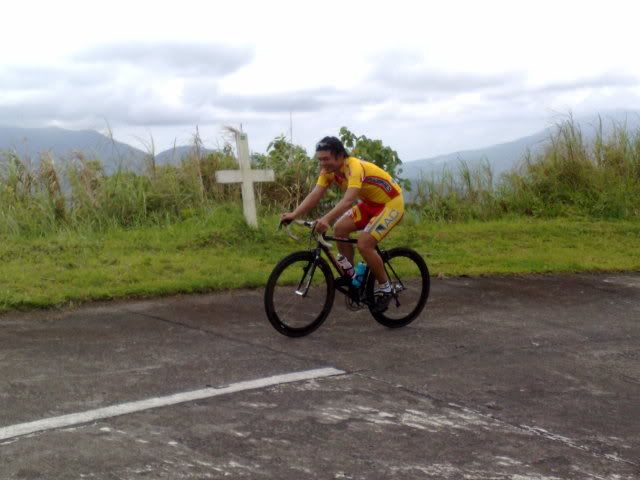 teamrocka teammate Yuri Lirag with the new carbon wheels catches bisekletaguy somewhere at STATION number 7 to wind up in 4th place overall in the cat B race up mayon
"im struggling but im determined to finish this race ahead of dondie azarcon mommy..i lost my payapa fun ride "race" to him last week..."....bisekletaguy
(foto by margie see)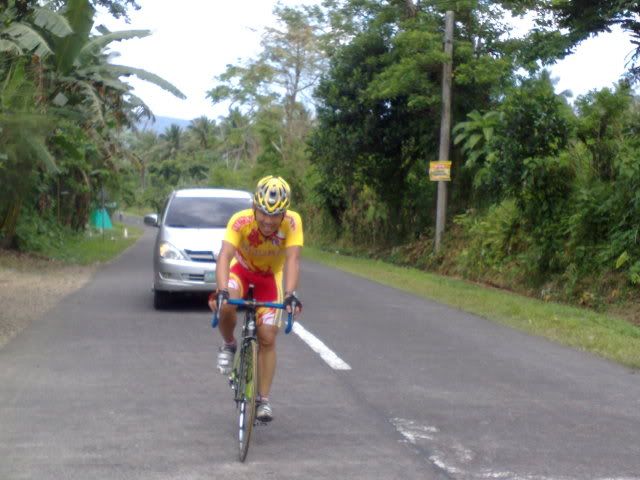 thats no MArco PAntani impersonator
......but a helmetless DONDIE AZARCON who will eventually surrender to bisekletaguy today
(foto by margie see)
leyte businessman rodgen tan struggles up mayon "im very impressed bisekletaguy..im trying my best to catch you...but you rode faster than shaolin master over the last stations of the cross" says rodgen tan whose nickname is shaolin master
the German Thomas was exempted in this race but of course he was first on top of the Mayon Resthouse.
the winners of our cat A race were Eduard of Tacloban first, husband and wife team from Manila Ave Chua 2nd and Winston Chua 3rd.
cat B race winners were Allan Chu, Alvin Lo and Philip Go 1-2-3 respectively.
we had lunch at the Mayon Resthouse afterwards 5 cyclists including thomas wiegand, ave and winston chua, lizton yao and tiboy reyes decided to ride down mayon on their bicycle and proceeded to ride back to NAGA CITY a total distance of 165kilometers.
with tiboy reyes and yuri lirag at the FINISH LINE MAYON RESTHOUSE
rest of the cyclists boarded the Hyundai coaster van and proceeded to CAGSAWA church ruins in DARAGA town for the photo shoots. around 5pm the group decides to head back to NAGA CITY freshen up have dinner then head back to MANILA by 8pm in the evening.
I take this opportunity to thank Mr Edward Lim and Albert Cua and the participants of the FILCHI CYCLING FEDERATION for their support of this FUNRIDE up MAYON VOLCANO.
I also would like to thank our gracious hosts and teammates ALVIN LO, TIBOY REYES, ERIC TAN and YURI LIRAG all members of teamrocka1bikeshop bicol for their warm hospitality .
Thanks so much again to all the participants we had so much fun.
raymond see
bisekletaguy
http://rocka1bikeshop.blogspot.com/