| | | |
| --- | --- | --- |
| | « on: February 10, 2009, 09:11:10 AM » | Quote Modify Remove Split Topic |
---
dear friends,
i had taken an extra day rest in Baguio since my daughter didnt have class yesterday a monday. i just arrived in bulacan yesterday.
AND yes over 60 riders rode san fabian church up to EAGLE of AGOO enroute to BAGUIO via MArcos Hiway. Team Gerry's Grill boss Vic Cordero even if he just arrived from Vancouver CAnada was also present with Lloyd Reynante in tow. "i am so excited to be here and join this fun ride....I am going to climb MARCOS HIWAY with you guys for the first time...you have to sign me up for the next fun ride in BICOL ray..." said an excited boss Vic as I apologized for being 10 minutes late. team Rocka Bulacan we had 5 riders with us. and engineer Rolly Cruz of Nickel Asia Corporation brought his lovely wife up Baguio too. Team PLDT had Dondie Azarcon Doctor Butch Ydia and some riders with them also.
I didnt see you engr manny! Pero yes i saw team Logic and Vekvek Viray ,romel cerezo, Jeremy Moore michael briones, aries , weng and mr Terry Peralta on a Blue Colnago who was so strong up that 3 kilometer incline... Hats off.. Saludo ako kay Michael Briones who was in so much pain also as we rode together past the tunnel in the final 3 kilometers he was with me with another pangasinan rider "boss ray this is my first time up BAguio...grabe ang hirap..just stay with me and relax concentrate the final 3 kilometers we ride 5-6kph but do not put your foot down" he said to me....after 2 kilometers i have enough back pain and cramps sohave to slow down..michael he spinned his way up without putting his foot down way past aries and terry while i also have to put my foot down have breather then ride up.. and then completed my ride up to the finish with aries and boss terry.
Congratulations Michael!
Boss Vekvek finished the ride from agoo start 8:35 am to MArcos Petron station by 11:30am and that american import guy Jeremy Moore finished together with weng by 11am! while i have to be happy with my personal best finish 12:36pm also.
overall it was a successful fun ride. Sunny Pantua my teamrocka teammate who now supplies cristy lim with BRO cycling apparel sums it up as follows. "it was also my first time to climb MArcos i am excited and nervous also...the last 3 kilometers after the tunnel was straight up and with no flat portion for us to rest ...it was so Painful...but in the end it was so much FUN!"
Thanks so much to those who rode with us up BAguio over the weekend.
We look forward to ride with you again soon,
raymond and margie see
teamrocka1bikeshop
the email reply of Michael Briones from team Logic Gate
Boss Rey,

Boss Rey, I know you can make it too, it so happen you breakaway so
early and even joined to the group with Llyod Reynante, Vecvec etc.
Strong riders lahat yun! di ko kaya yun. Im just doing my own pace
kaya inabutan nalang kita. HEHEHEHE!

Congratulations to all of us! it was a succesfull and PAINFULL ride!
Until next ride again boss Rey!

Mike
reply to michael
hello michael,
i cant relax because i have side bet with dondie azarcon...who didnt take the restroom pitstop we had at foot of MArcos hiway...and so while i was distributing FREE Rocka1bikeshop saddle Bag and pandecoco bread and have foto taken with the group...i cant find dondie azarcon..so he had 5 minutes advantage he didnt use the restroom!
so after we took off from petrol station i chased dondie. when i caught him he was still smiling....how can i declare NO MERCY ride against this guy..he is all smiles even when hurting...and being overtaken up the climb?
in fairness he did 100km ride with pangasnan rider already last saturday Feb7...so i know he cant continue all the way up Marcos tunnel....so the bet was off. Dondie he got magnetized by a string of Pangasinan riders who wanted coca cola or coffee at the restaurant facing MARCOS BUST...so he have to finish his ride up to that point only...and cannot continue anymore.
Rest of the Pangasinan riders decided to climb up to JOLIBEE only.
while the Category a riders of PAngasinan DAgupan.. we have to finish the entire race.... under the tunnel up that 3kms incline.
then after lunch you have to climb down kennon and back to your team vehicle.
CONGRATULATIONS TO ALL> i forgot to mention andun din si boss Romel Cerezo... biglang nawala eh ang bilis ng ahon. ... mr vegan potter gonna make a lot of cyclist train harder...ang bilis nung mama...boy he was fast and when i ask him if he had fun "Yeah ray i had so much fun..lets climb this Marcos hiway again soon" while i said "uhhh normally i do this once a year only jeremy.." and jeremy laughs.
report with the foto to follow. please send email of your fotos too.
thanks again.
raymond see
Feb7 around 1130am first stop LIONS HEAD kennon road as i took the kennon road up BAguio.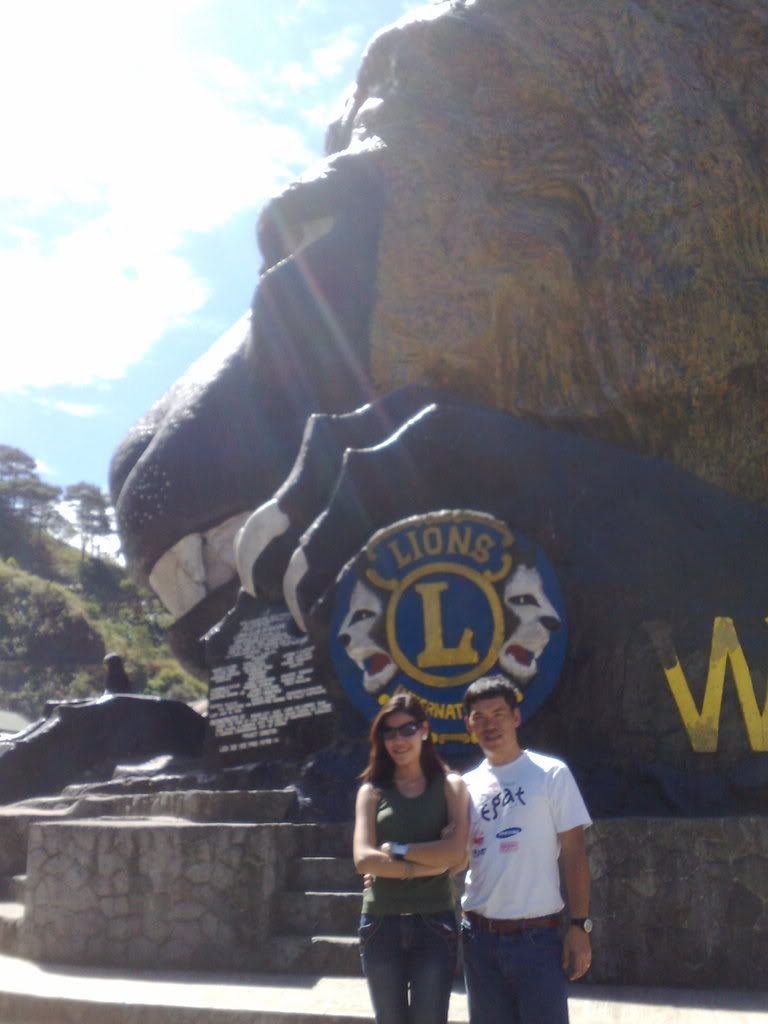 Feb7 around 12pm bisekletaguy inspects an Ifugao Hut at the Viewdeck. Hut is Nail Free.
Feb7 around 1pm at THE MANSION official residence of the President of the republic of the Philippines during summer when it is so hot in MAnila...thats my daughter!
thats the official seal of the President of the Philippines on top of the LArge Gate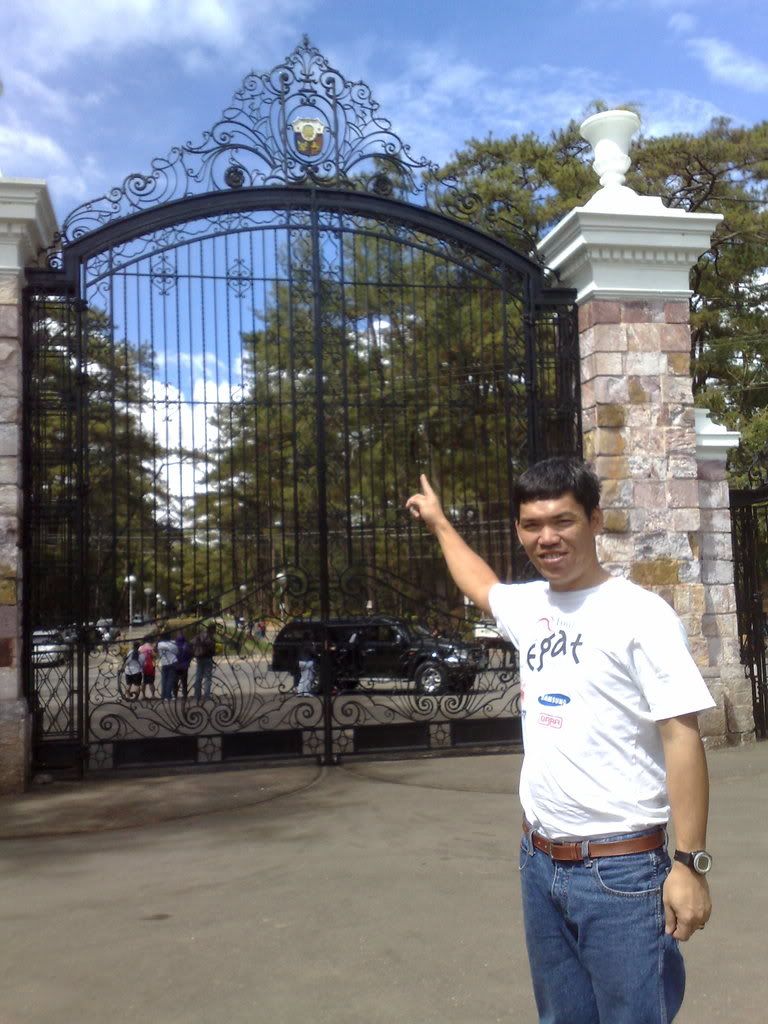 Feb7 4pm that me and sunny heading out for our Baguio afternoon ride
thats tuvera's transient house at DPS COMPOUND across the Panagbenga park...thats where we stayed 300pesos per person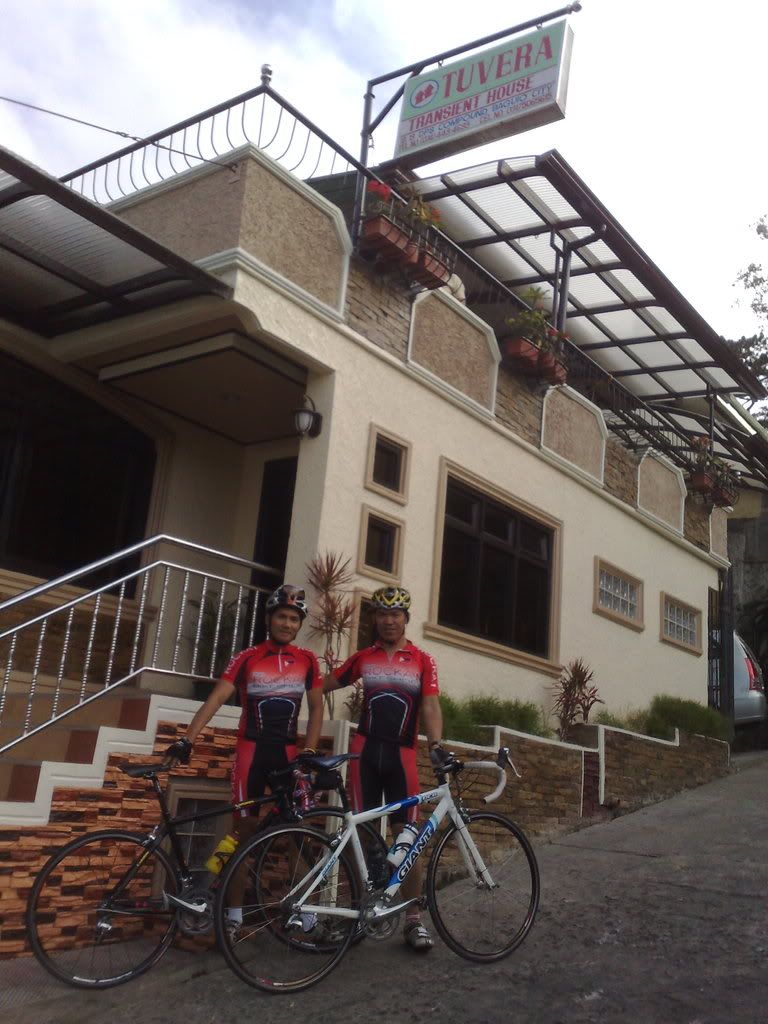 Feb 7,2009 7pm we were invited over at Dencio's Camp John HAy by our friend Engr rolly Cruz and Mrs Bong Cruz for dinner and beer as we discuss our team strategy for the baguio fun ride.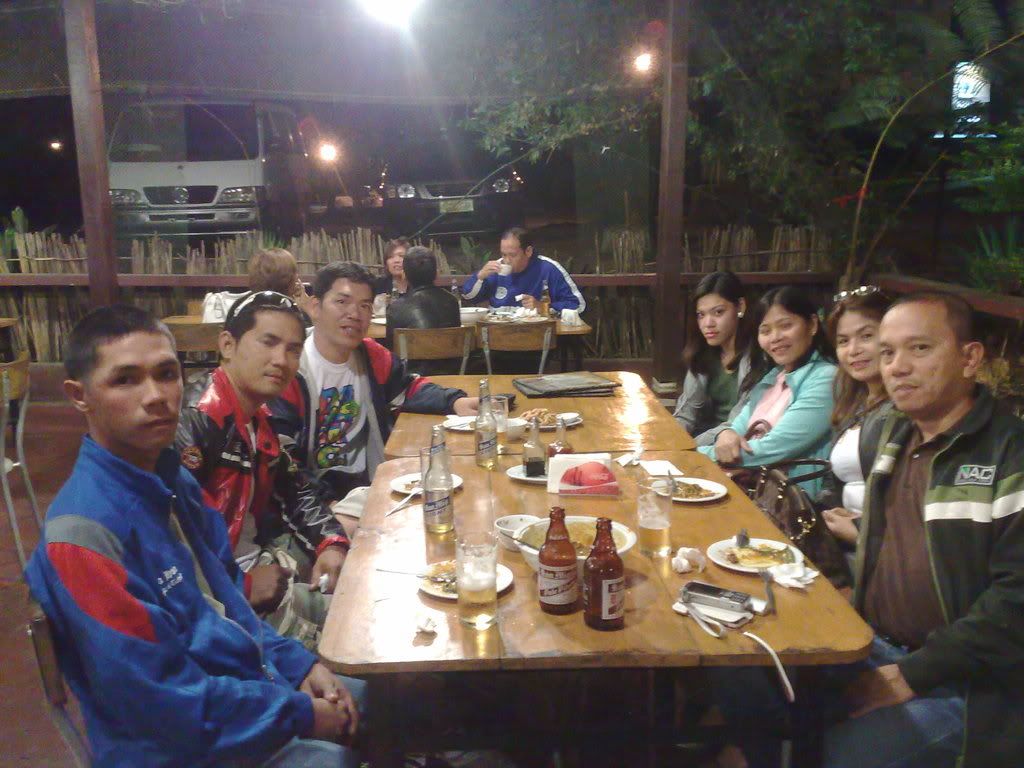 ...Feb8 7am that engr rolly and sunny pantua at THE MANOR plush hotel at Camp John Hay
bisekletaguy distributing the FREE ROCKA1BIKESHOP SADDLEBAG at the restop at the foot of Marcos hiway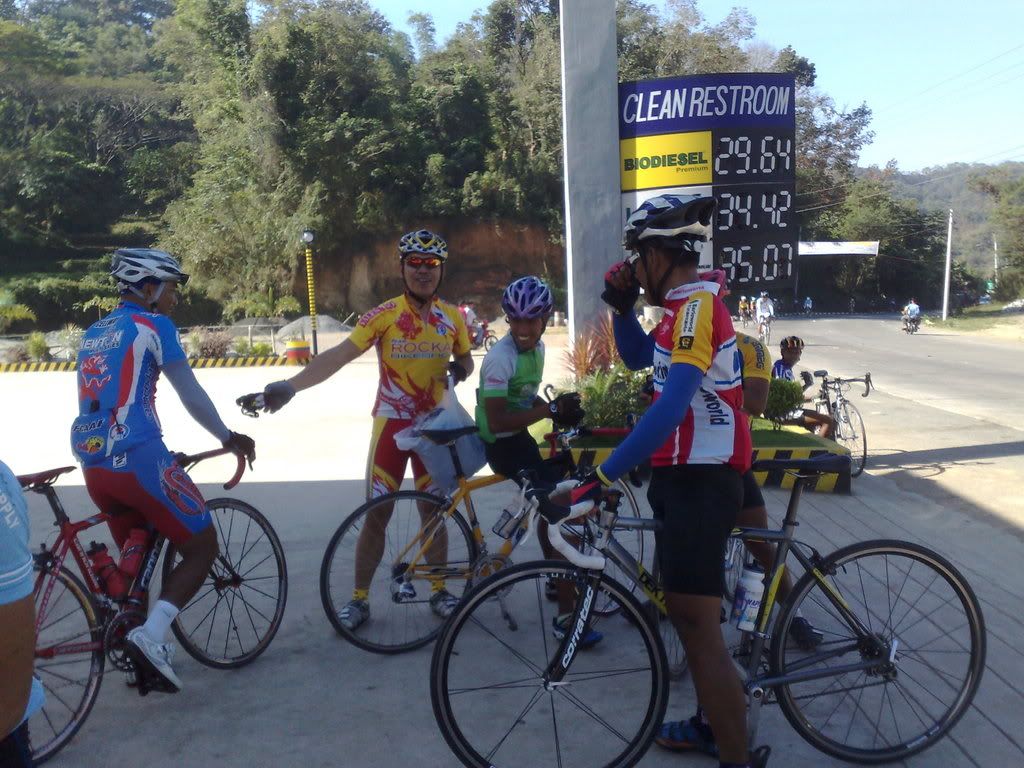 one of the dagupan riders attaching the rocka1bikeshop saddle bag to his bike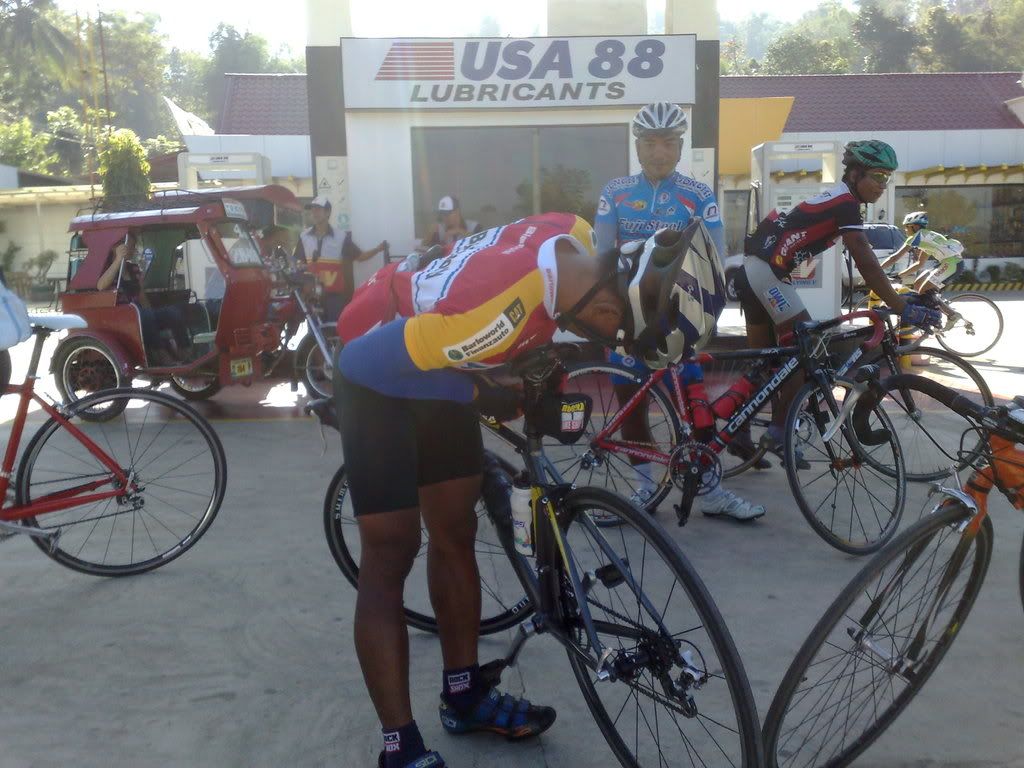 Photo taken at petrol station near the foot of Marcos hiway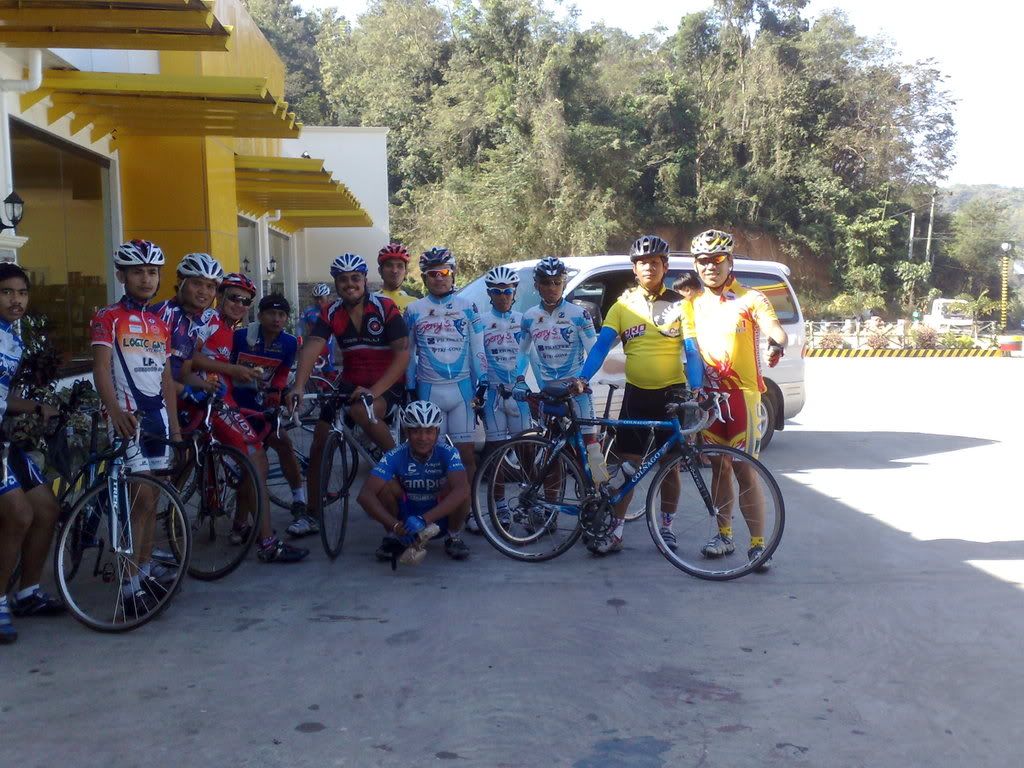 ok here it is..the new Pinarello Prince Blanca with campy SR11 of our gracious host doctor Butch Ydia the owner of Nazareth General Hospital in DAgupan
ok thats Alex Boras from team PLDT who is also based in Dagupan
ok thats the long stretch of cyclists wanting to ride up MArcos Hiway today
ok thats teammate engr rolly cruz of Nickel Asia Corporation with Sunny Pantua of teamrocka
ok thats boss vic cordero (center) with lloyd reynante (left of vic) of team Gerry's grill
and ramon antonio of team rocka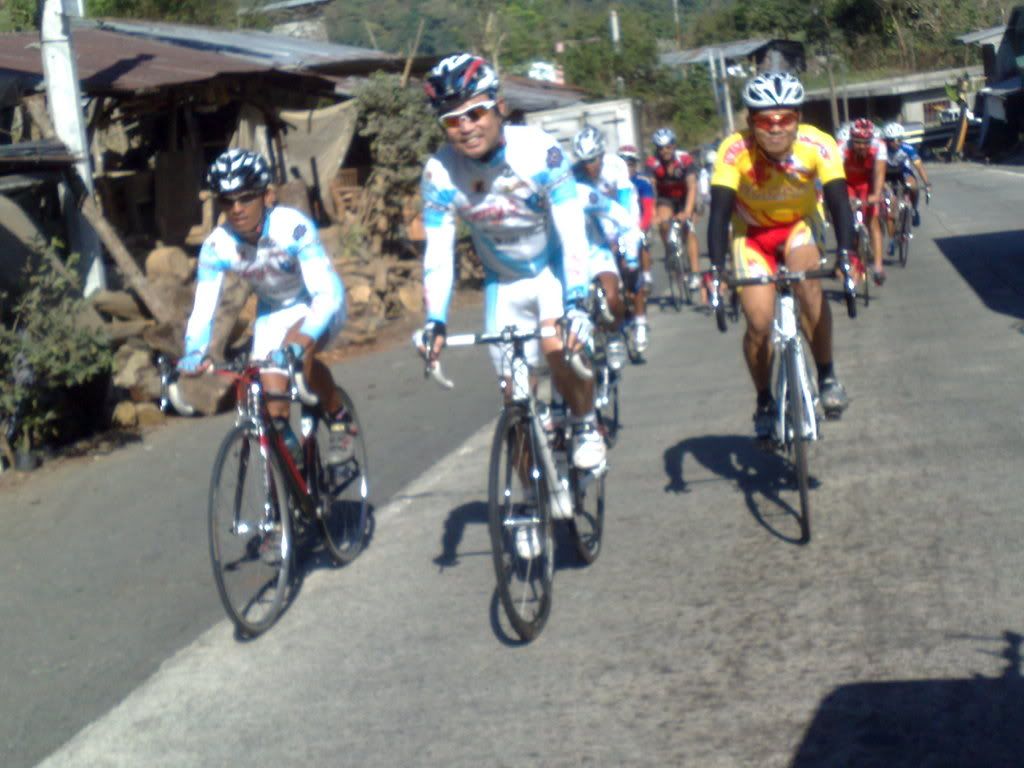 thats jeremy moore (vegan potter) in red on a white cannondale and boss Terry peralta in yellow on the blue Colnago. A fantastic climb for Jeremy 2 hours and 30 minutes over 47 kms agoo to MArcos Hiway finish at Petron station after tunnel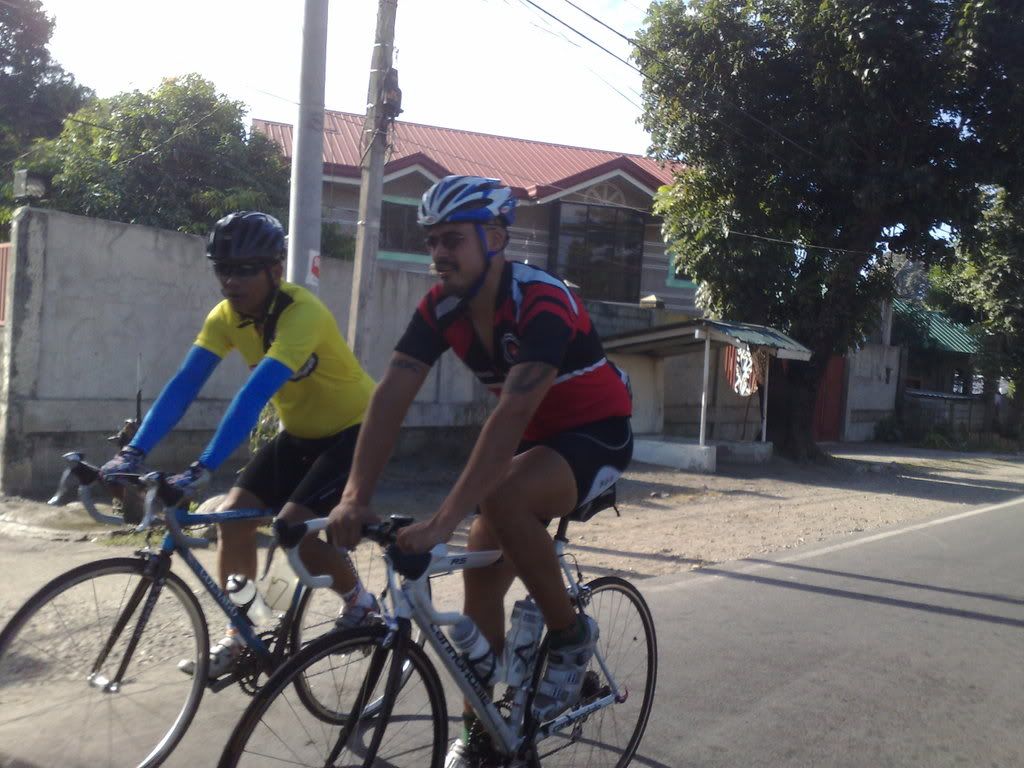 thats the BIG BOSS doctor butch ydia with Pro rider Ericson Obosa on his left up Marcos
ok here we go chasing down boss dondie azarcon up marcos..thats bisekletaguy with mark sanchez of team MJY bikezone
after a long long chase against a strong dondie azarcon i make contact and give a thumbs up sign to mommy while dondie smiles for the camera..boss terry peralta in yellow and mark sanchez behind me.
some of the cyclists decides to stop at a restaurant near MArcos Bust. including Dondie azarcon...who had 500kms of cycling last week in DAgupan and so was too tired to continue up BAguio today.
MArcos Bust before it was destroyed. (internet foto)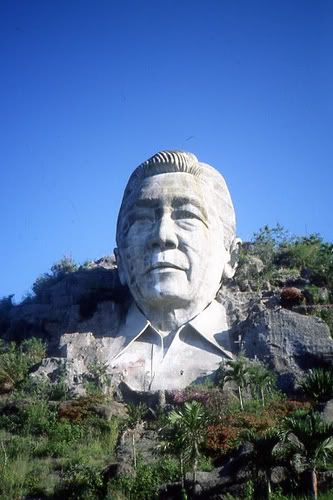 ok thats the end of the tunnel at MArcos Highway signalling start of the 3 kms climb
and i thought i had a fantastic ride as my clock says 12pm...thats Michael Briones of team logic gate up front, me in yellow on the white Giant OCR and a PAngasinan rider on a colnago as we exit the marcos hiway tunnel ( the last backbreaking 3km climb to the finish)
12:36pm foto taken Feb 8 2009 at the finish line by my wife MArgie see