| | | |
| --- | --- | --- |
| | « on: February 15, 2009, 02:17:38 PM » | Quote Modify Remove Split Topic |
---
dear friends,
this ride was organized by teamrocka teammate engr Rolly Cruz of NICKEL ASIA CORPORATION. fun ride starts 630am at jollibbee pulilan bulakan with a 715am stopover to pick up team riders at waterwood park in BAliuag town. This ride estimated 120- 130kms away. we were back 1pm. the distance of SM SAN FERNANDO PAMPANGA was 30kms from waterwood park subdivision. we were there in 45 minutes. there was a HOT AIR BALLOON SHOW and VW CAR SHOW in clark today. I wanted to see the VW on display and rest of the guys wanted to see the hot air Balloon festivities. Overall a very fast ride. Most of the fotos I took were on my bike! Margie couldnt go with us today, My driver was absent.
warmest congratulations to all the participants of this ride.
raymond see
Ok here we are the meeting point was at the gate of WATERWOOD PARK SUBDIVISION besides SM BALIUAG 7 15am start
passing the town of CANDABA where there are beautiful open ricefields
one more foto taken on my bike and bisekletaguy's steady hand of the beautiful scenery on my right
passing the steel bridge in San Luis PAMPANGA town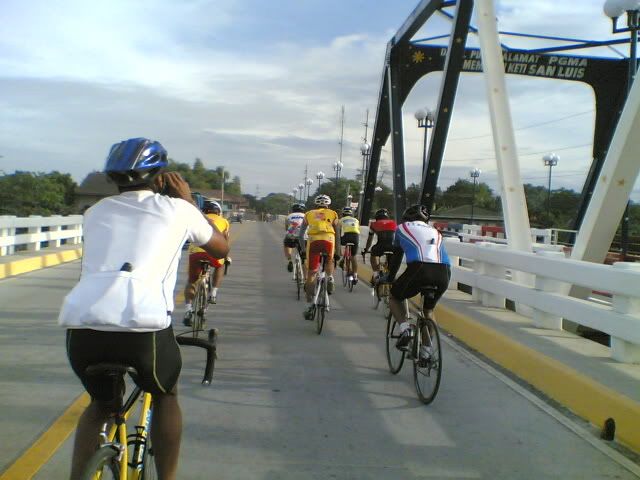 approaching the town church of MEXICO in the heart of PAMPANGA...YES THIS town was named after MEXICO CITY in SOUTH AMERICA
SM PAMPANGA was 30 kilometers away from waterwood park and it took this group only 45minutes to pass this landmark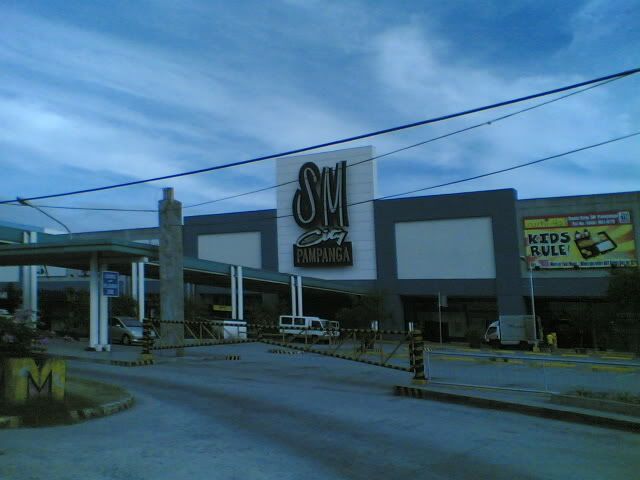 noel baltazar aka JOHNNYFLEX met us after SM SAN FERNANDO in pampanga town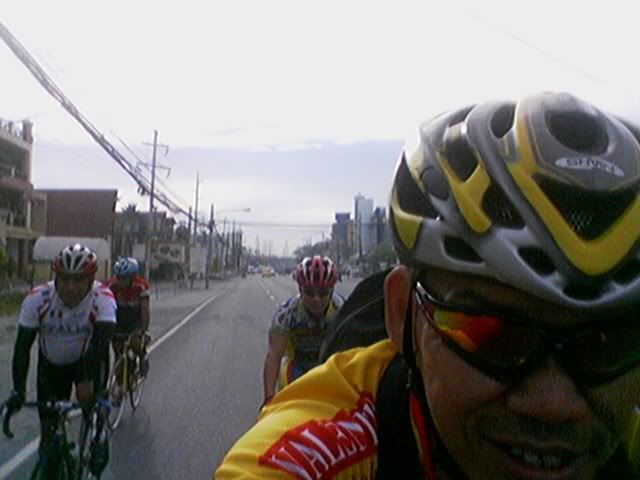 the first puncture casualty was tony....the puncture was a welcome relief for johnny flex and rest of the riders as the leaders kept on pushing the already fast paced ride.
ANGELES CITY ARCH with the salakot...thats teamrocka rider engr rolly cruz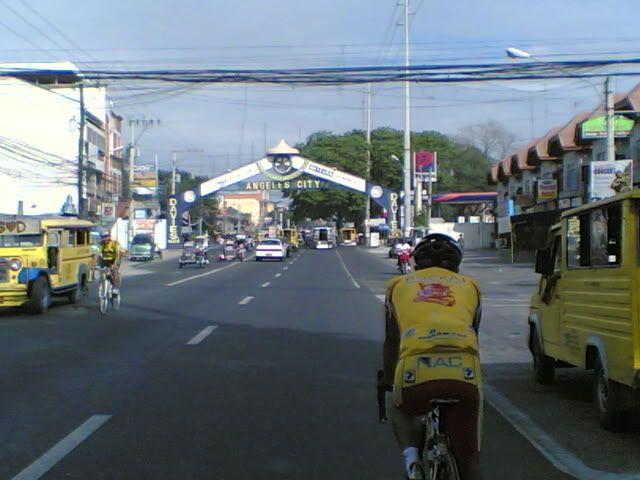 Hot air balloon festival in Clark today. Thats why teamrocka decides to do this training ride to watch the festivities today
vwcp.org foto of the balloon fest 630am flight (which we missed)
coke "lite"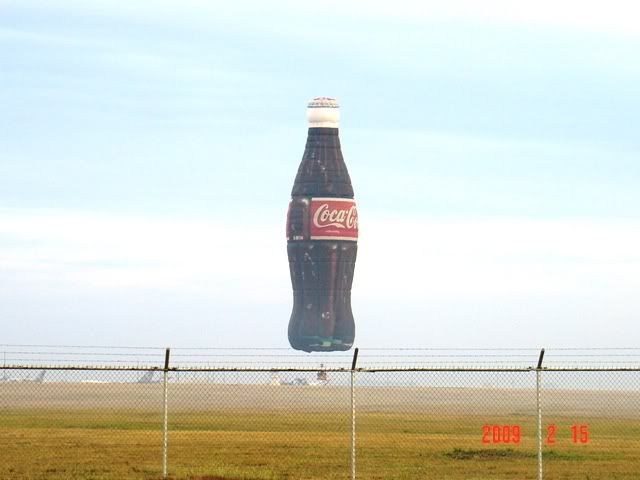 flying elephant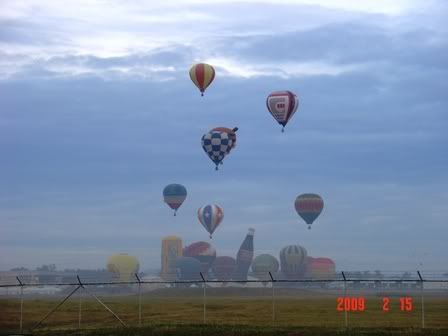 teamrocka training inside clark passing under SCTEX superhiway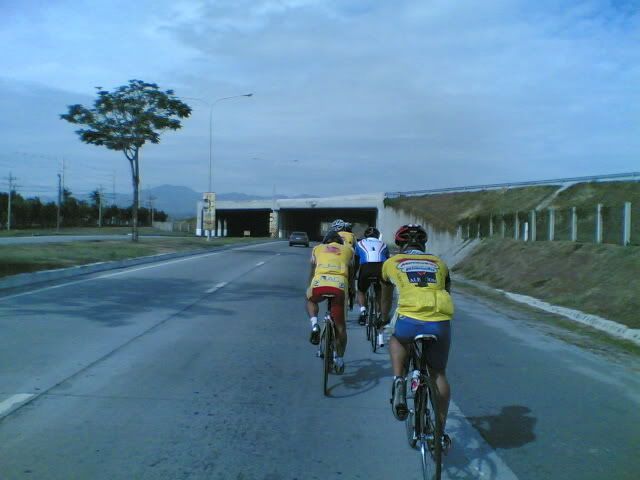 unfortunately i cant stop to check out the VW on display as the team was travelling so fast going back home..but i can always check out the report at vwcp.org
1030am lunch at Jollibee san fernando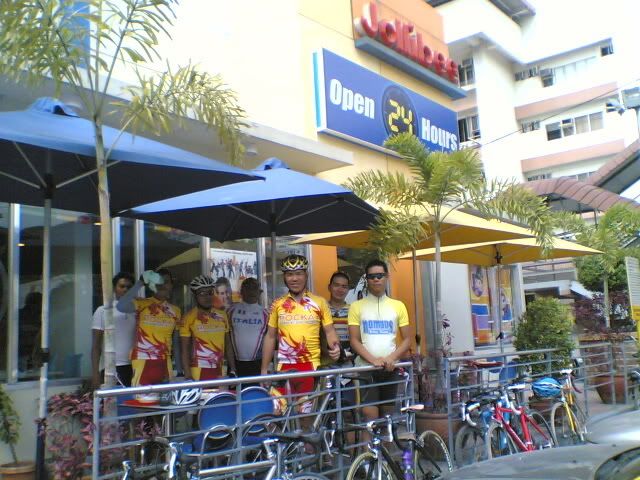 look at that beautiful tree lined boulevard in san fernando town...foto taken on our way home
on the way home this time it was noel baltazar who suffered a puncture in sto thomas pampanga . So i took time out to ride one of the local pedicabs...with the curious children around me.
look mommy the brake is a large hand lever brake on my right...not the usual levers on the handlebars
nearing the finish line. Thank You arc after exiting pampanga enroute to Calumpit bulacan via Mc Arthur Hiway