| | | |
| --- | --- | --- |
| | « on: September 03, 2008, 06:09:59 PM » | Quote Modify Remove Split Topic |
---
dear friends,
i have to thank vintage bike collector Eric Duldulao (yes he is the son of the publisher Manuel Duldulao) for inviting me over his place when he found out that I am an art collector/investor. I recently found out that aside from spending too much time collecting vintage bikes..... Eric Duldulao is coming up with a coffee table book called COFFEE WITH ARTISTS interviews by eric duldulao...The book should come out in 2009.
At this time Eric like his father Manuel, had gone through the process of selecting some of his favorite contemporary young artists already and giving them the break by holding an Art Exhibition for them. The art exhibition was held last 2007. Needless to say, the sale of the artist's artwork will be used to fund the book..in return the artists hopes that the book will be the vehicle that can help them propel their careers to new heights here in the Philippines in Hongkong and Singapore where the rich private collectors and the banks are gobbling up Contemporary art pieces like the proverbial pancakes.
during my visit to Eric's place i went over the artworks for sale. Everything was beautiful. But being in the bikeshop business and stainless steel business...of course my eyes had caught the glimpse of the shiny Base guitar handmade made by the artists/musician Lirio Salvador. So I told eric "let me do my homework and my research eric, if i come up with the good results ..i will buy something from you within 2 weeks to help the book get published"
so after 2 days on the internet i came up with this google search of Lirio Salvador
Lirio Salvador
Title Liquid angel
Medium steel
Size 45.3 x 17.7 x 5.9 in. / 115 x 45 x 15 cm.
Year 2005 -
Description LIRIO SALVADOR (b. The Philippines 1968)
Liquid angel
signed, dated and titled 'LIRIO SALVADOR/Feb 11, 2005/Liquid Angel/Sandala' (lower wheel)
steel
45 1/4 x 17 3/4 x 5 7/8 in. (115 x 45 x 15 cm.)
Misc. Signed, Inscribed
Sale Of Christie's Hong Kong: Saturday, May 24, 2008 [Lot 6]
Southeast Asian Modern and Contemporary Art
Estimate 24,000 - 35,000 HKD (3,080 - 4,492 US$)
Sold For xxxx
Mind you, new upcoming artists just dont get sold over Christies Hongkong if they were not good....so armed with this knowledge...i went to see Eric again within two days of my first visit.....with a checkbook in hand..i haggled for the best price and viola after all that haggling..knowing that i too am a cyclist and a vintage bike collector...Eric finally sold me the piece SANDATA 12 for a very very very reasonable sum!
I now own one of LIRIO SALVADOR's uber beautiful collectibles...a playing base guitar made from bicycle parts. Liquid Angel sandata 12(means weapon number 12) from the same year 2005 Lirio did the one piece sold at Christies auction in hongkong in May this year.
Thanks so much Eric...it really pays to be in the company of so many cyclists friends! Me and my wife margie is very happy to now own this cycling collectible...
sandata 12 Liquid angel photo taken at the house of eric duldulao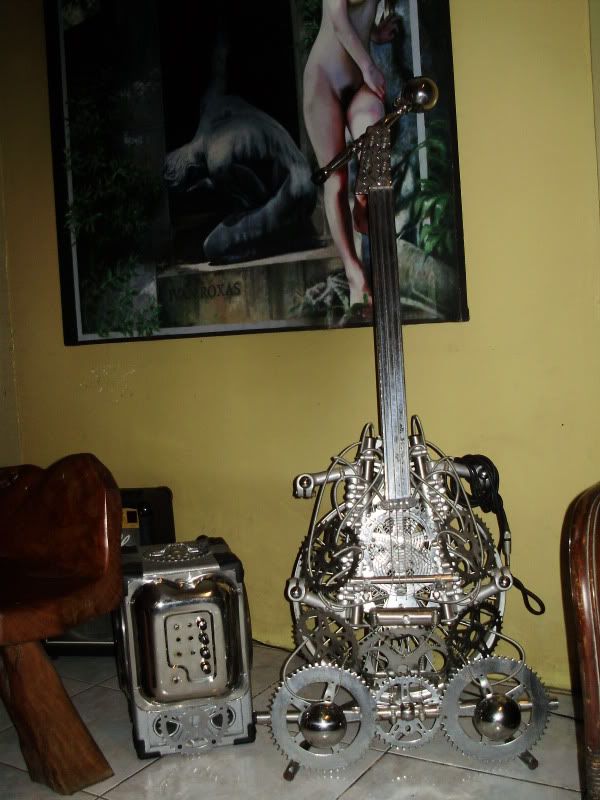 spot detail of the front of the guitar
spot detail of the back of the guitar shows pieces from a bmx fork, mt bike handlebar, road bike quill type stems, a bmx wheel, several bmx chainwheel and of course a butterfly type handlebar which serves as the "base" of the guitar...
low resolution picture shows this same sandata 12 as it will appear in the future coffee table book by eric duldulao
sandata 12 likhidong anghel (liquid angel 2005) signed and with the certificate of authentication now in the collection of the cyclist and art collector raymond see and fotographer margie see
artist's statement
from oddmusic webpage I copy and pasted this statement
Lirio Salvador, a native of the Philippines has created a number of experimental instruments based on his own concept of ethno-industrial art/music. Lirio says "It's all about the merging of my native oriental culture and the present industrial environment that is slowly corrupting my native land". He creates his assemblage of musical instruments using day to day materials that are found in his present environment, including bicycle gears, drain cleaning springs and stainless steel tubes.
"It's an attempt to integrate music, performance art, sculpture, and audio art, all into one". His band Elemento produces oriental industrial noises and experimental music using his own instruments that include strings, electronics, winds and percussion."
lirio salvador
Art auction result for Lirio Salvador
Born 1968
Back
Died
Country Philippines
New search
Auctioned pieces | 1 results are found | Page 1 of 1 (max. 30 results pr. page) | No. of signatures: 0
Date Title Size (HxWxD) Medium
Price
Hammer prices for Lirio Salvador Hammer prices and photo for Lirio Salvador 24-05-08 Liquid Angel 45.3 x 17.7 x 5.9 in Steel XXXX USD
| 1 |
For more fine art information on the value of 'Lirio Salvador' please visit our Art Forum
| | | |
| --- | --- | --- |
| | « Reply #1 on: September 03, 2008, 07:09:40 PM » | Quote Modify Remove Split Topic |
---
very nice!
---
A light bike doesn't replace good fitness.

| | | |
| --- | --- | --- |
| | « Reply #2 on: December 02, 2008, 04:35:11 PM » | Quote Modify Remove Split Topic |
---
the guitar is in my condo and the article about it over the net...a couple of weeks ago i received an email advise from a friend "get that november issue of ROGUE magazine and there are plenty of lirio Salvador guitars in that issue."
so yesterday i was at National Bookstore and yes I remembered to get a copy of ROGUE...
the fotos i did dont do justice to the magazine...but here is the cover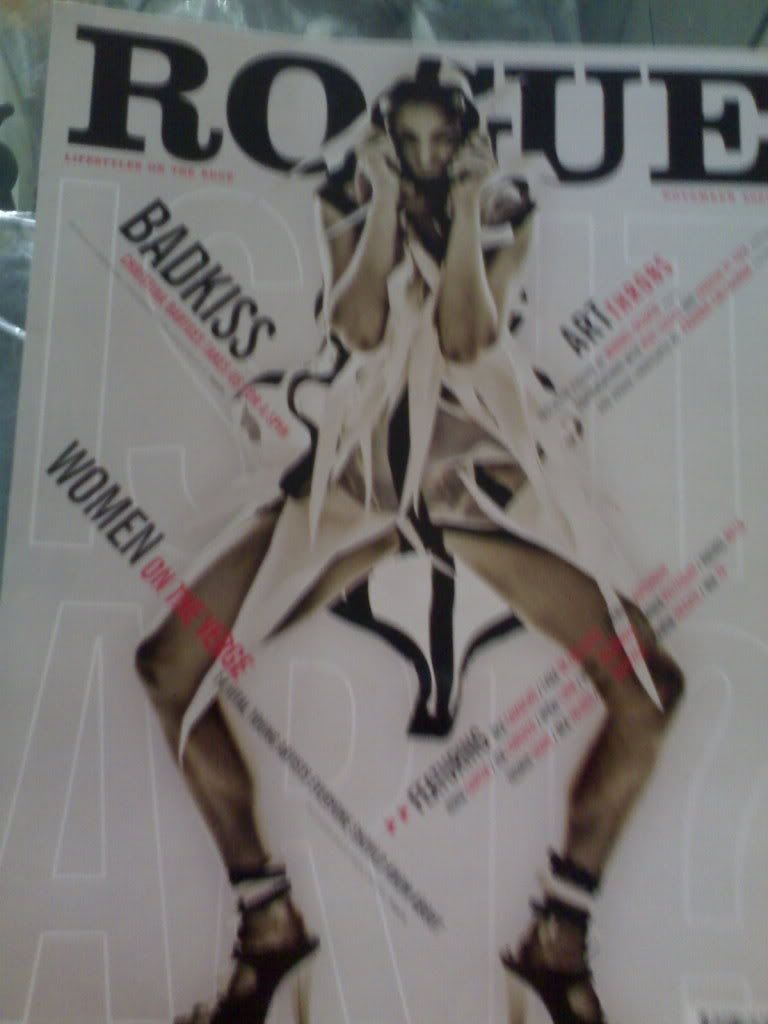 WOW the model's name is christina bartges half filipina half german and my foto dont do justice to her foto here...but ELECTRIFYING she is
...especially with that LIRIO SALVADOR guitar she's atop on.....grrrrrr..i love that girl...este guitar....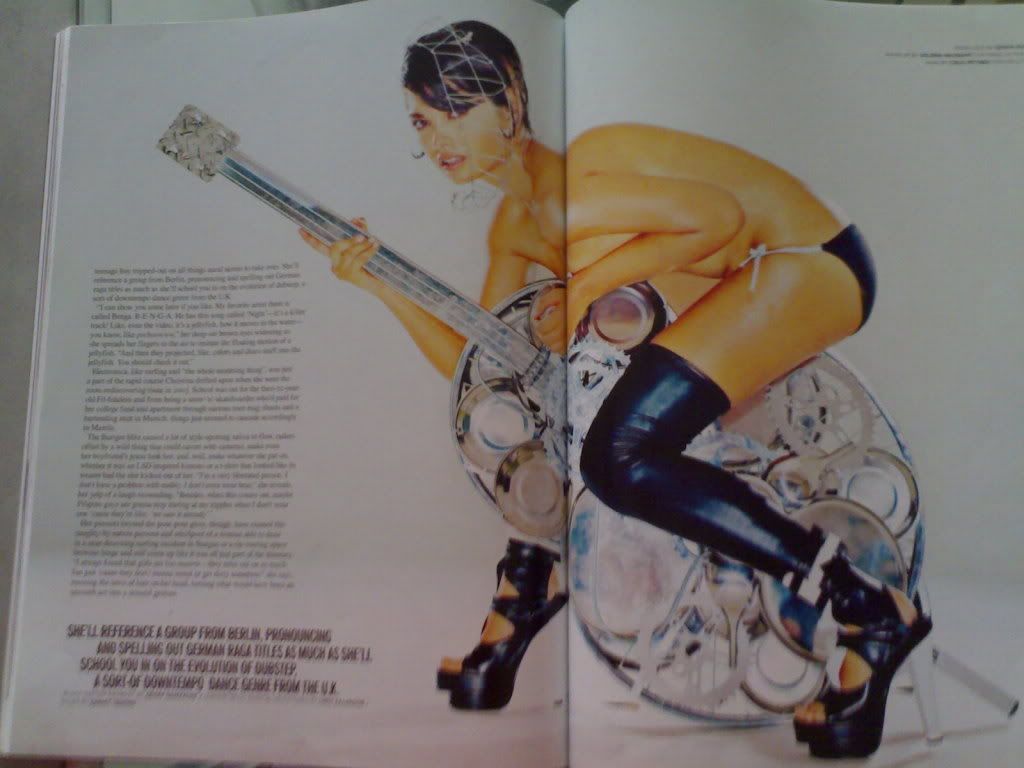 and how many guitars were in that SANDATA series (weapon series?) I asked Lirio Salvador...."ray there are about 100 of the guitars which uses BICYCLE PARTS..one of those i made in 2005 I HEARD...was bought by you and is now in your collection. Thanks so much..yes the rumor is true..we sold one of the guitars at the CHRISTIE's AUCTION HOUSE in HongKONG"
| | | |
| --- | --- | --- |
| | « Reply #3 on: January 16, 2009, 01:09:45 PM » | Quote Modify Remove Split Topic |
---
dec 2008 issue of BLUEPRINT MAGAZINE had a 4 page spread an interview with eric duldulao....
including a photo of my GUITAR
thanks for the tip eric,
looking forward to the ATENEO art exhibit in february
raymond see