dear friends,
today i met teammate carlos tan at MAll of Asia (MOA)...we met at 7 am just in time to see the entire team of Liquigas led by Arnel Ty and richard uy organizing a two hour criterium ride under their coach former two time tour of Luzon champion renato dolosa who rode a motorcycle. I asked coach dolosa "can we tag along with team liquigas?" and he said "sure no problem"
so me and carlos we have to endure the criterium training ride. the start was slow and the coach made sure everybody was on a low gear..after 20 kilometers he shouted "BIG CHAINRING! " and so after that everybody put on the big chainring and started doing their turns pacing the peloton which swelled from a group of 10 riders to around 50riders. team pldt had jay, dennis and dondie azarcon in this group also...me and carlos represented rocka/filchi and rest of the group consist of new faces.
coach dolosa was kind enough to give me some tips when riding the criterium "when you feel the crosswind you have to learn to hide" he said "also you have to try your best not to be dropped by the peloton...just hang on as best as you can and grit teeth"
after what seemed like eternity ...the group made a dash to the finish. total kilometers was 78 and the average speed was 35kph.
not that bad for early training ride. im just happy to finish the entire 78kms even if i was behind carlos tan who puts 30 seconds over me..
richard uy rode this FUJI carbon bike..."ray, arnel ty will be promoting this FUJI bike for this year's Team Liquigas also dont be absent the first race of the year January 25 will be a criterium and TTT race here at Macapagal MOA."
ok here we go team liquigas led by arnel ty (orange tires) with coach renato dolosa on the motorcycle giving instructions to team liquigas (check out the right side of the foto there are around 20 riders from this team who will be joining this training ride)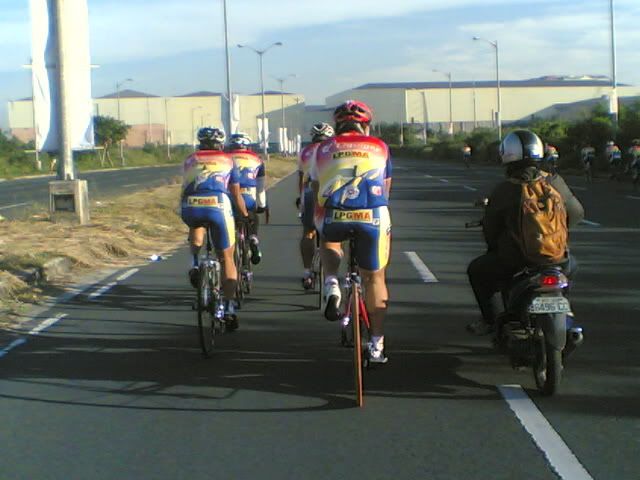 team rocka/fil chi teammate carlos tan wore this beautiful quickstep rainbow jersey and i couldnt believe he could withstand the attacks of team liquigas and finish 78kilometers of criterium racing ..eerr training
on the first sunday of the year 2009! BRAVO CARLOS!
shintaro valdez showed up today and couldnt believe how strong everybody was "i was busy at work had to stop cycling since june last year and i couldnt believe how strong most cyclists had become"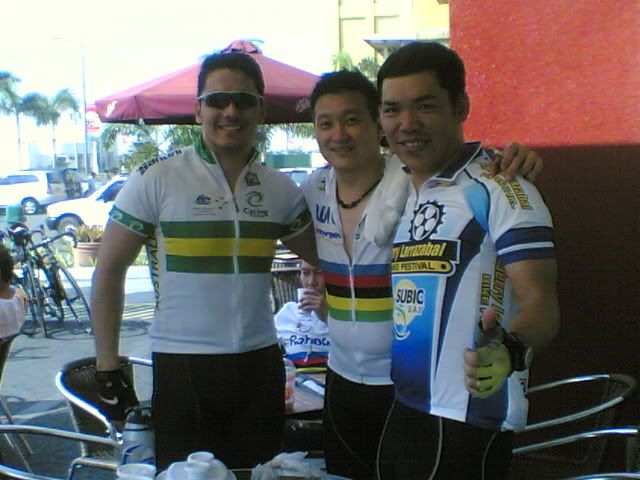 dondie said "i went training in real quezon january 3
and my legs still hurts ray"