| | | |
| --- | --- | --- |
| | « on: December 15, 2008, 12:19:48 PM » | Quote Modify Remove Split Topic |
---
dear friends,
the final leg of the Liquigaz race this year was held yesterday dec 14 2008 at Marikina to Sierra Madre a distance of 38kilometers.
This being the LAST LAST RACE for the year
... i figured.."oh well might as well go see what the race was about " although for the full week after Subic i didnt ride my bike
the exec riders numbered about 50 and cat a b and c was lumped together as one category. behind us were about 120 riders belonging from the elite and/or. professional cyclists who still need their qualifying rides to qualify for TOUR OF LUZON next year.
the entire peloton was released together and after snaking our way past marcos hiway towards MAsinag MArket...the execs were flagged off and told to go straight while the professional cyclists need to turn right towards VAlley Golf in antipolo and need to complete 170kilometers and finish in sierra madre.
At the masinag market there was a tough climb and everybody just stood up and started pedaling hard. at the tail end of the peloton....me and a liquigaz rider got entangled on the climbs at the shoulder of the road and the liquigaz rider crashed. i also almost crashed but somehow managed to straightened my bike . then to my disappointment i looked back and found out that my team vehicle with margie in it was nowhere to be found (i realize they took the wrong turn and started following the professional riders) , so i picked up my fone on the run and started calling margie ask them make a u turn and follow the exec racer's route up sierra via Padilla.
one hour and 30 minutes later margie arrived but by then it was too late. i had run out of water and so dehydrated i coudnt move my legs due to cramps. At 30 kilometer mark at the Palo Alto subdivision with 8 kilometers to go......i have to abandon the race as i couldnt pedal anymore..so decided to climb up sit out the race in my car.
"now i know how Bjarn Riis felt like when he watches his cyclists fight
...inside the comfort of his team vehicle" i said to myself as i watch the long long line of tired cyclists climb up that Garden Cottages towards the finish line at sierra madre hotel.
at the Bureau of soils...my driver saw team captain tiboy reyes with coke in hand "where is raymond" he shouted and me and my wife started laughing "he abandoned"
my wife said....and tiboy reyes laughs.
"what happened?" tiboy asked "my wife and driver got lost i ran out of water and got so dehydrated i couldnt turn the pedals so i have to abandon" i said.
"ok help liston" tiboy said...so we followed liston...saw him doing extremely well as he continue climb towards the finish line.
A FANTASTIC ride for Liston Yao of teamrocka1bikeshop.
i saw liquigaz rider 44 at the finish line...took his hand and apologized for the mishap and his crash..and he said "so that was you..... no worries its part of the game" Thanks so much for being the great sportsman #44 sir!
Thanks so much to the organizer arnel ty, to the race marshalls led by paquito rivas and all the participants.
Merry Christmas to one and all.
raymond and margie see
here at the prosperous city of Marikina, shoe capital of the Philippines is where we will find true blue Bicycle Lanes for cyclists.
ok thats rider Number 1 Felipe Frontreras from team CNC with rider number 2 bisekletaguy (by virtue of being early registrants at yesterday's Liquigaz race)
"have you seen ernie hortaleza ray, have to swap numbers with him..the number 1 on my back is too heavy a burden" says Felipe
with two time TOUR OF LUZON CHAMPION Renato Dolosa
with team Gerry's Grill and bos vic and his boys
thats me handing over the 3rd prize trophy for the liquigas Tagaytay road race to my teammate Lizton YAo
thats me with ernie hortaleza and santa claus vekvek viray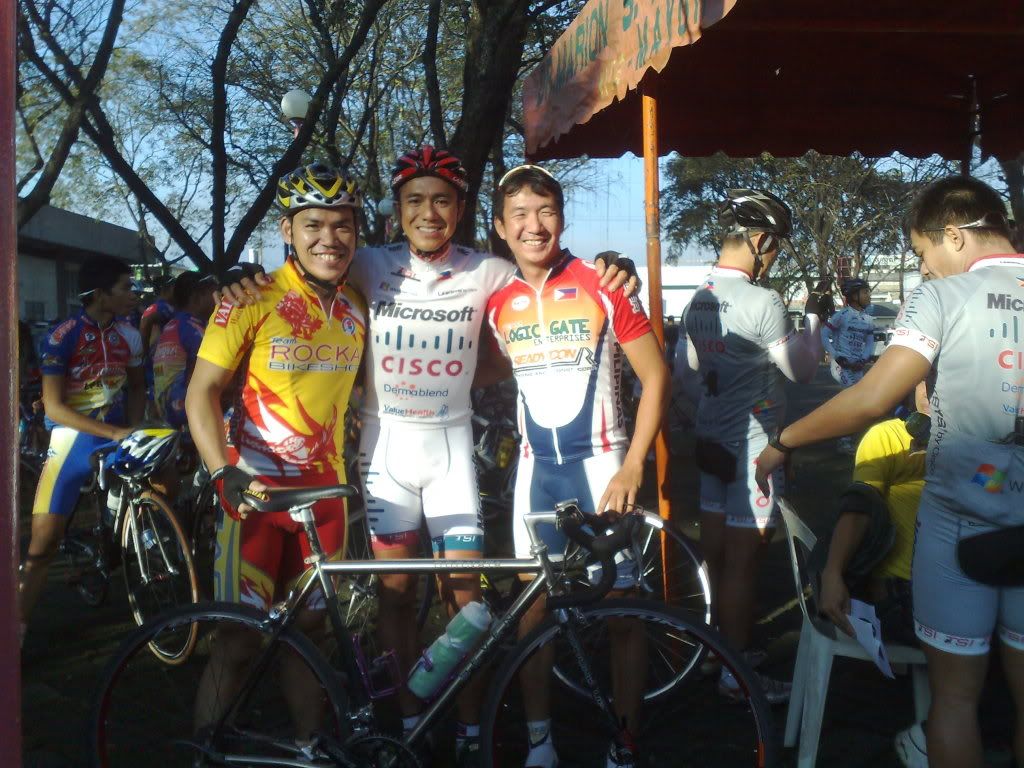 thats the foto shoot with team Liquigaz and Liquigaz organiser arnel ty
at the finish line...raymond see greets the winner JAime Basilio of team Logic gate, while teammates Tiboy Reyes (was there not to race just to support ) and Lizton yao display their winner's Cup at the past liquigaz race in Payapa Tagaytay. Vekvek takes a drink off the Chivas Regal a gift of team logic gate's Rodel to Team Captain Tiboy Reyes