| | | |
| --- | --- | --- |
| | « on: December 08, 2008, 10:59:55 AM » | Quote Modify Remove Split Topic |
---
4th leg of XRC 08 Subic dec 6, 7 2008
The winds are chilly the weather have been wet for a couple of weeks now in Manila so our team training ride saw a decline.
last week my friend dondie azarcon calls me up...he says team PLDT is racing in subic and he wonders if i will be racing against him. I said "Yes!" so around 6am in the morning me and my wife with me as the driver rode the long 50kms stretch of North Luzon Expressway ....took the new super hiway SCTEX and after another 56 kilometers...joined the long line of vehicles with bicycles on the roof and proceeded to meet other riders in subic.
For category A and cat B riders the riders combined and will be released together and do 3 laps of the excruciatingly painful Crown Peaks hotel towards Ocean Adventure loop totaling 105 kilometers. For cat C riders ..they are to do 2 laps..which was not at all easy.
there was a short neutral zone and the riders took this lull moment to exchange christmas greetings and pleasantries.
after the lull...riders stood up and then rode up 3 very difficult uphill climbs and here the boys were separated from the men.
i stayed as near as i could to dennis d menace dionisio of team MJY and millionaire dondie azarcon of team PLDt never minding the others. By the first lap Dondie crossed the finish line first, dennis second ..im third. However dennis says he had so little training and that riding the rollers isnt enough to finish 3 laps of SUBIC so retired after lap 1.
i continued to race against dondie...dondie gets caught by cat c riders then starts pulling away from me. I just stayed with my tempo...never minding the fast pace.
i have to thank all the riders who greeted me..and who offered to stay and ride with me ronnie of team CNC said "ray i read your bike blogs everytime. please continue posting the reports" and that other rider from team Liquigaz who said "ray i think i better stay with you for a while i couldnt breath with that fast group at least i can breath here with you..."...thanks so much guys...your favorite story teller riding on one leg as the other left leg cramping
...so you have to excuse me if i was riding behind you guys.
after the second lap crossing the line at crown peaks i didnt see dondie anymore so i continued the chase ...not minding where dondie is.....going to
the ocean adventure i saw the riders on their final kilomters ..but there was no dondie azarcon.
margie was there to give me my last bottle of gatorade plus some bananas in the last 1kilometer back to the finish...i ask "where is dondie?" she said "dondie he has not arrived yet."
I heard the host announcing the winners 300 meters from the finish. i saw my wife patiently waiting for me at the line. I crossed the finish. my legs cramped both ways...i am very very happy i will live to fight another day.
Thanks so much to the organizers, to my boss Edmund Mangaser, his wife Salve, to the untiring emcee doctor stephen domingo, to all the participants of XRC, to all my friends, to all the people who read my post. I Congratulate all the winners and take time out to greet everyone a MERRY MERRY CHRISTMAS!
I look forward to race with you guys again in 2009!
to my loving wife margie and my daughter rachel who reads my postings as well...thanks so much for your support
raymond and margie see
teamrocka1bikeshop
From the North Luzon Expressway, we took the newly constructed super hiway SCTEX (SUBIC, CLARK, TARLAC expressway) ...56kilometers to subic and yes we were able to drive to subic in less than an hour from the NLEX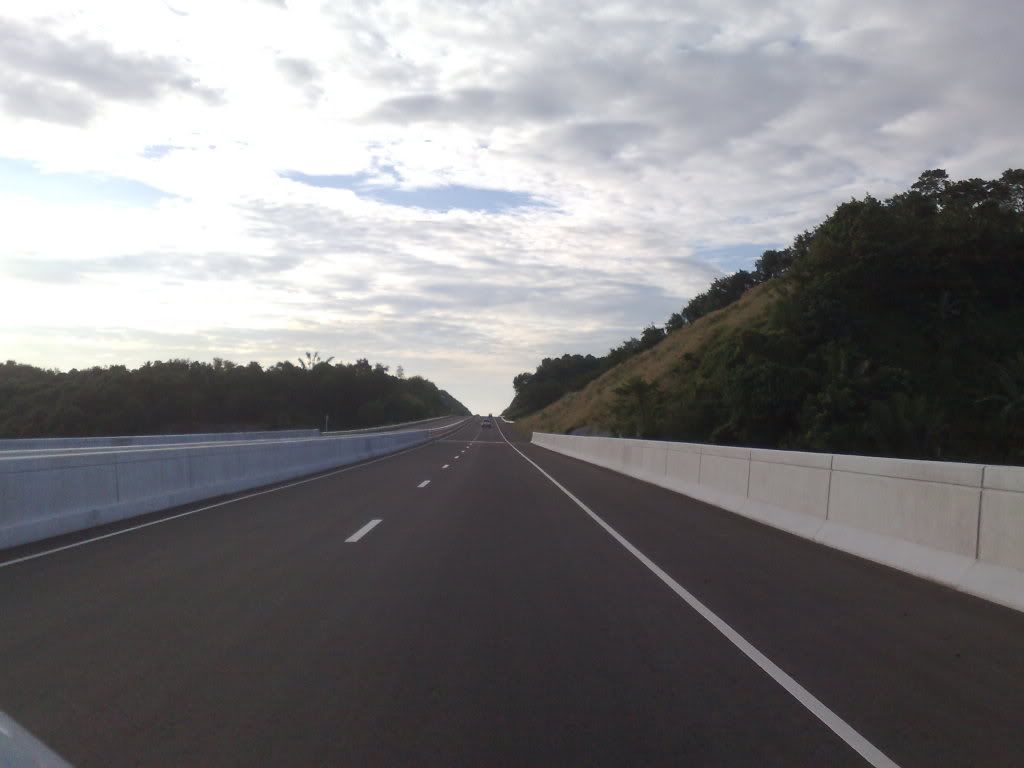 bisekletaguy's mitsubishi adventure casts a shadow over the PORAC river enroute to SUBIC former american NAVAL BASE in ZAMBOANGA ( the river still under tons of volcanic sand lahar which came from mt. PINATUBO in 1991)
that's a very fit (and thin
) looking anthony dy and philip angtuaco of team autotrend who showed up in subic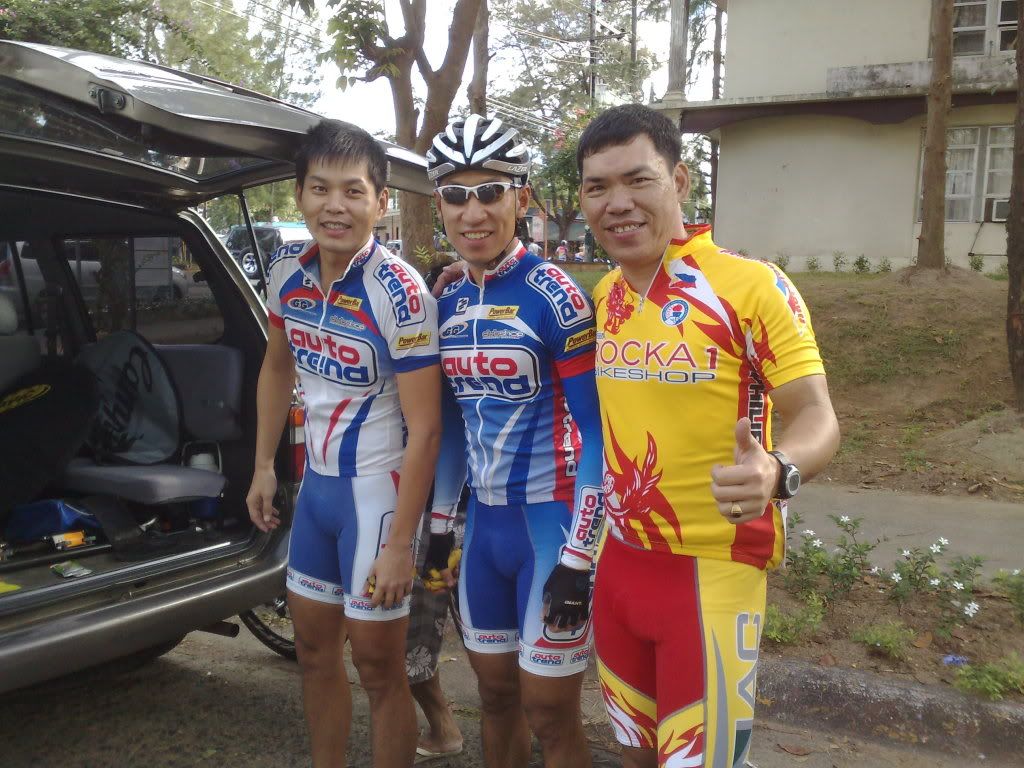 close up of that beautiful SEVEN ELIUM owned by anthony dy...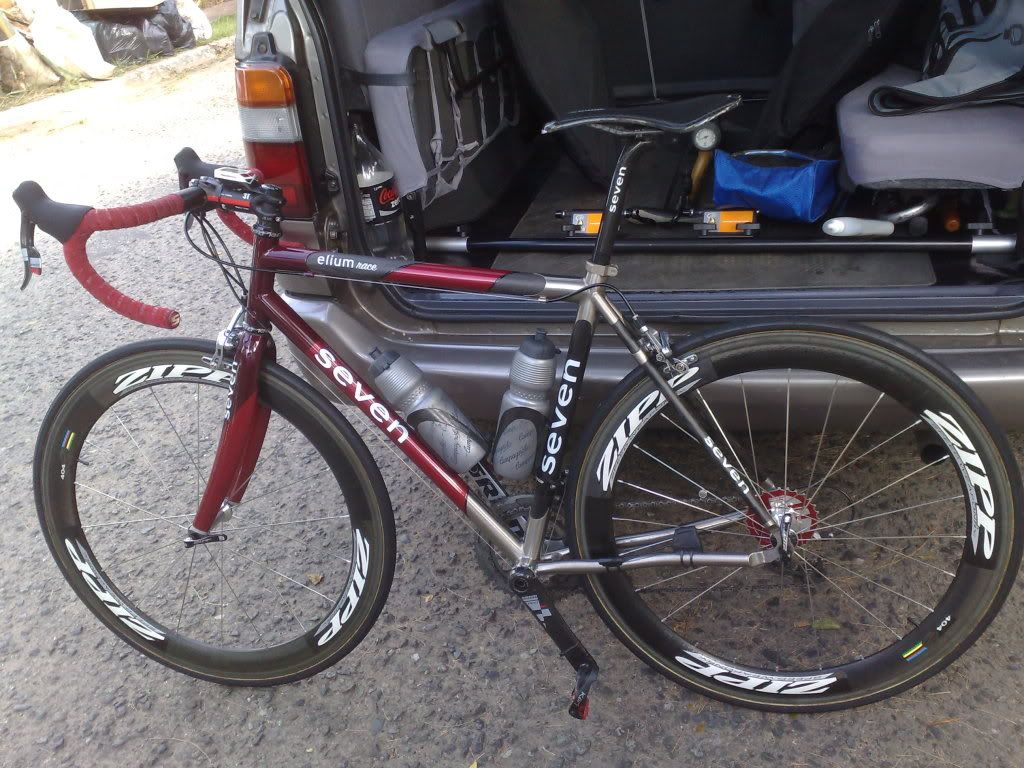 Wonderboy Leian Cruz of team Fitness First wearing the yellow jersey as the defending champion of the XRC SERIES flexes some muscles..shown here together with friends from team Yellow Cab Pizza!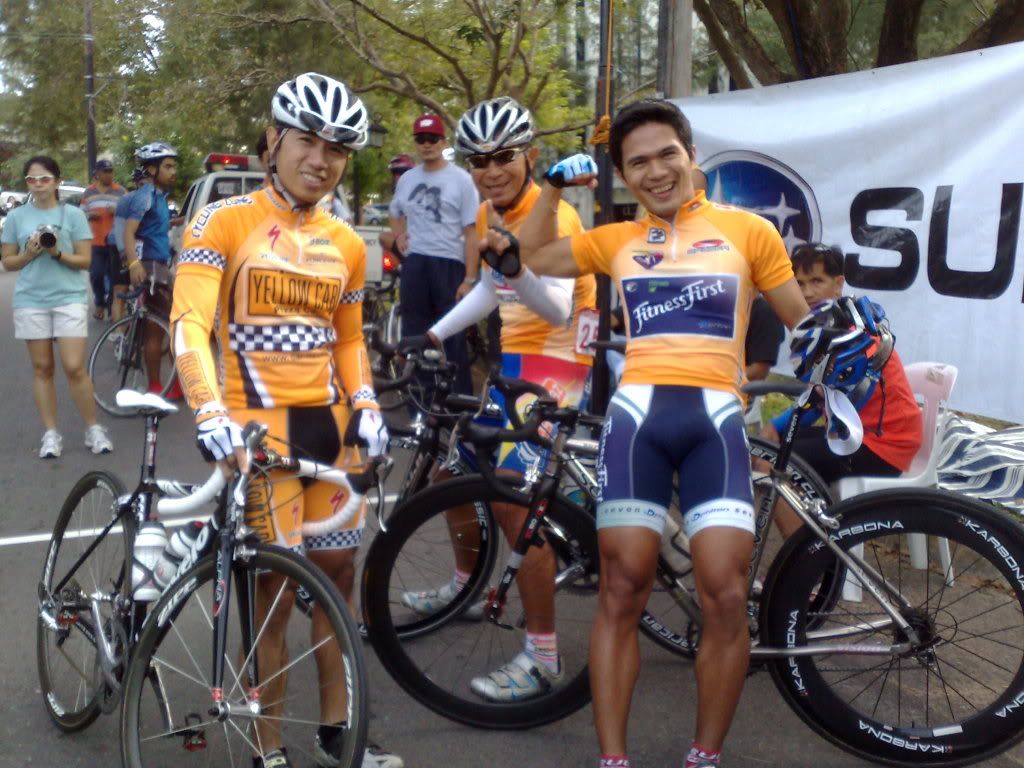 with sir vic of team Gerry's Grill "we are so happy to see you here raymond"
miss Kaight Forgie from team Fitness First Tri also showed up at Subic "not much training ride ray...but happy to be racing in Subic."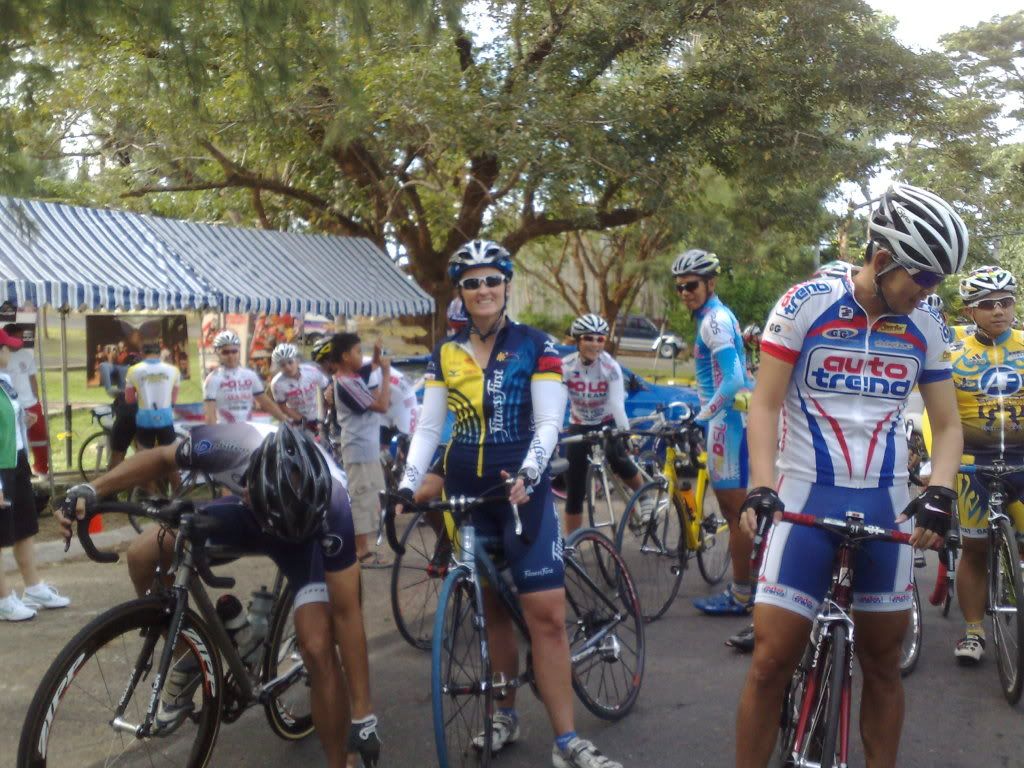 team XTERRA seen at Subic
cavite riders Team CNC also showed up in Subic (front view)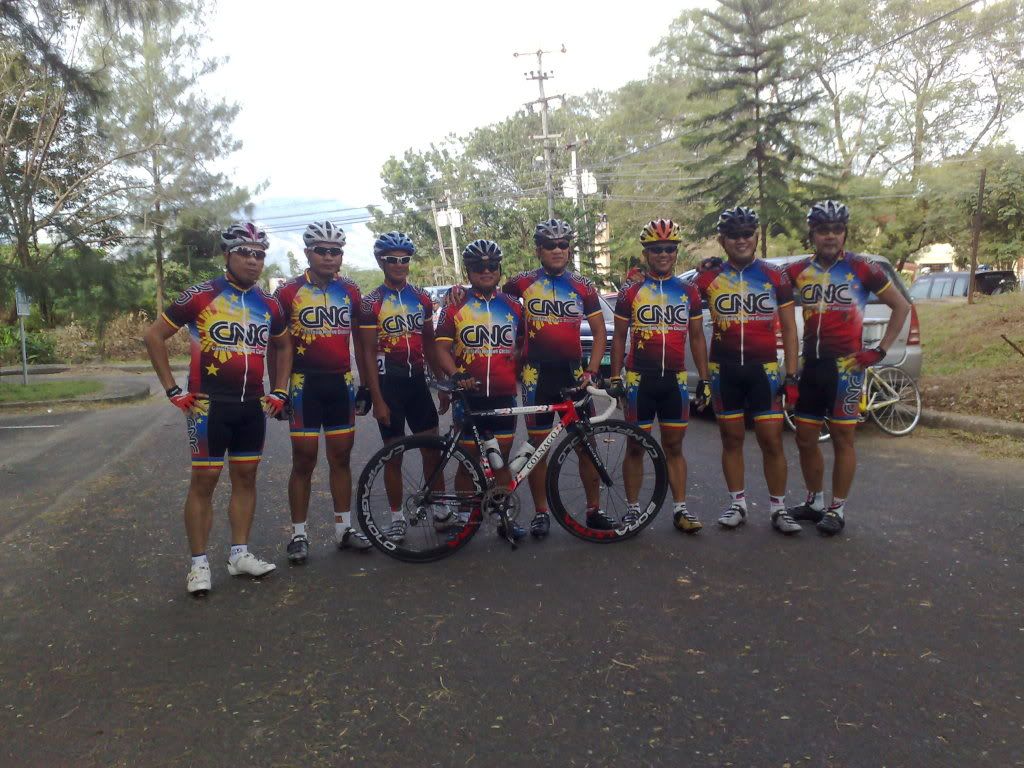 cavite riders Team CNC (back view)
thanks for being the good sport guys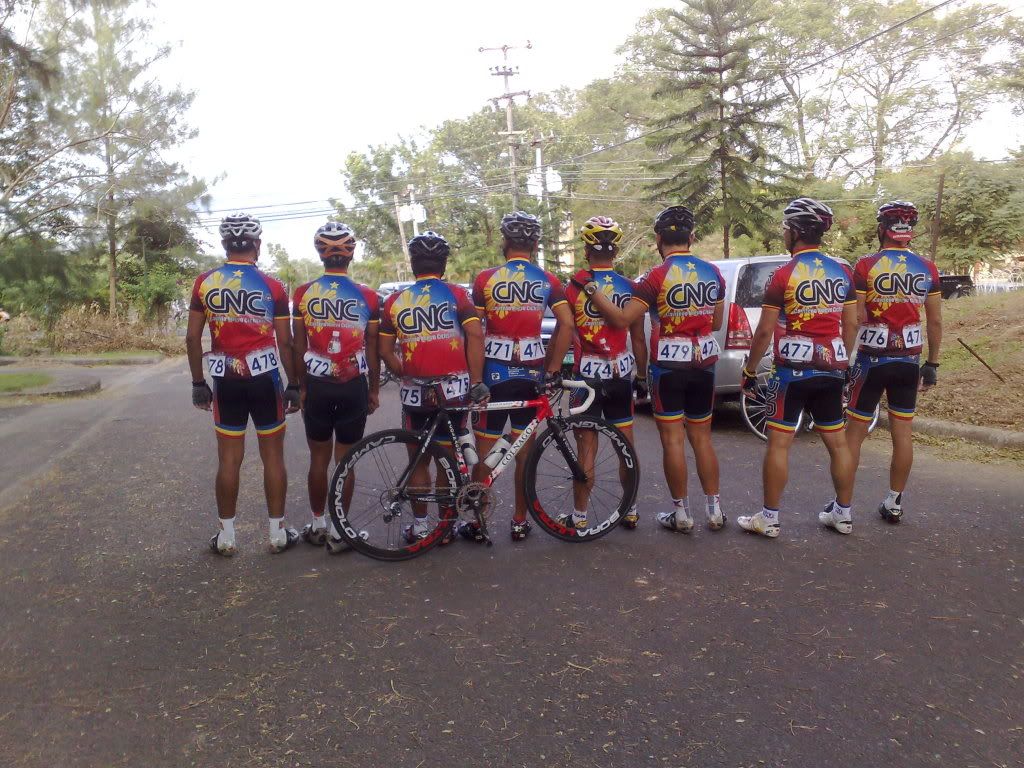 ok here is the break initiated by romel cerezo of team Logic Gate
jaime basilio, bobby san miguel, bitoy daa, philip angtuaco organized a chase
defending champion Leian "the wonderboy" Cruz bidded his time and rode up front accident free to keep his jersey. Warmest Congratulations Leian!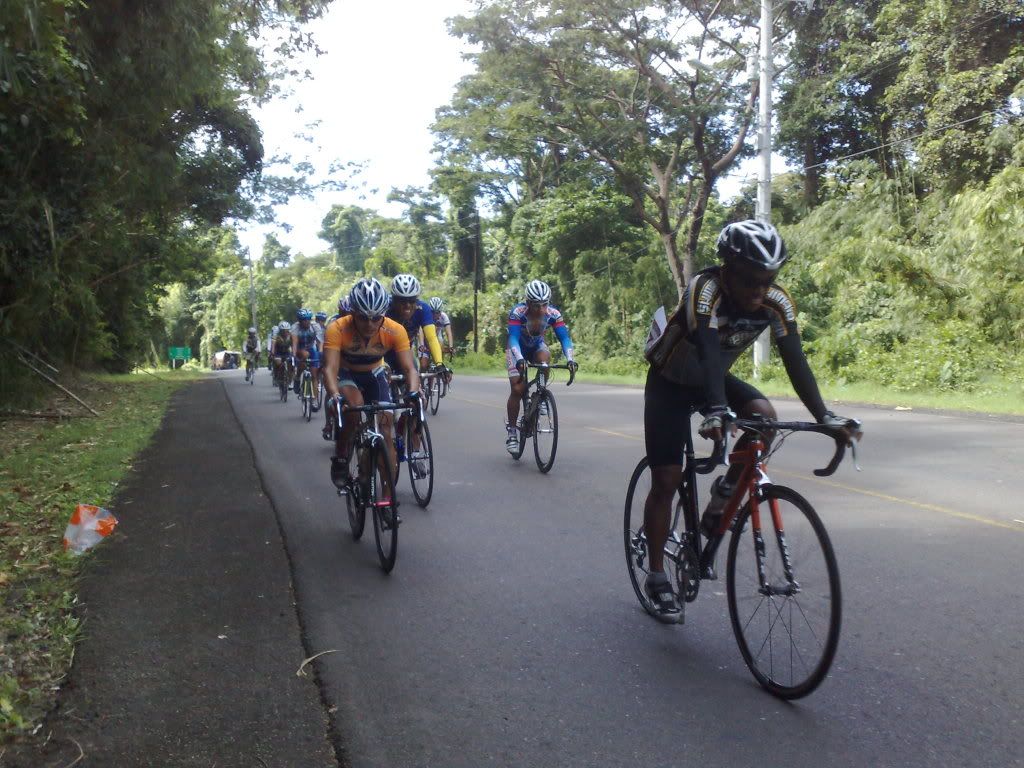 thats PLDT strongman raul lumenario on a cervelo...he just came back home from a job overseas to participate in XRC SUBIC .Welcome back home boss raul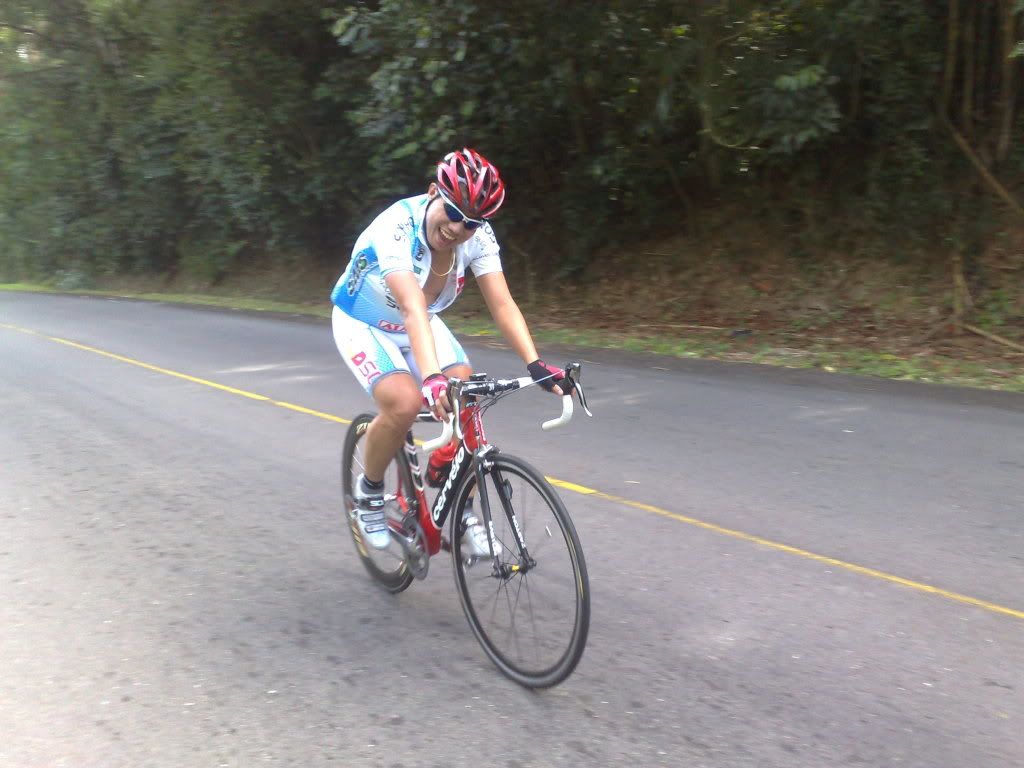 Ave "abby" chua of team xterra leads his team to a very strong finish in subic
ok here is the "other" battle royale
shaping up between dennis d menace dionisio of team MJY, raymond see of team rocka and millionaire dondie azarcon of team PLDT
Mr never say die himself...working on two cramped legs...raymond see of team rocka1bikeshop formally closes XRC 2008 the 105 kms road race..in SUBIC NAVAL BASE after he arrives at the finish line . The last man standing has plenty of stories to tell...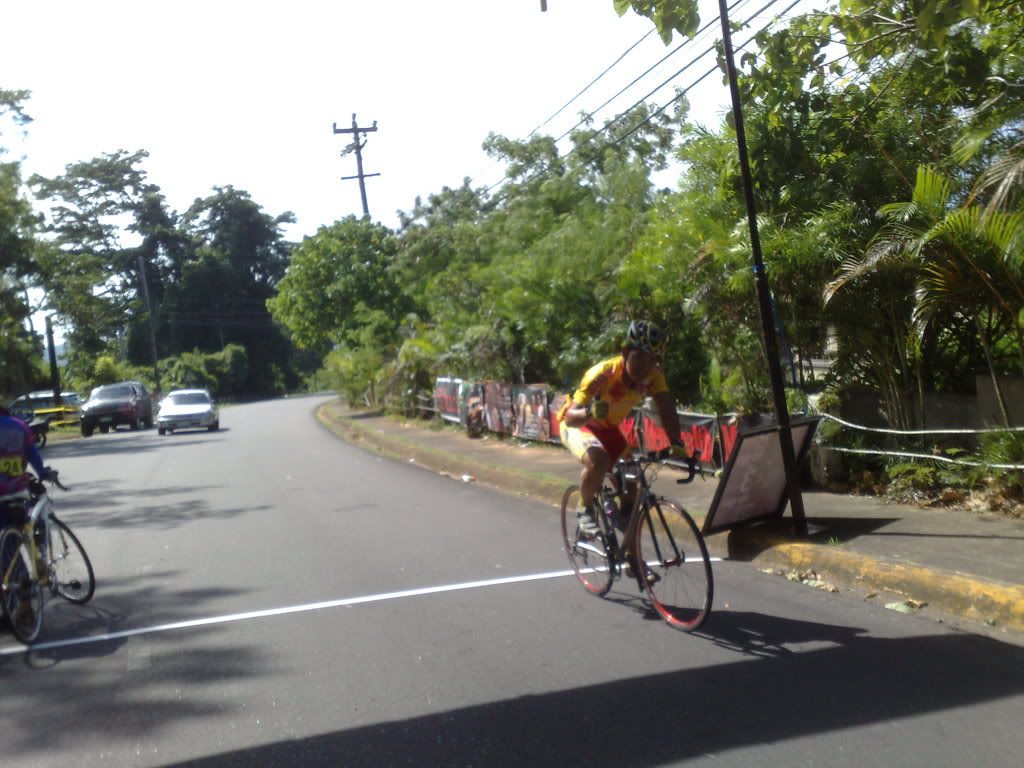 A HAPPY TEAM YELLOWCAB PIZZA/CYCLING ZONE had their fotos taken after climbing up the Podium here at SUBIC. WARMEST CONGRATULATIONS GUYS!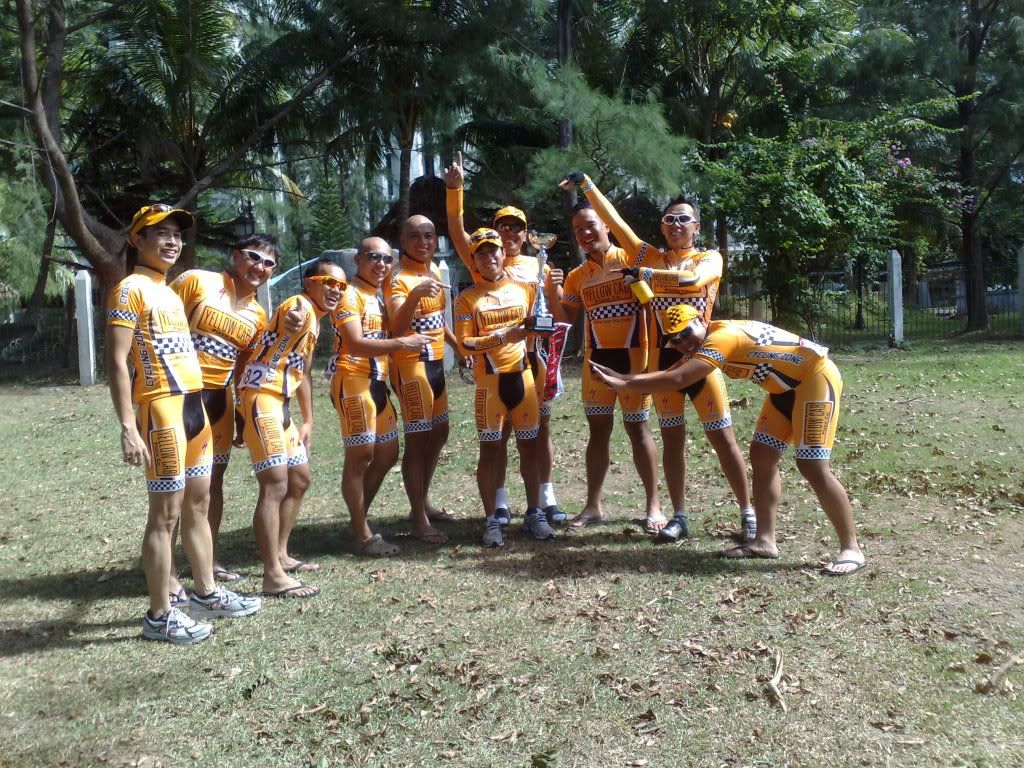 ok thats bisekletaguy at the finish line...with a foto taken of the teamrocka sponsor KING SUE HAM and sausages...THANKS SO MUCH GUYS!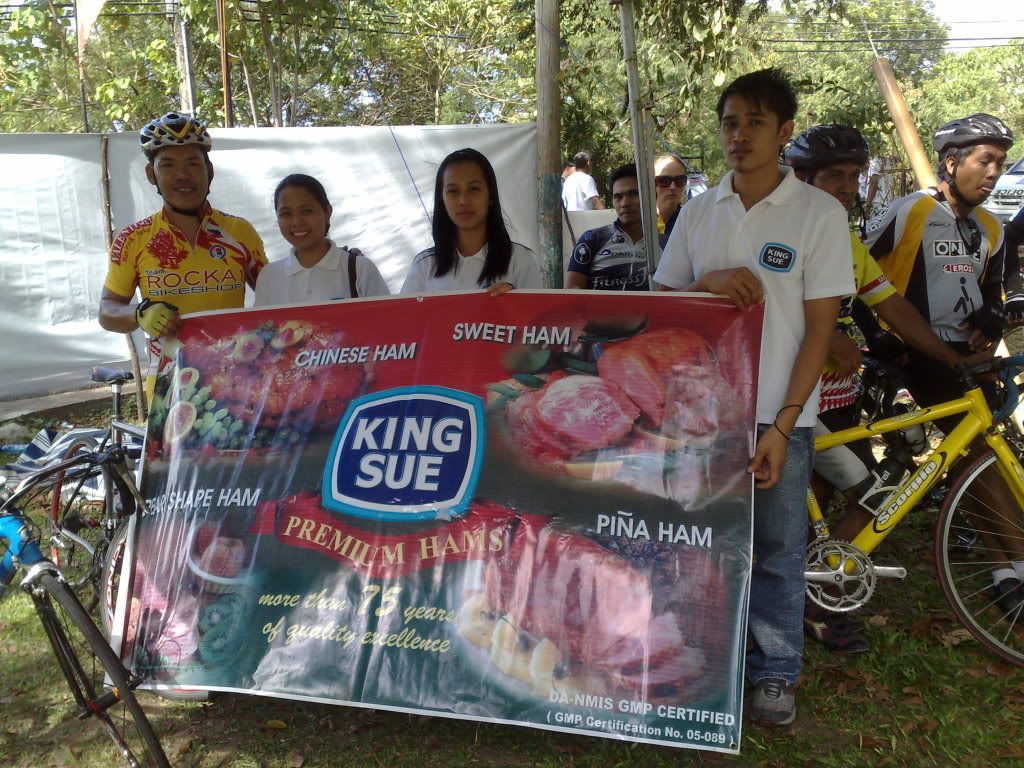 thats team David Salon at the finish line (i heard some of the new lady riders are company employees of team david's salon...Bravo David CHARLTON/ coach Gado Santos! )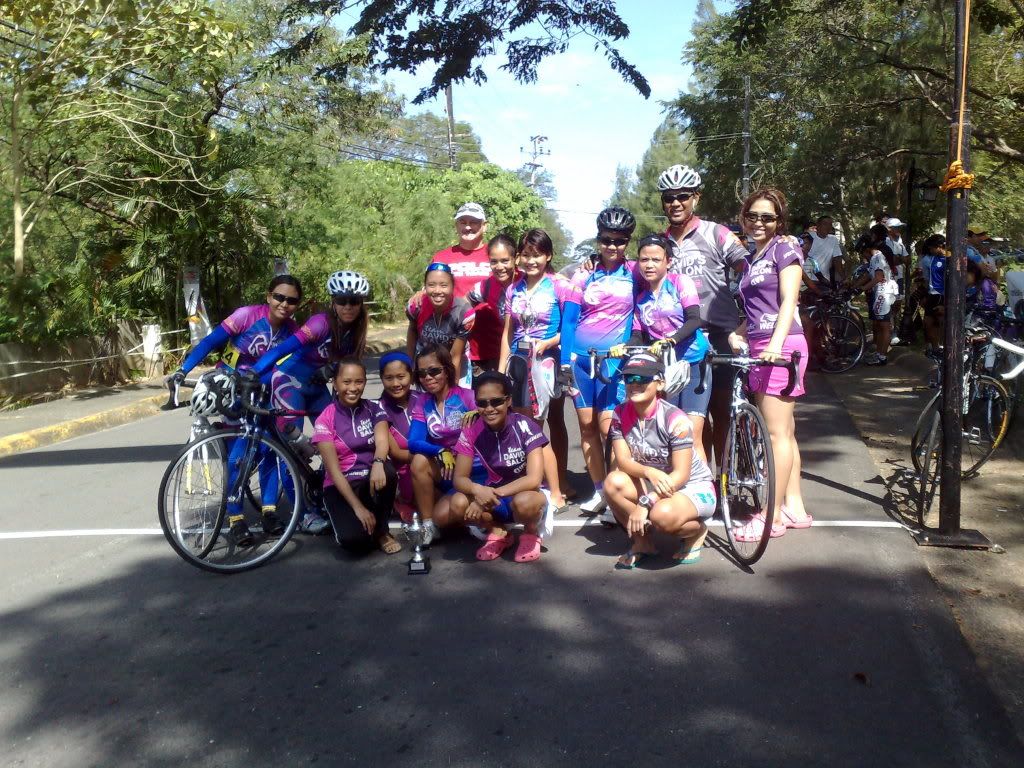 the beautiful trophies to be given away