bisekletaguy
| | | |
| --- | --- | --- |
| | « on: August 02, 2009, 08:20:33 PM » | Quote Modify Remove Split Topic |
---
dear friends,
i was telling my friend joel gironella a couple of years back...that the current status of the amateur executive teams in manila is already similar to the professional teams...sans the lucrative salary for the cyclists...
in manila there exists about 20 business class teams already and each of the teams have up to 20 riders on reserve...although 9 riders are allowed to race...the teams can field in 2 teams of 9 riders each.
strong and popular cyclists gets offers from other teams to join their teams...and teamrocka also had its share of players transferring to other teams..couple of years back.
for the past 3 years..some of the riders on my team chose to remain with teamrocka1bikeshop...for which i am very grateful.
couple of weeks ago i had the opportunity to talk to a major sponsor...as i think it is about time for our team to enjoy the benefits of the hobby.
last saturday 1st August 2009 , i finally closed an agreement with Fying Ace Corp...and the boss Lucio Cochanco Jr himself a cyclist had this message for me...
" Hi raymond, team Franzia/rocka1bikeshop is 100% Go. I give my full backing and support our team"
with this announcement i take time out to say thank you so much to my loyal teamrocka1bikeshop teammates and say WELCOME ABOARD to our new TEAM FRANZIA. Rocka1bikeshop shall appear on the new Franzia teamkit but officially our team shall be known as TEAM FRANZIA.
there are so many exciting developments in the world of amateur business class cycling in the Philippines happening this year and next year...i am very very happy and thankful to have the full support of our new boss Lucio Cochanco Jr and look forward to ride under the new team for season 2009-2010
mabuhay Team Franzia!
raymond see
to help you guys remember which team i am gonna ride for this season 2009 to 2010....its very simple...the professional model wearing the red shirt is miss Christine and she is modelling and promoting FRANZIA WINE by flying ace corp boss Lucio Cochanco jr. I suggested of course that our team shall have the all so beautiful promo girls present in the major races and of course my new boss says yes..they will be there to help promote FRANZIA wine too....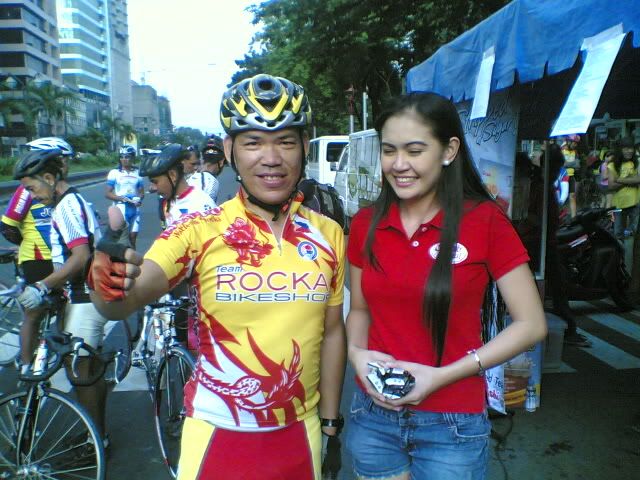 to know more about our new team click on the link.
http://www.franzia.com/
http://flyacecorp.com/