| | | |
| --- | --- | --- |
| | « on: August 16, 2009, 07:04:35 PM » | Quote Modify Remove Split Topic |
---
dear friends,
its 5pm I just arrived in makati condo..I have not taken my shower..but the cup of coffee
was good.
i want to thank all the cyclists who was at macapagal today to participate at
the new team Franzia "evaluation" ride...
at Mcdonalds Macapagal..photo shoot with the new Team Franzia aug 16 2009
very nice to see boss lucio...also pinpin.
always nice to ride with group.
im sorry i was late...last minute as i was about to drive out the parking..my
beautiful wife had changed her mind and asked me to wait..she wants to come
along too...i was joking..told her if she dont come miss franzia gonna be the
one sitting besides me.
as we rode convoy..somewhere SM imus i made mistake followed what i thought was
dennis datu's car...went as far as binakayan and luma bayan before my wife said
"dennis rides a rio...not a silver hyundai.." and so i frantic searched my way
out of Imus towards aguinaldo hiway... wow the joy ride brought me to luma
bayan imus...ill bring my daughter the architect here someday have the foto
taking of ancestral old houses.
anyway team Franzia stopped at Gerrys Grill..parked cars there and saw XTERRA
team parking their cars there also for their recon ride up payapa too.
team XTERRA winston and ave chua foto shoot ....winston pretending to be Franzia model ?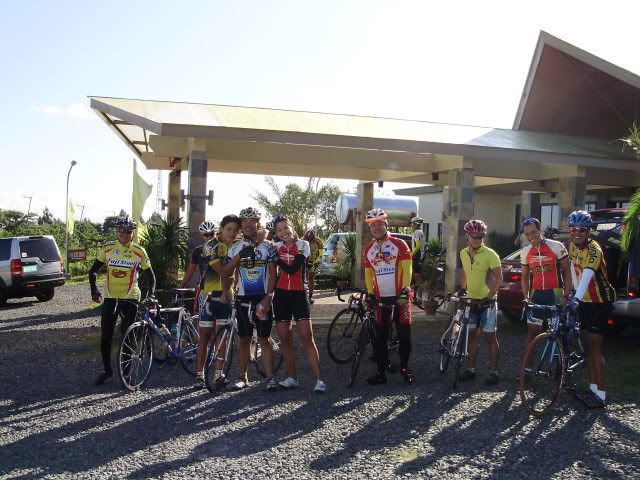 team Franzia prepares to climb up the highway from gerrys and start the ride
team franzia speed down nasugbu between 50-60kph. at rotunda we stopped at
caltex station.
caltex station...edwyn evangelista gets clean water on his bruised knees..."nothing serious i fell" he said.
some riders went straight to lemery already so for the 2nd chase
group consisting of roy allan george and me..it was sort of 4 man TTT until we
reach the corner of lemery and tagaytay after calaca town.
the team speeds down the town of TUY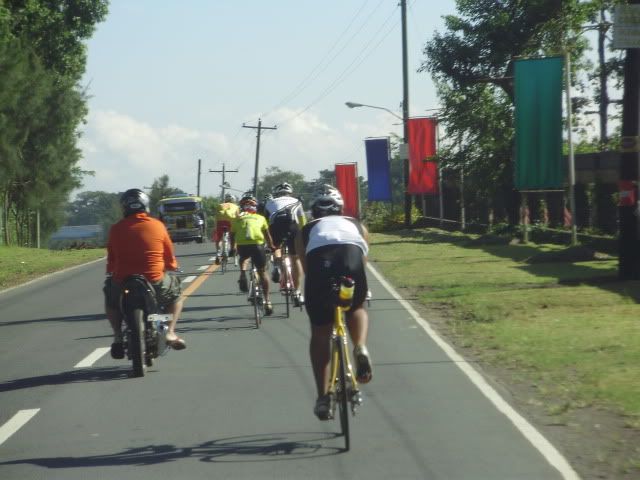 after water refill..race este fun ride "evaluation test" was on for the top 12
riders of the new team.
liston yao was riding very well the first few kms of the climb ..i tried to
follow..later on newcomer pinpin tiboy reyes roy ramon eddie b...dennis datu
allan omar starts climbing past me im panicking mode already...
well i seriously doubt it if anybody caught a glimpse of the smallest volcano in the world taal volcano ...fortunately for us...my wife stopped by canyon woods and took this foto
fantasy world as seen by cyclists from payapa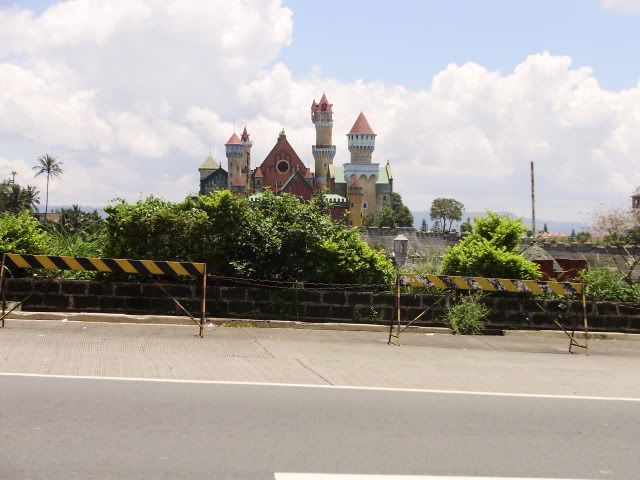 here is a closer look of fantasy world...my wife took a foto of that too...
anyway the top 12 finishers i cant reveal here. suffice to say i had so much fun
sprinting against eddie b for the 9th place at canyon woods. and was very very
happy. I know the secret number up payapa is 15...as in 15kms per hour...go any
slower...you are out of the running.
afterwards the entire team goes back to gerry's grill..i told my wife im glad
the evaluation test finish line wasnt gerrys grill or i would have finished
20th...
a few minutes after i arrived at gerry's with ramon antonio...i was very
surprized to see our sponsor newcomer sir Lucio with another newcomer sir edwyn
evangelista (nursing a knee wound after he fell but thank God no serious injury)
Sir Lucio and Edwyn arrives at Gerrys Grill and finished their Payapa climb on their first try Warmest Congratulations!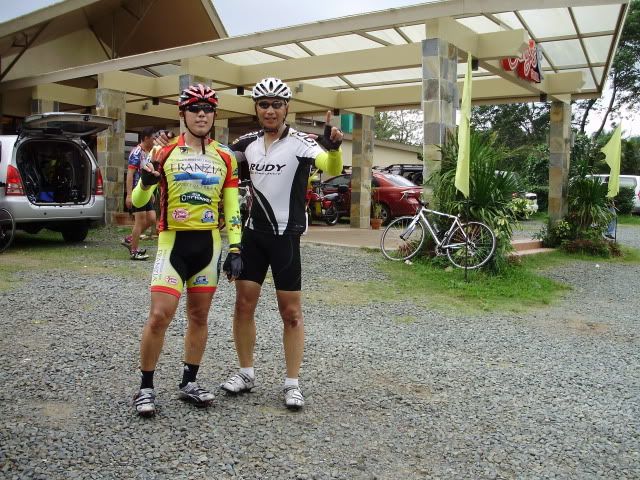 i shook the boss hand and said i have to congratulate him for finishing such a
terrible mountain route on his first try...really now the strong riders..they
can climb this route with one eye closed...first timers have to dig real deep
muster enough courage to try just finish the 100kms south east asian cycling
route up PAYAPA towards Gerry's Grill in Tagaytay ...Philippines.
the lunch we had at Gerry's was fantastic.
Eddie B said "i have never ridden as hard as that one today"
i told dennis datu.."im at my breaking point dennis..i have to congratulate you
for your strong finish"
tiboy reyes said "why is it with the new sponsor everybody starts riding so very
fast?"
of course we all had a good laugh...very very nice ride for the new team
Franzia....i think the motto today was "attack relentlessly"...:-)
everybody has to be congratulated.
thanks to my wife margie for becoming our official photographer today.
raymond see
team franzia
new team FRANZIA racing teamkit shows the beautiful design of Clarence Fajardo of anatomic. wow way too beautiful...
thanks so much
| | | |
| --- | --- | --- |
| | « Reply #1 on: August 16, 2009, 11:07:07 PM » | Quote Modify Remove Split Topic |
---
CONGRATZ TEAM FRANZIA!
---
am just a rudebwoy from the block
| | | |
| --- | --- | --- |
| | « Reply #2 on: August 16, 2009, 11:07:49 PM » | Quote Modify Remove Split Topic |
---
can't find sir alvin lo in the pics? only sir liston .
---
am just a rudebwoy from the block
| | | |
| --- | --- | --- |
| | « Reply #3 on: August 17, 2009, 12:08:36 AM » | Quote Modify Remove Split Topic |
---
can't find sir alvin lo in the pics? only sir liston .

RJ, Alvin Lo is still on training for Camsur and was not present in Manila.