| | | |
| --- | --- | --- |
| | Author | Topic: Baguio Fun Ride august 30, 31 2008 PHILIPPINES (Read 218 times) |
| | | |
| --- | --- | --- |
| | « on: September 01, 2008, 11:19:04 AM » | Quote Modify Remove Split Topic |
---
dear friends,
i am back at Rocka1bikeshop this morning. my legs still hurt. i am having my good cup of coffee. but am sure so many of you guys want to know what happened to us up baguio so i am making a short report This weekend's bike ride according to foreign guest rider Thomas Wiegand was "Its unbelievable. I have never thought that the Baguio Fun ride was this big and organized. i thought we will be only with 4-10 people up Baguio. That was so much FUN! I climbed down BAguio by bicycle and with atty Mike Yngson i had fantastic ride down Kennon road. Say Thank you to Mike for the company. On the way up I couldnt climb Baguio via kennon any faster because I WAS ENJOYING THE FANTASTIC VIEWS...its comparable to Italian mountains... one of the giro d italia stages...Baguio is Beautiful via Kennon! A fantastic view with the waterfalls.. .oh i am so happy! For your record purpose from shell station near Soul Cafe Rosario up Kennon road to the finish line at DPS compound i made it in 2 hours. there was a 21% uphill climb of about 80 meter long switchback before the Viewdeck which made me suffer. Its fantastic to ride with 35-40people up kennon "
For the second day day2 ..at the starting line at EAGLE OF AGOO we saw the strong upcoming team MJY BIKEZONE field in more than 10 riders. Team Dagupan Pangasinan had some people from as far as Urdaneta had about 20. Team filchi had about 10 cyclists also. Team Heritage, Team Tri Clark, Leyte, team Pair Cargo, Team Xterra had some riders and the total head count was 47 riders with Thomas Wiegand from Germany.
"ok raymond for your record purposes. the total riding time from Eagle of Agoo to the finish line at PETRON STATION in front of GREEN VALLEY (after the tunnel) my time was 2hours and 30 mins. That was a fantastic good mountain I promise you I will be back for more of this mountain and I will surely bring more friends. A fantastic climb! A fantastic weekend" says Thomas Wiegand
I take opportunity to thank all the participants, team rocka teammates Alvin Lo and Yuri Lirag who rode all the way to Baguio from Bicol, i must thank the participants who rode with us team Dagupan and Pangasinan. i thank the pro riders Sherwin Carrera and Ericson obosa who rode and posed the big challenge to Thomas wiegand. I have to thank Edward Lim and team Filchi for supporting our vacation ride and bringing in team filchi and treating teamrocka to lunch on august 29 at ISDAAN at Gerona Tarlac.,..then sponsoring the Fellowship Night at O Mai Khan . All the cyclists who made it to O Mai Khan had received a fantastic beautiful wheel bag courtesy of team filchi Winston Chua of starpaper I thank you so much Winston for your support...PLUS a team filchi official MUSSETTE BAG. Furthermore there was a presentation via Laptop by Thomas Wiegand to filchi cycling of his GPS readings of Kennon Road. Then before the cyclists called it a day Thomas had a short speech thanking filchi and the participants for this dinner and for the bike ride up kennon. Filchi Cycling then presented Thomas Wiegand with a souvenir sports bag and then everybody had a group foto shoot.
Team Filchi had the most beautiful luxurious coaster i had ever ridden with such a big Flat Screen television playing Le Tour de France dvd's! Thanks so much Winston for offering this beautiful coaster for the team filchi official vehicle. Newton multisales' Washington Ong had provided teamfilchi also with an L300FB to ferry the teams bicycles up Baguio.
Winston also took several fotos of the big event then at the end of the day before leaving baguio showed a slide presentation to team filchi of the Agoo Eagle to BAguio via Marcos hiway photos.
I have so many stories to tell....the weather in Baguio was PERFECT for cycling last saturday and Sunday. a small portion of the road up kennon had been damaged by landslide but our convoy was allowed to pass it. Thomas was playing with the waterfall under the huge rock overhang at the beginning of the Baguio climb up kennon road and slipped with few bruises but he was laughing ..thats the only incident that happened.
to my teammates teamrocka, teamrocka bicol. teamfilchi cycling , to all my friends from team mjy, team pair cargo, team Prime, team heritage, team XTERRA, team dagupan, team pangasinan, team urdaneta, team tri clark...all my friends who joined us if i fail to mention your name you have to excuse me. Thank You so much for your participation.
to my wife who is always here to support me. what can i say...Thanks so much mommy!
Thanks so much for making this Pangasinan up Baguio Fun Ride memorable to all of us.
Maraming salamat sa inyong lahat.
see you in the next ride. I will post the report and fotos soon.
raymond and margie see
member of the organizing committee
Baguio Fun Ride august 30-31, 2008
stage 1 day1 at the starting line Shell Station near Soul Cafe at Rosario enroute to BAguio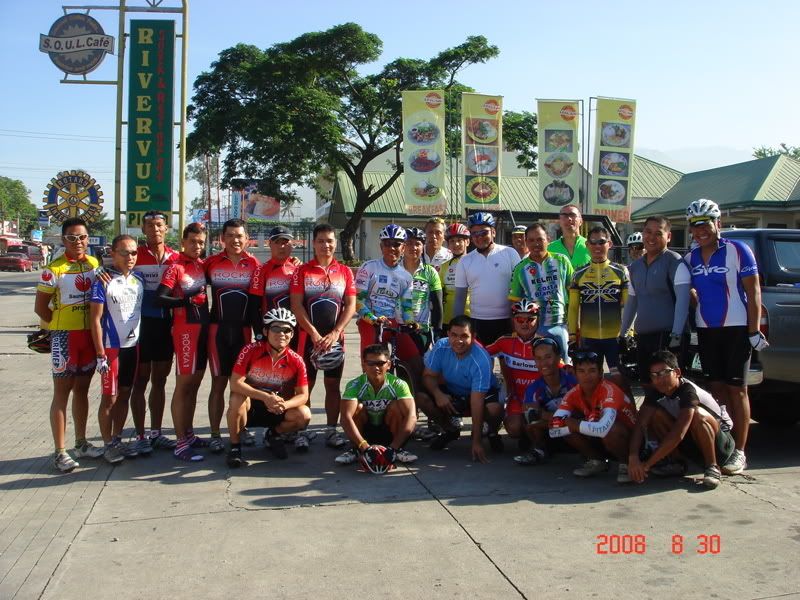 with team heritage Park Jun lopez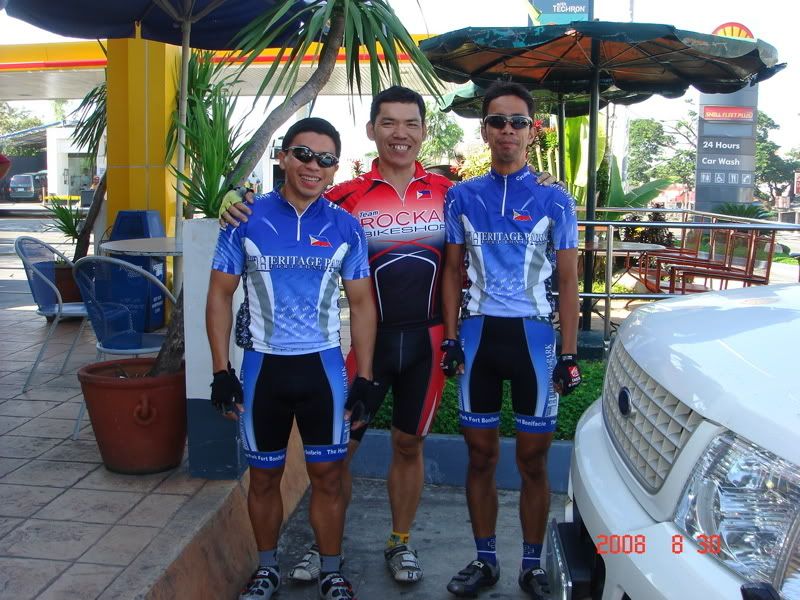 with engr rolly cruz, doctor butch ydia in the team Jazy sportwear jersey, juvy of team Fuji Excellent noodles and teamrocka at the starting line Shell Station Rosario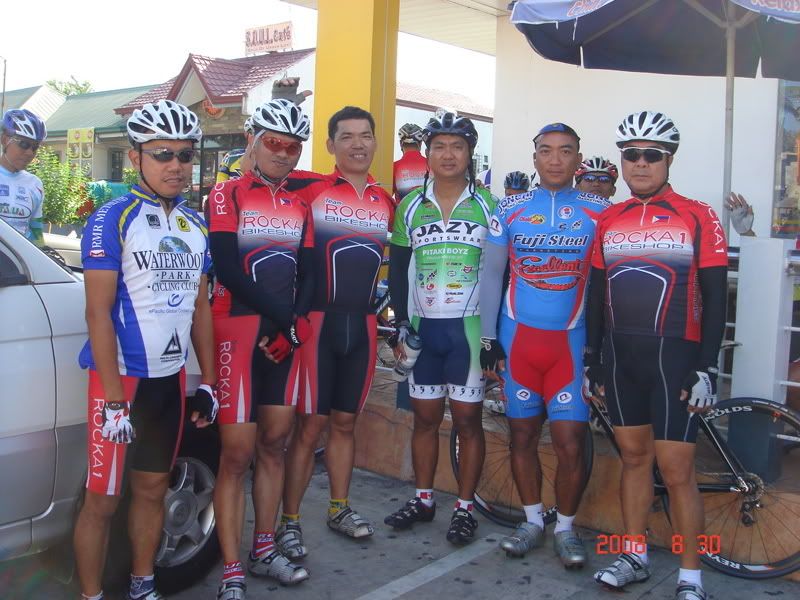 ok here we go..at the foot of kennon...wait i think ill take in a power banana first
ok bisekletaguy now on the attack up kennon..."I want my early advantage thomas..the other guys gonna catch me anyway might as well attack now..."
teamrocka bicol alvin lo and yuri lirag in a chase group
ok thats bisekletaguy with the 4man chase group lead by team prime kzar...whats bisekletaguy rambling about in tagalog ? " mommy take my video when im with the chase group..i dont like the video when im alone..people think im last man again"...
"""
ok this is the official pitstop the famous LION OF BAGUIO done by the LIONS INTERNATIONAL on a solid piece of rock.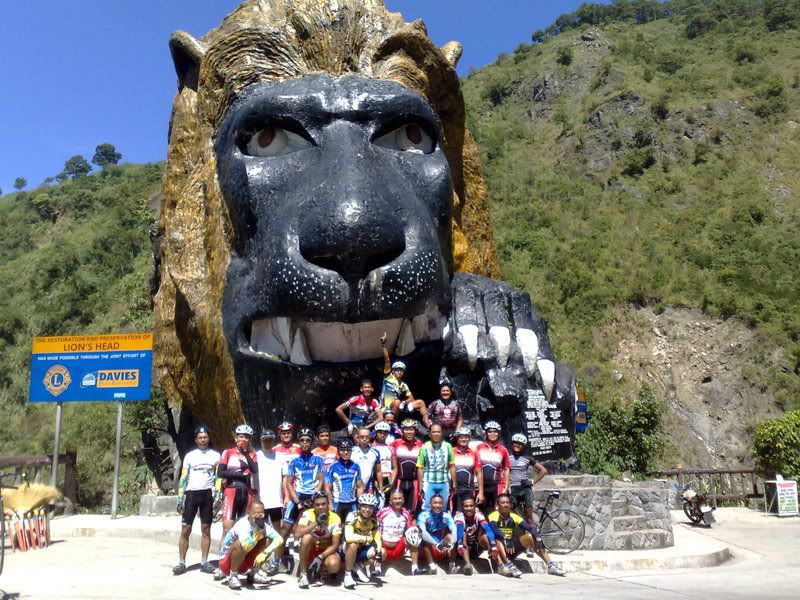 here is margie at the Viewdeck with beautiful view of ZigZags
here is Thomas Wiegand (pronounced as vgand) receiving his small token of appreciation for visiting us and participating in the PAngasinan Baguio Fun Ride organized by teamrocka and team filchi cycling
thats atty mike, engr rolly and bisekletaguy with their wheelbag from the raffle PAngasinan up Baguio courtesy of teamfilchi Winston chua. Thanks Winston!
Here it is the starting line of STAGE2 DAY 2 August 31 at the starting line EAGLE OF AGOO where the professional cyclists of Tour of Luzon always pass under during the TOUR OF LUZON.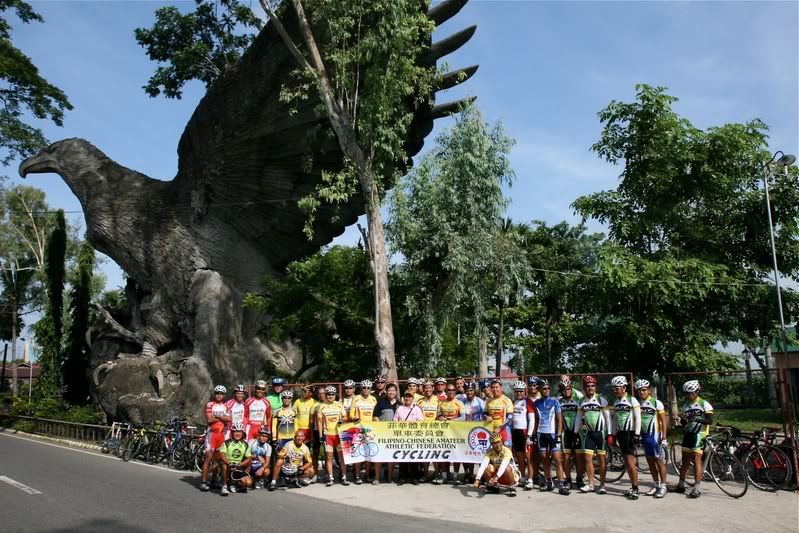 this is the video of the 47 riders as they were released at AGOO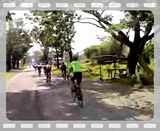 at the Petron station in front of Green Valley. The Finish line stage 2 Agoo to Baguio via MArcos hiway 45kilometers long! Warmest congratulations to all the finishers!
Time to beat its Thomas wiegands 2 hours and 30 mins record time
packing up for Manila, filchi cycling had invited me my wife and thomas to stay in this beautiful baguio house for free. Thanks FilChi
cycling!
ok thats thomas and me helping him put his filchi souvenir wheelbag in the coaster "i wont use those wheelbags i will put under glass and display in my office ray" says thomas. Thats got to be the most beautiful coaster i have ever ridden..the coaster provided by winston chua of team fil chi for team filchi to cruise first class from manila up baguio.
| | | |
| --- | --- | --- |
| | « Reply #1 on: September 01, 2008, 11:53:33 AM » | Quote Modify Remove Split Topic |
---
i can only imagine cc peeps climbing with you guys! maybe next fun ride . . . very impressive report rey
---
ASA RYD UGMA?
| | | |
| --- | --- | --- |
| | « Reply #3 on: September 01, 2008, 12:37:38 PM » | Quote Modify Remove Split Topic |
---
as usual ray- ive been anticipating for this report of yours. Its always nice reading your after ride report. I will be waiting for more fotos to uploaded.Important thing is everybody enjoyed the ride!

| | | |
| --- | --- | --- |
| | « Reply #4 on: September 01, 2008, 03:04:52 PM » | Quote Modify Remove Split Topic |
---
What an inspiring ride and report ray. This makes me wanna do my own ride up baguio this early october. cant wait to see more pics.
---
*** The older you get, the better you used to be. ***
| | | |
| --- | --- | --- |
| | « Reply #5 on: September 01, 2008, 07:10:51 PM » | Quote Modify Remove Split Topic |
---
ray, thanks for organizing this ride, you made our dream of riding up to baguio at least once in our lifetime possible. we really enjoyed the suffering, the view, picture taking, the lunch and most of all the company of fellow bikers from manila, pangasinan, bulacan, baguio ... great , great ride ray,!!! (i'll upload my pics tonight)
| | | |
| --- | --- | --- |
| | « Reply #6 on: September 02, 2008, 07:11:47 AM » | Quote Modify Remove Split Topic |
---
Another fantastic group ride, Ray.
| | | |
| --- | --- | --- |
| | « Reply #7 on: September 03, 2008, 10:16:21 AM » | Quote Modify Remove Split Topic |
---
i will compile the Baguio participants feedback here so you guys know what people say about Baguio Fun ride...
"
Ray, thanks for organizing that fun ride. Tell me if you want a
Baguio repeat: next time, let's go to Ambuklao Dam and then Sayangan.
I'm sure Thomas would love the views from those two routes even more.
Thanks too to the FilChi people, they really made an ordinary bike
ride feel extra special with their presence. Also to Doc Butch and his
Dagupan guys! It's very encouraging to ride with so many other riders
in a "non competitive" event like ahon Baguio 2 days in a row.
Hello Boyet. Just want to ask what bike you were riding yesterday? I
failed to get the names of your guys but I can remember distinctly
your team had one strong climber in particular, the one with the nice
looking mustache ;-) BTW, I buzzed your Team Van on the way down
Kennon Road huh. I was driving the black Nissan Patrol that came up
beside your van. Just wanted to say hi :-) See you and your MJY
teammates sa mga races! Nga pala, alam ko na rin kung sinong malakas
umahon sa inyo, hehehehe.
Atty. Mike Yngson (X Terra Multisport Racing Team)
hello jun,
thanks so much for the fotos using the professional camera. wow ganda ng kuha.!
Thomas by the waterfall thats exactly where he crashed after he swerved due to the moss.
thanks so much for joining...thomas will be back next year.
raymond see
Dear Raymond,
I like to thank you again for organizing the Baguio Ride. I know that it was taxing and require lots of leg work on your part to put in all together. It was a personal achievement for me climbing Kennon and will forever treasure the experience. It was nice introducing us to other cyclists and to Thomas and your wife Margie. I had to return to Manila saturday after our Kennon ride since I have tennis tournament the next day. Thank you and until the next ride.
Best regards,
Jun M. Lopez
Heritage Park Cycling Team
--- On Tue, 2/9/08, Jun Lopez
wrote:

From: Jun Lopez
Subject: Cycling in the Phils.
To: sport-2008@wiegand- .yahoo.com
Cc: "Raymond See" , HP_Cycling@yahoogro ups.com
Date: Tuesday, 2 September, 2008, 4:45 PM

Thomas,

It was nice to meet you during the Baguio Ride via Kennon Road. I am sending you some pictures and a nice photo of you with the waterfall background. I am sure that these photos will be memorable of your visit here in the Philippines. You are a great climber and considering the weight of your bike. I hope that you visit Philippines again and you are most welcome. The next time you visit Heritage Park, contact me or Raymond so that it can be arranged with the gate, my apologies. Good luck on Bamboo-Lake- Village. I will keep your card in case I get lost in Chiang Mai.

Jun M. Lopez
Heritage Park Cycling Team
www.heritagepark. com.ph



from alan chu

Hi Raymond,

this is alan of filchi bike... just wanna leave you a message of thanks for organizing this trip to baguio.
it was a very nice experience... fun, exciting and fulfilling...
it was great to have a chance to ride with cyclists from other parts of the country. we may not know
them (we didn't even have enough time to be properly introduced to all of them) but it's understood we
all share the same passion for cycling. for us to go up baguio by bike (some of us for 2 days straight)
means we really are passionate about this sport...our sport.
I didn't think i'd survive the tough climb. i was not inclined to join baguio when this idea was broached
sometime late june. I had no training and i didn't think i had enough time and opportunities to train my
legs for the trip. i only had 1 byahe between july and august. as i was preparing myself for the baguio
trip, (carlos finally convinced me to join bec only few were willing to join the difficult ride daw) I realized
one other important thing. I only had a max light gear of 39 X 25. I figured i'd have extreme difficulty
going up baguio with this gear combination. anyway, up to the day before the climb up marcos hway, I
was still worried and nervous. I had raised this concern to Winston, Carlos and even Lizton but they all
said I should try and give it my all.....I did... the rest is history..
Thanks again, Raymond, for this enjoyable and gratifying trip. I enjoyed the ride, the company, the
camaraderie, the bonding and most of all, the personal challenge...
thanks
hope to see you soon
keep organizing these kinds of trips!!!!

alan chu


from carlos tan

Sept. 02'08
08:00 A.M.

Hi everyone.
In behalf of the team Filchi we would like to say Thank you to all participant's. Special thanks to all who made this trip possible. To Mr. Shane Chin, for our board and lodging. To Sir Raymond See and wife Margie See for inviting other team cyclist who also drive all the way to meet and ride with us. To our Filchi member Mr. Winston Chua who graciously provided us the newest and bigger coaster, to Sir Albert Cua and of course to our President Mr. Edward Lim and wife Virgie Lim. Thank you very very much.
It was a great experience to all, weather we finish or not, the important thing we made an alliance and camaraderie among riders. For me I'm happy for everyone to experience what I had gone through. It was a hard 43.74km up hill climb. What we did was a treasure to keep and a dream come through. Climbing up the altitude of 1664m is not a joke to pedal. I hope others learn something like riding techniques from this climb.
Thank you to all. Hope we could do it again in our best shape.

Thank you and best regards
cbike (carlos tan)



hi boss raymond,

although my whole body still hurts (ouch!), the baguio fun ride was
fantastic..

thank you for organizing such a wonderful event! i know that
organizing such an event is very taxing but the feedback from the
foreign guest riders are very positive and encouraging!

team mjy would like to thank the organizing committee for your
initiative and for being so generous with your time and efforts.

also, thanks to team rocka's tj for the AKSITEXT PA cards and team
filchi for the bags.

more power and we'll see you in the next ride!

thanks and regards,

boyet
team mjy



from Joseph of team tri clark

sir ray, i just want to say it again for the nth time, THANK YOU SO MUCH for the warm accommodation and for letting me join the baguio ride. thanks for taking the time to reply to my text messages kahit super aga [3am] hehehe. though i wasnt able to join the first wave @ kennon, i really had a great time conquering marcos hiway on day2. it was simply brutal.

atty mike, thanks for the invitation for lunch. next time na lang. i'll just carry my bag the next time we ride hahaha.

to oliver and superlakas boss ricky of team mjy, it's nice riding with you guys. will see you on the races. markado na kayo hahahah. ang galeng!

mr thomas, it has been a pleasure to know and ride with you sir. thanks for sharing your stories and thoughts about cycling. amazing.


joseph
team triclark cycling