bisekletaguy
| | | |
| --- | --- | --- |
| | « Reply #1 on: May 26, 2008, 11:37:37 AM » | Quote Modify Remove Split Topic |
---
after coming back home from bicol for work and cycling only last thursday...me and my wife margie had to pack our bags again as we have to ride the much awaited big race XRC Tour of Tagaytay this time in scenic tagaytay May 24-25 2008
we slept at my makati condo with teammate Ramon Antonio and good friend Shane chin marketing manager of Cannondale who volunteered to be our race driver. Rest of team rocka decides to sleep in tagaytay as they dont want to get caught in traffic saturday morning.
when we arrived at the tagaytay city hall there was again a festive atmosphere..inspite of the continuous rains it didnt rain today and so there was a big attendance with some teams showing off their brand new team kits. We saw the new teamkits of Burlington socks (team elixir) , team Auto trend also had nice team kit , team Enervon C with new team kit, and new kids on the block team MJY bikezone now led by dennis d menace dionisio with new team kit made by Anatomic too.
there was a brass band at the tagaytay city hall...with very beautiful majorettes ...a flag raising ceremony follwed and then after a short prayer cat A riders were released down a 20km neutral lap down nasugbu.
the brass band
leian cruz holds the yellow jersey as the points leader in Category A in the ongoing XRC series
joel gironella of team fitness first helps pin the race number on his lieutenant robin valdes at the starting line of XRC Tour of Tagaytay last saturday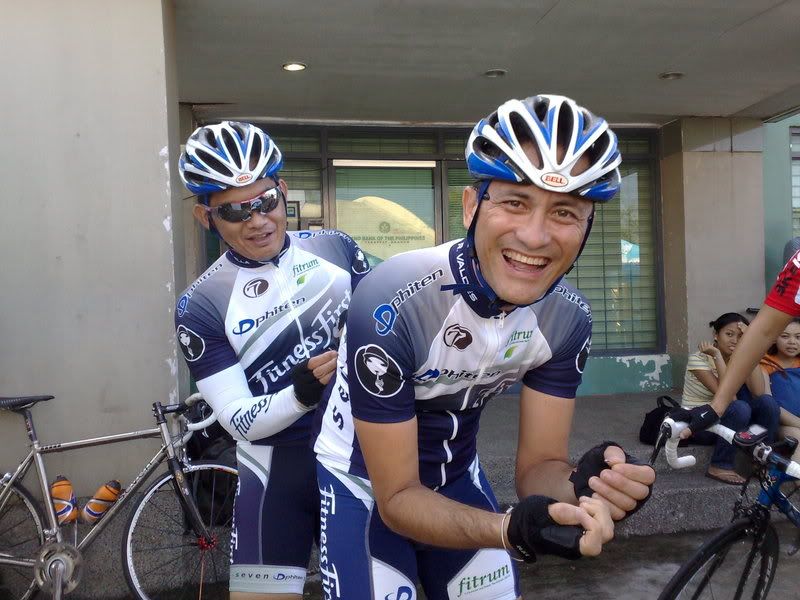 leian cruz in yellow at the starting line of the XRC Tour of Tagaytay
jon urutia (at left) 4 podium finishes and the 2nd place overall winner 40-49cat Tour of Egat with victor viray (at right) winner of 2 podium finishes in Egat 2008 rides the XRC tour of Matabungkay
cat B super team SEVEN LAKES at the forefront at the start and finish of Tour of Tagaytay after Marlo Pua broke away to win the stage...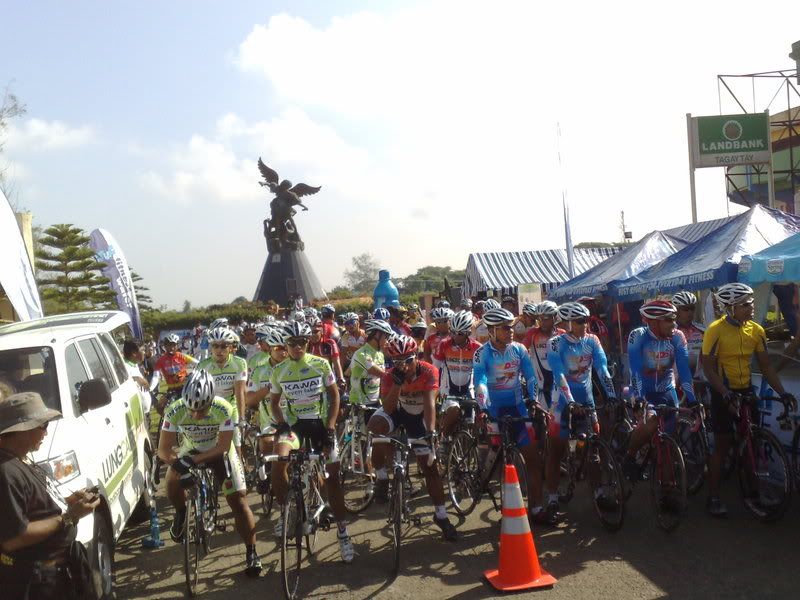 after 5 mins our cat B was flagged off and you can just imagine how fast cat B was going downhill when all of a sudden......cat b is within pedalling distance of cat A! the marshalls ensured we dont mix it up with cat A so we were slowed down further. i saw somebody from team autotrend from cat A suffer a puncture and the entire team autotrend waited then towed the autotrend rider back into the peloton.
near the 28 kilometer mark the entire cat B peloton had to stop as there was a 4 car smashup down Nasugbu involving softdrink trucks...glass scattered on the tarmac and most of the cat B guys decided to unclip...carry the bikes cyclocross style over the broken glass ....then ride again ..
those riders who didnt do as we did i saw later by the side of the road...with punctures.
after the group regrouped on the other side...some riders accelerated and we had to chase big time..only to stop at the true starting line. after a few minutes the lead car accelerated..we followed..everybody accelerated and race was on..the speed was so fast people like dondie azarcon who was unable to clip in their pedals on time was quickly left behind by a peloton travelling over 42km per hour for over 5okms.
team xterra rider doctor stephen domingo bunnyhopped his colnago to avoid a pothole but after landing his bike..his fork steerer broke and he suffered a crash spraining his ankle. the bike hit a team PRIME rider mr el and mr el on a brand new FUJI SL1 (superlight 1) he too crashed out.
i rode into crater sized potholes...and also almost crashed....bj afable of team cycling zone saw me and asked if i was alright. teammate tiboy reyes told me i was lucky i didnt crash as those potholes were so big and deep. the two riders who went into the pothole had punctures ..i didnt have the punctures but have to let go of the peloton afte 55km mark....after i had backpains due to the jarring i got after i went into the potholes.
teammate tiboy reyes and ramon antonio narrates the cat B peloton went on the 42-45kph over the next kilometers then on the left turn on the start of the Payapa climbs Marlo Pua and Peter gonzales starts to pull everybody up the climbs at over 28kph...splintering the cat B peloton...everybody then rode their own pace and finished the race.
George Carag shows fine form as he negotiates the uphill climb of Payapa ...
teamrocka's atty Tiboy Reyes leads Ambeth Carag up the climbs...
teamrocka's skipper pineda follows jojo baterna pedal for pedal stroke up the climbs...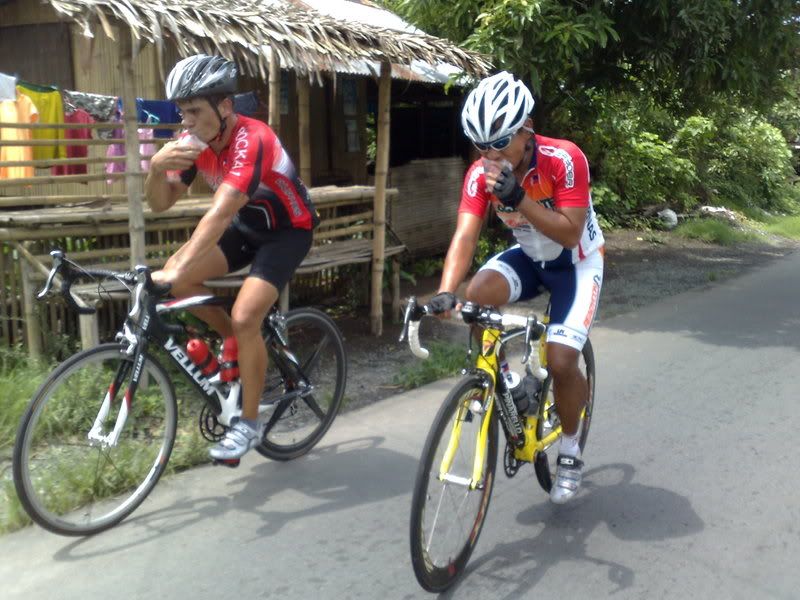 "i want coke says" skipper..."i want water" says jojo so the two caught here .. taking their liquids at the same time...from the teamrocka1bikeshop support crew....
thats team CNC boy "the admiral" tiples on his way to the finish
team rocka1bikeshop's omar martinez powers his way up to the next rider..i wonder who that rider is...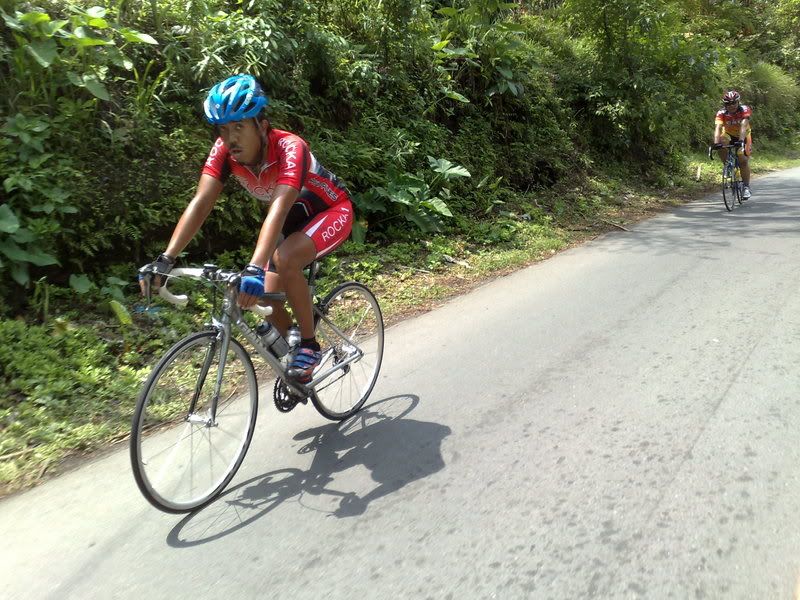 aha that's teamrocka's omar martinez engaging Egat "crush ng bayan" nina vera in some chit chat as the two rode together up payapa...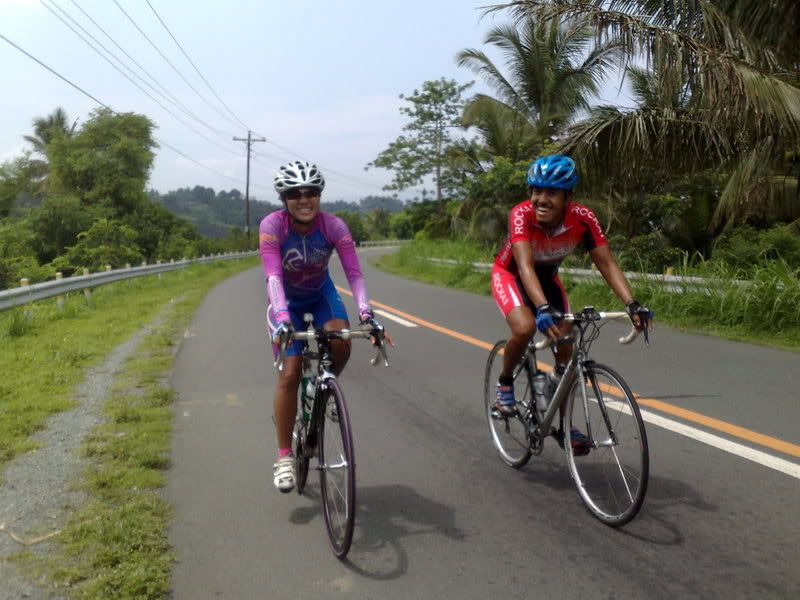 bisekletaguy being fed power banana and water by support crew shane chin while team david salon Carmela serena is poised to ride ahead...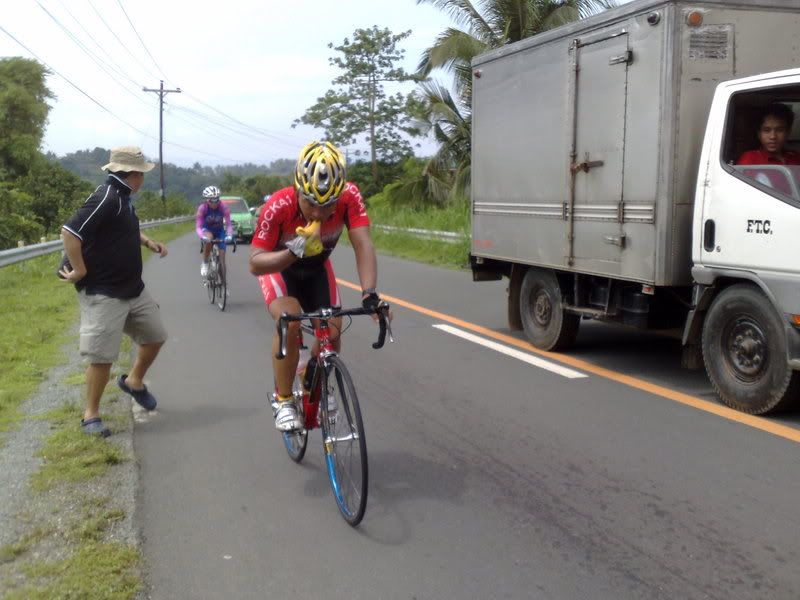 Tony Lopez of Pair Cargo pedals his way towards the finish
im amazed as to how many people read my post and know the friendly rivalry between me, Quin baterna, dennis d menace and dondie azarcon... because after huffing and puffing all the way up Payapa ...some riders who rode past me soft pedaled for a second and egged me "go faster biskeletaguy...quin baterna is not very far behind!" i must cancel my winning bet with architect Quin Baterna the manager of team Logic Gate though for humanitarian reasons...because Quin ...he isnt ready for this race..after coming back from Tour of Egat Thailand he and his family spent another week vacation in Boracay..so from Boracay he went staright to the bike race..so he suffered from jetlag so he got no power in the knees.
my wife was taking fotos of me as i approach Fantasy world near the finish but i told them go ahead wait for me at the finish line in canyon woods as my race isnt over..as Quin Baterna he is a fighter and is still in hot pursuit behind me and so is dondie azarcon...but dennis d menace i lost the race against him ...he went in front and i cant return fire.
" go faster bisekletaguy ...dennis up front, quin baterna and dondie at back..when will the pain stop?"
with Fantasy world in the background ..bisekletaguy near the finish...
..and so i finished faster than Dondie azarcon who now owes me 20 pesos and 1 case beer after i beat him in Payapa...but lost to team MJY bikezone new team leader Dennis d menace again..after dennis inspite of 6 months absence off the bike...powered his way up Payapa . Congratulations dennis.
end of the line ....at the finish line for bisekletaguy after 80 kilometers of pain...up payapa
that full zipped rider is architect Quin Baterna happy to cross the finish line
dondie azarcon finishes the Tour of Tagaytay 2008 "its my BIRTHDAY TODAY May 24 2008.... Last year I almost died after i figured in a near fatal accident..i got left behind after i failed to clip on my pedals and have to wait for cat C guys to bring me to the finish..." says a jubilant millionaire dondie azarcon .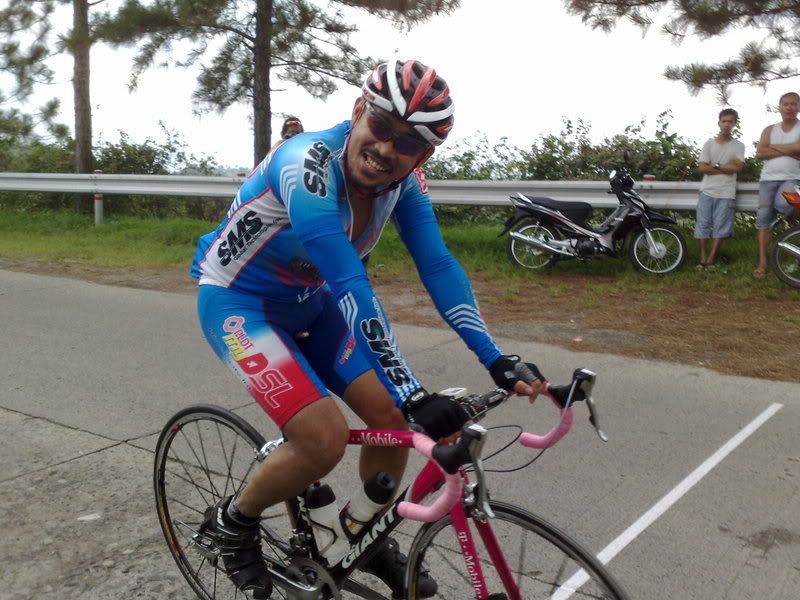 after the race we stayed at the Starbrite Inn and coffee shop..got invited to have dinner at the house of the sister of Teammate Tiboy Reyes and then called it a day.
The ITT race was on a new 21km uphill course held last Sunday May 25, 2008... teamrocka rode down nasugbu from Starbike Inn...met the cyclists at the Nasugbu junction then painfully rode against the clock..negotiating the 21kms uphill climb up Batulao now EVERCREST under 1 hour. The winner we heard was at the finish with only 46minutes clocking...i think i rode it in 62 minutes...oh well everybody had to start somewhere...but i think all of the riders had a lot of fun.
Congratulations to the winners. Thanks so much to the organizer to my friend Edmund Mangaser thanks so much for a fantastic race.
more fotos to follow.
raymond see
teamrocka1bikeshop
bisekletaguy , atty tiboy reyes and atty Lito of team CNC at the starting line Tagaytay City Hall Tagaytay City
(foto courtesy of team cnc)
entire team cnc in orange with erwin rili the manager of team Seven Lakes in green and bisekletaguy in red
(foto courtesy of team cnc)
DAY2 ITT stage
starting line at Tuy junction Nasugbu....tres colores Dondie, bisekletaguy and dennis d menace in the new MJY teamkit
endorsing RUSH SPORTS DRINK thats bisekletaguy margie see and Salve Mangaser the wife of edmund mangaser under the RUSH SPORTS DRINK water tent...RUSH gave away free sports drinks..thanks so much for your support
dondie azarcon off the staring ramp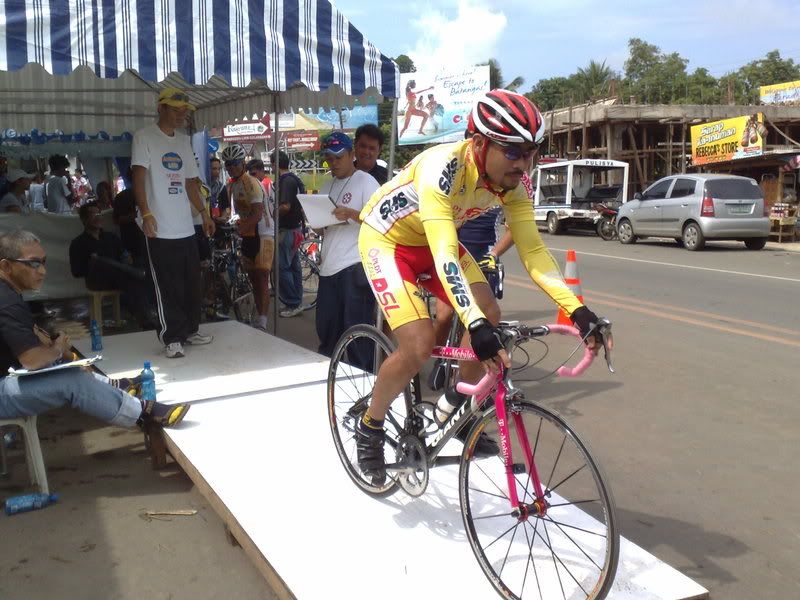 dennis dionisio off the starting ramp