| | | |
| --- | --- | --- |
| | Author | Topic: sagnay camarines sur to tiwi albay training ride May 18, 2008 (Read 25 times) |
| | | |
| --- | --- | --- |
| | « on: May 18, 2008, 10:17:35 PM » | Quote Modify Remove Split Topic |
---
after my Tour of Egat 2008 experience...i packed my things and left for bicol on a business with pleasure bike ride. it was raining the whole week as there were typhoons hitting the philippines this past week...however today the sun shone brightly and me and team rocka filchi bicol went on a training ride on the newly opened sangay to tiwi albay road overlooking the Pacific ocean! fantastic training ride (relax mode) with my team rocka bikeshop friends here in naga..Thanks so much to our host Alvin Lo, Enald Tan, Eric Tan, Yuri Lirag for keeping me company today.!
here are some of the fotos...first stop San Isidro Church Sagnay Camarines sur..where we parked our mitsubishi pick up...
professional looking team rocka1bikeshop naga on a secret training ride in Naga overlooking the Pacific ocean...after our team's successful showing in Egat..the team filchi naga decided.."we have to have that teamrocka international jersey..one of the brightest looking in egat ray..we regret not having gone to egat..we want to go there next year" says yuri lirag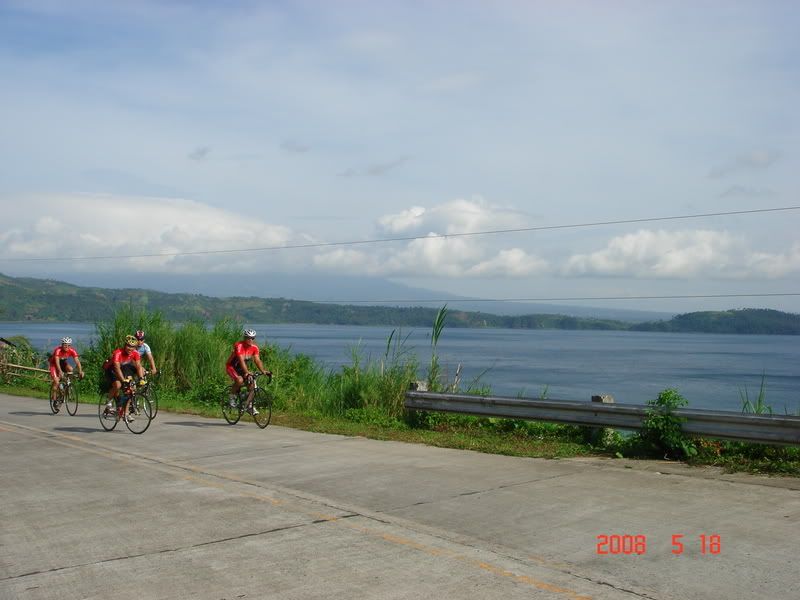 look at that climb...uphill to the mountains where there are lush forest still....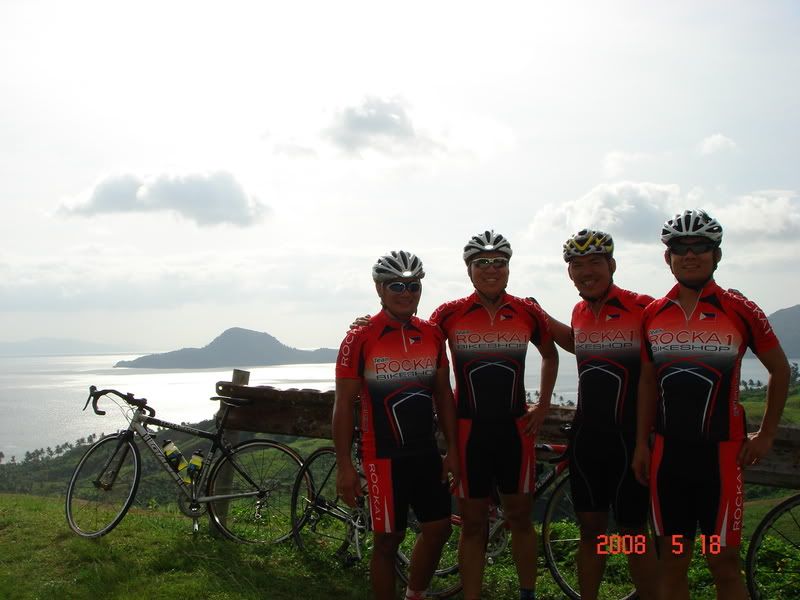 a scenic view for my wallpaper on top of a rock with a cloudy view of mt isarog and the pacific ocean.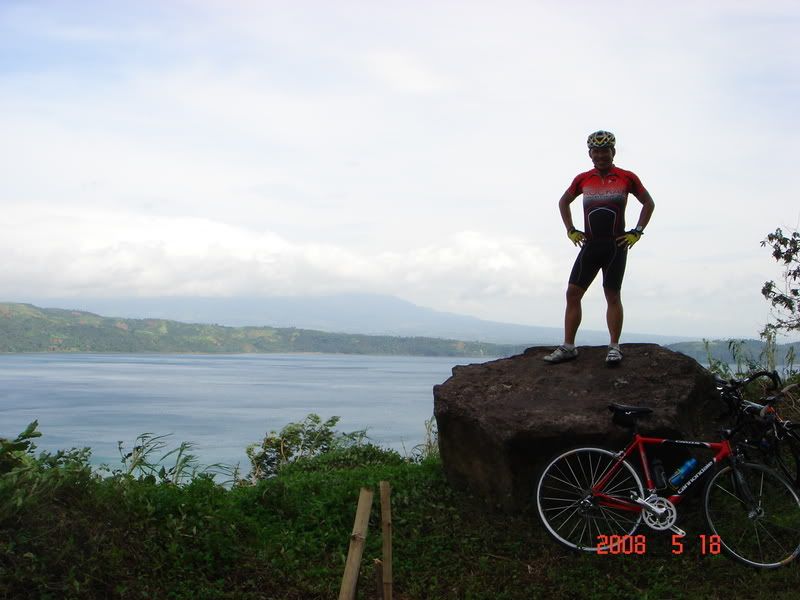 we saw a steel guardrail where a car could have crashed..i decide to fake a crash just for our cameraman alvin lo...my gracious host /official photographer...no harm done to bisekletaguy here...just a bit of stage acting here...
""""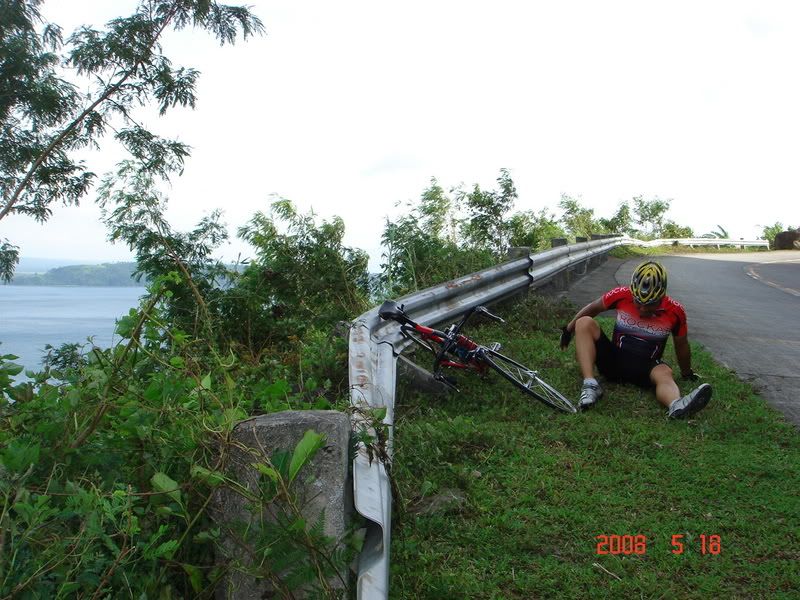 thats our destination..thats going down sea level then climb back up here again 60 kilometer roundabout route with beautiful view of the Pacific Ocean!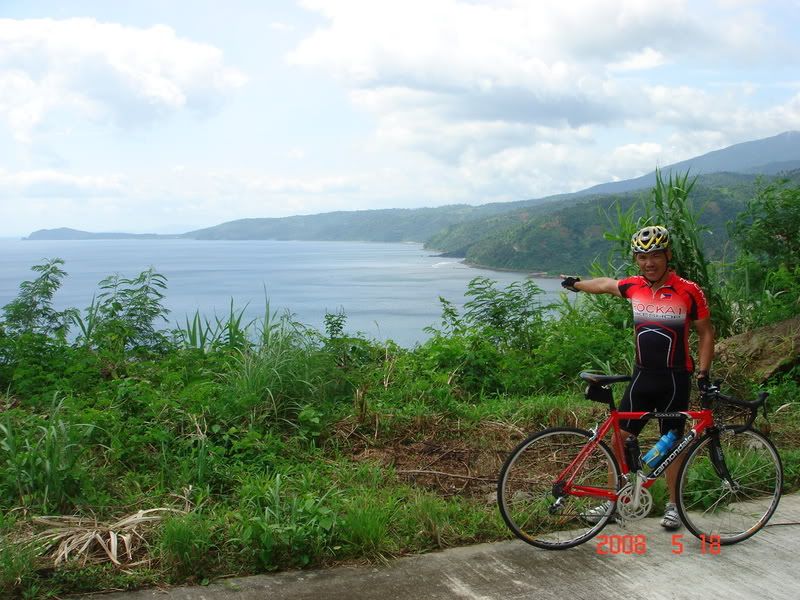 | | | |
| --- | --- | --- |
| | « Reply #1 on: Today at 03:31:35 AM » | Quote Modify Remove Split Topic |
---
Thanks, Ray... Great pix...

I'm looking forward to my vacation this coming Dec.....Looks like that I'll just be sending off my family to IloIlo and stay in Bicol to ride those nice and less traffic routes I suppose.

I need a Team Rocka jersey now, unless Alvin comes up with a Bicol jersey.

Did they bring you to the Boracay of Bicol?
| | | |
| --- | --- | --- |
| | « Reply #2 on: Today at 09:42:19 AM » | Quote Modify Remove Split Topic |
---
doc rolly,
the sagnay road relatively new as it used to be a dirt road connecting sgnay to ligao albay...enald tan alvin lo and the rest of the guys here have been to this climb only twice at the most the roads smooth..climb is bearable...(not too steep) the winds are strong...scenery fantastic..i forgot the name of the island..alvin my host says when margie comes (my wife absent have to take care of my manila business...i have to take care of my bicol business) we can ride a banca go to that beautiful island with the white sand beach.
i should have brought my mt bike to climb up mt Isarogs dirt trails...also no i havent been to the boracay of naga also but my gracious host alvin lo says we will go there next time.
CWC camarines sur water complex where the cool dudes are wakeboarding with some of the worlds best riders) with the man made lake plenty of beautiful bikini clad foreigners here we went there 6pm last nite...more fotos to follow. thanks for reading the report
naga is beautiful...when the logic gate guys decide to come and visit upon open invitation of team rocka naga....am sure we will ride all the way from sagnay to ligao up mayon volcano resthouse 120kilometers...that will be a lot of fun!
« Last Edit: Today at 09:50:20 AM by bisekletaguy »