| | | |
| --- | --- | --- |
| | « Reply #124 on: November 30, 2010, 03:48:42 PM » | Quote Modify Remove |
---
dear team,
Last Thursday 26th november i packed bike, bag, and headed to Dagupan by myself to be adviser
and participant of VUELTA DAGUPAN 4 bike race. This race used to be a one day CRITERIUM ONLY
race in dagupan...until i suggested early on to make it two days and extend the race Dagupan up Baguio on day 2.
racing poster for vuelta dagupan 4 November 27-28 2010 PHILIPPINES

Saturday, Day 1 Criterium
there were over 60 riders racing per category over
the seemingly easy (not true) race course... which has 500meter stretch of
BRIDGE which cyclists had to climb 10 times to finish...my heart rate redlining
after lap 2 when rex cortez (hbc) and leian cruz (bont) attacked..disintegrated the rest of
the riders who looked like they are having a subic climb road race instead of a
criterium...i feel powerless today...im worried already for stage 2 day 2..i may not
be able to make it after today i said. 7pm in the evening Organizers and me and dondie
we gathered mossimo team, Bont team, franzia team and cebu cycling..deposited the riders
to the famous MATUTINAS Restaurant (President GLORIA ARROYO and entourage eats here
when she passes by this town) and the organizers welcomed the guest
here..
Team BONT in dagupan for day 1 stage 1 THE CRITERIUM
with my former WATERWOOD CYCLING CLUB teammate ren badeles (now BONT rider) and dondie (now PLDT) who was also a former teammate
day 1 stage 1 30kms criterium action
leian cruz broke away from the peloton today with another BONT rider Jeremy and Rex Cortez of HBC
alex borras organizing committee did very well in the crit
dondie
raymond
BONT had 2-3 finish with Jeremy Mirasol and Leian Cruz
Jazzy Garcia on PRINCE OF SPAIN colored Pinarello wins the professional category
dondie azarcon with ice pack behind his left knee..after trying to tear his tendons up the bridge..

Sunday . Day 2 DAGUPAN UP BAGUIO.
...is day of reckoning we have 90 riders
on paper..almost half of them NEVER BEEN UP BAGUIO and had worrisome look too.
The starting line and registration was held at the beautiful clubhouse of SAN MARINO PLACE
...around 830am the cyclists were released.
saturday evening november 27..welcoming dinner hosted by organizers of race ,with sponsors quin baterna, raymond see and dondie azarcon held at MATUTINA'S restaurant DAGUPAN
TEAM MJY in front of San MArino's Place in Dagupan where the race will start for day 2 stage2 Dagupan up Baguio
Motorcycle escorts were plenty and provided safe and secure race for participants...picture taken before start of race in SAn Marino
the first 35kilometers was neutral..cyclists had to go to bonoan town up san fabian
beach resorts ..up damortiz road towards ROSARIO near foot of KENNON ROAD..where
the riders were gathered..allowed to refill water bottles and do the pee. after
all riders checked in ..riders released OFFICIALLY FOR START OF RACE for second time
at ROSARIO.
this elevation chart courtesy of miguel (from cebu cycling) who did a solo training ride up Marcos...shows elevation
from Rosario up the tunnel and the steep 14percent grade after the tunnel where the finish line is located
i never got to the front..but i hear the pack disintegrates after few kilometers
up the climb from PUGO...BAGUIO is the ultimate climb and from PUGO..around 42
kilometers of suffering before the finish.
i caught dondie up the mountains but at one point..i had severe cramp and he
overtakes me again...dropped me by 6 minutes...i have no answer..hats off
salute to DONDIE..extremely difficult race..im just happy i didnt black out
collapse...took me for the record 5hours 1minute 50 secs from STARTING LINE
in SAN MARINO PLACE..CONGRATULATIONS DONDIE.
Revelation for today for Franzia..THREE PERSONS...Edwin Mansueto, Philip Go
(check out the fotos see how EARLY philip arrived he is with edwin and CEBU
CYCLING STRONG RIDERS) ..and Doc Ramon Liboro who climbs BAGUIO for the first
time and FINISHED.
Revelation for the race Aussie BRETT HARRINGTON of CEBU CYCLING 3rd..for the
aussie great climber..who came all the way from Australia to try this one climb whom raymond see keeps proclaiming as the Philippines' cyclists Mecca...a must climb.
team cebucycling
team MOSSIMO and team CEBU CYCLING light moments before the race
Brett Harrington and Raymond see before start of race
photo with the imported guy Brett and doc ramon liboro my teammate
Picture taken by Jojo Rinosa of dagupan fit to be the COVER of new cycle racing CALENDAR 2011 of SHIMANO. Thanks so much jojo!
edwin mansueto had a 16 pound EDGE carbon wheels equipped PARLEE bike and rode very well
danny sena, leian cruz and manny de los reyes up the climbs..MARCOS HIWAY BAGUIO
ernie hortaleza of HBC cebu cycling looks behind him up MARCOS highway
ernie hortaleza with a mossimo rider with him up MArcos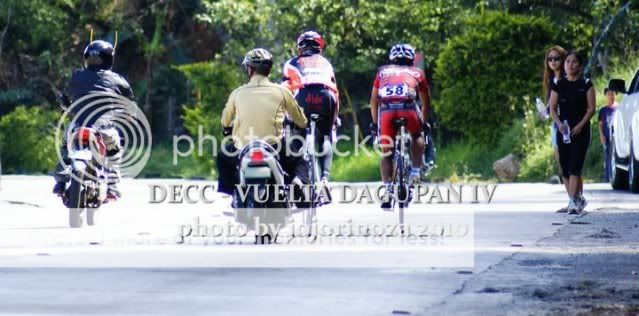 ome rodriguez of cebu cycling after the tunnel
Dagupan's cycling doctor and generous godfather Dr Butch Ydia
kaye lopez wowed so many persons with her beauty and strength
there was a 2kms, 1km, 500meter signage near the OFFICIAL finish line...and i think while this made the strong cyclists aware of the finish...makes me and rest of the guys suffer all the more...when you see how looooong you still have to climb to be able to finish...but i have to thank organizer for not imposing a cut off curfew and allow us normal human beings to finish..Thanks so much you made us very happy.
also i dont know if you noticed...the struggling riders were guided by 2 motor escorts as soon as they approach the dangerous tunnel before starting up the long climb..sometimes the tunnel is slippery when wet also some of the traffic there may be dangerous for cyclists so this MOTORCYCLE ESCORTS for raymond see and rest of the last riders is very very much appreciated..there was fog here when i entered the tunnel and so some bicycles equipped with blinkers and lightings but i didnt have them on... so my motorcycle escort had his hazard lights on.thanks so much.
Brett harrington up the climbs..he is Australian and came all the way from Australia just to ride this race
Franzia strong finishers edwin, eduard and philip with ome and philipsainz at the finish line in BAguio WHEW! what a tough race this was...
ernie hortaleza finishes first in his category
Brett Harrington finishes 3rd in his category
warmest congratulations to all the winners and participants SPECIAL MENTION NEVILLE BANEZ, DOC BUTCH YDIA, LOUIE GUTTIERREZ and ALEX BORRAS the organizers in dagupan who says there will be another race like this in 2011..
Congratulations also to Ernie Hortaleza and of course Ome..i hear he had 25 teeth sprocket on..
painful climb i imagine...ome...i wont be able to climb on that 25...hehehe
november 28, 2010 after the race Team Franzia stayed in Baguio for a night and had dinner at the Baguio Country Club..dinner courtesy of doc ramon liboro in celebration of raymond's birthday..thanks so much guys!
november 29 2010 morning with my Franzia teammates in front of the beautiful resthouse courtesy of our teammate in Baguio
november 29, 2010 as soon as we arrived in manila..we headed for the christmas party and birthday party complete with birthday cake hosted by team FRANZIA WINES cycling team owner Boss Lucio Cochanco Jr..for Franzia team manager raymond see...THANKS SO MUCH boss!
I see you guys in the races in 2011!
A MERRY CHRISTMAS TO EVERYONE.
raymond see
team manager
FRANZIA WINES CYCLING TEAM
PS> this early DAGUPAN organizers are talking to raymond see..and planning DAGUPAN TO BOLINAO 120kms road race early 2011..."can you ask your friends Manila and Cebu riders to come?" they ask..when details are firm..ill announce that race here.