Dear friends,
we arrived in Thailand about 130pm philippine time. 1230pm bangkok time...APRIL 30 2010
Franzia team to TOF2010 has 14 riders here..3 support crew..plus local Thai bicycle mechanic.,,
Bangkok airport..too many tourists...got delayed due to queue,,,who says Bangkok is dangerous..must be not from bangkok...
first glitch..my white duffle bag didnt appear on the carousel..means...
i have to file a report..try trace my bag if left in Manila.....unfortunately its totally lost..it contains two team kits Team Franzia Sun with 3 stars..plus an extra team Franzia kit..rubber shoes of my wife (brand new) my supply of hammergel and cereal bars..lost.
new Franzia teamkit "sun with 3 stars" for Tour of Friendship 2010 Franzia team manager raymond see...was lost in airport a day before race starts...sending Franzia manager into panic mode
oh well...after lunch...my friends philipgo bennis caw and dennis datu tried cheer me up..we went to a local bike shop at nothanburi..I bought me a Merida rainbow jersey teamkit...1400baht .if worse case..ill have to make do with this rainbow jersey for duration of race...
merida rainbow jersey which i bought in nothanburi local bike shop...in case i dont have anything to wear this year
3days later during award ceremony...i got another gift (for being friendly and smiling face all the time he said)
from cycling club Korat president and owner of CHAMPS KORAT sports wear shop mr Chanchai Buasang whom i kept company up Kaoyai park during tour of Egat 2008...he didnt knew about my rainbow jersey...so its just a coincidence his gift matches my team kit..thank you so much Mr Chanchai
Doc ramon liboro lent me his extra Franzia Jersey Sun with 3 stars..and another teammate jojo yu lent me a Franzia Bib short...im a bit angry..but it could have been worse..if my bike got lost..its game over for bisekletaguy this year...on the first day...thanks JOJO and DOC RAMON...
at the welcoming dinner..martin brot present, thomas wiegand, the flying muslim shaharin..winner 2008...team specialized racing singapore boss dennison seah my friend..has a team competing too..india sends 3 guys lead by vivek...he is a friendly fellow.
265riders with 50 no show..so show has to go on inspite of red shirt protests.
first day 1 May 2010..the cyclists rode Grandia van sent to AKSA road..weather way too hot...before the start of race..organizing commitee hoon apologetic of the tense situation in bangkok over the newspaper..he says he is happy still many people foreigners still came.
some of my super brave teammates in Thailand..."we go race in thailand if you go raymond" they said..
results out 10 minutes after the race.
Franzia's Pinpin Uy 15th and TJ Carey 6th..fine day of racing for Franzia.
green mobile bus is a rolling restroom...with beautiful stainless steel interiors...seen at AKSA ROAD on day 1
a look INSIDE the super sanitary men's rest room on the green bus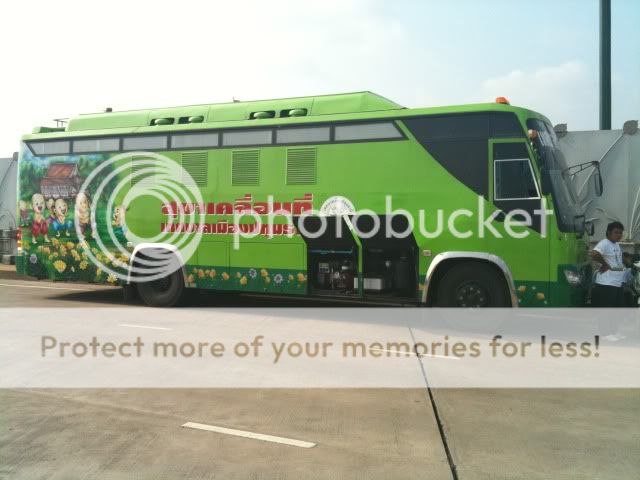 when i have the complete results ill post later.
thanks to all the well wishers..we are having a good time in bangkok. Boss Lucio did very well..doc ramon liboro did well..bennis caw 48th overall wow..fantastic results..me i cut 40 secs off my record..means im so happy today.
tommorow has 120kms of racing we are having a good time.
raymond see
nothanburi palace
thailand
xxxxxxxxxxxxxxxxxxxxxxxxxxxxxxxxxxxxxxxxxxxxxxxxxxxxxxxxxxxxxxxxxxxxxxxxxxxxxxxxxxxxxxxxxxxxxxxxxxxxxxxxxxxxxxx
May 2, 2010 stage 2
From spartan hotel accomodations in Nothanburi Palace..the cyclists were asked to board tourists buses (Franzia has been given 2 Grandia vans) then brought to the starting line this morning...bikes aboard specially designed truck for very expensive bicycles...
thats my beautiful wife margie..in front of beautiful KANTARY HOTEL 5 star hotel in kabinburi
at starting line..before start of race..the Organizer holding bull horn said he dont know if its good news or bad news the 100kms flat road then climb 28kms to Kaoyai park had been changed..no more climbing up kaoyai national park...as the Tour of friendship organizer was not allowed by Thai govt to go inside kaoyai today (due to political situation)
i of course was happy and sure im gonna finish today's stage.
race starts about 800am ...immediately 45-50kph in 39 degree weather ...
after 25kms thomas wiegand attacked so hard and long i had to let peloton go..so decided to ride with team franzia owner lucio cochanco jr...we got passed by junior riders,,who was kind enough slowed down ask us to climb aboard their fast train..i told boss...
no way we can sustain their pace..so we waited...
one junior rider got dropped..joined us paced us for 5 kilometers.. .but later he too had to go away...with a German guy
later the breakaway group of coach cesar lobramonte now riding for Franzia and TJ carrey with ike carvajal and tony aspel..passed us too..we cant ride with them guys also.
i joined boss for maybe 50kms..then boss starts cranking it up..he was gone over the rolling hills...i had to wait for back up 50 year old category riders..they came..i was able to ride with teammate philipgo and 8 man train...philip was clearly strongest rider in this group...philip go called my name and i was able to hang on to this group.
by the time we caught boss lucio..it was 80km mark already i think...
Franzia boss lucio joined us and when i turn back check who was with us..only 5 riders left.
112kms later we crossed finish line...never raced as fast as i had today 112kms... averaged 33kph..my heart rate average 160beats per minute 80-90percent effort today in 39 degree hot weather...we were asked to put bike inside closed 10 wheeler then asked to bored bus go to restaurant.. .then after lunch we were brought to 5 star Kantary Hotel in Kabinburi province..beautiful hotel.
showered up had another luncheon meeting with dennis datu boss lucio and philpgo of Franzia...I talked about this beautiful hotel and beautiful race..boss said he be happy to come back next year.
unofficial results as follows:
coach cesar lobramonte now playing coach for Franzia First in 50 up category ike carvajal wearing adobovelo... is 2nd ...team Franzia TJ Carey 3rd or 4th..the award ceremony 7pm today.
tony aspel from the Philippines is first also in the 60 and up category...beats several riders in bunch finish..
Franzia's pinpin uy missed out the small sign 3kms to go and was so fast he didnt notice it and so was not able to react and finished in bunch sprint..he will have another shot at the Podium tomorrow..
SEVEN lakes boss Erwin Rili is the highest ranked rider in the 49 below ITT and did so well today he probably is high ranking in GC today also. Von Ricardo of seven lakes did very well also.
roy see from Franzia crashed 40kms from start.he had road rash..requested for ice cubes.otherwise he is fine.he is fit to race tomorrow.
doctor Ramon Liboro now riding for Franzia had inspiration in the form of a beautiful lady rider and yes he was happy to finish too..
tomorrow another day...another story... so far so good...we are enjoying ourselves here..enjoying racing with asia's best exec riders.. we are now 150kms away from bangkok in the provinces... beautiful scenery no sight of red shirts demonstrations. .
we are fine...
ABS-CBN provided us with 3 cameras To be mounted on handlebars.. team Franzia team captain tiboy reyes has one on his Litespeed..i saw partial video recording it was a GREAT VIDEO. laugh
Sports unlimited beautiful staff ms jackie having a wonderful time. hotel room of abscbn was a hotel suite in Kantary..she was bubby and happy see Philippine business class cyclists team FRANZIA ride the hardest race of their lives... she promised me we gonna have 2 part segment at Sports Unlimited... so its really different now.... more interesting to take part in Tour of Friendship 2010 and be documented on television of all the hard work here...all tour participants very happy to ride for FRANZIA TEAM too.
once again...am happy to report that the PHILIPPINE TEAM for tour of friendship 2010
we are not going home empty handed this year also...
and the winners are....nah thats a beautiful foto of the supporters of team Franzia in tour of friendship 2010...our beautiful wives with madam khunkai titaree up the Podium... Grin
Mabuhay team Philippines!
Mabuhay team Franzia!
raymond see
reporting live in kanary hotel
kabinburi
thailand
tour of friendship 2010
xxxxxxxxxxxxxxxxxxxxxxxxxxxxxxxxxxxxxxxxxxxxxxxxxxxxxxxxxxxxxxxxxxxxxxxxxxxxxxxxxxxxxxxxxxxxxxxxxxxxxxxxxxxxxx
STAGE 3 ..May 3,2010 161kms
30-39 cat jojo yu was 9th at the 109kms road race yesterday...
jojo and pinpin should be top 20 today 165kms today
I cant finish today 161kms..can only do 85kms near the ladies finish line...i became dizzy aaaand fatigued with 76 kms to go.. so have to stop at 85kms my average 31kph..one time speed was 48-50kph first few kilometers
raymond see with driver of BLUE TRUCK...who is also a cyclist...was so kind enough pick me up after i called it quits on day 2...after i had dizzy spells..."i open aircon" he said....unsung hero of the tour of friendship 2010...thank you very very much mr driver...
Franzia's philipgo was in the 50 and up cat and finished his 85km race...then went on to ride another 60kms to the 49year old below finish line....just to accompany Franzia team owner Lucio Cochanco Jr..who was able to finish his first 161kilometers race...not in manila...in THAILAND pa.
roy see survived two crashes today...he will ride again tomorrow..
dennis datu crashed yesterday into thomas wiegand who crashed...he broke the downtube of his bmc..the bmc now bandaged by steel epoxy and nylon mesh by dennis datu..nevertheless he will complete 5 stages am sure...
....dennis finished today....bravo dennis
but the real juicy bit of information. ..is that Franzia team owner boss lucio cochanco jr...dropped me..stayed with peloton for 100kms...and philipgo accompanied him for another 60kms to the finish line 165kms..for mens 49 and below....bravo boss lucio and philip go!
tiboy reyes was very happy to achieve his goal...beat his target person today...
bill bakos tapped my shoulder at the starting line..he was super nice he said he saw two of my Franzia riders crashed..he was wondering if my guys OK..i said thanks ..they will ride tomorrow...
coach cesar inspite of having flat rear tyre last 2 kilometers ...outsprinted everybody so he is number 1 again..59 below...so Franzia has another trophy today..ike carbajal is 4th...tj carey is 6th...tony aspel is 1st again for team Excellent noodles.
i am poofed..dead tired but have my coffee already..my wife sweet enough to wait for me at the ladies finish line..thanks to my loving wife..she make sure im ok today...she even decided to get down from the Franzia sag wagon who had to accompany Franzia boss Lucio..wait for her husband at ladies finish line...even if husband did not give instructions he cant finish the total distance today...due to heat...wife knew it already. laugh
keith powell...who looked like lance armstrong's twin brother ...he is a friend of eric carandang... rides for team Attake Massivo...is now the good friend of tiboy reyes who rode with keith today....broke away the first 17 kilometers.. then wondered why he did that...he said he surely will bring a more people from japan next year..he said the peloton he is sure wont mind comedians like him..a jolly fellow also this keith
i am headed for early dinner..wish you guys enjoying my report...am signing off
Mabuhay team Philippines!
Mabuhay team Franzia!
raymond see
kantary hotel
kabinburi
thailand
xxxxxxxxxxxxxxxxxxxxxxxxxxxxxxxxxxxxxxxxxxxxxxxxxxxxxxxxxxxxxxxxxxxxxxxxxxxxxxxxxxxxxxxxxxxxxxxxxxxxxxxxxxxxxxx
stage 4 155 kms..may 4. 2010
this is the killer stage today with a 7 km climb ala sierra madre after 55 kms..and another 10 kilometer climb after 140kilometers. .ala lignon hills the first 5kilometers.
myself am not too sure to finish..however my boss now has the confidence level of a professional cyclist..so what to expect? am sure he will finish
was with thomas wiegand up front start to 50kms mark at foot of first climb...then had to grind my way up steep climb..then had continue downhill with 90kms more to go...
von ricardo of team SEVEN LAKES had trouble with aching feet bound by SIDI shoes..he wanted to surrender also..approached coach cesar..who said "luwagan lang sapatos..tapos ituloy mo na" he did so and continued to finish race..
at the finish i told him..."if you quit you gonna lose to raymond see today...me.. am angry i cant finish yesterday ...i will finish killer stage today"...von ricardo laughing at the finish..
so many foreigners had to surrender today at ladies finish 61kms mark...abandon the race due to high heat..high mountains...or combination of both
dennis datu did so well...so did erwin rili of seven lakes...they are from Manila Philippines.
me and boss lucio rode up the first mountain..saw so many people deciding to quit..CONTINUED..went down the mountain together..rode up to the entrance of kaoyai...then decided to finish..with 10kms to go..even if we have to walk all the way to finish
Franzia team had about 7 riders from age cat 39 below and 49 below..finishing one after the other today at Kaoyai...so the organizer and motorcycle escort very impressed..Franzia finishing this years killer stage..
stage 5 may 5 2010, 120kms to vanicha restaurant
yesterday's killer stage 155kms two mountain stages and 6 hours of non stop cycling left me with chafing so im bloodied between legs..6am im being bandaged by doctor ramon liboro..not so interested to finish 120kms already today but guess what..Franzia team owner wants to finish..so have to keep up with him........after 30kms im struggling.. .then lost contact with peloton who flew past 50kms per hour first 5-10kms today.
Franzia boss lucio didnt get dropped stayed with peloton 50kms..fantastic race again for the Franzia team owner who will be 35th to 40th place up GC..fantastic feat for a first timer...
me.....i was about to call it a day when i saw Jojo yu..my teammate..waiting for me...he is 39 below category im 49 below cat......... he said "i dont care about my gc i want to finish with you ray" so as it happened..we rode from km 30 together up to the finish line..maybe last men to cross so i held his hand up again at the finish the people were very happy...
..so many people surrendered also due to heat..also there was a commotion because 39 below had a 4-5 men break..and the chasing peloton was led into a wrong turn by the motorcycle escort resulting in chase peloton going ahead of the original breakaway... ..
hehehe jojo said if the entire peloton dnf (did not finish ) he probably is officially 4th..
as you guessed it already..boss lucio finished with bennis caw.
raymond see finished with jojo yu....after the Franzia boss...who was super strong (mentally focused? )
pinpin uy was in 3 man break..when wayward motorcycle by a civilian bumped him..caused him to lose the podium today...he is ok..rsys broke soke..otherwise he is fine...he is disappointed i told him...forget about it you will come back better prepared next year...some of the riders this year said the most prepared team......with coach, mechanic and doctor on call is non other than TEAM FRANZIA..
doc ramon liboro was so happy also..most franzia guys finished today.
a bit boring without the fotos..but i will post more fotos when i get home.
coach ponga 4th today..tj carey took 2nd or 3rd overall..tony aspel is the overall champion for 60 up category.
a fun race..too hot really here today..i did my best 4 out of 5 stages finished thats the best i can do this year which was my best race ever..
so many people quit today also.
we will try go back next year.
all is safe nothing to fear we will fly back to manila tomorrow.
no red shirts..we go home in one piece i again want to take this opportunity to thank my super brave friends ...my boss Lucio Cochanco Jr..nelly wife of TJ, robinnette the wife of Pinpin uy..my wife margie and camera crew from abs cbn who was specially supportive.. .also all my team Franzia riders had the big big heart this year..my frineds SEVEN LAKES team Erwin rili and Von ricardo..ike carbajal and tony aspel with filipina wife Ligaya of team excellent noodles...was helpful too..
a souvenir trophy in special color...purple...from Khun KAi titaree for Philippine coordinator raymond see of team Franzia.. Thank you for your continued support of Tour of Friendship....it says....Grin
great great race and result for team Franzia and team Philippines!
on our way home ...with teammate bennis caw
MABUHAY TEAM FRANZIA!
MABUHAY team PHILIPPINES!
there will be Tour of Friendship 2011 the date is out already its april 30-may 4 2011
raymond see
nonthaburi palace
thailand
may 6 2010
some fotos from KHUN KAI TITAREET facebook
LOGO for tour of friendship this year...seen on support vehicles..
tourist buses for foreign riders for this year's Tour of friendship R1 2010
AKSA ROAD in bangkok the most beautiful road in thailand was again the site of the 7kms ITT in 2010
the prizes to be given away this year
the PURPLE helmet made of porcelain...one was given by race organizers to raymond see the philippine coordinator and the other to Lucio Cochanco jr owner of team Franzia for his generous support of Tour of Friendship this year..
that beautiful VASE will be awarded for Overall champion... extremely beautiful!
denison seah the team owner of Specialized singapore up and running (only for the ITT) after near fatal crash with car in singapore last year...well done denison!
doctor ramon liboro of team Franzia was the revelation 5 of 5 finisher and went on to become official MEDIC after treating so many crash victims this year...THANKS SO MUCH doctor ramon....