| | | |
| --- | --- | --- |
| | « on: April 06, 2009, 03:38:38 PM » | Quote Modify Remove Split Topic |
---
dear friends,
stage 1 mountain ttt
Alvin Lo of Naga, rys bonpin and rj rode with 6foot german import thomas wiegand of teamrocka1bikeshop formed 4 man group dropping bisekletaguy liston and yuri in the early goings of the TTT and then last half of race rhys bonpin and rj balbuena and thomas wiegand (3 man team to stop clock....) blitz to finish line put teamrocka1bikeshop to strongest finish in ttt 12th/22 overall in YEARS
stage 2 45kms road race
rhys bonpin from Butuan and rj balbuena made very strong riding also.bisekletaguy doing neck to neck duel with dondie but made a wrong turn together with suunto team rider bennis and architect quin baterna of team mossimo so THREE HONEST RIDERS have to make a U TURN from binictican go back climb that BAGUIO UPHILL look-alike LEGENDA SUITE ROAD suffer like dogs and then proceed to binictican where i dont know what happened suunto rider bennis sped off like a man possessed leaving quin baterna and bisekletaguy in classic duel to the finish ...100 meters to finish quin baterna of team mossimo also rival of bisekletaguy attacked uphill finish but got nipped on the line by bisekletaguy...sprinting showdown by last riders of peloton witnessed by so many people cheering the two cyclists at the finish.
stage 3 mountain 58kms shortened route
right after the neutral ride less than 10 kms from release...there was a crash.the crash took down yellow jersey leian cruz ....rj balbuena had a damaged rear derailleur and dondie azarcon also crashed.
dondie crashed also but like wounded tiger he rode so strongly bridge gap to bisekletaguy then rode with teammate doc butch ydia and put insurmountable 6 min lead against bisekletaguy today. later at hotel after checking his Giant TCR..he found out he was riding on broken seatstays....lucky to avoid accident after doing 60kms on downhill for fear of bisekletaguy down JEST CAMP. bisekletaguy guy also dropped by a super strong atty jong sepulveda of team PLDt on that beautiful eye catching COLNAGO EPS...but bisekletaguy happy also to drop a very strong team JAC rider businesman rodgen of tacloban at 1km climb up CROWN PEAKS HOTEL. ...then proceeds to catch architect quin baterna at EL KABAYO STABLES with help from former logicate team owner VIC acebedo now of team mossimo....a disappointing 6 minutes loss to dondie should keep bisekletaguy disapointed overnite but what can one do to stop a super strong marco pantani lookalike riding an inspired race.? so i pick up phone then call dondie and congratulated him for this BEAUTIFUL WIN "warmest congratulations dondie...grrrr if not for that motivation you get from doc butch ydia am sure you on your own would have quit that difficult stage 3....so doc butch ydia also deserves to be congratuled for job well done" dondie and doc butch on the other end of celfone laughs...
rhys bonpin had a tubular puncture also out of race. thomas wiegand german import rode so strong he finished top 5 in age category.
stage 4 ITT 3kms.
dondie out of race due to broken bike. but of course bisekletaguy and architect quin baterna of team mossimo also acknowledge that the race within the race is won by dondie azarcon of team pldt after he put 9 minutes lead over bisekletaguy. rhys did fast race. rj balbuena inspite of winning the Triathlon in the morning he rode a fast race unofficial 4 minute 30plus seconds. Thomas needs 26 sec to beat 3rd place overall GC rider from team Jac Motors nobet loya ice cream factory owner former star player of rocka1bikeshop...but inspite of MONSTROUS effort thomas the green rabbit teamrocka's import did unofficial 4 24sec against nobet loyas 4 27sec unofficial (bisekletaguy doing the stopwatch)..so 3 sec not enough to unseat nobet of team Jac Motors. but THOMAS and bisekletaguy already very very happy SUPERB riding for teamrocka1bikeshop.
so many stories to tell so many photos to show....but little time for now.
i have to bring thomas to Kanumayan hotel in manila as too tired already so missed the award ceremony. i hope rj rhys and all the participants forumers of cebu cycling can tell their story here.
at this time i like to congratulate 180plus riders from philippines ireland new zealand canada germany cebu leyte who came to race the subic mountains..i hope you have a nice time...as i did enjoy the suffering over the mountains. when the going gets tough yes only the tough guys really kept pushing...everybody pushed themselves to the limit.
to my wife thanks so much for untiring effort to document the event in photos.
to my team rocka1bikeshop who becomes my immediate family during a big race...i hope you had a nice time. Thanks so much for riding superbly. Alvin Lo did very very well and yuri lirag who inspite of gall bladder surgery did very well also. Liston Yao was incredible over the mountains ! Thanks too for the support and cheering we get from engr rolly cruz and wife bong and bulacan supporters..thanks also to philip go our teammate who couldnt join the race but able to see us have fun in subic.
to the organizer atty GOYO LARRAZABAL and the officials thanks so much for this beautiful race. I wish you guys all the best!
raymond and margie see
teamrocka1bikeshop/ Nickel asia corp
the birds eye view of registration center TLBF convention center subic
a visibly tired organizer goyo larrazabal and a worn out bisekletaguy last april 2 2009 obliges to have foto shoot with cycling granny brigitte klein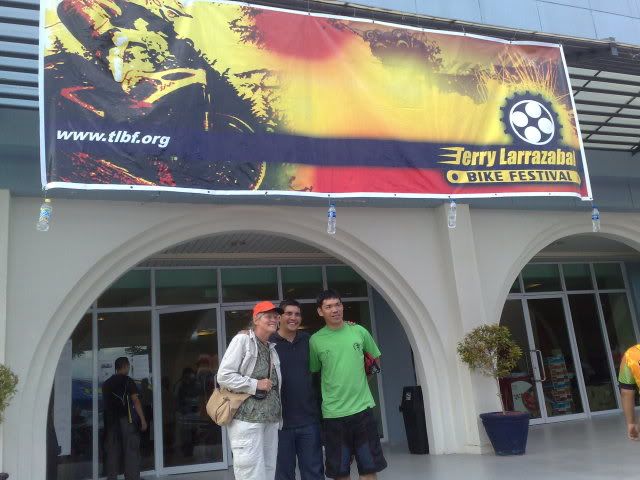 april 2 2009. thats michel singapore based import of team mossimo on his hand built pinoyrello made in geylang which uses couplings to assemble and disassemble..thats bisekletaguy with thomas having a fun foto shoot
cebucycling.com peeps in subic
Team I CAre had a special guest rider ..brian lopes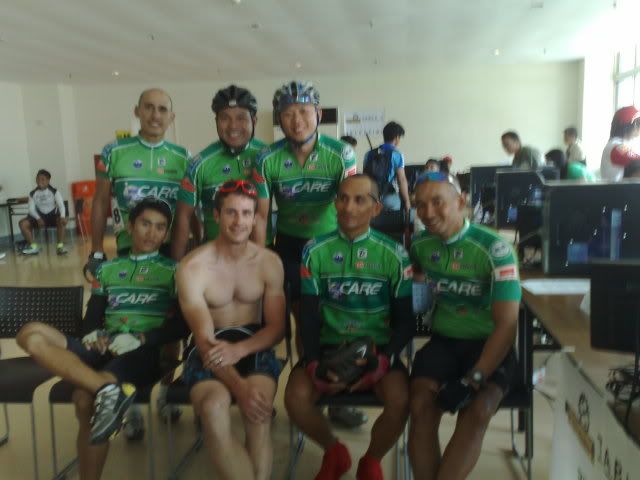 formerly team LoGIC GATE now known as team Mossimo has the beautiful new jersey
april 3, 2009 ...teamrocka1bikeshop near the starting line for the team time trial
get set ready....photo shoot first
thats team fitness first on the starting line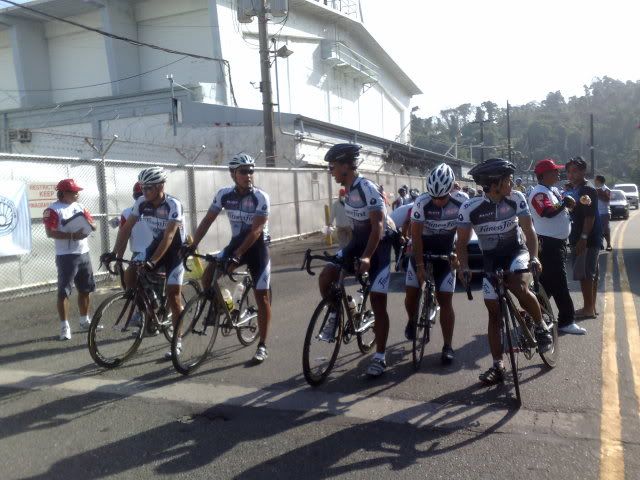 team seven lakes 2GO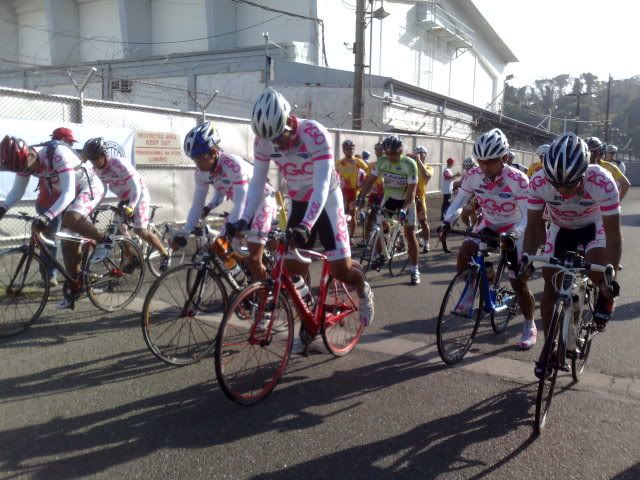 team I CAre in their beautiful GREEN jerseys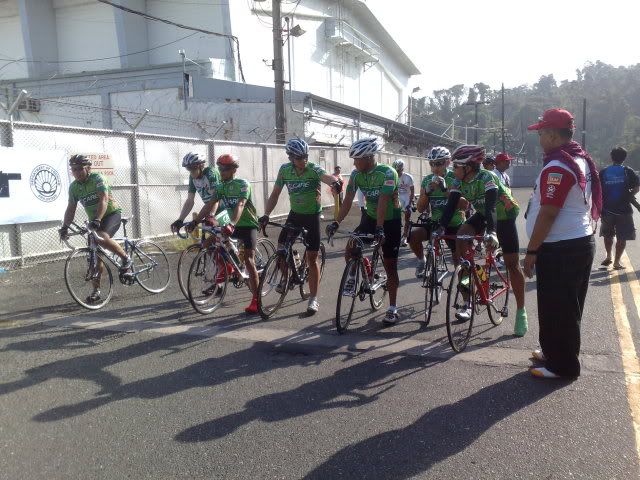 stage 2 afternoon 2pm there was a 45kilometer road race...so many strong riders sprinted away and thomas wiegand german rider was also surprized at the high speed even during the tough climbs. "I try my best to chase but it was too late...there was a gap and i was stuck with 2nd group the chase group." said thomas which from these fotos...clearly gave out his best.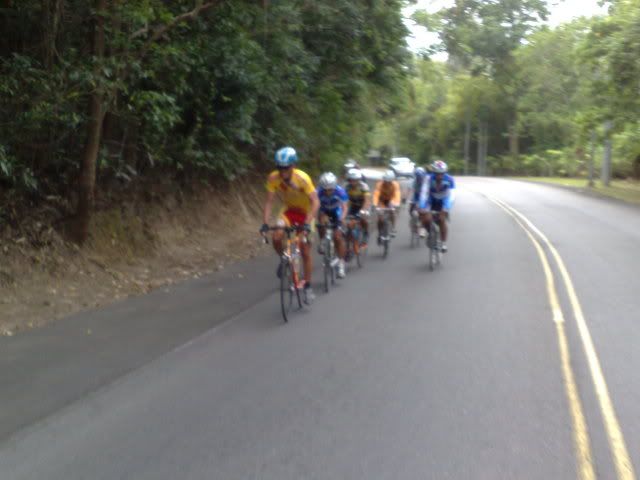 stage 3 day 2 april 4 at the start of the road race..3 honest men bennis caw of team suunto, bisekletaguy of team rocka and architect quin baterna now of team mossimo made a wrong turn at stage 2 then rode together after making U TURN at binictikan to ride up that LEGENDA - down JEST CAMP ROUTE ONCE before they can ride towards the finish in binictikan. "it would have been dis honest to finish when we know ourselves that we lack one loop up before we can ride towards the finish line..." said businesman bennis caw after making the u turn.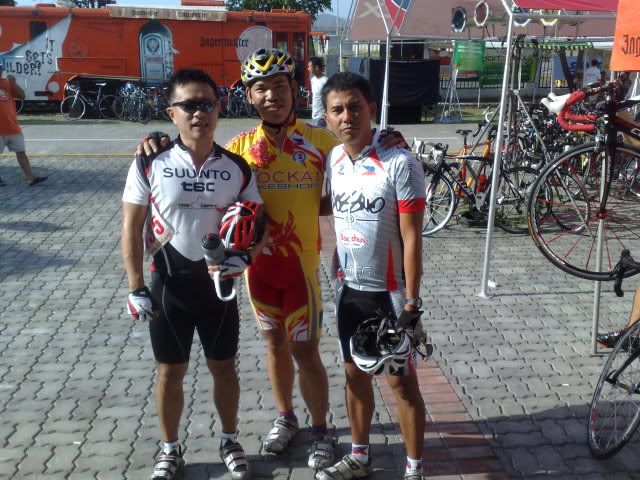 rhys bonpin from butuan rode strongly for teamrocka1bikeshop and was doing so well in stage 3 until he suffered a puncture and had to retire.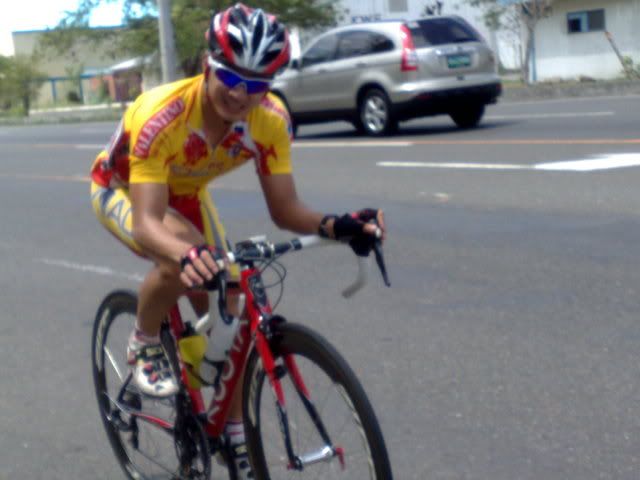 photo shoot near the beach in subic.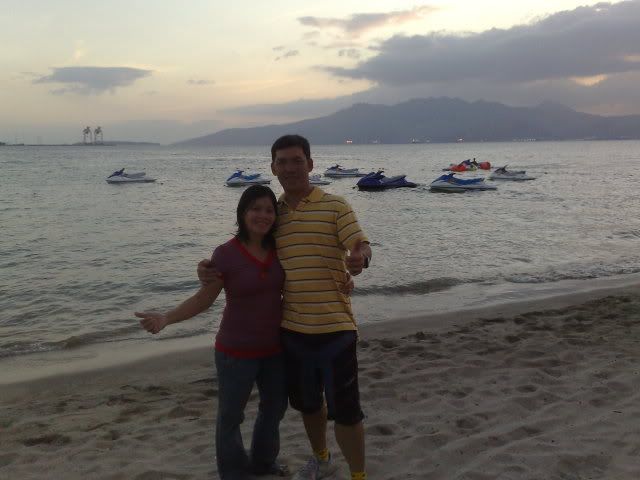 at the end of stage 3 teamrocka went to Gerry's Grill by the beach to have dinner together and some beers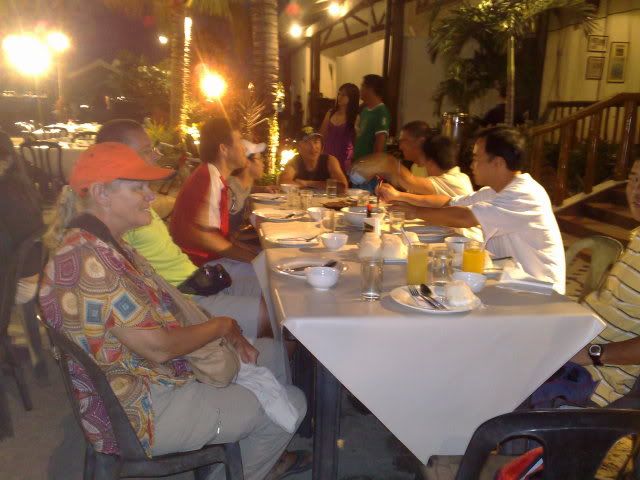 went back to convention center evening of april 4 to check results of race and have photoshoot with goyo larrazabal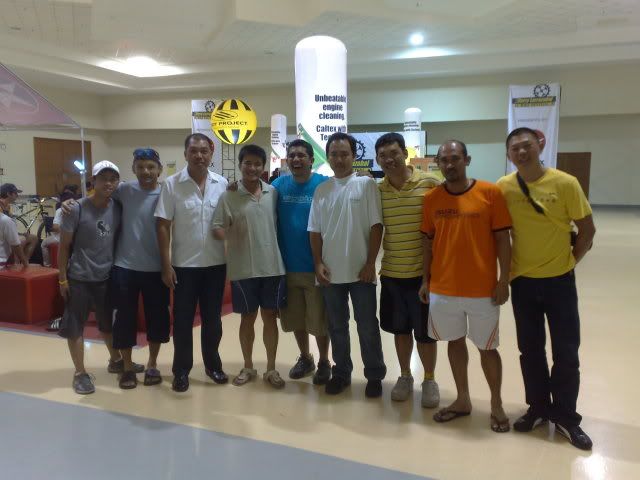 surprising TEAM XYCOS rider in front of team PLDT's Rex TAn on the beautiful black cannondale super six in this foto of stage 3
thats miss kaight forgie who will eventually finish as 2nd place winner for the ladies cat in the tough stage 3 race today
awarding of the symbolic colored jerseys to the winners of stage 3. winners include ERIC CARANDANG of team fitness first kaight forgie of team fitness first tri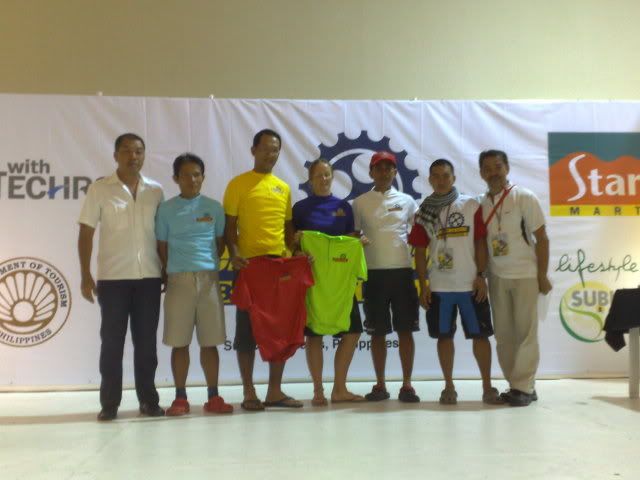 at the end of stage 3. at the convention center. architect quin baterna and bisekletaguy raises the hands of bente bente champion team PLDT's dondie azarcon as he puts an insurmountable 9 minutes lead over raymond see at the end of 3 stages. CONGRATULATIONS DONDIE!
yellowcab rider on this beautiful CERVELO at start of ITT stage 4 april 5 2009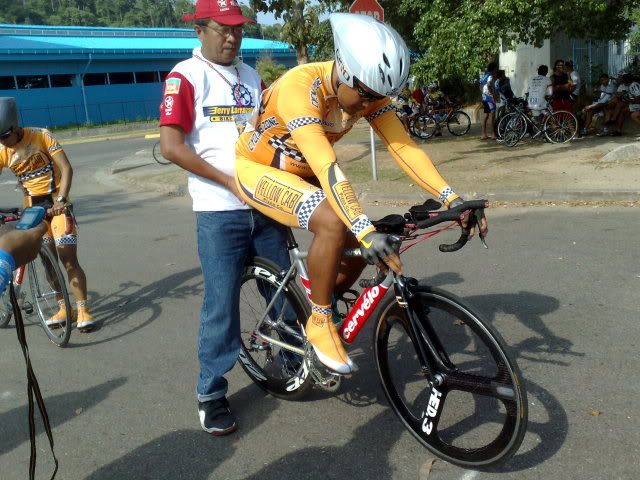 teamrocka import german rider Thomas Wiegand needed 26 seconds to unseat Nobet Loya of team JAc motors but could not gain much time in the ITT inspite of VERY GOOD EFFORT. Thanks so much Thomas for riding under team rocka
Thomas eventually gets 5th Place 36-45 age category and 6th Place Individual General Classifications in the road race!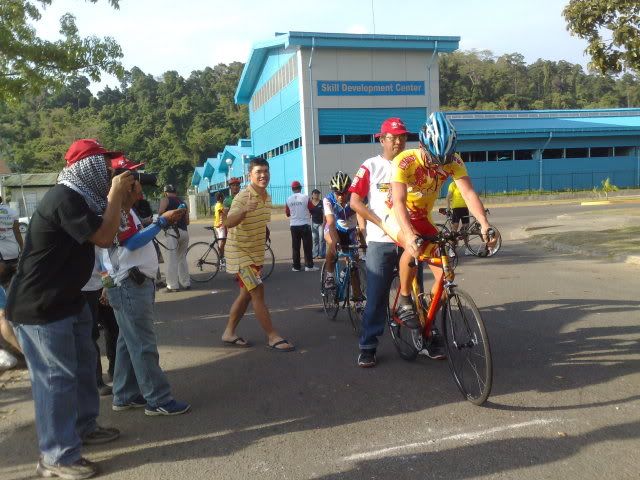 teamrocka1bikeshop rider RJ balbuena won 1st in his age category at the TRIATHLON event in the morning of april 5.CONGRATULATIONS RJ!
| | | |
| --- | --- | --- |
| | « Reply #1 on: April 07, 2009, 04:42:01 PM » | Quote Modify Remove Split Topic |
---
thanks again boss ray and marge for the wonderfull reception and support you gave me and yuri.. till next race again!!!
| | | |
| --- | --- | --- |
| | « Reply #2 on: April 07, 2009, 05:08:31 PM » | Quote Modify Remove Split Topic |
---
congrats bro RJ!!!!
---
swim bike run
| | | |
| --- | --- | --- |
| | « Reply #3 on: April 07, 2009, 07:54:34 PM » | Quote Modify Remove Split Topic |
---
it's good so see RJ wearing your colors, ray!
---
ASA RYD UGMA?
| | | |
| --- | --- | --- |
| | « Reply #4 on: April 07, 2009, 08:25:02 PM » | Quote Modify Remove Split Topic |
---
The rise of TEAM ROCKA #1 Bikeshop triathlon team!

Sir ray, thanks sa uniform!
---
am just a rudebwoy from the block
| | | |
| --- | --- | --- |
| | « Reply #5 on: April 07, 2009, 09:43:02 PM » | Quote Modify Remove Split Topic |
---
congrats bai RJ....
| | | |
| --- | --- | --- |
| | « Reply #6 on: April 07, 2009, 10:12:48 PM » | Quote Modify Remove Split Topic |
---
thanks bai rommel!
---
am just a rudebwoy from the block
| | | |
| --- | --- | --- |
| | « Reply #7 on: Today at 10:21:43 AM » | Quote Modify Remove Split Topic |
---
mossimo team manager quin baterna also surprized to see rj up the Podium on the triathlon as CHAMPION...he called me later saying "i didnt know so was VERY SURPRIZED there was a teamrocka rider CHAMPION at the triathlon...im sure i will find somebody riding triathlon for team Mossimo one day too..
" says architect quin baterna
| | | |
| --- | --- | --- |
| | « Reply #8 on: Today at 10:26:11 AM » | Quote Modify Remove Split Topic |
---
im sure i will find somebody riding triathlon for team Mossimo one day too..
" says architect quin baterna
no need to look outside his stable ray. subic's greatest makoy is already with mossimo.
---
YOU CAN'T BUY FITNESS, BUT YOU CAN BUY ADVANTAGE.
| | | |
| --- | --- | --- |
| | « Reply #9 on: Today at 03:18:57 PM » | Quote Modify Remove Split Topic |
---
The rise of TEAM ROCKA #1 Bikeshop triathlon team!

Sir ray, thanks sa uniform!

congrats r.j.!!!
| | | |
| --- | --- | --- |
| | « Reply #10 on: Today at 03:20:47 PM » | Quote Modify Remove Split Topic |
---
very nice pix ray
love it
congrats to teamrocka1bikeshop!!!
and to uncle GE for a solid tri performance
| | | |
| --- | --- | --- |
| | « Reply #11 on: Today at 04:28:45 PM » | Quote Modify Remove Split Topic |
---
nice meeting you ray
you should have stayed for the awarding and see rhys proxy all the rocka awards...
GE,
pakasli na...
---
yaya nga bugan!!!
| | | |
| --- | --- | --- |
| | « Reply #12 on: Today at 04:54:35 PM » | Quote Modify Remove Split Topic |
---